Friday was our day at Castaway Cay, Disney's private island in the
Bahamas. We were due to arrive about 9:00. Lee and I went up to
Topsider's for breakfast – we each had a made-to-order omelet in
addition to other stuff. Meg was working up there and we were able
to visit a bit more with her between her other duties.
We watched the ship dock at about 8:30 – for this one they backed the ship into position – it's really amazing how precise they can be with
something that large! It was another beautiful sunny day, but there
was some colder air coming from the north, and they were expecting it
too cool off as they day progressed, with the possibility of some
rain. So in his ship-wide announcement, Brent, our cruise director
advised us to get off the ship NOW and enjoy it while we could.
It was a very windy day, so several of the excursions (parasailing,
glass-bottom boat, jet skiing) had already been canceled by the time
we got off the ship. We were scheduled to to the Hiking and Kayak
Tour, but after we waited for about 15 minutes we learned that it was
also canceled. The guides live on an island about a 30-minute boat
ride away, and the seas were too rough for them to get to Castaway
Cay. In the meantime we watched a lifeboat drill that some of the
crew members were participating in – the crew member who was
overseeing the excursions told us that this "wet drill" is mandatory
for all new crew members. There were a dozen or so. They had to set
off flares and inflate a life raft. Part of the drill that we didn't
see apparently involved them having to right the lifeboat after it
turned upside down.
We didn't have very much with us because we were planning to kayak –
in hindsight we should've gone back to the ship before we went any
further onto the island. We walked all the way to end of the bike
path by Serenity Bay (the adult-only area), and then walked back to
Serenity Bay – it was probably about 3 miles. We found a couple of
sun beds and sat down and enjoyed the sun for a while. One of the
servers came by and we decided to order a couple of foofy drinks –
that's what you're supposed to do at some point, right? I had a
Tropical Depression – wow, that was pretty strong! Lee had something
called a Konk Kooler – I liked that one better.
Since we hadn't been back to the ship we really had nothing with us for
spending a day on the beach – like something to read. We had lunch
at the bbq place at Serenity Bay, which was not bad – they had
several kinds of salad, bbq ribs, chicken, hamburgers, fish, and hot
dogs. After that Lee walked back to the Family Beach part of
Castaway Cay, since he wanted to rent some snorkeling gear and go
snorkeling. I had to take the tram back since my Tevas were giving
me a hot spot – but a trip to First Aid for a band-aid fixed that up.
So I wandered around a little bit and saw the crab races and took
some pictures and bought postcards. I'd planned to mail those on the
way back to the ship but the post office was closed for lunch – it's
only open from 10:45 to 4:30 three days a week, and it's closed?
Island time, I guess. I went back aboard for an hour and then
returned to the post office (it was only a short walk from the ship)
and it was open by then.
I went back aboard and enjoyed some reading time in the sun up on
deck 10 – I had it to myself! Lee actually found me up there around
2:30 – he'd come back to get his camera and take pictures around the
ship and the island.
At 4:00 we had an appointment with Brian, one of the personal
trainers, who was going to show us a good workout we could do in 20
minutes, which didn't need any equipment other than a mat. Whew…that
was 20 intense minutes! He alternated us between lower body and
upper body exercises, with some crunches thrown in. And after 20
minutes we felt like we'd really had a workout. And we're both a
little sore today. He also showed us some things we can do with
exercise bands and a balance ball. It was a very good session.
After that, of course, it was time to have a little something to eat
since it was still going to be a while before dinner. We were
dining at Palo at 7:30, so at least that wasn't quite as late as
our normal 8:30 time!
After that it was time to start packing. Our bags were supposed to be
out in the hallway between 9:00 and 11:00 that evening – and we of
course had a late dinner, and would want to pack the clothes we wore to
dinner, so we had to get as much done before dinner as we could. Plus
we had to remember to leave out what we needed to wear to disembark and
travel home.
Palo was actually quite uncrowded. Our server was Laura, from
England (her name was easy to remember!), and she was very good.
We'd heard that Palo was quite difficult to get into, but she told us
that they always have availability for dinner – generally the first
and last nights of the cruise, plus Pirate Night are very quiet at
Palo. Of course, those might not be the most desirable nights, but
hey, they are available!
When we sat down there was an ivory-colored napkin on the plate, but
since we were both wearing black, the woman who seated us returned with
black napkins for us instead. I guess Palo attempts to color-coordinate!
Our dinner started with a basket of bread – several different kinds,
plus three kinds of dipping sauces. I can really fill up on bread,
so I had to be careful – but it all looked good, and the ones I tried
were yummy.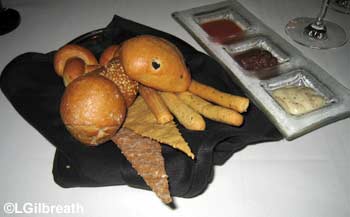 Laura came by and gave us a "tour of the menu" and told us about the
night's specials. There was a lasagna which she was was awesome –
she said the servers love lasagna night because they get whatever is
left. She also made some wine recommendations. She warned us that
the pasta dishes were huge – an entree in and of themselves. There
was a gnocchi that I really wanted to try, and Lee wanted some of the
lasagna, but hey, it's Disney so she could bring us a side of both.
🙂
After she took our orders they brought out the Anipasti Freddo – this
had prosciutto, bresaola (similar to prosciutto, but made with beef),
aged parmesan reggiano cheese, a couple types of olives, and
sun-dried tomatoes.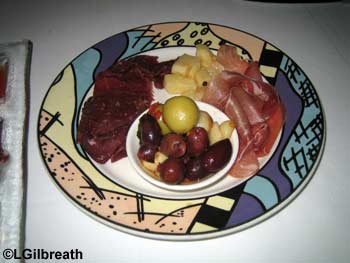 For my appetizer I had the Mozzarella and Plum Tomatoes with Balsamic
Dressing. This was a gorgeous presentation – the thinly sliced
tomatoes covered the mozzarella in the shape of a flower, with sliced
basil as the bud. It was really good, too.
Lee had the Minestrone soup – it was a very large serving! He
enjoyed it.
Before our entrees arrived Laura served us an "Intermezzo" – a palate
cleanser. (That sounds so sterile and clinical and not very
appetizing!) It was lime and mint sorbet, which was very tasty and
refreshing.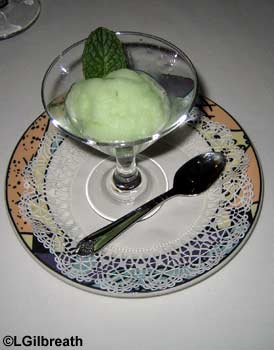 For my main course I ordered the Grilled Monkfish with Braised Radicchio
and Prosciutto, served with creamy Mascarpone Polenta. And she also
brought me a small (though not really THAT small!) serving of the
Pumpkin and Broccoli Gnocchi served with a Shrimp and Grappa sauce. The
gnocchi was quite good, and the sauce was very rich – I really didn't
taste any shrimp in it – it seemed like a cheese sauce of some kind. I
definitely could not have eaten a full serving of that!
The monkfish was very nice – firm and with a bit of a crust on it. The
polenta was good, too.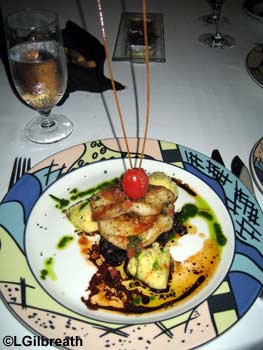 Lee ordered the Beef Tenderloin Palo, served with Palo Gorgonzola Sauce.
He enjoyed it, too.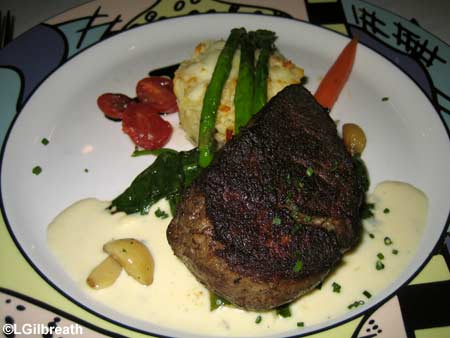 He had also asked for a side serving of the lasagna, and he thought that
was awesome – he told Laura that he'd never thought of lasagna as a
gourmet food before, but this really good. He said it was light and
delicate and not heavy like lasagna can be. (Unfortunately it was made
with a meat sauce so I couldn't try it.)
For dessert we both had the Chocolate Souffle – which we'd told Laura we
wanted when we ordered our dinner (it takes extra time, so you have to
order it in advance or wait). She brought us the dessert menu just in
case we wanted to try something else, too. I was tempted when she said
they had dark chocolate gelato, but really, I'd had enough to eat.
After dessert she brought us a post-dessert drink – it was lemon sorbet,
prosecco (a lightly sparkling white wine), and vodka. Very refreshing
and nice. It was really a wonderful dinner!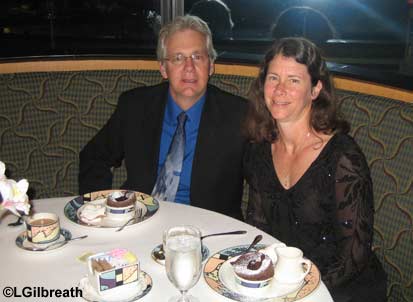 It was only about 9:30, so we decided to go to our regular dining room
to see everyone on our last night. They were just finishing up with
their entrees. At 9:45 there was a special procession – the chefs came
out carrying flaming baked Alaskas, and the servers came out, many of
them (including TJ) carrying flags from their home countries. There
were a LOT of different flags! We all stood up and cheered and
waved our napkins as they paraded by. (This is neither Meg nor TJ, but
they went by so fast that my camera didn't have a chance to focus and
take their picture – but at least this give you some idea.)
TJ brought us all dessert menus. The Chocolate Decadence looked good,
but I was full – Kathy ordered it, though.
And Jan, Paula and Joe all ordered Mickey ice cream bars in addition to
their other desserts – indulging the inner child, obviously. 🙂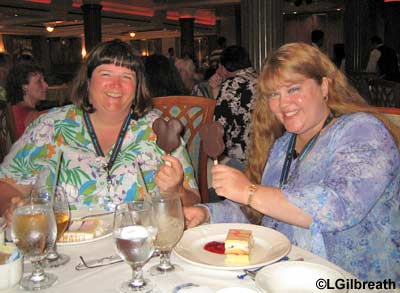 Lee actually ordered the baked Alaska, and he ate the whole thing except
for the couple of bites I had. And he had another cup of coffee – no
wonder he was wired and didn't sleep well!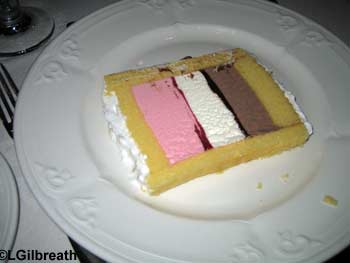 It turned out not to be the last time we were going to see our servers
and tablemates, since we were all planning to be at breakfast the next
morning. So we didn't have to say goodbye quite yet.
We got back to our cabin with less than 20 minutes left before we had to
have our bags outside, but since we were almost done packing anyway, it
didn't take long to finish and put on the luggage tags. Someone picked
up the bags as soon as Lee put them in the hall!
This is last night's towel animal…snakes…why did it have to be
snakes? Don't asp me…
We had rough seas again (8′-13′ swells), so things were bouncing
around quite a bit. All of the empty hangers in the closet were
rattling and so Lee had to push them together and drape a towel
over them to keep them quiet. Lee went up on deck to take pictures
and he said it was VERY windy – between the ship bouncing around
and the wind it was hard to hold the camera still.
I'm not sure what time we arrived in Port Canaveral this morning – it
was before 6:00, though. When I woke up we were already docked – that
yellow light coming in the porthole was from a big light and not the
sunrise!
There wasn't a lot for us to do this morning. I looked at our bill and
saw a few charges that I didn't recognize so I took it up to Guest
Services. Two of them were something we had both forgotten about,
but one was a double charge, and they fixed that.
While we were standing in the lobby we ran into Kathy and Joe, so we
chatted with them while we were waiting for Lumiere's, our breakfast
restaurant, to open. Once inside we said good morning to TJ and Meg,
who were ready and waiting for us. They'd already worked the early
breakfast, plus finishing up after dinner last night – I don't know how
they still can be so alert and energetic in the mornings! No one from
their other table showed up for breakfast, so we had them all to
ourselves. 🙂
Jan and Paula told us that they'd found out there was 15″ of snow back
at their respective homes – they weren't looking forward to returning to that!
We all had to be off the ship by 9:30, so we couldn't linger too
long over breakfast. It was hard to say goodbye to everyone – we
had such a fun week together, and we had such great service all
week from TJ and Meg.
Lumiere's is right next to the gangway, so we really didn't have far to
go to exit the ship. Maybe in this regard Disney is little too
efficient – we didn't have any time to wait and linger. We went off the
gangway and straight downstairs where, since our bags had already been
sent to the airline we didn't have any bags to claim, and so we went
straight to Customs. There was no line, so we handed our Customs
Declaration form to the agent, he quickly looked it over and said we
were good to go. So suddenly we're out the door of the terminal and
headed to the buses that were going to the Orlando Airport. A very
short line there, and within a few minutes we were on the bus, and not
long after that the bus was off to the airport! Honestly, it was less
than 10 minutes from the time we walked out of Lumiere's until we were
on a bus that was on its way to the airport.
So we arrived at the airport about 3 hours before our flight was due to
leave. We already had our boarding passes, and of course Disney had
taken care of our luggage, so there wasn't anything we needed to do. We
went to the Food Court area to wait, where I discovered there was free
wireless Internet access – which was a WHOLE lot faster than it had been
onboard ship! (And it was FREE! Though I did pretty well with the
internet package I got aboard ship – we had 250 minutes and used all but
10 of them.) So I worked on this blog entry while we were waiting.
It was our first cruise, but it definitely won't be our last – we really
had a wonderful time. 2010 can't come fast enough! I'll have more
to say in sort of a "conclusion" blog entry, though.
If you've made it this far… thanks for reading!