Toontown
Toontown is the community where carTOON characters live, shop, and play when not at a studio making movies. Inspired by the movie "Who Framed Roger Rabbit," Toontown is a whacky place where very little makes sense and you never know what crazy thing might happen next.
The entrance to Toontown is located at the boundary of Fantasyland and Tomorrowland and it's tucked neatly behind the two.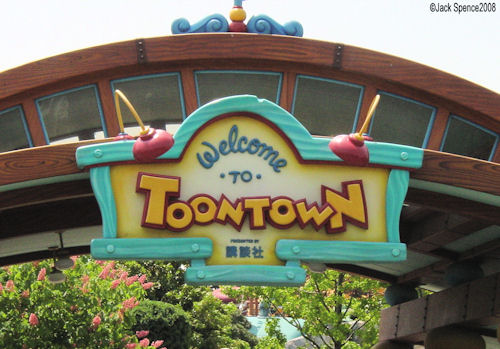 Here are several aerial shots of Toontown taken from the old Skyway attraction.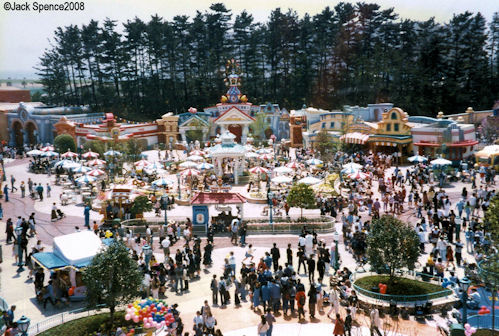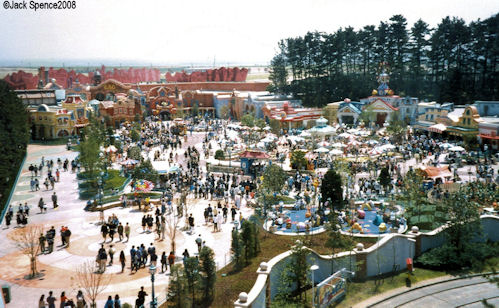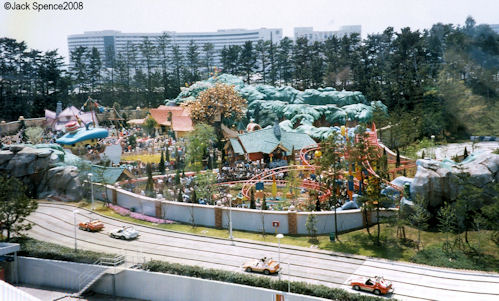 In the above picture you can see the Grand Circuit Raceway skirting the edge of Toontown and Gadget's Go Coaster.
Anyone familiar with Toontown at Disneyland California will immediately become disoriented when entering Tokyo's version as the entire land is a mirror image of its American counterpart. But other than that, these two lands are remarkably similar. Even the interiors of the buildings are furnished almost identically.
For those of you who are only familiar with Disney World's "Mickey's Toontown Fair" you're in for a treat. Toontown in Tokyo (and California) are vastly superior to the scaled down version in Florida.
Let's start with the residential section of Toontown which has many of the same elements as Mickey's Toontown Fair. Specifically, let's start with Mickey's House.
At Mickey's house you can personally meet The Mouse in one of several movie sets. This is a great way to get some uninterrupted time and pictures with the number one cheese. However, the line to meet Mickey and tour his home can be as long as many of the top attractions. As you can see in the above picture, this is a popular destination and many guests make this their first stop of the day.
Here's a picture of me taken 13 years ago at Mickey's House.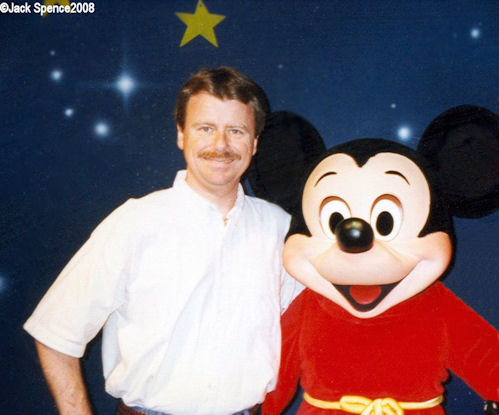 Touring Mickey's house is a lot of fun. Straight lines are almost nonexistent, everything is overstuffed and curved, and craziness abounds. I always secretly wonder if I could somehow convert one of the rooms in my own home to look like this.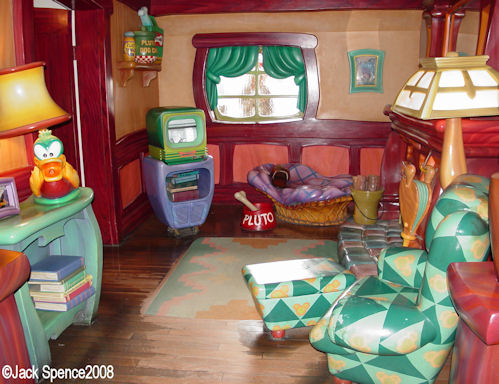 Minnie is Mickey's neighbor to the left and her house is also open to her adoring fans. However, Minnie rarely makes a personal appearance like her boyfriend. Here are a couple of pictures of her charming cottage.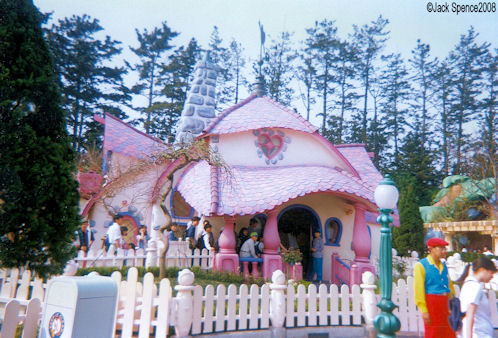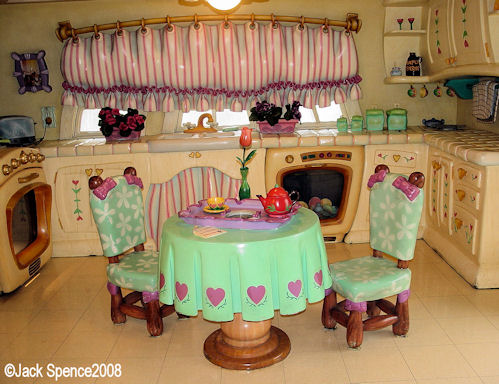 To the right of Mickey's house we find Chip 'n Dales Treehouse. Once again, these rascals' home is open to all.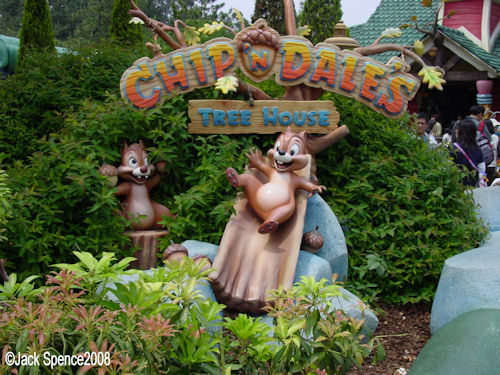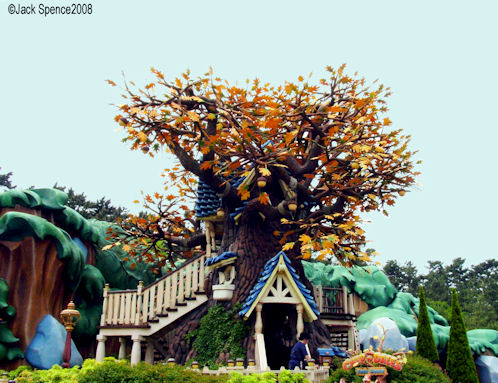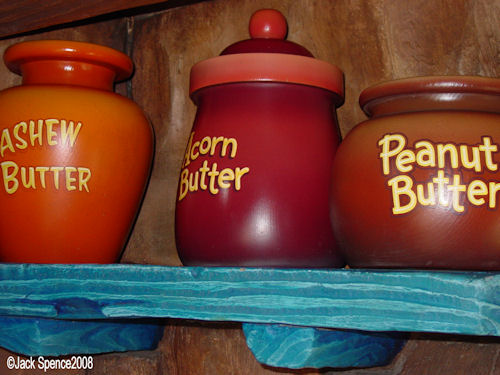 Continuing on we find Gadget's Go Coaster.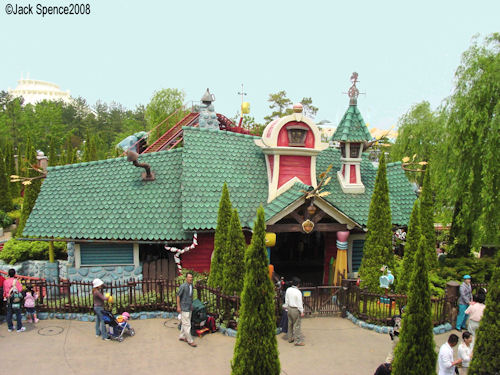 This is definitely a kiddy coaster. At Disney World it would be comparable to The Barnstormer at Goofy's Wiseacre Farm. The ride is just a little over a minute in duration and the thrills are tame.
You would never think of going on this attraction unless you had little ones in tow OR you were an absolute Disney fanatic that wanted to experience EVERYTHING. By the way, I have no children and I've been on this ride.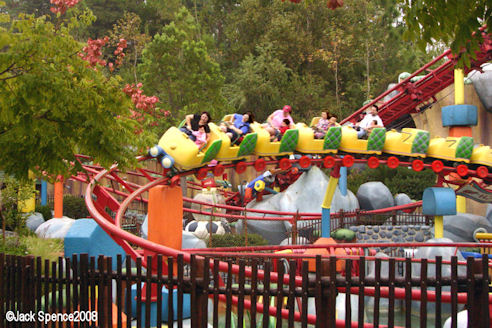 Docked next to the Go Coaster we find Donald's Boat, the Miss Daisy.
Unlike Mickey and Minnie's houses which are primarily for viewing, Donald is a little less uptight than his neighbors and let's you play with various goodies in his residence. You can steer the ship, ring a bell, talk over the "intercom" and a bunch of other cool stuff.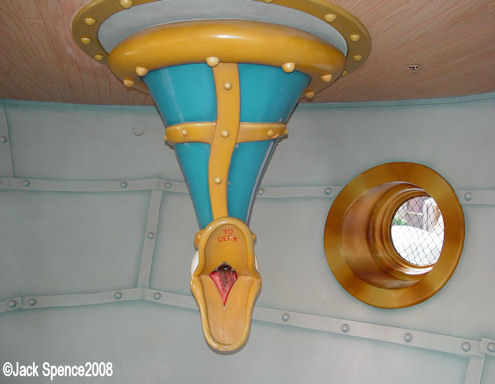 The final residence in Toontown is Goofy's Bounce House. Here, the walls and floors are cushioned and/or inflated, making this the perfect spot for kids to bounce and jump to their heart's content. There is a height restriction though. You must be UNDER 132 cm (52 inches) to enter. No adults, please.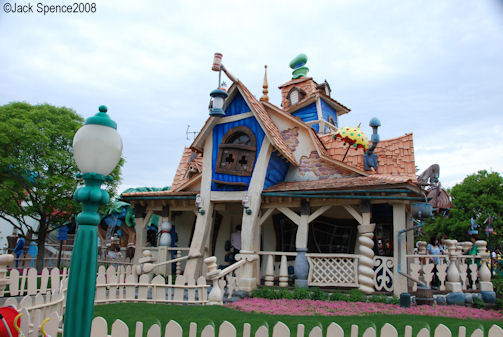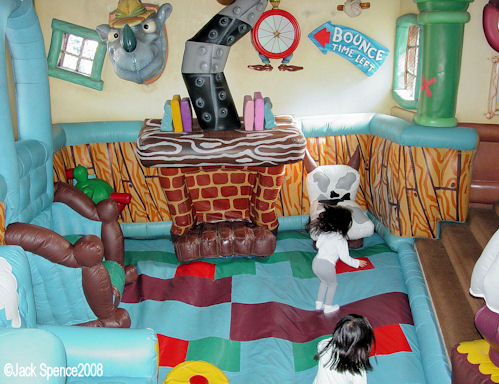 You never know where you'll find a toon.
For the long commute into the city, residents and visitors of Toontown can catch the Jolly Trolley located next to Mickey's fountain.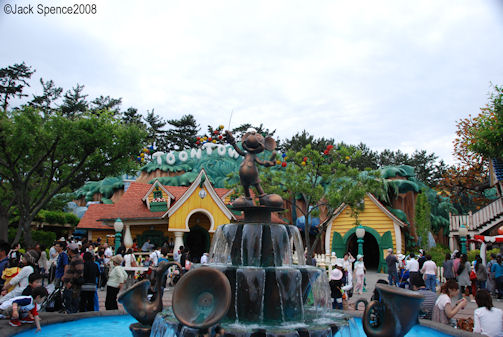 The Jolly Trolley is visually appealing as it bobs and pitches, this way and that, on its one-way trip downtown. The trolley holds eight guests and the ride lasts a whopping two and a half minutes. This is one of those attractions that provides more ambiance to onlookers than it does enjoyment to the few who actually ride it. I love the Jolly Trolley. It's cute!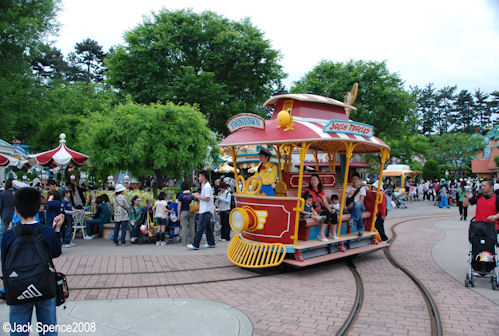 The Jolly Trolley is another good example of how the Tokyo parks have substantially more cast members manning their attractions than the American parks. When the trolley is in motion, one cast member drives the trolley. Another walks in front of the trolley in a zig-zag pattern clearing pedestrians from the tracks. And a third cast member follows behind the trolley ensuring that no hitchhikers jump aboard.
Downtown Toontown has all the essential elements of any big city. City Hall anchors one section of town and is flanked by a school, a bank, and various other municipal buildings.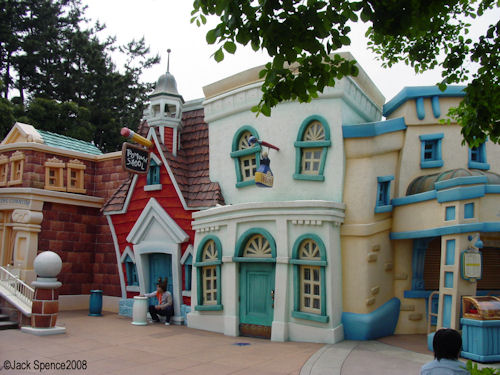 You'll even find Restaurant Row here, where you can purchase such taste treats as ice cream, caramel-flavored popcorn, pizzas, sandwiches, and Mickey pretzels.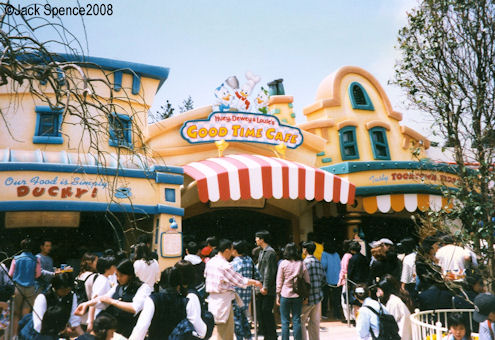 As we venture further into downtown we find winding streets with gags galore.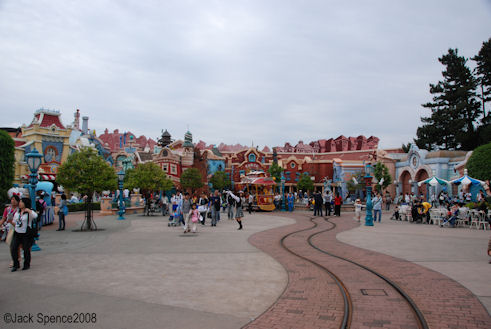 There is a fireworks factory with occasional explosions on the second floor.
Beware of falling safes.

Beware of falling barbells.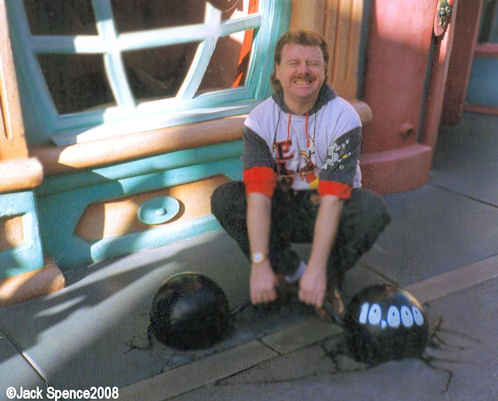 Sparks fly at the Power House.
The Five & Dime is where the toons do most of their shopping. Here they can find a large array of Disney souvenirs for themselves or their human friends.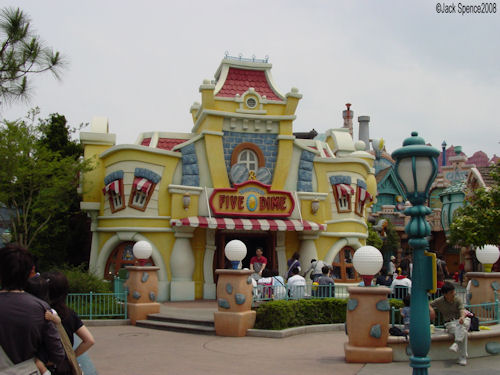 The final attraction in Toontown is Roger Rabbit's Car Toon Spin.
On this ride you join Benny the Cab for a wild ride through the seedier side of Toontown. The weasels are in hot pursuit with "Dip" and a desire to dissolve you. Your cab has a steering wheel that when turned, spins your car in circles. Think of the "Tea Cups" on wheels. The attraction has been carefully designed so that no matter which direction your cab is facing during the ride, there is something fun to see.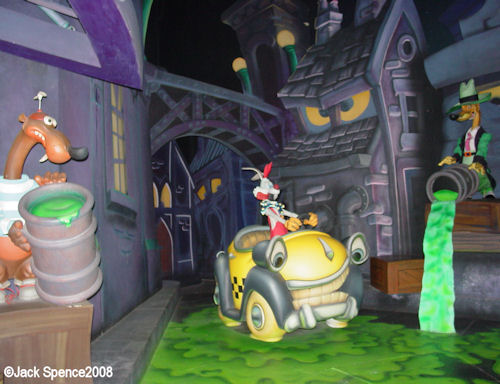 Just when you think all is lost, Roger Rabbit comes to the rescue with a portable hole and saves the day. This effect is simple, but beautifully executed.
This is a very popular ride, but fortunately, the queue is almost as entertaining as the attraction so the wait is somewhat enjoyable.
That finishes up Toontown. Next stop, infinity and beyond. Or in other words, Tomorrowland.