I rank Pooh's Hunny Hunt as one of my all time, world-wide favorite Disney attractions! And considering I'm not a big fan of Winnie the Pooh, that's saying a lot.
When I wrote about World Bazaar, I mentioned that I would talk about FASTPASS in a later blog. Well the time has come.
FASTPASS works exactly the same in Tokyo as it does in California and Florida.
You arrive at a FASTPASS kiosk, insert your admission ticket, and receive a slip of paper with a return time printed on it. Simple. But Pooh's Hunny Hunt is the first attraction that I've literally, without exaggeration, waited 25-45 minutes in line to pick up a FASTPASS.
When Tokyo Disneyland opens, everyone scrambles to their favorite attraction to secure a FASTPASS, and Pooh's Hunny Hunt is one of the most popular destinations. Cast members set up a temporary queue just to handle the FASTPASS line for this attraction. This picture was taken at around 9:30am and the line is about 25 minutes long at this point. Note, this is the line for the FASTPASS, NOT the attraction.
By 10am, one hour after the park opens, Pooh's Hunny Hunt will have an 80 minute standby line. By 11am, it can easily be two hours. And at 10am, the Fast Pass return time will already be late afternoon or early evening.
Why is this attraction so popular? Because it is astoundingly superior to its cousins in California, Florida, and Hong Kong. These other three versions pale in comparison. And even if you didn't compare it to the other Pooh attractions, it's a fantastic attraction in its own right.
I will do my best to describe the experience, but I know my efforts will fall short. Let's start with the cast member costume. Here they wear a "camp counselor" outfit — very appropriate for the 100 Acre Wood.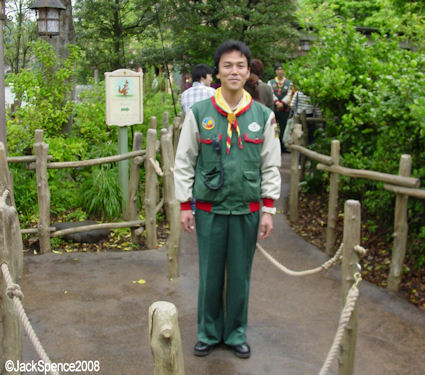 The queue begins in a lovely garden. In the background you see a large book, open to a Winnie the Pooh story.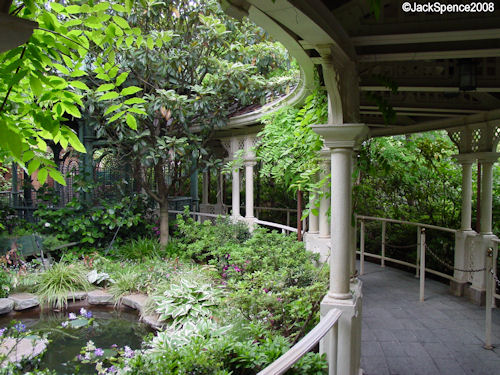 After a number of switchbacks through the plants and flowers, you eventually enter a gardener's shack full of tools and toys. As you exit this building you find yourself behind the large book you saw earlier, looking back out into the garden.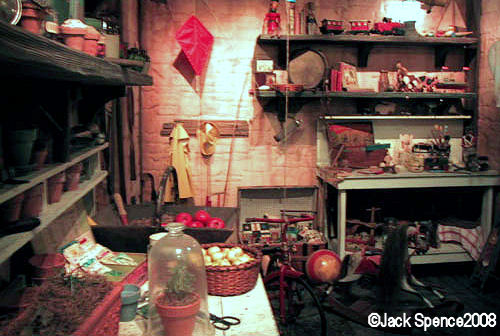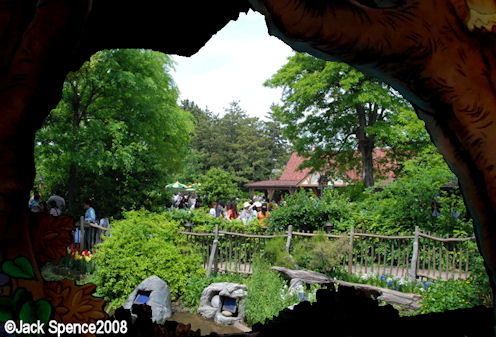 From here you weave in and around more book pages as you gradually work your way to the head of the line.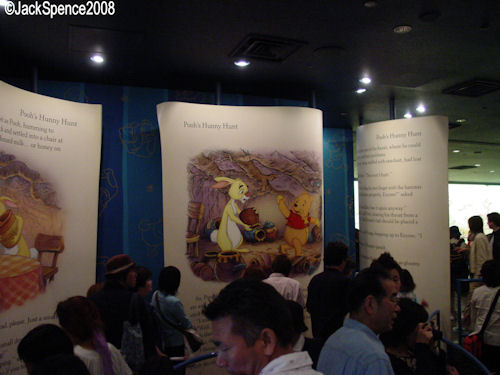 Pooh's Hunny Hunt loads three hunny buckets at a time. Each bucket holds four guests, two in the front and two in the rear. As the ride begins, all three vehicles move forward simultaneously, one, two, three. There is no track on the floor so the buckets are free to move about randomly.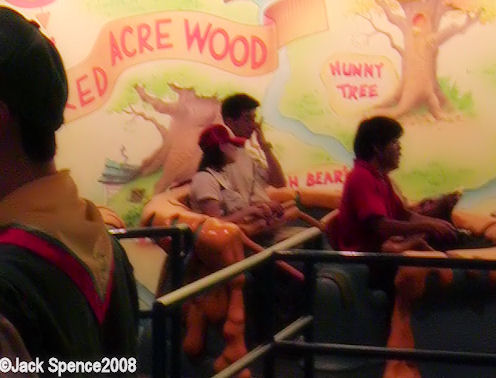 A short distance away, all three vehicles come to a stop in front of a giant storybook, which comes to life as Christopher Robin and Winnie the Pooh set the mood for the adventure to come.
A moment later, you leave this area, but not in the same order as you arrived. Now, vehicle number three is in the lead, followed by two and one. Next stop, the Blustery Day room. As you enter this large area, your vehicles seem to have minds of their own. Each hunny pot takes a different route and roams around the room as the wind causes a number of events to unfold.
As each vehicle wanders about, you'll see most, but not all of the goings on. Each hunny pot experiences things a little differently. When you leave this room, vehicle number two is in the lead, followed by one and three.
Next you enter the Bounce Room where Tigger is your host. All three vehicles come to a stop, then the entire floor begins to bounce up and down. At the same time, the trees and plants that surround the room spring to life, but they bounce independently from the floor. All the while, Tigger can be seen hopping from one screen to the next in the background. The effect is fantastic. You really are immersed in the middle of everything.
As you leave this room, you travel backwards down a long hallway with car number one in the lead, followed by three and two. Eventually you make another stop, this time to watch Pooh fall asleep and go into his dream state. This effect is the same as the one seen at Florida and California.
From here you enter the Heffalumps and Woozles Room. This is the best area of all! As you enter this "fun house," you join four other hunny pots already in the midst of things. Three of the hunny pots are occupied by other guests and the fourth contains several Heffalumps and Woozles.
At this point, your three vehicles join the Heffalumps and Woozles' hunny pot and create a circle. Then the four of you rotate around each other. After you make a couple of revolutions, you break away from the group and start your crazy journey around the room. At the same time, the vehicles that were already in the room when you arrived take their exit. As they leave, a fresh group of hunny pots join the room and create a new circle with the Heffalumps and Woozles.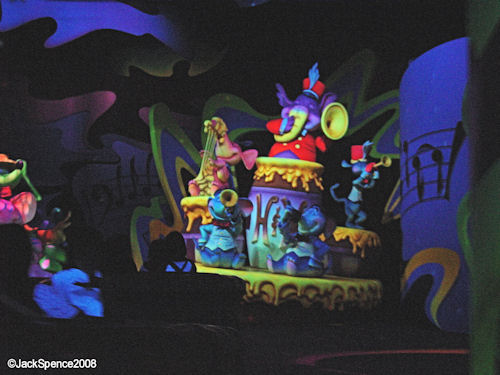 Now traveling independently from the other hunny pots, your vehicle moves from one gag to the next, stopping momentarily to view the event, then moving on – sometimes forward, sometimes backwards.
It seems to be complete chaos, seven hunny pots moving about randomly. It's sheer delight. Eventually, it's time for your group of hunny pots to leave the room, only to be replaced by a new group of three.
Your final stop brings you to Pooh covered in honey.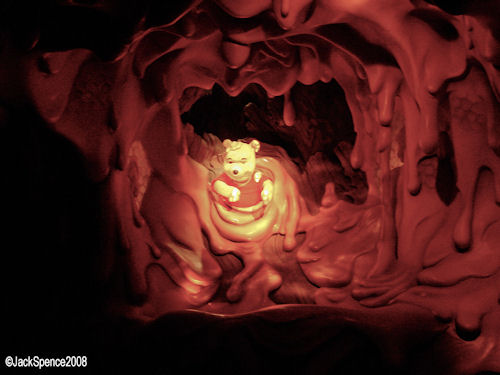 When you eventually reach the unloading area, car number three is in the lead, followed by two and one. And I guarantee, you'll want to hop right back on and experience this ride again. Unfortunately, by this time, all of the Fast Passes are gone and it's an hour-and-a-half to two hour wait for the standby line.
If you are lucky enough to ride this attraction multiple times, be sure to request a different hunny pot on each occasion as the sights and experience is slightly different depending on the car you're in.
You exit the attraction through a shop, as if you couldn't have guessed that.
Pooh's Hunny Hunt uses the same ride technology as the Aquatopia ride at Tokyo DisneySea. Having no track, the hunny pots are controlled by a master computer that relays directional information to each individual unit from a number of transponders positioned throughout the attraction. This allows different vehicles to take different routes, adding to the confusion of the experience.
Why do I think this ride is so fantastic? It's because you're immersed in the story. You're more than just a passive observer; you're part of what's going on. Somehow you've been whisked from reality and allowed to "live" the fantasy for a few moments. No trip to Tokyo Disneyland would be complete without experiencing this attraction. Even if you HATE Winnie the Pooh, this is a MUST SEE attraction.
I find it sad that Disney chose to build "traditional" Winnie the Pooh attractions at Disneyland CA and Hong Kong. They knew they had a winner with the Tokyo version. Why did they "cheap out" in the other parks? From my own experience and from what I've read, the Pooh attraction in California is often empty, even when the park is busy. I can guarantee that if they had put in the Tokyo version, this wouldn't be the case.
Located outside of this attraction is a concession stand that sells honey flavored popcorn. How appropriate.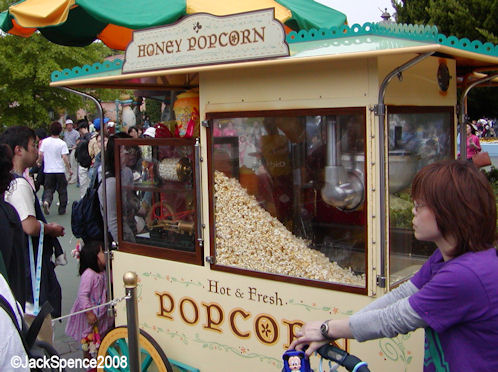 It's interesting to note that even though popcorn is sold extensively at both Disneyland and DisneySea, finding plain, salted popcorn is almost impossible. It seems that the Japanese enjoy their kernels flavored. Here are just a FEW of the varieties you'll find: curry, chocolate, cream soda, caramel, black pepper, strawberry, salad, cappuccino, and coconut.
Pinocchio's Daring Journey is located across the way from Pooh's Hunny Hunt.
This attraction is a carbon copy of the Pinocchio adventure at Disneyland in California. This is a classic "dark" ride that follows the wooden boy and his conscience on a series of adventures.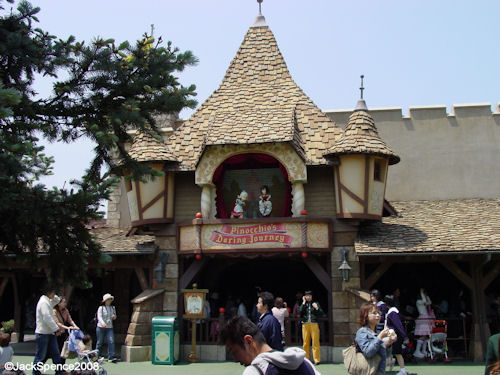 The final attraction in Fantasyland is The Mickey Mouse Review.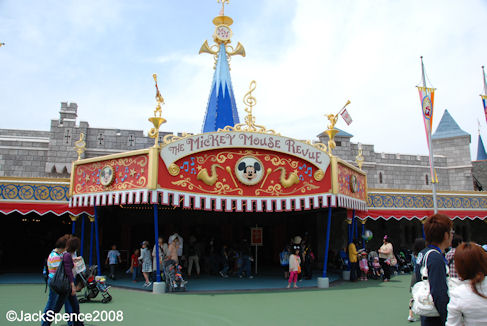 For all of you old enough to remember, The Mickey Mouse Review was one of the original Magic Kingdom attractions that ran from October 1, 1971 through September 14, 1980 when it was closed and shipped to Tokyo. Florida guests still look back nostalgically when they think of this show.
For those of you who fondly remember this classic, I have good news and bad news. The good news is this, other than being translated into Japanese, the show has not changed one bit since its opening in 1971. The bad news, other than being translated into Japanese, the show has not changed one bit since its opening in 1971.
The presentation begins in a preshow area. Here you'll watch the same exact film that was shown at Disney World (dubbed in Japanese). As the movie begins, an animated "sound track" moves from the side of the filmstrip to the center of the screen and introduces a variety of Mickey Mouse cartoon clips and a history of animation unfolds. This "soundtrack" gag was originally used in the movie Fantasia.
This movie is horribly out of date. Ever present is the old Disney World logo.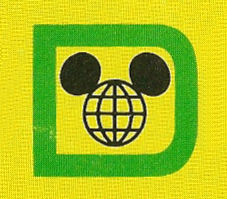 The film is also terribly scratched and the colors are faded.
From the preshow area we move into the main theater, which looks pretty much as it did in Florida.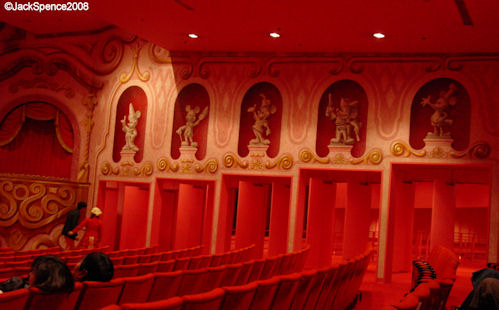 For those of you not familiar with the attraction, a large collection of audioanimatronic Disney characters are assembled on stage and perform a number of classic songs. Mickey Mouse takes center stage as the conductor of the orchestra.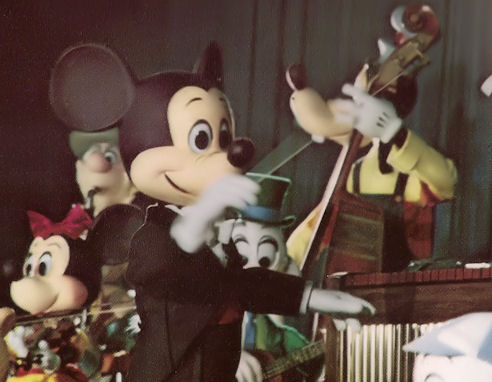 With the exception of Mickey Mouse saying goodbye at the end of the show, all of the songs has been translated into Japanese. This isn't a problem since there is no dialog and we're all so familiar with the music that we can translate the lyrics in our heads.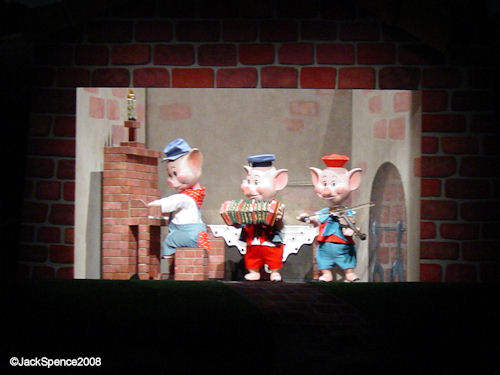 But the show is frozen in the past. The most current movie represented is The Jungle Book which came out in 1967. And by today's standards, the show is very slow moving.
Don't get me wrong. I enjoy this attraction, and I suspect that many of my generation would also like seeing it again or for the first time. But younger audiences may find it a little dull and plodding. I know many Disney purest will disagree with me, but I think this show could be updated, both in pacing and with more contemporary characters and songs
This attraction is rarely crowded, even on busy days, and it's a good place to relax and cool off when you need a rest.
There are a number of places to eat in Fantasyland, but I'm only going to talk about one, the Queen of Hearts Banquet Hall. Located between the Haunted Mansion and "it's a small world," this restaurant was designed with an Alice in Wonderland theme and an exterior that looks like a fanciful castle. You'll even be able to spot a few playing-cards painting the roses red.
Inside you'll find an elaborate buffeteria and show-kitchen that serves an assortment of entrees such as rotisserie chicken, steamed sole, meatloaf, and a variety of salads, soups, and desserts.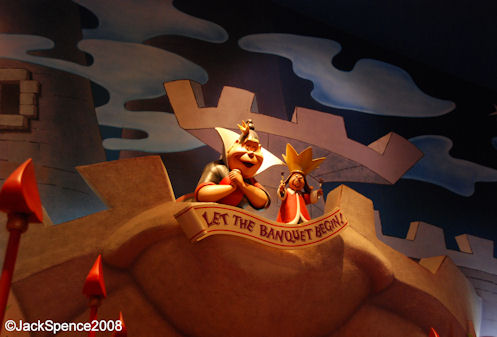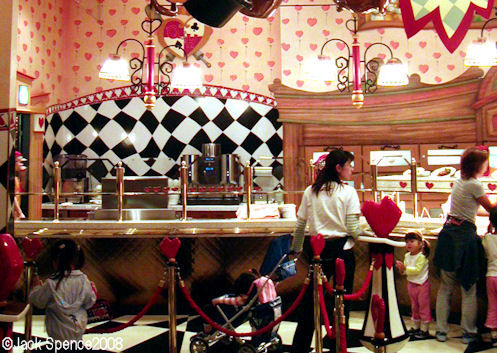 The seating area is also a lot of fun as you sit among more playing cards, overgrown flowers, and a beautiful stained glass window.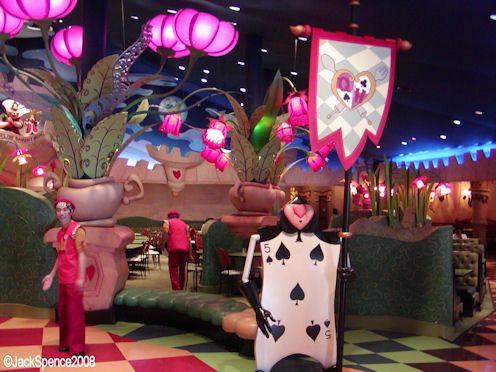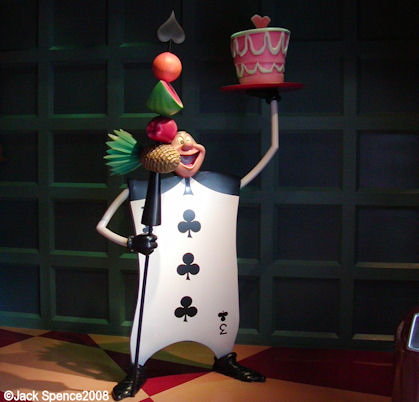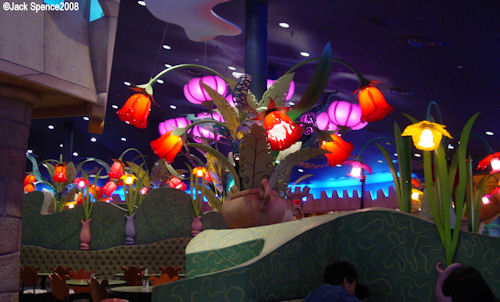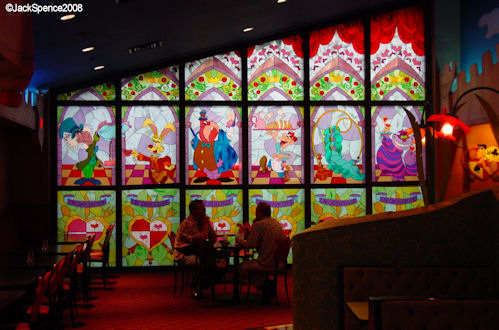 This restaurant is very popular and lines tend to be long for lunch and dinner.
For me, Tokyo's Fantasyland lacks an overall cohesiveness. It has a lot of nice individual elements, but somehow I don't feel that they blend together well enough to make this land magical. Instead, you just wander from one attraction to the next with no real sense of being anywhere special. Others might disagree, but that's my take. That's it for the realm of fairytales.
Next stop, Toontown.