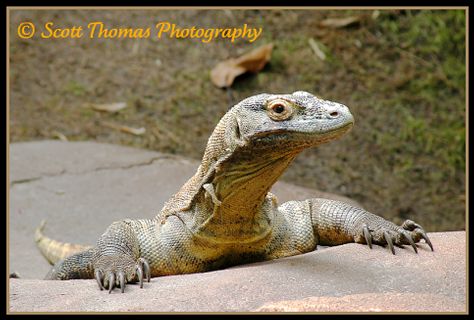 Komodo Dragon on the Maharajah Jungle Trek
The Maharajah Jungle Trek is a walking trail featuring the beautiful and powerful Asian Tigers. Unlike the Kilimanjaro Safari (see link below), you can take your time viewing the animals. At least until those with you bug you to move on. You will need a camera that can take good photos at ISO speeds ranging from 100 or 200 to 800 or 1600 as the light varies greatly along the trail. To be able to fill the frame, a lens of 200mm in length is a must. With the crop factor on dSLR cameras this often gets you a 35mm equivalent of 300mm. A Point & Shoot camera with a zoom factor 10x or more will give you excellent range to get viewfinder filling shots.
When shooting at these magnification, your camera will be using large apertures which means the depth of field or zone of focus will be small. You need to be careful what you are focusing on. Like people, the eyes must be in sharp focus. Viewers will overlook softness in other features of the animal as long as the eyes are in focus.
Luck has a lot to do when photographing an animal doing something when you are there. The photo of the Komodo Dragon above was taken on my seventh trip to Animal Kingdom. All the other times, he would be lying there with his body flopped on the ground. In this case, a bird had landed in his enclosure and he was hunting it. You can increase your chances of seeing activity by walking the trail early or late in the day. As mentioned on the AllEars.net page on the Maharajah Jungle Trek, the tigers get very active around 4pm in the afternoon.
Related Links: