Before I start describing anything, I need to let you know that I've been to Tokyo Disneyland three times, once in 1996, again in 2003, and finally this year. On each occasion, I visited the park multiple days.
I also took a lot of photos on these trips and I will be picking and choosing from all of them to try to give you the best shot that corresponds with what I'm describing. So, don't be confused if you see a "20th Anniversary" sign when you know that Tokyo Disneyland is actually celebrating their 25th anniversary this year.
Also, as I mentioned in other blogs, the Tokyo Disney Resort is owned by Oriental Land Company, not Disney. However, for simplicity, I may use the name "Disney" when in actuality I mean Oriental Land Company. I hope this doesn't confuse you too much.
Okay, now that the ground rules are out of the way, let's get started.
People can get to the entrance of Tokyo Disneyland in several ways. Guests staying at the non-Disney "Official" hotels can either ride the monorail from Bayside Station or take one of the cutest busses you'll ever see.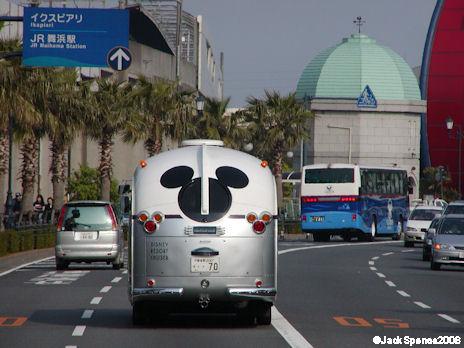 The interior of these buses are equally impressive. All of the seats are upholstered in red with yellow buttons that make them look like Mickey's pants.
Guests driving their own cars use the expansive parking lot situated to the right of the park. Interestingly, Tokyo Disneyland does not offer tram service and guests must walk to the entrance.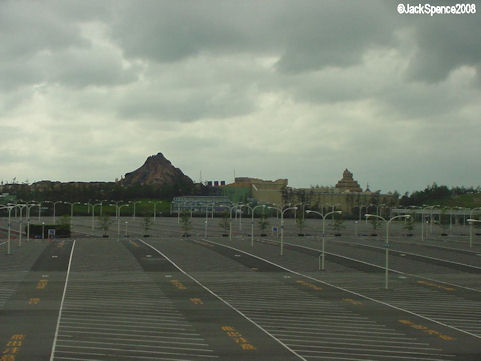 Guests staying at the Disney-owned MiraCosta or Ambassador hotels ride the monorail and exit at the Tokyo Disneyland Station.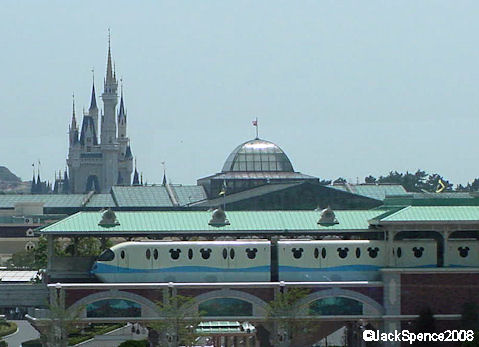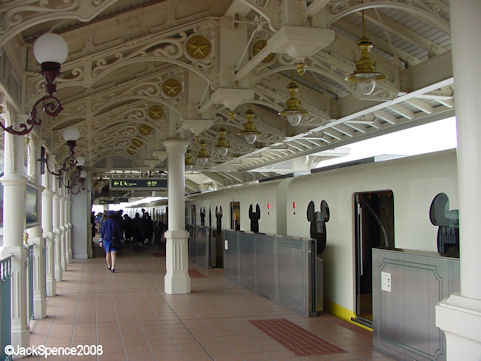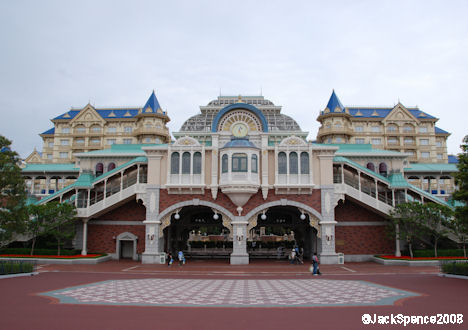 The new Tokyo Disneyland Hotel is scheduled to open this month. This hotel is located behind the Tokyo Disneyland Station and guests will simply walk to the entrance of the park.
The vast majority of guests visiting Tokyo Disneyland come by train and exit at Maihama Station.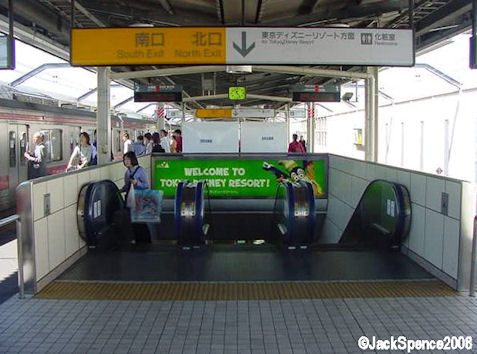 Conveniently located to the train station is the Tokyo Disney Resort Welcome Center. Here, guests can make hotel reservations, have luggage delivered to their room, buy tickets, and arrange for a number of other services.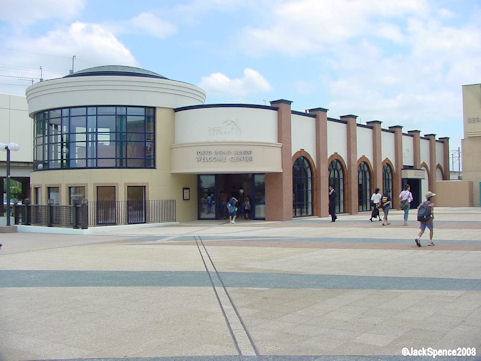 From the Maihama Station, guests stroll (some run) along an elevated walkway toward Disneyland. A short distance from the train station they will pass the Bon Voyage Shop. Designed to look like a giant suitcase, this store sells a large array of Disney souvenirs. This is the perfect spot for last minute shopping when leaving the park.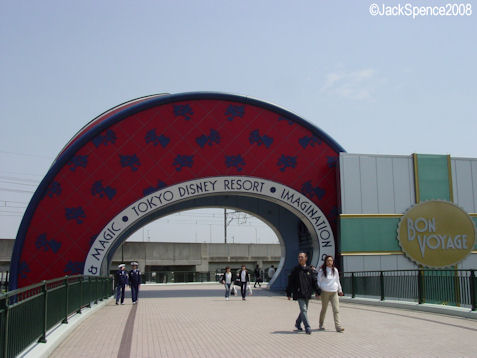 Beyond the Bon Voyage Shop, guests pass under an ornate clock tower. From here, it's just a short walk to the park's entrance.
On most days, Tokyo Disneyland opens at 9am, and not a minute earlier. Unlike Disney World and Disneyland in California that might open Main Street a half hour in advance to help alleviate the crowds on busy days, Tokyo Disneyland does not.
If you want to be one of the first people into the park, you need to be at the turnstiles 45-60 minutes before opening. The picture below was taken at approximately 8:30am – and you're only seeing half of the crowd. An equal number of people are out of sight to the right of this shot. It will take the people at the end of these lines 20-25 minutes to pass through the turnstiles.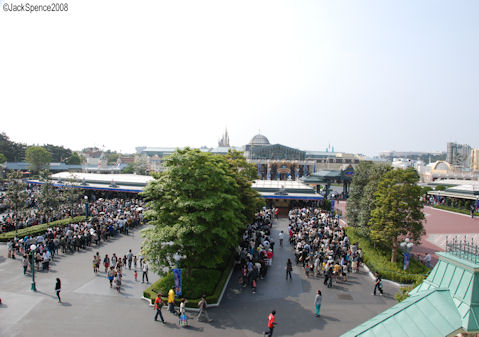 Once guests have entered the park they hightail it to their favorite attraction for a Fastpass, but more on that in a later blog.
Since Tokyo Disneyland does not have a railroad station at the front of the park, and because World Bazaar (Main Street) is covered, the entrance looks very much different than the other four Magic Kingdoms around the world.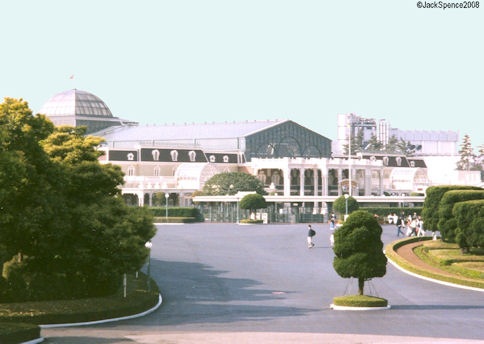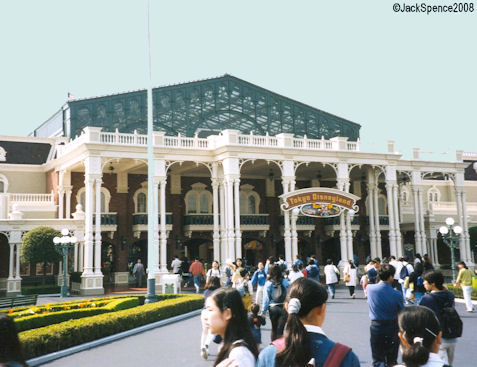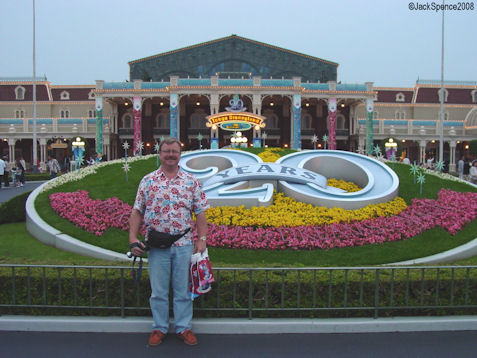 It's very common to see groups of school children enjoying the parks as Disney often offers special promotions aimed at this group. Most school children in Japan wear uniforms, usually dark blue or black. Don't assume that just because you're visiting on a Monday through Friday that there will be fewer children.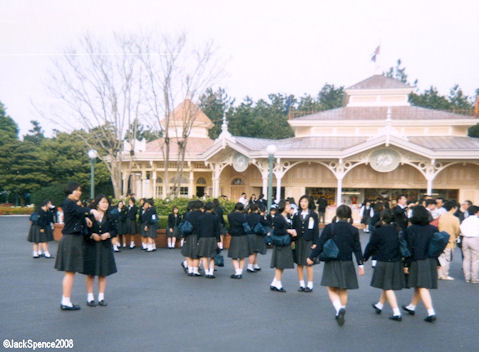 Tokyo Disneyland is a busy park. Except during the cold and wet winter months, expect long lines when visiting here.
Next blog, World Bazaar.