First, let me answer the question that's on many of your minds.
Why is Main Street called World Bazaar?
When the Imagineers first found out that they would be designing a new Magic Kingdom in Tokyo, they wanted to create something new — not just a rehash of what had already been done before, twice.
One of their ideas was to do away with Main Street and create an international shopping mall and call it World Bazaar. Instead of turn-of-the-century America, guests would wander down a street filled with exotic shops from around the world – sort of a mini-World Showcase. And remember, Epcot was already in the planning stages when Tokyo Disneyland was first proposed so these "international" ideas were fresh on their minds.
However, the Oriental Land Company (OLC) had other thoughts. They wanted the Imagineers to take the best from Disneyland in California and the Magic Kingdom in Florida and combine these elements into an improved Disneyland – not something new. So the idea of an international shopping mall died, however, the name World Bazaar did not. From what I understand, the execs at the OLC liked the name so it was kept in order to please the client. Go figure.
The other interesting aspect about World Bazaar is that it has a roof over it. This was built as the winter months in Japan can be very cold and wet. In fact, it snows occasionally in Tokyo.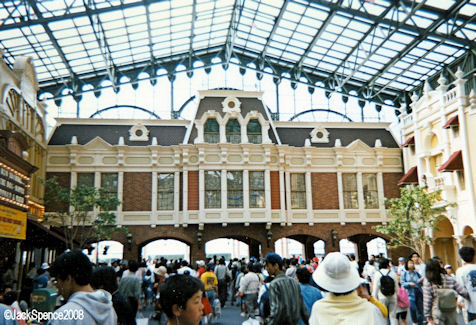 The first time I walked down World Bazaar, I really didn't like this roof. It just didn't feel right. But then I realized that my real issue was that it was different from the California and Florida parks. There was nothing wrong with it, it was just different. So after I got over my prejudice, I was able to accept it for what it is. And I have to admit, if you're going to put a roof over Main Street, oops, I mean World Bazaar, Disney did a very nice job.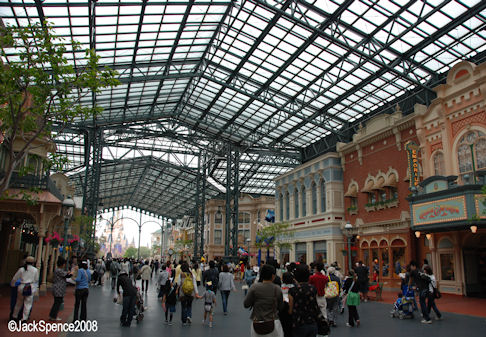 The structure is built of metal with glass insets so plenty of light filters down to the street below. It is themed nicely and fits in well with the turn-of-the-century American buildings. In the center of World Bazaar, over the intersection of Main Street and Center Street, a large cupola adds architectural interest.
The one negative this structure brings is noise. Everyone's voice echoes and bounces off of the structure and quite a din is generated.
The sidewalks and street are at the same height in World Bazaar so there is no curb to trip over. I'm sure this was done for safety reasons and considering how congested it gets in here, I think this was a good idea. Interestingly, you don't really notice this single level as the sidewalks, curbs, and street are each made of different materials and painted various colors adding to the illusion of a real street.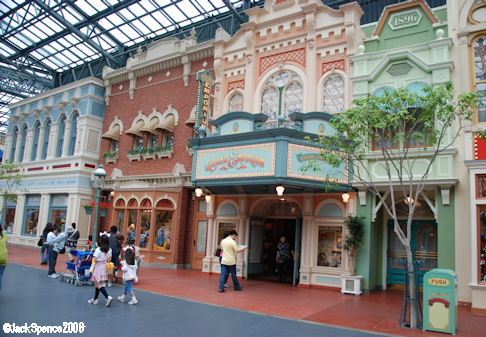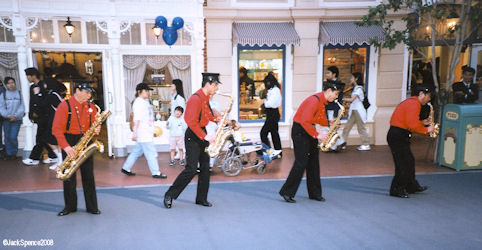 On my first visit to Tokyo Disneyland in 1996, I was overwhelmed one afternoon around 2pm by the crowds. I needed a break from people. Knowing that Main Street is always quiet mid-day at Disneyland in California, I headed over to World Bazaar for some peaceful shopping. Boy, was I surprised!
The Japanese people enjoy shopping. And as I mentioned in a blog about Tokyo DisneySea, it is customary to bring back a "remembrance" to friends and family back home. So when I arrived at Word Bazaar that afternoon, the shops were swamped. In fact, the cast members were literally having trouble keeping the shelves stocked. So much for escaping the crowds. If you want peaceful shopping in the Tokyo parks, I suggest first thing in the morning, otherwise, forget it.
Speaking of shopping, the Emporium is on the right side of the street, not the left as it is in all of the other Magic Kingdoms.
World Bazaar also has a Magic Shop. Remember when there was a Magic Shop on Main Street in the Magic Kingdom? Sigh…
When Tokyo Disneyland opens, everyone rushes through World Bazaar on their way for a Fastpass. But even though no one is paying any attention, many of the shop's cast members stand on the sidewalk and wave at passer bys.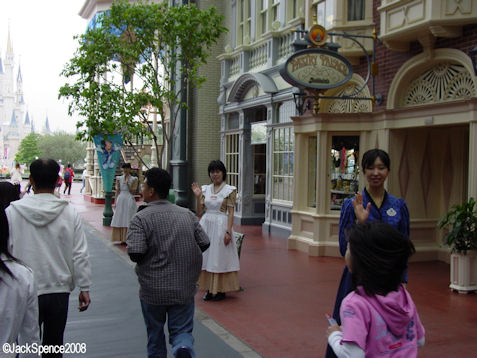 World Bazaar has a unique feature that none of the other Main Streets around the world have. Here, Center Street actually connects to other lands – Tomorrowland to the right and Adventureland to the left. I really like this layout and it makes park navigation easier.
This picture is looking toward Adventureland.
This picture is looking toward Tomorrowland.
There are two attractions in World Bazaar. The Penny Arcade offers a number of old-time arcade games – like the ones that once graced Main Street in the Magic Kingdom before every inch of available space had to make way for Disney merchandise.
The other attraction in World Bazaar is the Disney Gallery. This shop/studio is located on the second floor and showcases Disney concept art. Also available here (at an additional charge and only conducted in Japanese,) is a class that teaches guests how to draw a Disney character. This class is similar to the Animation Academy at Disney's Hollywood Studios in Florida.
There are a number of full-service restaurants in World Bazaar. I'll briefly talk about a few of them.
Restaurant Hokusai serves Japanese cuisine. This restaurant is located on the second floor of World Bazaar and uses traditional Japanese designs in its motif. Some of tables next to the windows have a fantastic view of The Hub and Cinderella Castle.
If you haven't already done so while visiting the rest of this beautiful country, I would suggest trying at least one Japanese restaurant and this would be a safe choice. Very little on the menu is too far removed from American pallets as to make you wince. My flight attendant friend TDLFAN was able to join me one evening at Tokyo Disneyland and we ate dinner here.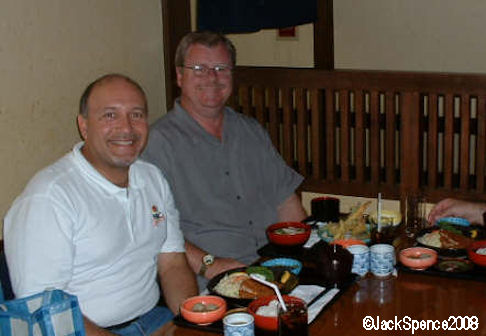 Below is a picture of the tempura I ordered. Looks good!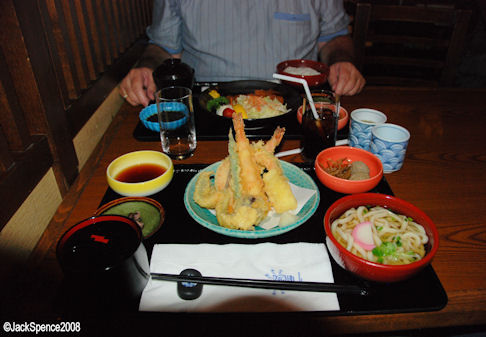 The décor of the Eastside Café fits nicely in World Bazaar with its early 20th-century atmosphere and Victorian charm. Pasta and meat dishes are on the menu.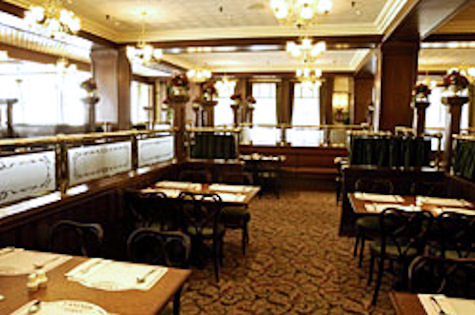 I find the décor of Center Street Coffeehouse a little odd for World Bazaar. Instead of Victorian or Art Nouveau, this eatery is decorated in the Art Deco style popular in the 1920s and 30s. This is one of the few restaurants open for breakfast.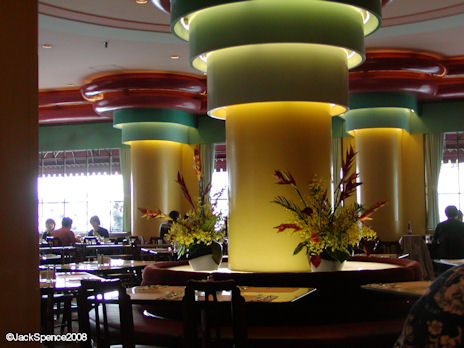 The Great American Waffle House serves, you guessed it, waffles. Open all day, this counter service restaurant is a great place to grab a quick bite to eat if you're in need of a sugar pick-me-up.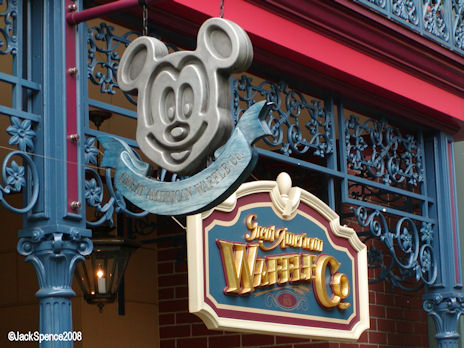 This picture was taken from Adventureland looking back at World Bazaar.
This picture was taken from Tomorrowland looking back at World Bazaar.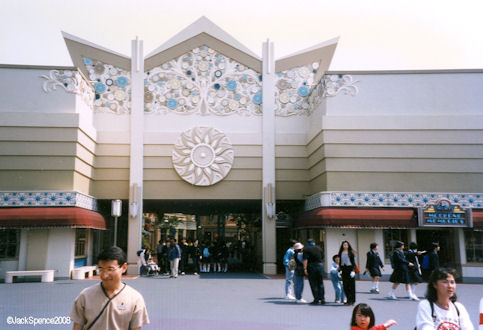 Next blog will be about The Hub.