This was Challenge #46: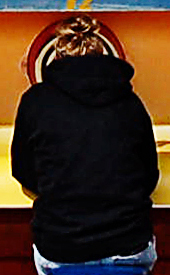 And here's the answer: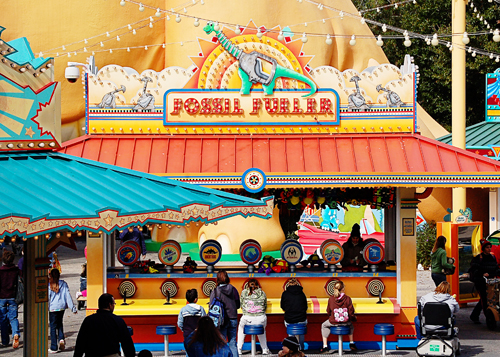 Copyright © 2006 Barrie Brewer, Nikon D50, 18-200VR, 1/500s shutter, f5.6
She's playing Fossil Fueler, one of the wacky carnival games in Chester & Hester's Dino-Rama! Located in Dinoland USA in Disney's Animal Kingdom, Dino-Rama is a fun and colorful tribute to the carnivals we all grew up loving.
Evelyn Cowdell was the first to send in the correct answer this week! Congratulations to Evelyn and all the readers who got the answer right: Angie Young, Patty Carty, Ed Aleszczyk, Garland Cox, Jennifer Tremley, John Dupre, Erica Andrews, Alyssa Nutter, Nicole Cyr, Stephanie Visco, Jen Cox, Karen Hotchkiss, Sharon Pierce, Amie Mumpower, Chloe, Diane Furtado, Damon Carter, Kerianne Magee, Karen Nelson, Dave Cole, Diane Ramos, Matt Martel, Dan Hwkins, Jon Sander, Cheryl Costello, Gretchen Payne, Cecilia Hale, Monica Hatch, Stacy Patterson, Erin Hammer, Ken Fischler, Krista Knowles, Eileen Krause, Kimberly Watson, Victor Gonzalez, Candice Cheven, Wendy Snelgrove, Evan Dworkin, Clay Anthony, Dan Potts, Kathleen Catalano, Melissa Destito, Noreen Rachuba, Paul Murray, Georgine Kamradt, Kerry, Greg Stevens, Hans Reller, Shandy Brickler, Rickey Yarbrough, Melissa Rebelo, Ron Lewis, Paul Hicks, John Pasqueralli, Paul King, Kelly Montgomery, Carrie Dienna, Mike Gillardi, P. Carrick, Jennifer Saylor, Crista Kostrzewski, Frank Miller, Jennifer Woods, Chris Courson, Mike Haeberle, Tara Mccauley, Lisa Mcbride, Gary Huusko, Howard Schreiber, Mary Wangerin, Kenneth Cox, Jessica Persinger, Heather M, Jason Scott, Katie Wetzel, Missy Carroll, Karen Durisch, Chuck Sands, Michael, Jay Lewandowski, Austin O'blenis, Tim Davis, Sara Wood, Liz Barranco, Marita Sarad, Heather Kelly, Jennifer Kelly, Janet Druce, Sharon Runciman, Dawn Erickson, Jennifer Lindhurst, Brian Miller, Renee Zarycki, Allen Cohen, Leslee Rigoli, Dawn-Marie Badame, Jennifer Romano, Dave Peters, Gerry Spooner, Bruce Hinterleitner, Rachel E, Jessica Reed, Pam Bowyer, Brent Nyberg, Angie Grimes, Andrew Browne, Nicole Laskin, Jaime Breheny, J. Thomas, Ashley Mucha, Joseph Ragona, Vickie Mcgee, Shannon Watts, Cedric Ching, Kenny Cruz, Emily Nussbaum, Eddie Cusson, Samantha Sim, Jennifer Smith, Christopher Handa, Heather Fresa, Lori Theilken, Mhairi Stirling, Scott Sabourin, Katy Pettis, Janet Deane, Katherine Smith, Cathie Hemesath, Mary Falcone, Wendy, Karen Dresser-Smith, Robert Layman, Robert, Melissa Allore, Jessica Gottlieb, Kari Morrison, Kathy Howitz, Dominic, Kimberly Mueller, Jay Bellemare, Clarissa, Karen Schlumpf, Sabrina Rolle, Gay Krahling, Danusia Rogacki, Jennifer Hacker, Alica Byars, Kenny, Debbie Hicks, Judy Brodersen, Deborah Rich, Dustin Woodley, Chris Maslowski, Catherine Zori, Amanda Mccandless, Emma Poprock, Kellie Carter, Jacqueline Sadler Rose, Kirk Sheppard, Kathy Maffei, Tom Wert, Mark Mills, Dawn Godaire, William Lawson, Colette Seller, Andrea Mayo, Debbie Roach, Jeremy Forehand, Larry Gandy, Christina Cella, Diane Bunn, Lisa Mcneill, Adam Boerhave, Jason Comegys, Kelly Zanauskas, Erick, Sara Cavallon, Jessica, Shawn Guthrie, Frank H, Mark Mainka, Tacey Atkinson, Renee Lambertus, Brian Berger, Maryanne Taragano, Sean Hyland, Eric, Erin Morrison, Jillian Clark, Gail Perry, Marie Rogowski, Brett, Kyle Bliven, Kelly Mager, Christy Hodge, Cat Birkett, Apryl Thomas, Susan, Amanda Heller, Joe Mahoney, John Pulcini, Diana Archambault, Joel Freer, Rebecca Sacks, Sal Derose, Kristin Trexler, Kevin Csizmar, Kelly Johnston, Anderson Dun, Kim V, Gino Caputa, Jon Strickland, Ann Toback, Erich, Cori Lehman, Jennifer Stafford, Catherine Zori, Garry Lauter, Julie Lauter, John Dean, Melina Hillis, Joe O'leary, Tom Koval, Jamie Poynton, Daniel Brace, Holley Blyler and Jess Ro. Each of you will be entered in the July winners' drawing.
_______________________________________________________________________
Challenge #47: Where in the world is this?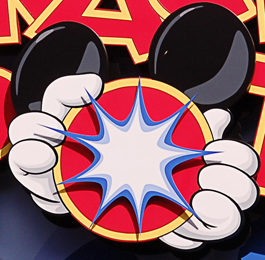 Do you know? Do you have a guess? Send in your answer, before the end of the day on Thursday, July 24, by clicking HERE!
_______________________________________________________________________
Everyone who sends in a correct answer to a Where in the World Challenge this month will be entered in a drawing at the end of the month for some special AllEars® goodies and a copy of PassPorter's Walt Disney World by Jennifer Marx, Dave Marx, Allison Cerel Marx!