Another busy day today…and it was *hot*. Definitely high 80s, if not in the 90s. Whew. There was quite a breeze blowing, too – which was good, because it helped keep us a little cooler, but it was also bad, because they couldn't put up all of the big umbrellas, for fear they would topple over. So some of the venues, and especially the waiting areas, didn't have as much shade today.
Oh, before I forget…I put the menus for the Festival on-line – you can find them HERE.
We started our day off by taking advantage of the Early Entry…I mean Magic Morning…perq that we get for being guests at one of the Disney resorts. Normally the only way to get into Disneyland early is to have a three-day (or more) hopper ticket – most of these have one MM entry on them. But if you're staying at the Disney resorts, then one of the unpublished benefits is that you get MM entry every morning of your stay that it's offered. For people like us who have annual passes, that's the only way that we ever get to enjoy MM.
The park opened to the public at 8:00, which meant MM began at 7:00…pretty early when we had a long day yesterday. But we got there a few minutes before they opened the gates, and made the long trip back to the Finding Nemo Submarine Voyage queue our first destination. Even though the fastest way to the ride entrance is through Tomorrowland, they make everyone go up to the hub and onto Matterhorn Way, then around the *left* side of the Matterhorn. And then they held us under the monorail track, all the way across the lagoon from the sub loading area, before finally walking us through the queue and into the loading area. We were on the second or third sub of the day, and really didn't have much of a wait at all.
Lee had never ridden it before – he said it was ok, but not something he needs to do very often. He said when you're an adult and you know that the submarine isn't actually going down, it loses an awful lot of the magic. If you've ever spent time underwater (as he has, between scuba diving and snorkeling) then it looks incredibly fake. But he thought the "projections" of the fish (or whatever they do) were effective and interesting. (Ok, now he's trying to blame it on me, and saying that his entire Nemo experience was ruined because I told him last year that it wasn't that good.)
30 minutes of our magic hour was gone by then…but we were still able to vanquish Zurg, blast through space in a rocket ship, and take a trip to Wonderland before our hour was up.
We had breakfast at the Carnation Cafe for the first time. We had two of their most popular dishes – Oscar's Cafe Scramble and the Mickey Waffle. Service was efficient and we both thought the food was good and not really overpriced at all – $27.00 for both of us with tax and tip, and we usually spend about that much at our favorite breakfast place at home. You can see their breakfast menu HERE.
As we were walking up Main Street after breakfast Lee noticed the chairs that are up on the porch in front of one of the shops were empty, so we sat there and watched the world go by for a few minutes. Just something we'd never had a chance to do before!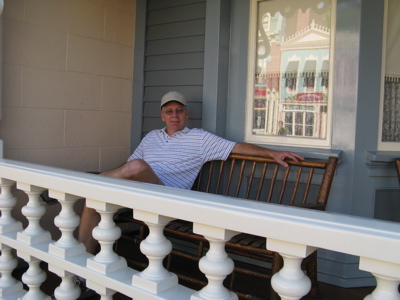 We wandered around the park for a while (research, you know!), and then decided to take a ride on Splash Mountain. Neither of us had been on it since it came out of a lengthy refurbishment almost a year ago – I was quite pleasantly surprised at how much brighter and more colorful it is inside, and the sound is a lot clearer, too. We sat in the back (I *always* ask to sit in back because it's drier!), and stayed pretty dry – several of the girls in front of us were pretty wet, though. 🙂
DCA was open by then, so we started off another day at the Food and Wine Festival. On our way into the park I noticed Cast Members standing on the walkway to the Golden Vine Winery who were handing out Dream Fastpasses, so we detoured and picked those up. That's the first time that Lee has been "dreamed" – it's the second time I've gotten the Fastpasses (I received a pin lanyard the other time).
This year, in addition to celebrity chef Jamie Gwen, the Festival is featuring other celebrity chefs on weekends, who participate in cooking demonstrations, book/photo signings, or both. This weekend's chef is Cat Cora, the first female Iron Chef, and star of various things on the Food Network. Or so they tell me…I don't watch the Food Network, though I had at least heard her name. Anyway…I was pretty sure her two cooking demos would be popular, so we arrived at about 10:40 for her 11:30 demo. There were already about 30 people waiting – the venue only holds 80. They started turning people away about 15-20 minutes before the event started.
We found her to be a very entertaining speaker. She talked about "cooking from the hip", which is also the title of her latest cookbook. There were obviously lots of Cat Cora fans in the audience who were interested in asking about her Iron Chef experiences. Her demonstration was on kid-friendly, but healthy, foods – white bean hummus and veggie wraps, and fruit skewers with yogurt-honey sauce. Both excellent.
After that we made haste over to the Beer area, to try to get in on the 12:00 Champagne and Sparkling Wine demonstration. We barely made it – they were out of the "reservation cards" they've been handing out at all the events, but once everyone was seated we made it in on "standby". This demo was conducted by Elizabeth, a very knowledgeable Cast Member who works at the Terrace Wine Tasting area at the Golden Vine Winery, where people can taste wine every day. (For a "small" fee, of course.)
We had three different sparkling wines to taste (and I'm sure you know that sparkling wine can't be called champagne unless it comes from the Champagne region of France – even French sparkling wines that don't come from Champagne have that restriction). There was the Iron Horse Fairy Tale Cuvee, which was developed especially for Disney. Initially it was only offered on the Disney cruise ships, but now it is occasionally available in the parks – I know I've seen it at Epcot's Food and Wine Festival. It was very nice and light. I've never really cared for champagne…obviously I just haven't been drinking the good stuff. 🙂
Next up was a French (non-Champagne region) sparkling wine called St. Hilaire. This was also excellent. And the third was one of my favorites – Castello Banfi's Rosa Regale. This is red in color instead of white, and somewhat sweet, and really just a lovely wine. We have a couple of bottles of this at home. (We didn't pay $45 a bottle, which is what Disney charges for it, though!)
For lunch we tried the Festival offering at the Pacific Wharf Cafe – the Chinese Chicken Salad. It was served in a sourdough bread bowl – lettuce with mandarin oranges, sesame seeds, lots of white meat chicken chunks, cabbage, rice noodles, and a ginger-soy dressing. It was pretty good.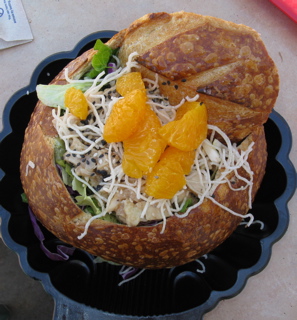 We used one of our dream Fastpasses to ride Soarin' Over California (which had a 60-minute standby line). There were actually a lot of people in the theater who apparently hadn't done the ride before, since there was a pretty good round of applause when it ended. I still think that's one of the best rides Disney has ever done.
We went separate ways after that – Lee went to the Karl Strauss Beer Tasting session and I went to see what the Jr. Chefs program was like this year. For this weekend, at least, the kids get to make sugar cookies with Chef Jamie Gwen and Chef Goofy. They seemed to enjoy it. And the kids did, too. 🙂 (The kids get a pre-baked and decorated cookie to take with them.)
I also attended the Gilroy Garlic cooking demo – a session that filled up with 30 minutes still to go – I arrived 40 minutes early and had a long wait in the sun for that one. One nice thing that I don't think I've mentioned about all the demonstrations – Disney provides a small bottle of Dasani water at each table setting, along with a pencil and something to take notes on. The water was most appreciated this weekend! Chef Castillo from the Paradise Pier made a roasted red pepper soup – he apologized for serving us soup on such a warm day. I liked it, which I found interesting because it contains red peppers and fennel, two ingredients I don't really like. Must be all of the marriage of the flavors and that sort of thing! 🙂
Lee says that at the beer tasting, in addition to tasting beers they also tasted the barley grain itself – both toasted and untoasted. He says the beer tasting was very educational – it was conducted by the Brew Master for Karl Strauss Brewing Company who explained each of the steps in the process of making beer, and how variations in the process and the ingredients result in different kinds of beer. And the beers were pretty good, too, though after sitting out on such a hot day they were warmer than most Americans would drink them. While waiting in line he was talking to an AllEars reader whose name he didn't get…but hello to you, Mr. Unnamed, Beer-Tasting, All Ears Reader!
We met back at our room – it felt good to relax and get out of the heat for a while! We wanted to attend the 5:30 Wine and Chocolate tasting session, but knew that would be popular so we should get there early. By the time we arrived at 4:50 they had already given away all of the available "tickets", and there were several people ahead of us for "standby" seating. Wow. We decided to go use a couple of our Fastpasses instead, and we rode California Screamin' and Grizzly River Run. This Dream Fastpass thing is pretty nice! Believe it or not, this was actually the first time I'd ever ridden Grizzly River Run – I have this thing about getting soaking wet. But since in this case I knew I could go back to the hotel it was ok. The ride was fun, and we DID get pretty wet, but since it was so hot it felt really good!
Instead of heading back to our room we went back to the Wine/Chocolate tasting session…though we couldn't participate we could at least stand there and listen. Elizabeth, the Cast Member we'd seen at the Sparkling Wine demo, was also the speaker for this one. The participants got to sample three different Ghirardelli chocolates – 60% cacao, 72% cacao and 86% cacao, and three wines – a merlot, the Rosa Regale we had earlier, and Bonny Doon Framboise, which is a "wine" made of raspberries, and very sweet. It looked like fun….
We attended one last cooking demonstration – From the Marketplace, with Chef Jesse Tiscareno, who we also saw yesterday in a demonstration I haven't written about yet. This time he was demonstrating how to make the white cheddar cheese soup that they are serving at the Festival Marketplace (for the third year in a row!). This was a lot better than what they serve at the Marketplace, though – it was garnished with crispy onions and a couple of crostinis. Really good.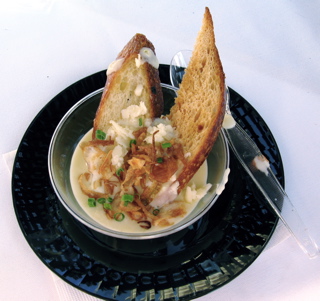 We had a little bit of time to relax in our room before our dinner tonight at Napa Rose – the first time we've ever eaten there. I've heard many people say that it's incredible, but the sample menus I've seen looked a little "gourmet" for my taste. I'll be writing a whole blog entry on it later, but for now let me say that we had a wonderful dinner, and if our experience was typical to that of other Napa Rose diners, I can understand why it has the reputation it does. It was an exceptional meal – really a dining experience.
And now I'll bring this incredibly long-winded blog entry to a close. We still have a few hours at the Festival tomorrow before we head home, so I'll have some more wrap-up type stuff to post tomorrow.