Yikes…it was a scorcher of a day today. We headed home a little after
noon, and it was 96 degrees at that point.
So, since I really don't have much in the way of events to report on
from today, guess what, I'm going to go back to Friday and give you more
of a report of what we did that day. Aren't you excited? (Unless it's
in the affirmative, please don't answer that.)
We arrived at the hotel (Grand Californian) about 10:00 Friday
morning and checked in – our room wasn't ready yet, so we headed
into Disney's California Adventure (DCA). Since the park had only opened at 10:00, and it
was about 10:30 by then, they were actually asking to see a room
key before letting people use the "private" Grand Californian
entrance. I've never seen that before – but when I've used that
entrance it's always been afternoon or evening.
Our first stop was the Festival Welcome Center at Sunshine Plaza
to pick up a
Festival Guide. Since the daily schedule has been on-line for a couple of
weeks I already knew we wanted to head to the demonstration kitchen at
Bountiful Farm (that's a new venue for the Festival this year) for the
very first demo of this year's Festival – Delicious Desserts.
Although the new venue has about twice the capacity (72 people) as the former
area they were using on the patio of the Vineyard Room the chairs and
tables are still crammed pretty close together – if you're
seated in the middle you won't be moving anywhere until everyone else
gets up and moves!
The featured dessert was Berry Crisp, which we actually saw last
year, made by the pastry chef at the Grand Californian, Jorge Sotelo,
and his assistant, Mario Ramirez. It was the Jorge and Mario show –
in addition to Jorge having a microphone, Mario did also – the first
time I've seen that. They were very personable and played off each
other and were great fun to watch. Last year we got a
very large serving of the Berry Crisp – this year it was a lot smaller,
which was fine. Still tasty, though. It was served with a scoop of
strawberry sorbet and was very attractively presented – one of the
things Chef Jorge told us was that people start eating with their eyes.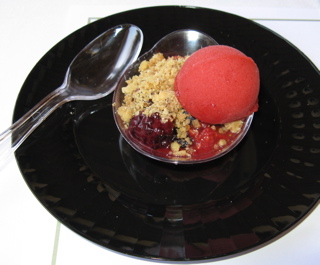 After the demo we went to check out some of the food offerings.
As I mentioned in Part
1, many of the DCA restaurants have special menu
items during the Festival, and we split the California Wrap, which
I also talked about.
We wandered around for a while after that, checking out all the
restaurants that are offering special menus items, to see what we wanted
to come back and try. I thought the Chilled Shrimp Pasta Salad
at Pizza Oom Mow Mow looked especially good, but we didn't get chance to
try it this weekend. We also checked out the Sparkling Bar
located on the Upper Terrace of the winery – it looked like a great
place to kick back and relax for a while, and maybe enjoy an
appetizer. I thought the wine flight prices were a little high – or
more than I'd want to pay, at least. Especially when you can go
downstairs to one of the wine tasting sessions and drink for free.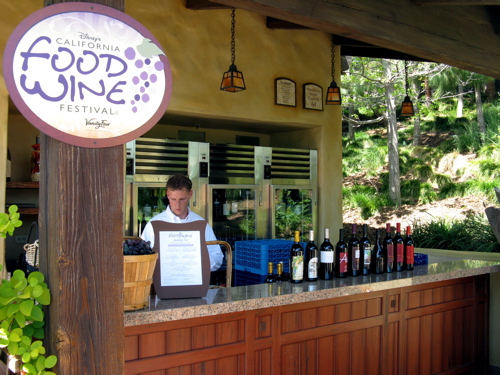 We attended the "Rosenthal – The Malibu Estate" wine tasting session,
which was conducted by their Director of Sales, Neil McNally. He was really
an interesting speaker, and gave a fair bit of information on how to
taste wine (including slurping it!), which is always helpful for those
of us who don't know much about it. (I guess Lee and I don't have very
educated palates, because we rarely pick up on those hints of
"raspberry, vanilla, tobacco, apples", etc. that people talk about in
wine.)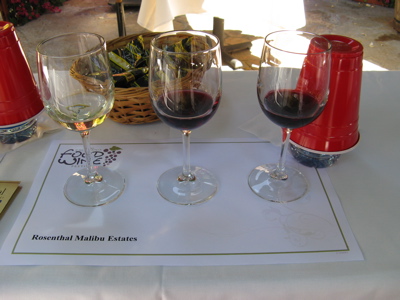 These grapes really ARE grown in Malibu, in the hills about 4 miles from
the ocean, and about 1500 feet about sea level. All of the grapes used
in their wines are grown on the estate. We tasted a chardonnay, their
Surfrider Red (a blend of several kinds of grapes), and their
cabernet sauvignon. Nice wines, but none of them really to my
taste.
We needed some more food by then, so we went back over to the
Festival Marketplace. The menu for the Marketplace is included
in the Festival Guide this year, which is nice. We shared the White
Cheddar Cheese Soup, which has been on the menu all three years (we
later found out that it's their most popular item), and the Hummus
with Pita Chips, which is served with veggies in a martini glass.
I really liked the presentation of that.
We took those with us when we went to wait in line for the Flora
Springs wine tasting session.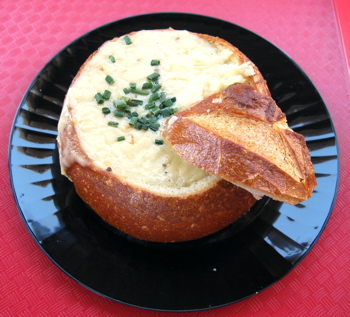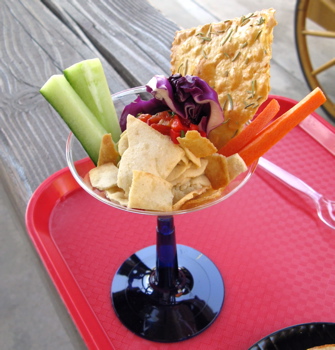 Flora Springs is owned by a couple of families, and the session
was led by family member Matt Komes. The winery got its
name from Flora, the mother of the founders, and from the natural
springs on the estate that are used to water the grapes. We tried a
chardonnay (the only white anyone seems to bring to these things!),
followed by two red blends: Poggio del Papa and Trilogy.
The chardonnay was pretty good, but I didn't care much for the other
two…Lee really liked the Trilogy, though.
Our final event of the day in the park was the BBQ cooking demonstration,
done by Jesse Tiscareno, sous chef at Rancho del Zocalo. He
really enjoys cooking with an Asian flair…which I don't think is
something he gets to do at Rancho del Zocalo! (It serves Mexican
food.) He made a marinated pork dish of thin-sliced pork that was
pan-seared, then roasted in the oven, and then served on a round "cake"
of rice, which was encircled by a thin slice of cucumber, to resemble
sushi. He also suggested serving it in a lettuce wrap. It was very
good. He was another speaker who obviously really enjoys being in front
of an audience and answering questions.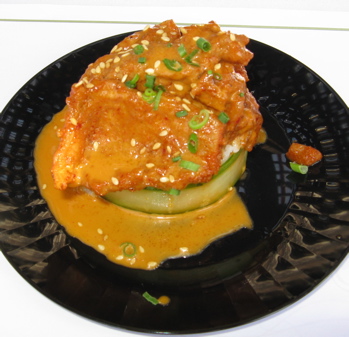 Did I mention it was warm that day? Though compared to Saturday and
Sunday, when it was in the high 90s, mid-80s now seems comfortable. Just
goes to show that even Disney doesn't control the weather. 🙂
We spent the evening at the Chappellet Winemaker Dinner at Steakhouse 55. I'll have a review of that up on AllEars Real Soon Now.
Today (Sunday) we slept in. Those "blackout curtains" in our room
really work…I got up at 8:00 and opened the curtains a bit and
discovered that it was blindingly bright outside.
See? Even the camera couldn't handle that much light.
We packed and took our bags to the car, then walked over to Downtown
Disney to have breakfast at La Brea Bakery Cafe. It was about
8:45 by then but people were just streaming past us into the parks. It
was also already very warm – over 80 by 9:00 in the morning! Since we
were willing to sit inside (though there's only a few tables in there)
we were seated immediately. Lee actually ordered coffee – I had their
passion fruit iced tea instead. After our huge dinner last night I
wasn't real hungry, but I ordered the Open Faced Egg Sandwich –
scrambled eggs and sauteed spinach on toasted sourdough bread, topped
with feta cheese and served with roasted potatoes and a small salad. It was
pretty good, though it needed more feta and less spinach. 🙂 Lee
ordered their special, which was a thick slice of French toast,
scrambled eggs, bacon (sausage was another choice) and roasted potatoes.
I had a bite of his French toast, and it was pretty good.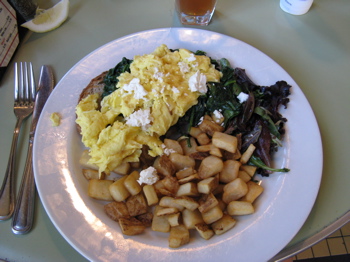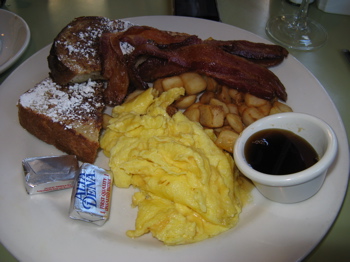 We walked off breakfast by walking almost all the way around Disneyland
(hit everything but Toontown) afterwards. Have I mentioned it was warm?
Whew. And there were lots of people in the park.
After DCA opened we went back to the Bountiful Valley farm area and got
in line for the Sweet Sundays w/Ghirardelli demo. At least that's
what it says in the program – the chef actually used Scharffenberger
chocolate. 🙂 It was still almost 40 minutes until the start of the
event, and we were #27 and 28 in line. This one also filled up long
before show time – 20 minutes or so. Fortunately we were able to wait
in the shade of the building!
When we walked in we were given the recipe for Chocolate Souffle,
which is what Chef Jorge Sotelo (remember him?) was making. That
was really nice to have. He was assisted this time by Sergio, who
wasn't miked – he was more the silent type, I guess. It was another
excellent presentation, and Chef Jorge gave lots of good tips. The
souffle was not served warm, which was actually ok today. It was a nice
way for us to end our Festival weekend – we walked back out through the
Grand Californian and back to our car, where my temperature gauge read
92…it was up to 96 by the time I got to the freeway. Lee says I kept
myself amused on the drive home by watching the temperature change – it
got all the way up to 99 at one point, and then briefly down to 79. It
was back up to 95 by the time we got home – and that's VERY hot for us.
So that was our weekend…we will be back at the Food and Wine Festival
at least once, to attend the Taste event on May 3. You can be
sure I will have a few things to say about that. 🙂 And here is the
Menu
for Taste.
From what I've heard it sounds like this may be a "make or break" year
for the Festival and determine whether or not it will continue in the
future. They are certainly soliciting a lot of guest input and
there were CMs handing out guest surveys at the end of most of the
sessions we attended. I will be interested in hearing what the
attendance is like during the week…I have some friends going this
week, so I hope to hear from them, or if you are there, please let
me know your experiences! And if you want to submit comments on the
Festival, there's a Rate and Review section for it on AllEars
HERE.
Coming next…Tips on Surviving the Food and Wine Festival