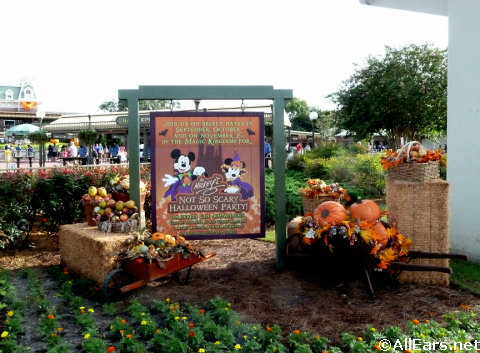 Mickey's Not So Scary Halloween Party at Disney World's Magic Kingdom will have a few new treats for guests this year.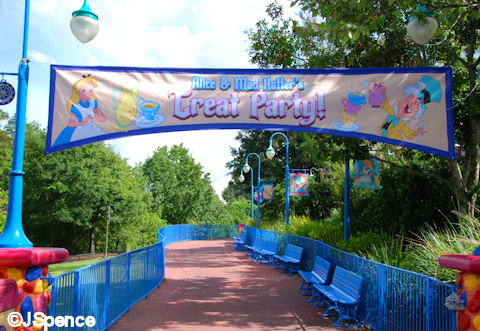 Last year, Mickey's Toon Town Fair was closed during the September and October party dates, which cut down on the square footage of the party and forced the relocation of some treat stations. But what a difference a year makes. With the opening of Storybook Circus in the same location comes the return of Alice & Mad Hatter's Treat Party between Storybook Circus and Tomorrowland. The Alice in Wonderland-themed walkway contains cool, lighted decorations and enough candy to satisfy any sweet tooth.
In addition, there will be a candy stop near the Fantasyland train station, and the Dumbo the Flying Elephant and The Barnstormer attractions in Storybook Circus will be open during the party, a Walt Disney World spokesperson told me. The twin Dumbo carousels are especially beautiful at night with their lights and water shows.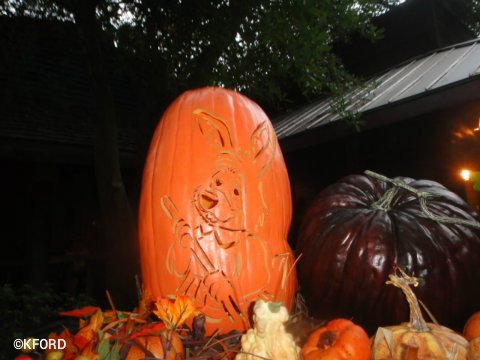 Last year, Br'er Rabbit's Laughin' Place Candy Patch was added near Splash Mountain in Frontierland and it will remain again this year. This treat trail also is well-themed, as you would expect from Disney, with jack-o-lanterns featuring "Song of the South" characters. The queue did seem to back up more quickly here than the Alice & Mad Hatter's Treat Party.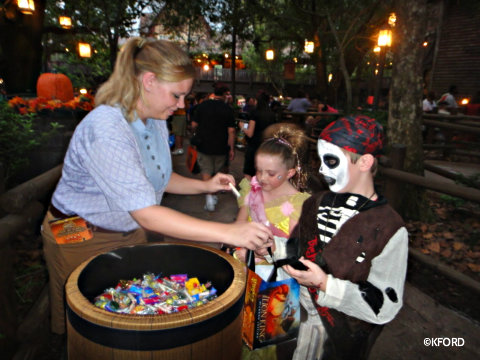 The balloons marking the candy stations will have a new look this year — lighted Mickey pumpkins will take Goofy Candy Company's place.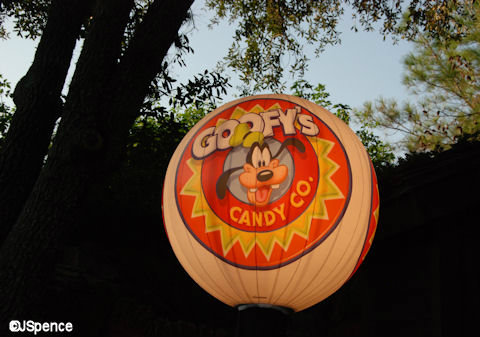 Disney planners hope to make the wait for Mickey's Boo to You! Halloween Parade more pleasant for guests by adding some pre-show entertainment on Main Street, USA, and in Town Square that will include music and "streetmosphere." Guests will be invited to join a line dance during the Not-So-Scary Street Jam! The featured song will be "Calling All the Monsters" by China Anne McClain.
Here's a look at the dance steps, if you want to practice so you're a pro on party night:
The Boo To You! parade, which is performed twice each night, is one of the highlights of the party and guests typically stake out their spots for the first time more than an hour before it starts. The parade features characters only seen during this event, such as ghosts and gravediggers from the Haunted Mansion, and it starts with a the Headless Horseman galloping by.
Other party favorites will return, including the Happy HalloWishes fireworks show, The Villains Mix & Mingle stage show, dance parties and meet–and-greets with rarely seen Disney characters. I'll be attending Mickey's Not So Scary Halloween Party the first week and bringing parents tips for making the most out of their haunted night with the kids.
Mickey's Not So Scary Halloween Party takes place from 7 p.m. to midnight September 11, 14, 18, 21, 25, 28, 30; October 4, 5, 8, 11, 12, 14, 16, 18, 21, 23, 25, 26, 28, 30, 31; and November 2. Prices vary depending on date, time of purchase and discounts. For complete ticket details, see the AllEars.Net information page.