Sammy Duvall's Watersports Centre is located at the Contemporary Resort Marina. This is the spot at Walt Disney World where you can arrange to waterski, parasail, wakeboard, and a number of other activities.
Recently, Deb Wills, Deb Koma, and I were invited to experience Sammy Duvall's Watersports Centre first hand, as their guests. We arranged to meet Dave Santini (Public Relations Manager) at the dock at 7:45am at which time I would try parasailing and waterskiing. Afterwards, we would experience the "Personal Watercraft Tour", offered once a day in the morning. After introductions were made, we boarded the Gotta Fly. This boat is used for their parasailing adventures.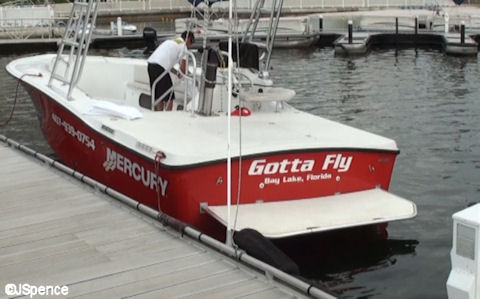 As the Gotta Fly headed out to the middle of Bay Lake, I was helped into my harness and life preserver. I was also given a rundown on how the entire adventure would unfold.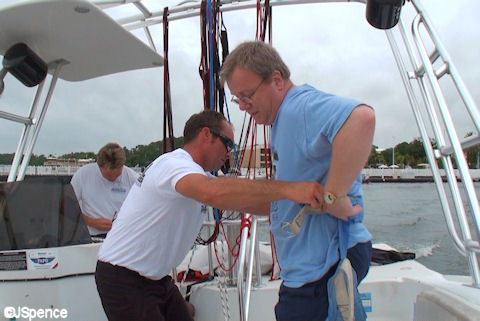 Within a couple of minutes, the boat was in position and I was ready to go. I stepped onto a platform located at the back of the boat, the parasail was attached to my harness, and I took flight.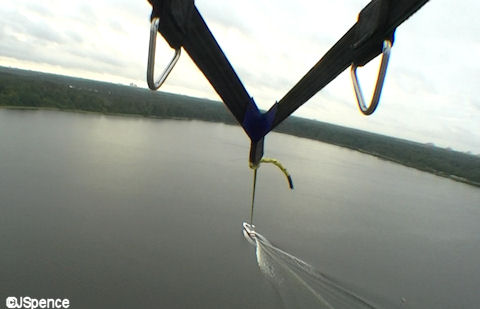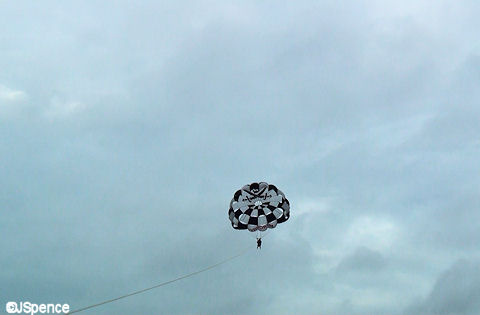 I have to be honest, I'm afraid to fly. I know for certain when I board an airplane that this is the time we're going to crash and burn. The only reason I'm willing to fly is because it's the only way I can visit the other Disney parks around the world. My love of Disney trumps my fear of flying. However, I had absolutely no fear of parasailing with Sammy Duvall. I admit, I hung on tightly for the first few minutes, but in very short order, I relaxed and enjoyed the view. And what a view"¦ If you're going to take this adventure, I would suggest familiarizing yourself with the Disney World property before you go so you'll know where to look to see the various landmarks.
To the east you'll find the hotels that line International Drive. To the south you can see Spaceship Earth at Epcot and the Swan & Dolphin. And if the weather is decent and you have a good eye, you can see Expedition Everest to the southwest. But the best views are of the Magic Kingdom, Bay Lake Tower, and the Contemporary Resort.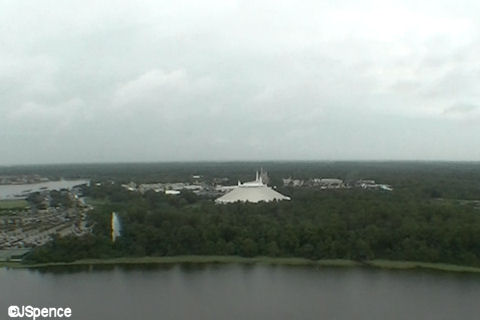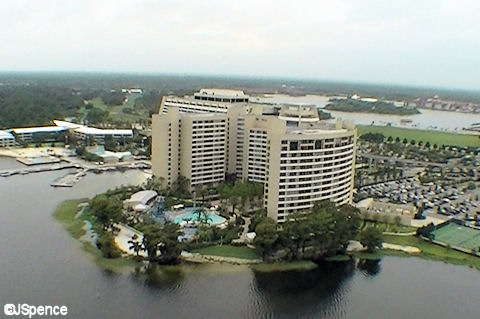 My flight took me up about 600 feet. My flying time was ten to twelve minutes. Just so you know, I was taken closer to the Contemporary and Bay Lake Tower than the average guest would experience. Since we were being given a private tour early in the morning, the Sammy Duvall people were able to traverse a larger portion of Bay Lake than they can during normal operating hours.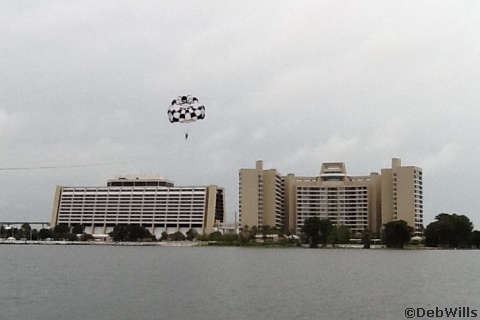 Landing on the boat is as easy as taking off. They just reel you in and you "walk" onto the platform (with the help of a deck hand). You never get wet. In fact, there is no need to change into your bathing suit to take part in this activity. Shorts work just fine.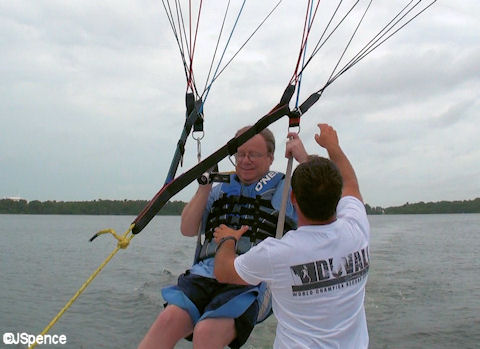 This is a magnificent experience. I know many of you have "done it all" at Disney World, but unless you've parasailed, you haven't. If you like "Soarin" at Epcot, you'll love parasailing over Bay Lake. Do it!
To see a video of my experience, click on the picture below. Please note, it was raining slightly the morning I flew. I had to wipe the raindrops off of my lens several times while in flight. Also, I was using a wide-angle lens (0.45xxx) on my video camera. This gives me a much larger picture than can be obtained with the standard lens that came with the camera.
After my flight, we returned to the dock and changed watercraft. We boarded one of the ski boats and took off for a "Personal Watercraft Tour" of Bay Lake and Seven Seas Lagoon. Pictured below is our guide, Dave Santini.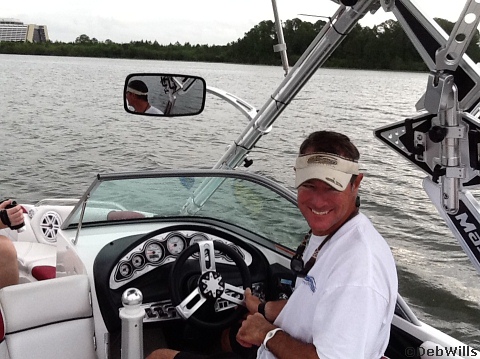 Along the way, Dave filled us in on all sorts of Disney trivia associated with the various sights. We first sailed by the island formally known as Discovery Island. Here, we all shared rumors we've heard about its possible future uses. Next we traveled by the Fort Wilderness Dock, River Country, and the Wilderness Lodge.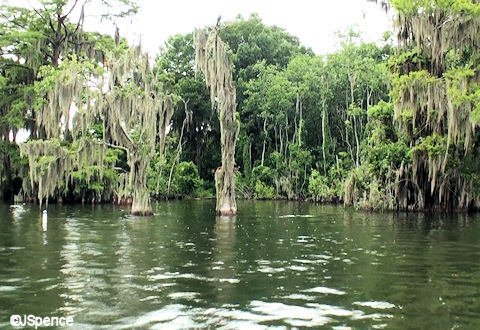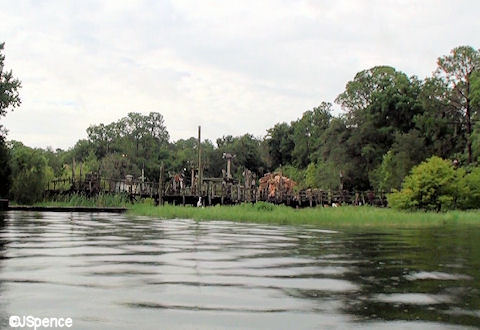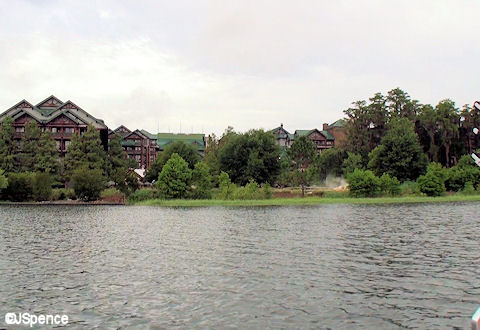 From the Wilderness Lodge we crossed the water bridge to the Seven Seas Lagoon. Here we sailed by the Magic Kingdom, the Grand Floridian, and the Polynesian before returning to the Contemporary dock.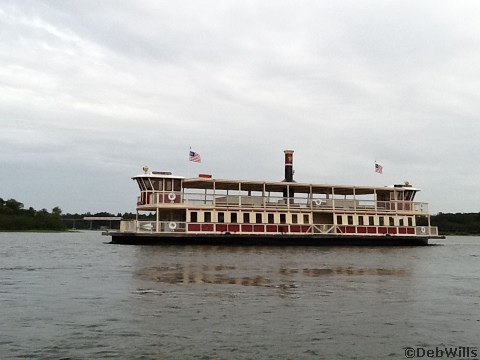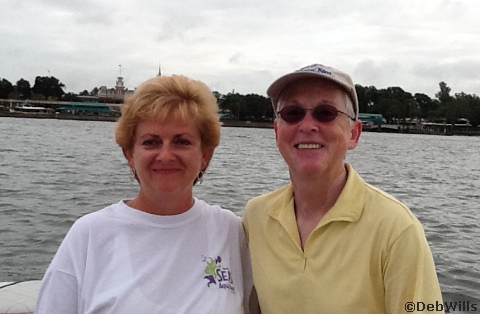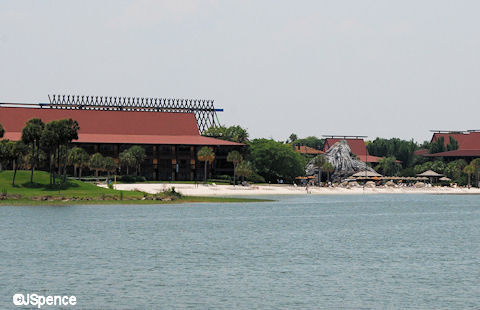 To see a video of our tour, click on the picture below.
I have to tell you, one of my favorite activities at Walt Disney World is sailing the waterways that traverse the property. Many times I have rented a pontoon boat or water sprite for an afternoon on the water. But this was the first time I'd ever gone out on Bay Lake in an honest-to-goodness speed boat – and it was a great experience. Besides having someone else do all the work, we got to go FAST. For a good portion of the trip, I sat at the bow of the boat and could feel the wind and water hitting my face. It was refreshing and FUN! In addition, Dave Santini knows a lot of Disney trivia and shares it freely. After the tour, we headed back to Bay Lake and an area set aside for waterskiing.
As a teenager, I waterskied a few times. I was never very good, but I could get up on two skis. I also skied once at Walt Disney World about fifteen years ago. So I decided to give it a try with Sammy Duvall.
Sorry, but I won't be showing you the video of my waterskiing adventure. Let's just say that after several attempts, this old body wasn't going to make it out of the water. But I will show you a picture of me skiing on Bay Lake taken fifteen years ago. LOL
As I was spitting out mouthfuls of water after my several failed attempts to ski, I remember the rumor that Disney does not allow guests to swim in their lakes and streams because there is a dangerous microbe living in the water. I asked Dave about this and he laughed. He told me that shallow lakes that reach a temperature of 80 degrees and above can contain this microbe, but Bay Lake is very deep. In addition, Disney monitors their waterways on a regular basis to ensure that everything is safe. Dave also told me that he swims in Bay Lake five days a week, January through December, and except for a few body twitches he's developed over the past five years (smirk, smirk), he's fine. LOL
Parasailing may be booked as a single (one guest) or tandem (two guests flying together) adventure.
Standard Single – $95 (8-10 minutes at 450 feet)
Deluxe Single – $130 (10-12 minutes at 600 feet)
Standard Double – $170 (8-10 minutes at 450 feet)
Deluxe Double – $195 (10-12 minutes at 600 feet)
Ski Boat sessions are reserved by the hour. Each hour includes up to five guests in the party, boat, driver/instructor, and all equipment. Guests have the option to combo waterski, slalom ski, wakeboard, kneeboard, and tube ride throughout the hour. The cost is $165 per hour.
Personal watercraft tours are available each day at 9am. Guests are guided around Disney's Bay Lake and Seven Seas Lagoon, pausing along the way to view points of interests. At the conclusion of the tour, guests may "free ride" under the supervision of the guides in a buoyed off area. And if you just want to "free ride" (with supervision) for the entire hour, that's available too. The price is $135 per watercraft. Each watercraft can hold up to three people (400 pounds total). Operators must be at least 16 years old with a Photo ID.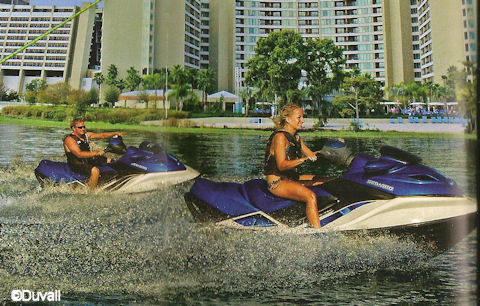 For more information, visit www.sammyduvall.com or call 407-939-0754.
You've all ridden the Haunted Mansion, Test Track, and Tower of Terror a dozen times. Next time you're at Walt Disney World, try something new. You'll be glad you did.
Disclosure: Sammy Duvall's Watersports Center is a paid advertiser on the Allears website and the entire experience in my blog was provided to AllEars at no cost. Did this affect my review? No. Everything about this organization is professional. I was impressed with the friendliness and efficiency of everyone I met on the Sammy Duvall team. Even though they don't work directly for Disney, they maintain the Disney spirit and enthusiasm. For example, when I was making a fool of myself attempting to waterski, Dave treated me with respect and understanding. You couldn't ask for a greater bunch of people.