Like so many other articles I write, I can't talk about Disney World without first mentioning Disneyland. The first Disney wishing well appeared on March 27, 1961. As the story goes, Walt received an anonymous gift postmark from Italy. In the package were figurines of Snow White and the Seven Dwarfs, meticulously carved of Carrera marble. It is speculated that the artist modeled the characters from hand soaps licensed at the time.
The gift touched Walt greatly and he handed the bundle over to John Hench and told him to find a place for them in the park. However, Hench was dismayed. Snow White was the same height as the dwarfs, and this would create a challenge as to how to display the characters without the artist's oversight being obvious. In the end, he happened upon an ingenious idea. By placing Snow White high above the dwarfs, he used forced-perspective to achieve a sense of distance, thus making her appear taller than she actually is.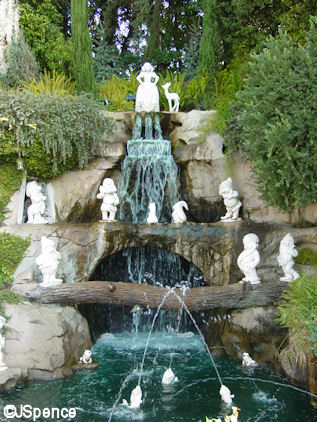 However, a new story has emerged. After Hench's death (February 5, 2004), his secretary cleaned out his desk. In it, she came across paperwork and invoices showing that John actually commissioned the statues himself. And being the showman/prankster that he was, wove an elaborate tale of their origin.
Snow White and the dwarfs were placed to the right side of Sleeping Beauty Castle. At the same time, a wishing well was added, creating Snow White Grotto. Being true to the movie, you can hear our young heroine singing and her voice echoing from within the well.
When the Magic Kingdom at Walt Disney World was being planned, it was a given that a wishing well would be part of Fantasyland. But unlike Disneyland, where Sleeping Beauty Castle and Snow White Grotto are from two different movies, the Florida park would have a wishing well themed appropriately to Cinderella Castle.
Positioned in an alcove along a pathway that leads from Tomorrowland to the right side of the castle, Cinderella Wishing Well is a wonderful retreat from the often hectic Magic Kingdom.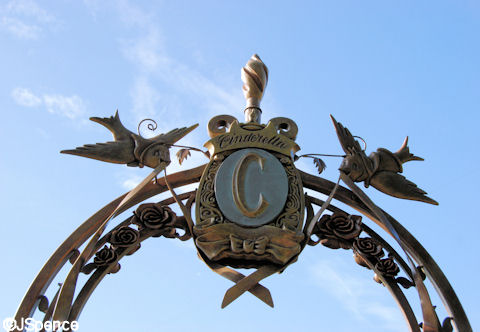 This area is rarely crowded and is the perfect spot to take a break and relax on one of the benches. It's also a great photo op for romantic couples. And while you're there, why not make a wish.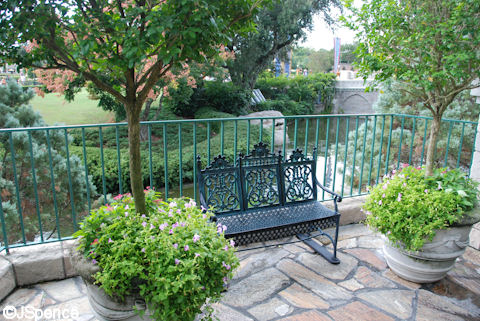 Like so many other things at Disney parks, the wishing well tells a story. If you look closely at the sides of the well, you can see the mice and birds, trying to make a dress for Cinderella while eluding the evil Lucifer. These characters were sculpted by Disney Legend Blaine Gibson.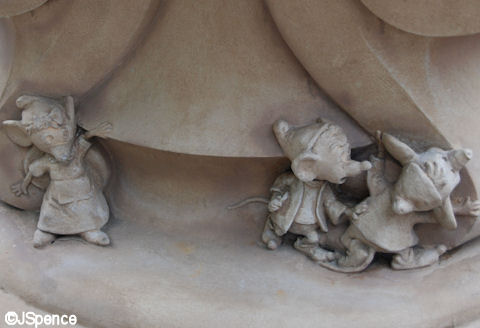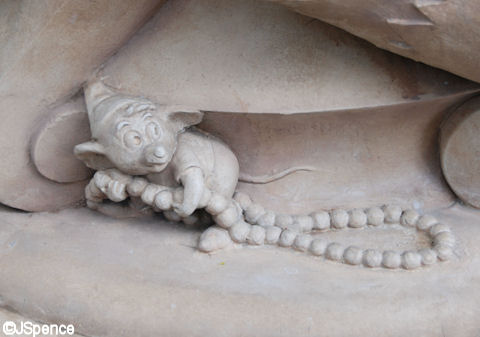 Wishing wells originated in Europe. It was believed that deities lived in water and a spoken wish would be granted if a token gift was left for them. This tradition has lived on through the ages. Just take a look at almost any body of water in a Disney park and you'll see coins resting on the bottom. In most cases, it is time consuming and expensive to retrieve this money, so it usually sits here for long periods of time. When it is eventually collected, much of it has corroded so badly that the entire lot is sold as scrap metal. However, Cinderella Wishing Well is an exception. Collected at regular intervals, this money is donated to children's charities.
So next time you're on a commando-style tour of the Magic Kingdom, why not wander over to the Cinderella Wishing Well and take a break. You'll be glad you did. And remember, Disney parks are where wishes come true.