Magic Kingdom Archives ExtraTERRORestrial Alien Encounter
NOTE: This attraction closed October 11, 2003, and was replaced by a new attraction, called Stitch's Great Escape which opened in November 2004.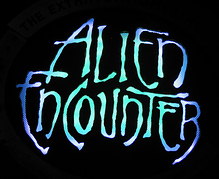 INTRODUCTION
George Lucas and WDW Imagineering joined forces to develop this sensory scary encounter with an alien. Take a step into the future with X-S Tech! The ExtraTERRORestrial Alien Encounter is located in Tomorrowland, just on your left as you cross into the land's main entrance.
ATTRACTION
Queue/PreShow — To set the scene, the six-minute preshow introduces you to X-S Tech's laboratory showcase. The company X-S Tech is located on a faraway planet, and it's trying to sell Earth on its unusual, high tech product line. During the preshow, S.I.R., a sales robot, gives a short demonstration of X-S Tech's interplanetary teleportation device. He explains that the principle involves beaming objects atom by atom light years away where they are reconstructed again. The process is not, shall we say, a complete success… just ask S.I.R.'s unfortunate alien guinea pig Skippy!
There are no seats in the preshow area — you must stand.
Alien Encounter — After the preshow, you are ushered into the "demonstration chamber", a theater-in-the-round with a huge teleportation device located in the center. Once you are seated, a device descends onto your shoulders, holding you firmly in place. The show begins with a demonstration of the teleportation device by the leader of X-S Tech, Chairman Clench.
Unfortunately, the process again is full of glitches and instead of Chairman Clench, an unknown, and furious, alien materializes in the teleportation tube! Suddenly, the outraged alien breaks through the glass tube and escapes into the laboratory (yes, where you are sitting). Chaos ensues, as the alien rampages throughout the building, terrorizing its inhabitants!
The special effects of this 12-minute show assault your senses of sound, smell, sight and touch in sometimes creepy ways, before the alien is recaptured and beamed away safely.
TOURING TIPS
Hidden Mickey: Between lobby show and the theater—alien "hieroglyphics".
BE ADVISED: This show gets very dark at points, and the special effects used may be too intense for young children, and even very sensitive or squeamish adults. PLEASE consider this when deciding whether Alien Encounter is right for you, your child, or other members of your group.
The minimum height requirement is 44 inches.
Those who tend to be claustrophobic might not like the restraint that comes down over your shoulders for the duration of the show. If you sit up very tall in your seat as the restraint comes down, then slump a bit afterwards, you won't be as uncomfortable. Of course, if you do this, you also might not fully experience the sensory effects.
Alien Encounter is part of the Magic Kingdom's Extra Magic Hour. On Sunday and Thursday the Magic Kingdom opens one hour earlier for Disney resort guests.
Although there is often a line waiting to get in to this attraction, waits are not usually too long — the theater holds quite a few people.
Assistive Listening Devices from Guest Relations can be used here.
Portions of this show have video captioning. Activating units are available from Guest Relations.
Guests using an ECV must switch over to a regular wheelchair to view this attraction.
KIDS/CHARACTERS
This bears repeating: PLEASE use caution when taking your children into Alien Encounter. It gets very dark (pitch black at a couple points) and there are very loud noises and other sensory special effects. Every show I go to it seems that one screaming child has to be taken out of the show halfway through.
There are no "Meet and Greet" type characters associated with this attraction.
DINING
The closest snack counters in Tomorrowland are Auntie Gravity's Galactic Goodies (ice cream) and the Lunching Pad (turkey legs, snacks and frozen drinks).
Magic Kingdom Restaurants At A Glance
Menus From Around the World
Vegetarian and Other Special Diets

SHOPPING
Tomorrowland hosts three shops: Mickey's Star Traders, Merchant of Venus and Tomorrowland Power and Light Company.
INTERESTING FACTS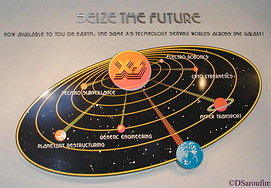 Alien Encounter initially opened December 16, 1994, however Michael Eisner did not like what he saw during the previews and ordered the attraction closed in January 1995. It officially opened on June 20, 1995.
Walt Disney Imagineering (WDI) created the original design concepts for all of the Audio-Animatronics® figures in The ExtraTERRORestrial Alien Encounter.
S.I.R. (Simulated Intelligence Robot), the traveling salesman for X-S Tech, is voiced by actor Tim Curry. You might also recognize the voices or faces of actors Kevin Pollock (Spinlok), Kathy Najimy (Dr. Femus) and Jeffrey Jones (Chairman Clench).
The lobby show music consists of 12 original pieces composed specifically for the attraction by George Wilkins.
Space presentations have always taken place in this building: Flight to the Moon (12/24/71), Mission to Mars (6/7/75), now Alien Encounter (6/20/95).