A History of the Hall of Presidents
By Jack Spence
AllEars® Feature Writer
Feature Article
This article appeared in the
July 7, 2009 Issue #511 of ALL EARS® (ISSN: 1533-0753)
Before I start this article, I need to give myself 10 lashes with a wet noodle. For years I've been calling this attraction by the wrong name. I've been calling it "Hall of 'THE' Presidents." This is incorrect. While researching this piece I discovered that there is no 'the' in the title. Shame on me for taking 38 years to notice.
I'm sure all of you have experienced the Hall of Presidents at least once. If nothing else, I know there are a handful of you who use this attraction as a great place to cool off and take a nap. But if you can stay awake, this is a stirring presentation and can bring a patriotic tear to the eye when the Battle Hymn of the Republic (now America the Beautiful) is so stirringly sung at the finale. But how did this dynamic show come into existence?
When the Hall of Presidents opened in October 1971, Richard Nixon was in office. Since that time, a number of elections have brought a few changes to this attraction. Since opening, Audio-Animatronics figures of Gerald Ford, Jimmy Carter, Ronald Reagan, George H. W. Bush, Bill Clinton, and George W. Bush have been added to this distinguished cast. And on July 4, 2009, Barack Obama took his place among these other men.
Long before Disneyland opened, Walt wanted to create mechanical figures that could reproduce the lifelike movements of a man. While on vacation in New Orleans, Walt found and purchased a mechanical bird that could sing while moving its beak, head, and wings. He took it home and gave it to a couple of his Imagineers so they could dissect it and discover what made it tick.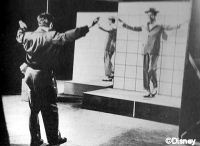 Soon after, Walt hired Buddy Ebsen to dance in front of a large grid and filmed the hoofer's movements. Walt himself directed the sequence. This footage was then studied and measurements were taken. With this information, combined with the knowledge gained from the mechanical bird, the Imagineers built a 1/8 scale model of Ebsen that perfectly reproduced his dance routine. Walt even had a miniature stage built to showcase his new figure.
On a 1958 map of Disneyland, a future land was depicted branching off of Main Street. This never-to-materialize area was called Liberty Street. Sound somewhat familiar? Studying the map carefully you can make out a number of shops and exhibits that would be included in this area like the "Liberty Tree" and "Paul Revere's Silver Shop." A version of these eventually found their way to Liberty Square at Walt Disney World, although the silver shop closed long ago and now houses a Christmas shop.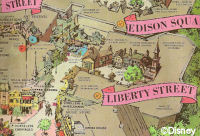 Also on this map was "Hall of Presidents." It was Walt's desire to create a show that told the story of the American Revolution. The centerpiece of this tale was to be a recreation of all the chief executives. Unfortunately, the technology wasn't available yet to create Walt's dream.
As Audio-Animatronics (AA) continued to improve, Walt's ideas continued to grow. Next he wanted to build a Chinese restaurant with a life-sized figure of Confucius who would be seated in the center of the room. As diners enjoyed their meals, this ancient philosopher would dispense gems of wisdom. The Imagineers were able to create an AA figure that worked, but not well enough. The restaurant idea was not abandoned, though, just its human host. It was decided that the Imagineers could create AA birds and flowers easier than people. In addition, audiences would be less critical of their stilted and limited movement. Instead of a Chinese eatery, a Polynesian restaurant was conceived where diners would be serenaded by birds while they enjoyed their food. But since the average meal would take between 45 and 60 minutes, it was realized that only a limited number of people would be able to see this new wonder and the restaurant concept was dropped. Eventually, the Enchanted Tiki Room was created and opened on June 23, 1963. However, Walt never gave up on his idea of creating a human AA figure and continued to have his Imagineers work on this project.
As a side note, Disney has created a couple of restaurants with AA entertainment. When Disneyland Paris opened, a restaurant called the Explorer's Club could be found in Adventureland. This was an elegant, table service restaurant that featured AA birds and flowers perched throughout the room. Here, diners could enjoy a meal while being entertained by tropical flora and fauna. Eventually this restaurant was converted to a counter service eatery, but the birds still remain overhead in a large tree. And back at the Magic Kingdom in Florida, Sonny Eclipse entertains guests at Cosmic Ray's Starlight Cafe in Tomorrowland. As Disney often says, no good idea goes unused.
When the 1964-65 New York World's Fair was in the planning stages, developer Robert Moses was in search of attractions that would "wow" his audiences. Seeing the success of Disneyland, Moses arranged for a tour of the park and to meet Walt at his studio in Burbank. For the most part, Moses wasn't impressed with what he saw at the Studio until Walt asked him if he'd like to meet Mr. Lincoln. When Moses agreed, Walt led him into one of his "off limits" areas where Mr. Lincoln stood up and extended his hand for Moses to shake. Moses was blown away and said that he must have Mr. Lincoln for the fair. Walt was hesitant. Even though what he had just shown Moses was impressive, he knew a lot of work still lay ahead before the 16th president would be ready. But Moses was insistent and in very short order, Walt agreed. Soon after, the State of Illinois was brought onboard to sponsor the attraction.
Walt still wanted to create all of the presidents for the fair, but there wasn't time. With just 13 months until opening, it would be all the Imagineers could do to get Lincoln ready, let alone 34 other figures.
Shortly before the attraction opened, Walt previewed the show for the pavilion's sponsors. During the performance, a hydraulic valve broke and red fluid started to visibly stain Lincoln's shirt. One of the guests jokingly commented that Disney was recreating the assassination. Walt was not amused and had the Imagineers substitute clear hydraulic fluid for the red.
When the fair opened, "Great Moments with Mr. Lincoln" was an immediate success. Guests were stunned when this lifelike figure actually stood up to deliver his speech (voiced by actor Royal Dano). Some even have memories, although completely inaccurate, that Lincoln walked across the stage. Others remember him delivering the Gettysburg Address, another inaccurate recollection.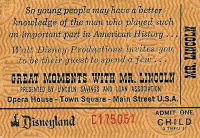 During the fair's run, a second Audio-Animatronics figure of Lincoln was being prepared for Disneyland. An identical show opened in California on July 18, 1966. Sponsored by Lincoln Savings and Loan, this was a free attraction in the days of ticket books. In order to encourage children and young adults to see the show, all Child and Junior ticket books had a "Great Moments with Mr. Lincoln" coupon included in their packet — although it wasn't needed for admission to the attraction.
When Florida's Magic Kingdom was in the planning stages, it was decided to omit Disneyland's New Orleans Square due to Orlando's proximity to Louisiana and the real New Orleans. As a replacement, Imagineers dusted off the plans for Liberty Street. Eventually, this tiny "street" grew into a full-fledged land — a land big enough to stage all of the chief executives in a theater-style presentation similar to Great Moments with Mr. Lincoln.
Hall of Presidents is housed in a red-brick colonial hall topped with a peaked tower. This architectural style is designed to recall Philadelphia and Boston meeting houses. Above the front door you'll find the date 1787, the year the United States Constitution was ratified.
The first thing guests encounter upon entering the show's waiting room is the "Great Seal of the United States" crafted out of 100 percent wool carpet. It took an Act of Congress to grant Disney permission to display this seal. Also found in the lobby are a number of presidential portraits. These are reproductions of paintings commissioned by each president during his term in office. The theater holds 700 guests.
Unlike Great Moments with Mr. Lincoln at Disneyland, Walt Disney World's Hall of Presidents did not have a corporate sponsor. In the early years of the Magic Kingdom, when ticket books were still in use, Hall of Presidents required an E-coupon.
Except for the occasional addition of a president, the original show remained virtually unchanged from 1971 through 1993. In 1993, the movie portion of the show was changed to provide a stronger focus on slavery and its effects on the framing of the constitution. Also, up until this time, Lincoln's speech was almost identical to his California counterpart. Now it would be rewritten to coincide with the revised movie. Pete Renaday would replace Royal Dano as the voice of Lincoln, and Maya Angelou was brought onboard as narrator of the show and to read the president's roll call. But the biggest change was the addition of a second, speaking president to the show. Bill Clinton recorded his own speech and his AA figure delivered it prior to Mr. Lincoln's address. When George W. Bush came to office, he too recorded a speech for the attraction. Also at this time, J.D. Hall took over the role of narrator.
The speaking presidents require more sophisticated Audio-Animatronics than their nonspeaking counterparts. This is because the speaking presidents demonstrate more movement and facial expressions. Also, the audience's focus will be directed primarily at them whereas most of us pay very little attention to James Buchanan after the roll call. When George W. Bush was added to the lineup, Clinton's AA frame was given to him. There was no reason to build an elaborate figure of Bush when a less complicated model could be created for Clinton.
With the exception of Obama, all of the Presidents were sculpted by Disney Legend Blaine Gibson and his staff. Paintings, photographs, and video were all used to create each president's likeness. For Lincoln, an actual life-mask taken in 1860 was used. The crafting of all the opening day presidents took two years to complete. Mr. Gibson's one-time apprentice, Valerie Edwards, was responsible for sculpting Obama, as Blaine is in his 90s and has retired.
The clothing that each president wears is accurate to the time period in which he lived. Even the tailoring techniques and fabric types used are correct for the decade in which the president was in office. Small, unseen details include braces on FDR's legs and Bush's Timex Indiglo watch, which has his first inauguration date inscribed on the back. For Obama, Imagineers recreated his wedding ring, complete with its braided design. Another detail involves Washington's chair. It is a copy of the one he used during the 1787 Constitutional Convention.
Each AA figure has at least two sets of clothes so they can occasionally be dry-cleaned. Even though these presidents might not sweat, they do leak oil and get dusty just standing around all day.
One of the goals of Bob Iger, President and CEO of The Walt Disney Company, is to bring many of the attractions we've loved over the years into the 21st century. It's not his desire to drastically change these rides and shows, but only to make sure they don't become tired and dated. Hall of Presidents is a good example of this directive. Not only has Obama been added to the show using the most sophisticated AA ever built by Disney, but the lighting, sound, and video have all been digitized and improved. Now audiences are treated to a crisp show that seems fresh and alive.
I would strongly suggest revisiting this attraction on your next trip to Disney World. You will not be disappointed. And hopefully the Imagineers' improvements have made it easier for some of you sleepyheads to stay awake.
-=-=-=-=-=-=-=-=-=-=-=-=-=-=-
RELATED LINKS:
Hall of Presidents Attraction Page: http://allears.net/tp/mk/mk_hop.htm
Hall of Presidents Walt Disney World Press Release:
http://land.allears.net/blogs/dnews/2009/06/barack_obama_joins_disneys_hal.html
Hall of Presidents Soft Opening Report:
http://land.allears.net/blogs/jackspence/2009/06/hall_of_presidents_reopens_1.html
Other articles by Jack Spence:
http://allears.net/btp/jacks.htm
Jack Spence's blog, The World According to Jack:
http://land.allears.net/blogs/jackspence/