Star Tours – The Adventures Continue Tomorrowland Disneyland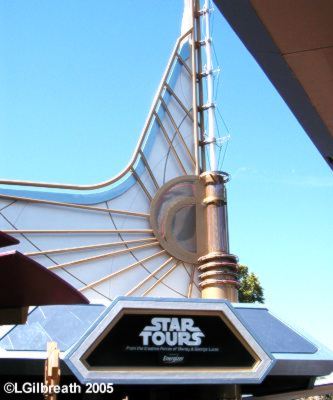 Introduction | Attraction | Touring Tips | Kids/Characters | Dining | Shopping | Interesting Facts
INTRODUCTION
This flight simulator ride is inspired by places and events in the Star Wars movies. The StarSpeeder 1000 takes passengers to a variety of different planets in the Star Wars universe where they will experience several different adventures, as well as encounter some familiar characters along the way! With more than 50 different combinations, guests can have a new experience with every flight. Star Tours is located at the entrance to Tomorrowland.
ATTRACTION
Star Tours – The Adventures Continue is an updated version of the original Star Tours attraction which opened in 1987 and closed in 2010. While the original attraction featured only one destination and one flight experience, the new version takes travelers to three different locations – and frequent flyers will find that it's rarely the same three places! In fact there are 54 different experiences with destinations like Naboo, Tatooine, Hoth, Kashyyk and Coruscant. All of the film footage is brand new and was filmed in digital 3D, giving it additional depth and realism.
Queue: The queue winds through the terminal area of the Star Tours spaceport and will remind anyone who has ever traveled via air of the airport experience, complete with security scans and luggage screening. Large flight status displays on the walls list the arrivals, departures and destinations of upcoming flights. Audio-animatronic characters, including C-3PO and R2-D2, are engaged in various tasks like equipment maintenance while the G2-9T droid dutifully screens baggage.
Before boarding their StarSpeeder 1000 guests will view a short safety video featuring safety droid Aly San San, describing loading procedures and seat belts.
Star Tours: Designed by teams from both Disney Imagineering and George Lucas' Industrial Light and Magic, the 40-seat flight simulator combines motion with an action-packed 3D video to send passengers soaring into an unforgettable journey. C-3PO and R2-D2 are your droid pilots as the flight unexpectedly changes from a run-of-the-mill sightseeing trip to a perilous mission to protect a Rebel spy from the Galactic Empire. The five-minute ride is full of thrills as it travels through hyperspace to its multiple destinations, which might include a pod race on Tatooine, a speeder pursuit on Kashyyk or an underwater submarine chase on Naboo. The skilled pilot eventually manage to return the Starspeeder and its passengers safely to the spaceport.
Read about the Walt Disney World version of Star Tours HERE.
TOURING TIPS
Star Tours is a very popular FastPass attraction, and the Fastpasses tend to go quickly, with long standby lines. To avoid a long wait, ride soon after park opening. The entrances to Star Tours, AstroOrbitor and Buzz Lightyear are all located in the same area so be aware that it gets quite congested.
The height requirement for Star Tours is 40 inches. Young children should be accompanied by an adult.
Because the motion simulator can be fairly rough, pregnant women and people with other medical considerations, including motion sickness, and back and neck problems, are advised not to ride Star Tours.
There is less motion in the middle of the vehicle near its center of gravity. Those wishing to experience the widest range of motion will find it in the back row, especially on the ends. Cast Members will usually accommodate seating requests if possible.
There is a net bag under the seat to secure loose items during the flight.
Guests using wheelchairs or ECVs must transfer out to ride this attraction. Ask a cast member at the entrance for boarding instructions.
Guest-activated captioning is available at this attraction.
The nearest restrooms are located between Star Tours and the Plaza Inn.
KIDS AND CHARACTERS
This attraction is quite popular with most kids who have seen the Star Wars movies. But others may find it scary, and those who are prone to motion sickness probably should not ride.
The Jedi Training Academy offers prospective Padawans the opportunity to train to be Jedi Knights. Training sessions are held several times a day at the Tomorrowland Terrace – check your daily Times Guide for times.
Disney has made available a Galactic Passport on-line which can be customized with your own picture and used to track which of the Star Tours variations you've experienced. Go to http://startourspassport.com to make and print your own Galactic Passport.
DINING
Tomorrowland Terrace, serving burgers and specialty sandwiches and wraps, is nearby. The Plaza Inn, offering homestyle fare like meat loaf and fried chicken, is located just outside Tomorrowland. Redd Rockett's Pizza Port, serving pizza, salads, and pasta, is located next to the entrance to Space Mountain.
SHOPPING
The Star Trader gift shop located at the exit of Star Tours offers a variety of merchandise based on all of the Star Wars movies, including build-your-own lightsaber, t-shirts, action figures, Lego kits, books, and posters.
INTERESTING FACTS
Star Tours opened on January 9, 1987. Star Tours – The Adventures Continue opened on June 3, 2011.
The flight simulator used in the StarSpeeder 1000 is the same used by the military to train pilots.
There are a total of 54 different combinations of the film elements. Two different opening scenes (Vader or Skytroopers), three different second scenes (Hoth, Kashyyk or Tatooine), three different character interactions (Admiral Ackbar, Princess Leia, or Yoda), and three different finales (Death Star, Coruscant, or Naboo).
Anthony Daniels reprises his role as the voice of protocol droid C-3PO. Actress Allison Janney provides the voice of spaceport spokesbot Aly San San.
Star Wars fans will recognize the line "I've got a bad feeling about this." This line has been used in all of the Star Wars films by various characters as part of a running gag.
The flight status displays alternate between the English and Aurebesh languages.
Star Tours is located in the building occupied by the former Adventure Through Innerspace attraction.
If you have comments or tips to share with others about Disneyland's Star Tours, please email us. Thank you.