Don't make the mistake of going to EPCOT's Food & Wine Festival unprepared!
Before you head to the Festival, study up on the menus, check out the dining packages, and note the lineup for the Eat to the Beat concerts. Another very important part of preparing for the Festival is knowing your must-haves from the food booths and we're here to help you make that list!
The EPCOT Food & Wine Festival runs from July 27th to November 18th, 2023, and with dozens of menu items, it can be overwhelming to know what you should eat! We have made our way around the Festival trying tons of new and returning dishes, and now we have a list of the very BEST items for you to try!
Here's our complete look at the best eats, best drinks, and other unique items you'll want to check out.
Best Eats
NEW: Crispy Duck Bao Bun (China)
We start things off at the China Booth with a NEW addition for this year — The Crispy Duck Bao Bun with Hoisin Sauce, priced at $8.25.
Our very own Emma tried this one and said that it was one of the BEST things she ate ALL day (and one of the best bao buns she's had in Disney World).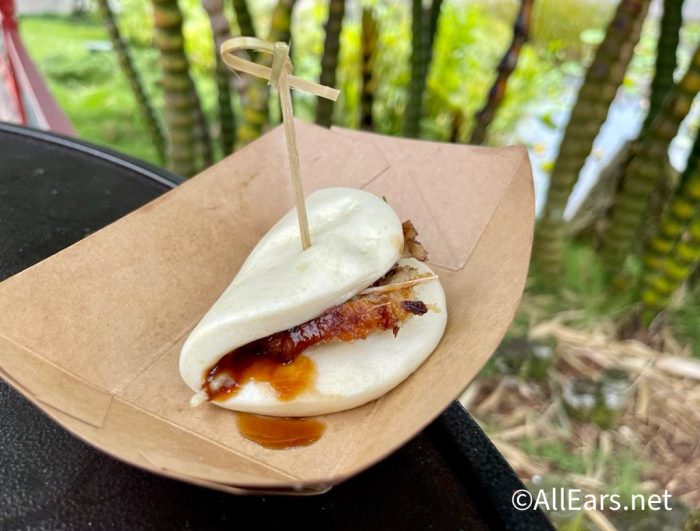 The duck was tender, the bao had a lovely & slightly chewy texture, and the slightly sweet sauce paired well with everything. We highly recommend this!
NEW: Tostada de Carnitas (Mexico)
Emma also tried another item that quickly became one of her favorites — the Tostada de Carnitas at the Mexico booth. This is a new dish made with braised pork on a fried corn tortilla with black beans, avocado mousse, queso fresco, and chives, and it is priced at $7.75.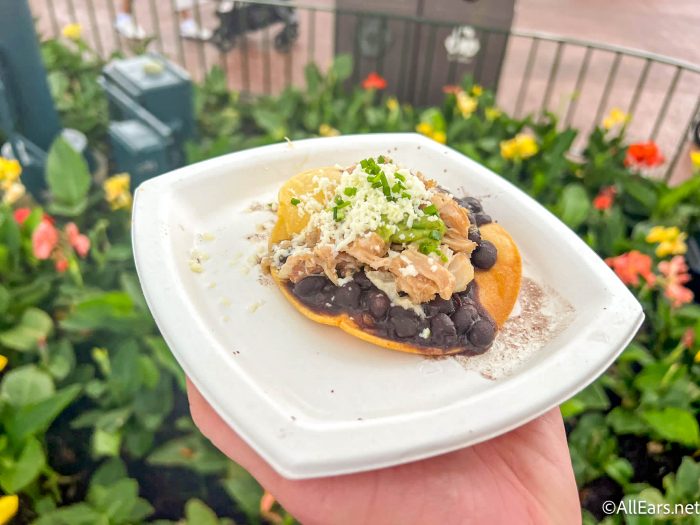 The tortilla was wonderfully crispy, and that mixed SO well with the creamy avocado and black beans. This was savory, creamy, and oh-so-wonderful. It's one you WON'T want to miss.
Returning: Roasted Lamb Chop (Australia)
Next up we're moving to the Australia booth where the Roasted Lamb Chop with Mint Pesto and Potato Crunchies (priced at $8.75) really impressed Quincy.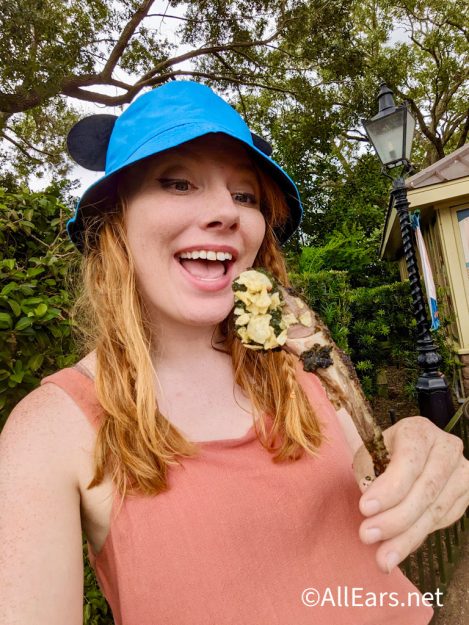 The lamb was tender and flavorful. And the mint pesto added an interesting complexity when combined with the meat. This is a Festival favorite for many and we see why. Will it become a favorite of yours? Drop us a comment if you try it to let us know!
Returning: Adobo Yuca Fries (The Fry Basket)
Another big favorite of ours was the Adobo Yuca Fries at the Fry Basket. These are a returning item, are served with garlic-cilantro aïoli, and are priced at $5.50. These are easily the BEST things at the booth!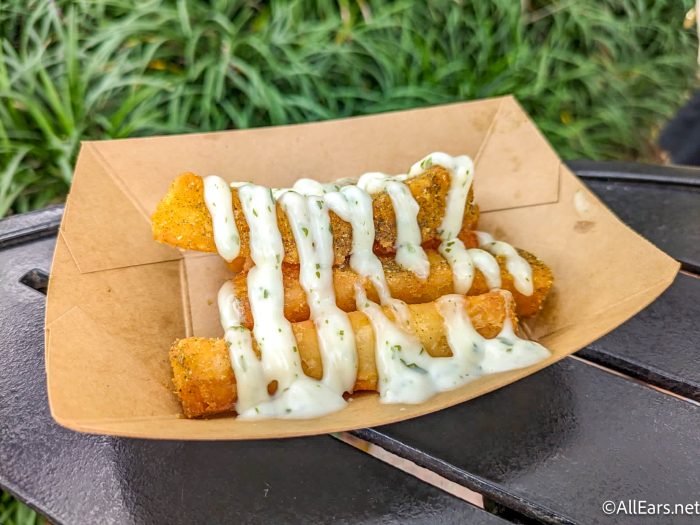 They basically taste like the best garlic bread you've ever had but in fry form — and that is an experience we just can't have you miss out on!
Returning: Warm Raclette Swiss Cheese (The Alps)
Another Quincy fave is located at The Alps — it's the Warm Raclette Swiss Cheese, particularly the one served with Alpine Ham, Baby Potatoes, Cornichons, and a Baguette. It's priced at $5.75.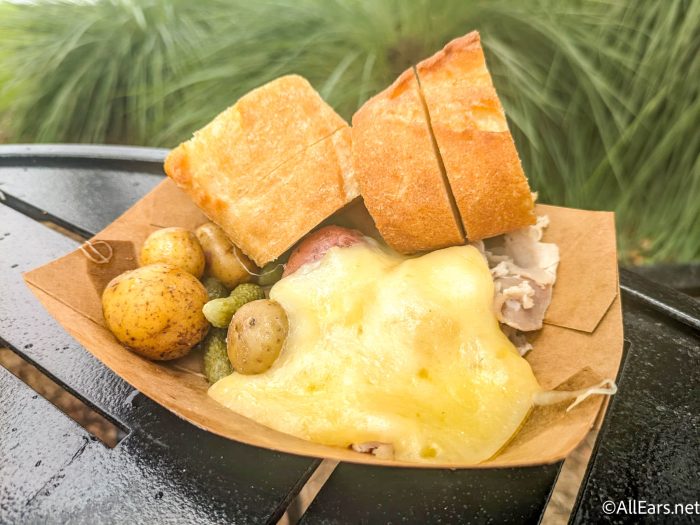 It's basically a TON of melted cheese with some items to dip into it — how can you go wrong?! The ham goes well with the cheese and potatoes, though the cornichons do steal the show a bit since they add a nice zingy vinegar flavor. This is a Festival staple and one that does NOT disappoint.
Returning: Teriyaki Chicken Bun (Japan)
Heading to the Japan booth, we've got an item that was a BIG favorite of Emma's — the Teriyaki Chicken Bun! It's made with chicken, vegetables, and teriyaki sauce for $7.50.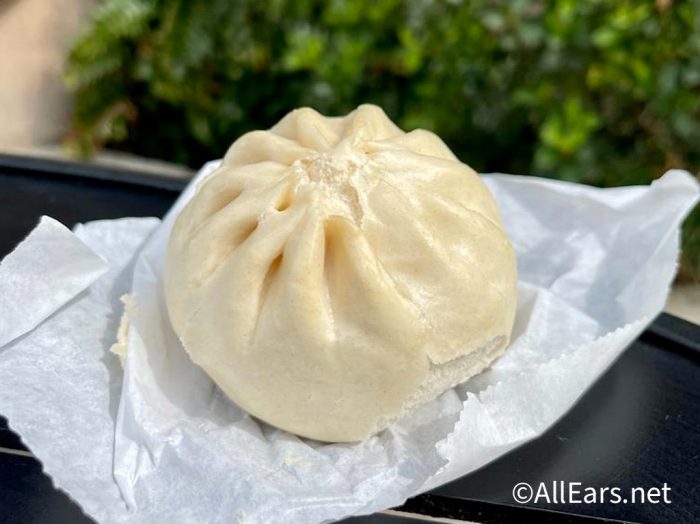 This is a popular item with many Festival guests, and we can see why!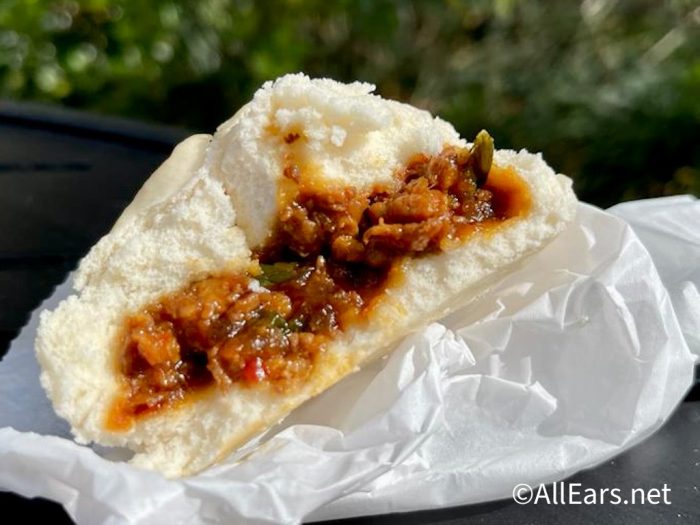 There's a good ratio of chicken to bun, the teriyaki sauce added a nice sweetness, and it all just went SO well together. This is an item we could easily see some folks getting over and over again.
Returning: Filet Mignon (Canada)
Yes, you can get a delicious Filet Mignon at a Festival Booth in EPCOT! This is a returning favorite that delivers time and time again, and this year it did not disappoint.
The Filet Mignon is $9.75 and comes with mushrooms, Boursin Black Truffle & Sea Salt mashed potatoes, and a Boursin Black Truffle & Sea Salt butter.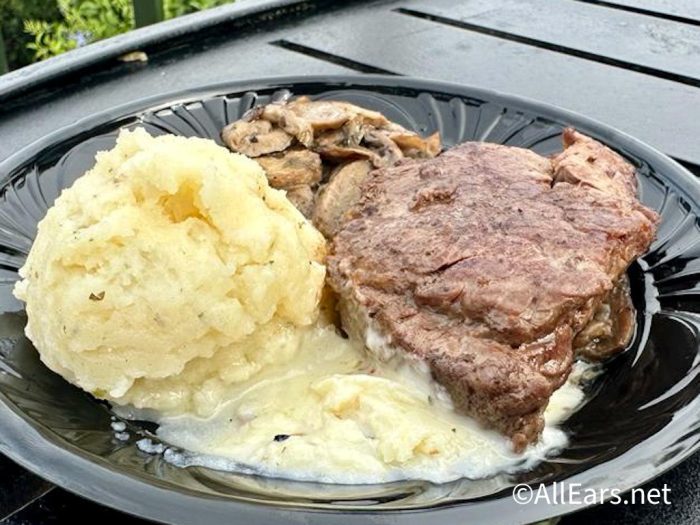 The meat was rich and tender, and we loved how buttery the potatoes were. Add in the earthy flavor from the mushrooms and you've got a real winner of a dish.
Returning: Braised Beef Poutine (Refreshment Port)
Need some cheese in your life? Head straight to the Refreshment Port — you WON'T be disappointed. The Braised Beef Poutine here is priced at $10 and features French Fries with braised beef, Boursin Garlic & Fine Herbs cheese sauce, cheese curds, crumbled Boursin Garlic & Fine Herbs, and gherkin relish. HOLY MOLY IT IS GOOD.
The meat is so tender it falls apart, and it goes SO well with the herbiness of the Boursin cheese. The fries can get soggy as they sit there, so you may want to eat 'em a little on the quicker side.
Honorable Mention
Oysters Rockefeller (Coastal Eats)
We'd like to make an honorable mention to the Oysters Rockefeller from Coastal Eats! Sage gave these a try and thought they were actually really good — that's not something you can always say when it comes to oysters in a theme park!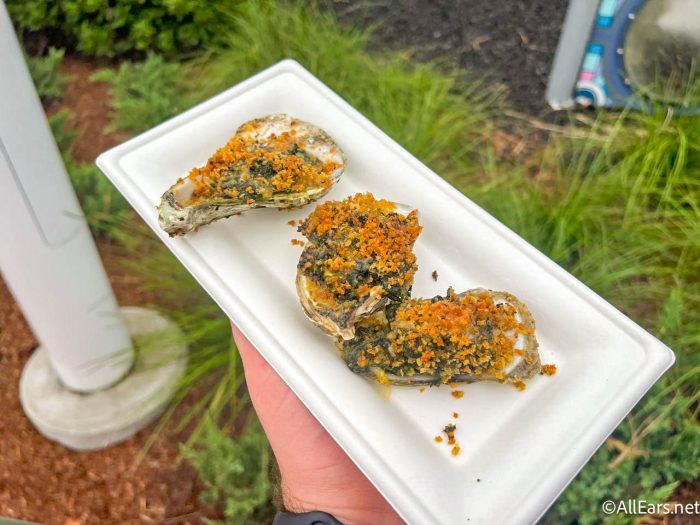 The oysters were flavorful, the breading was crumbly (and delicious — with a nice cheesy flavor), and overall it was a 10/10. If you like oysters, this is something you won't want to miss.
Best Desserts
Next, let's talk about the sweet treats you can't miss.
NEW: Dark Chocolate Fondue (The Alps)
Quincy took one bite out of the NEW Dark Chocolate Fondue at The Alps and it was an instant sense of LOVE. The fondue is served with Berries, Pound Cake, and Meringues for $5.50.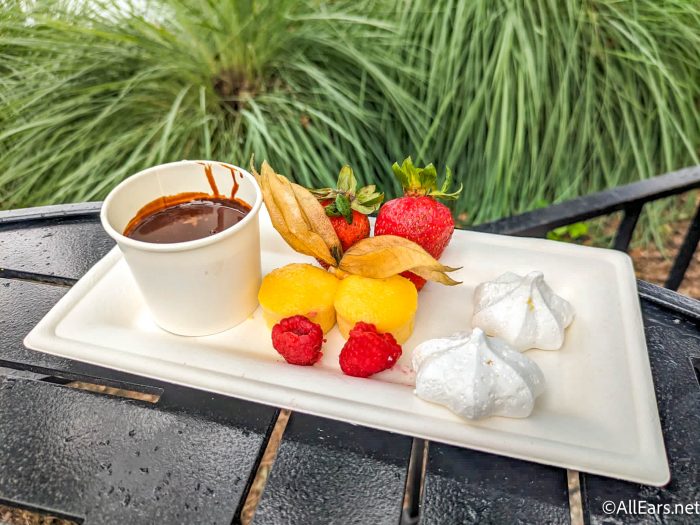 The chocolate itself was rich and indulgent (not too sweet or sugary), and the items served with it were SO good (the pound cake did taste a little floury and dense, but wasn't too bad). This is a dessert we'd HIGHLY recommend!
Important UPDATE: Disney initially marked this dish as plant-based and certain Disney menus might still have it marked that way. We spoke with a Cast Member in EPCOT, however, who confirmed that the dish is NOT plant-based. Please be aware of that before ordering this item.
Returning: Freshly Baked Carrot Cake (Flavors of America)
Looking for a dessert with fall vibes? Stop by the Flavors of America booth and grab the returning Freshly Baked Carrot Cake with Cream Cheese Icing for $4.50.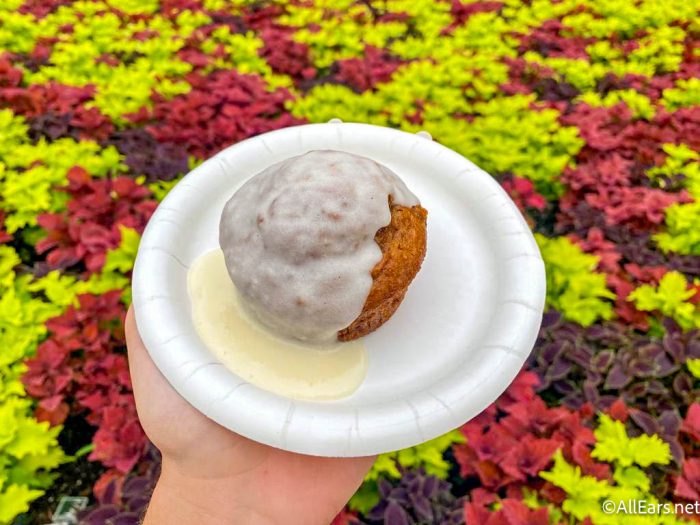 This tastes more like a Spice Cake than a Carrot Cake, but that wasn't a problem for us! Plus, the cream cheese offered a great balance to the cake. Order it now to have dreams of all things pumpkin spice and falling leaves, or be sure to grab it as it gets closer to the fall.
Returning: Warm Chocolate Pudding Cake (Ireland)
The returning Warm Chocolate Pudding Cake with Irish Cream Liqueur Custard is a MUST try. The dish is $4.75, and it was moist, rich, and delicious.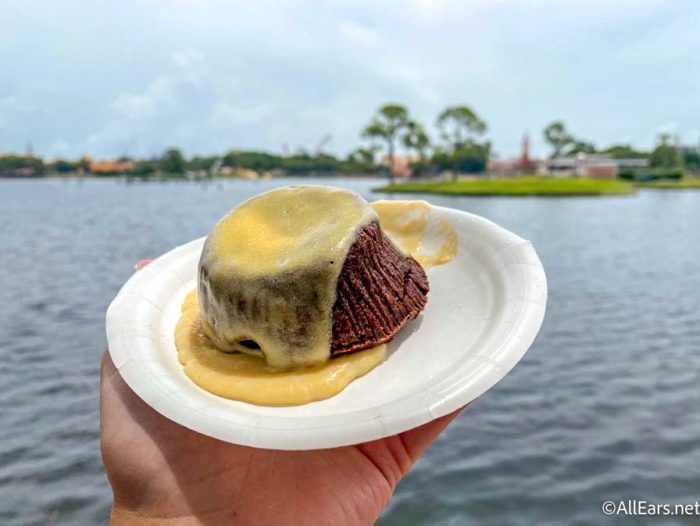 If you love fudgy and chocolatey desserts, along with Irish Cream Liqueur (which adds just a subtle note of booze), do yourself a favor and get this ASAP.
Best Drinks
Now, let's talk about those drinks — cause there are some great ones to pick from!
NEW: Fiery Dream (China)
Over at the China Booth, the NEW Fiery Dream drink was a big favorite of Emma's! The drink is made with Citrus Vodka, Triple Sec, guava nectar, and spicy hot honey syrup, and it is priced at $13.75.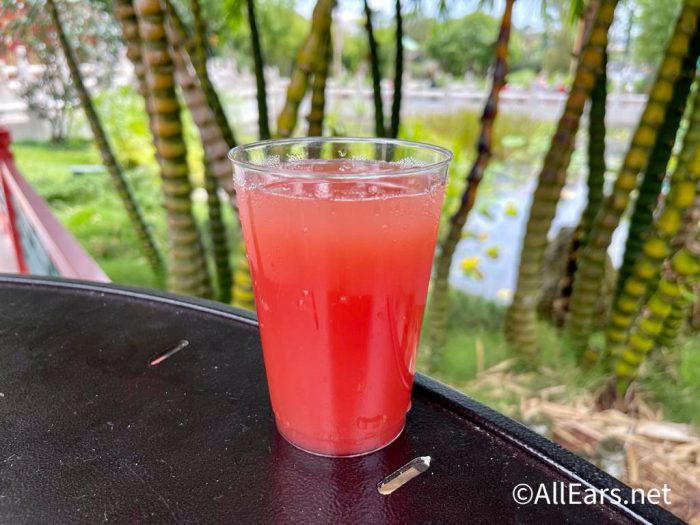 The drink was incredibly refreshing upon the first few sips. But, then, a bit of spice sneaks up on you and hits you in the back of your throat. It was easily one of the most interesting and complex drinks we've had at Disney World for a while.
NEW: Basically ALL of the Joffrey's Coffee Drinks
Joffrey's Coffee set out to impress at the Festival this year and it accomplished that goal! We really enjoyed all of the drinks this year (which you'll find at different spots).
Near the American Adventure, you'll find the Nutty Caramel Mocha Cold Brew, which is a Sweet Blend of Caramel Mudslide Cold Brew, Caramel Syrup, Peanut Butter Syrup, and Chocolate Syrup topped with Whipped Cream and Caramel Sauce for $6.49. You can also get an alcoholic version for $14.99
The flavors here worked together really well and it was like drinking a candy bar, in the best way possible!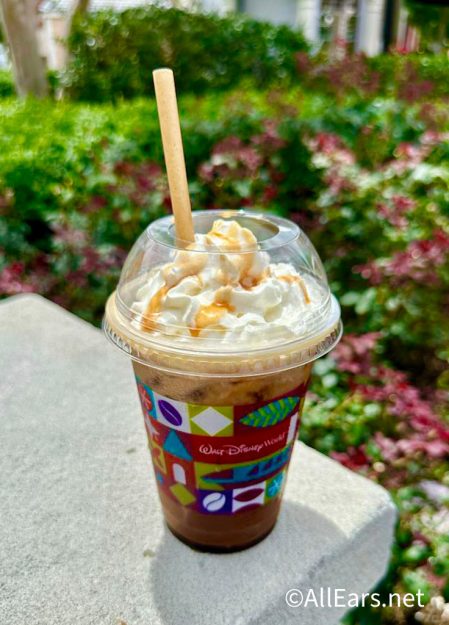 Over by Disney Traders in World Showcase, you'll find the Java Horchata — a Sweet Blend of Espresso and Horchata topped with Whipped Cream and Cinnamon for $6.49. You can get an alcoholic version for $14.99. We really liked the bold cinnamon flavor in this one. It's not super sweet, making it a good choice for coffee lovers.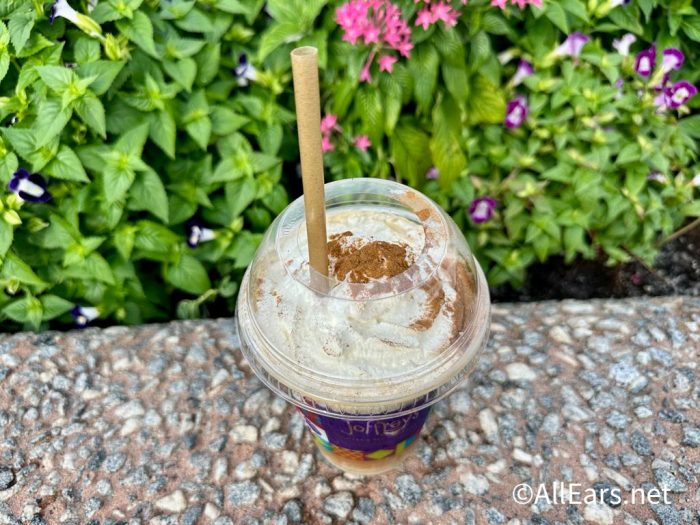 Near the Canada pavilion, you can find the Frozen Roseberry drink which is a Blend of Frozen Lemon and Strawberry-Rose Syrup for $6.49. Get an alcoholic version for $14.99. This had a great mix of refreshing, sweet, and tart flavors.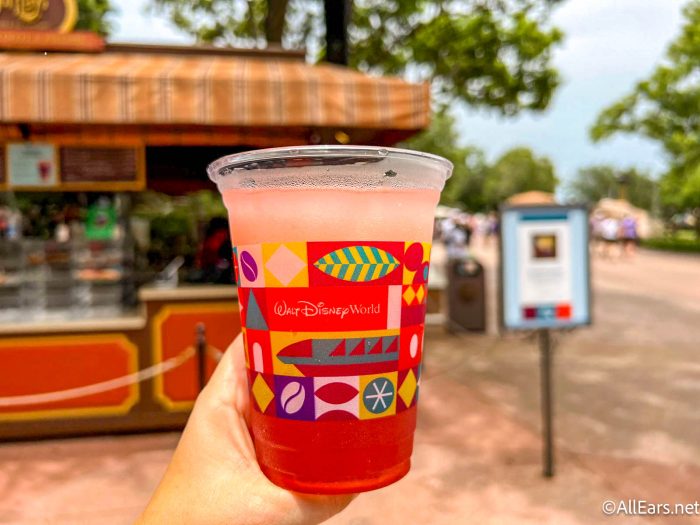 Finally, near Mission: SPACE you'll find the Amaretto Iced Tea — a Sweet and Nutty Blend of Black Iced Tea and Amaretto Syrup for $6.49. There's an alcoholic version available for $14.99. This was wonderfully refreshing, but you'll definitely want to be a fan of amaretto before ordering this one.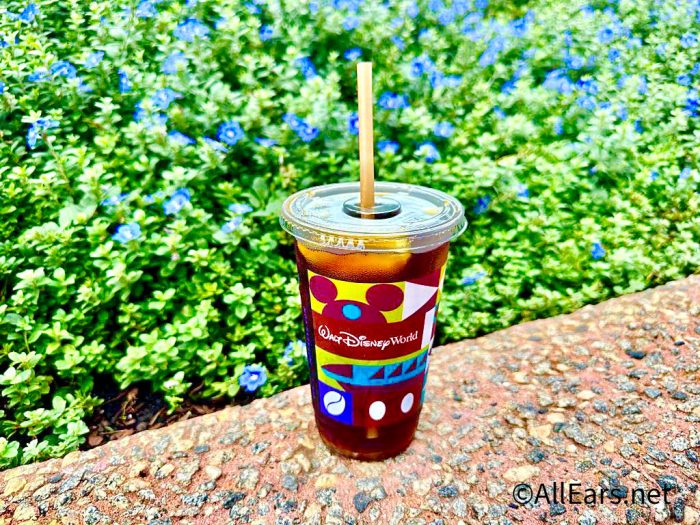 Overall, Joffreys impressed us with all 4 of their drinks and we'd easily get them again!
Returning: Mimosa Flight (Shimmering Sips)
If you want to make everyone around you jealous (and you like mimosas), hop on over to Shimmering Sips to grab the Mimosa Flight for $14, which gives you the chance to sample 3 of their mimosa creations.
The flight we got came with the Berry Mimosa with Berry Fizz Sparkling Wine and White Cranberry Juice (NEW); the Tropical Mimosa with Sparkling Wine and Minute Maid® Passion Fruit, Orange, and Guava Juices; and the Blood Orange Mimosa with Sparkling Wine and Blood Orange Juice.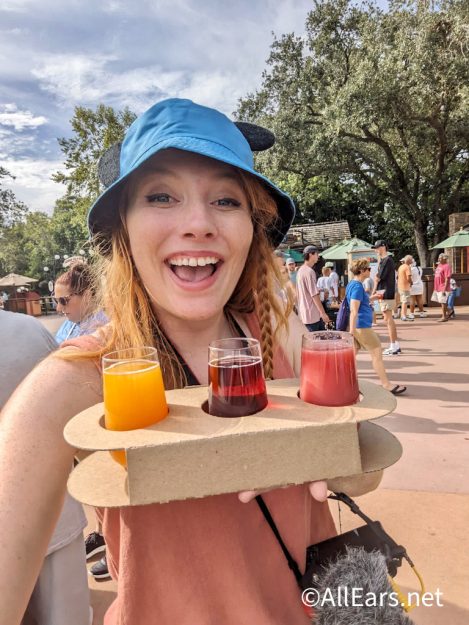 The Berry Mimosa felt like an elevated mixture of cranberry and grape juice. The Blood Orange Mimosa delivered on the Blood Orange flavor, but does have pulp so keep that in mind. And finally, we got to sample the Tropical Mimosa — basically a POG mimosa — and it was Quincy's FAVORITE of the 3. This one is fruity, tangy, and refreshing.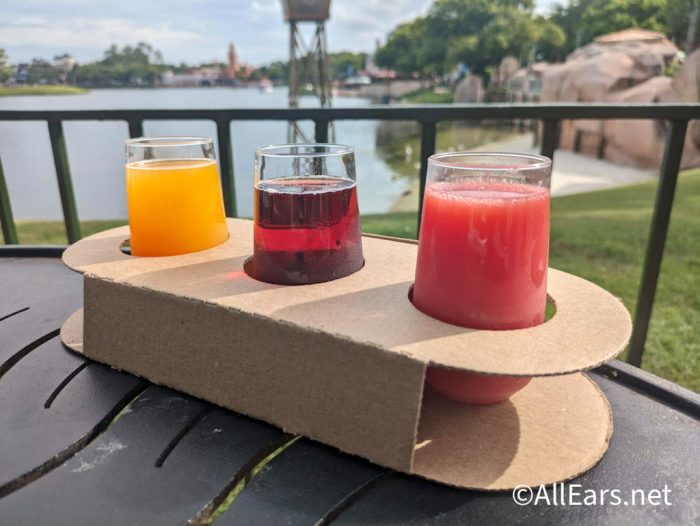 You can get any of these mimosas on their own, which might be a better option if you already know which one you like. But if you're unsure or want to sample a few different ones, the flight is THE way to go.
Best of the Cheese Crawl
Did you know that you can win a PRIZE for eating CHEESE at the Food & Wine Festival?! It's true! At the Festival, there's an experience called Emile's Fromage Montage.
Basically, what you need to do is buy 5 of the qualifying dishes on the cheese crawl, and get a stamp for each purchase. Once you get all of the stamps, you can head to Shimmering Sips to get a completer prize.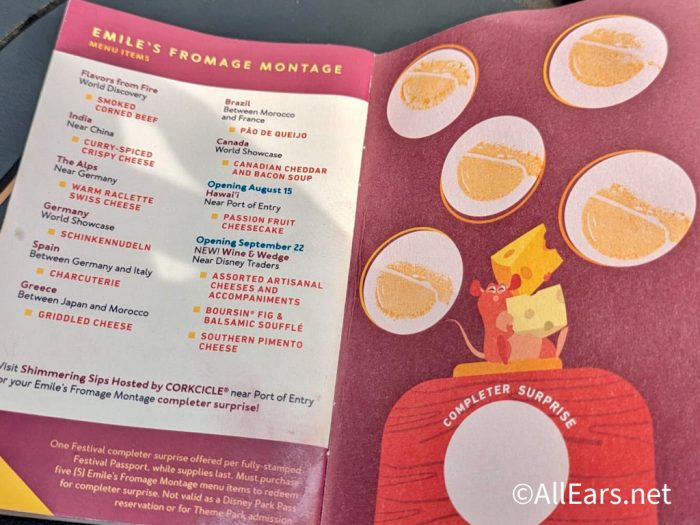 This year, the prize was a strawberry cheesecake soft-serve ice cream topped with a mini cheesecake and graham cracker crumbs in a specialty vessel. Yum!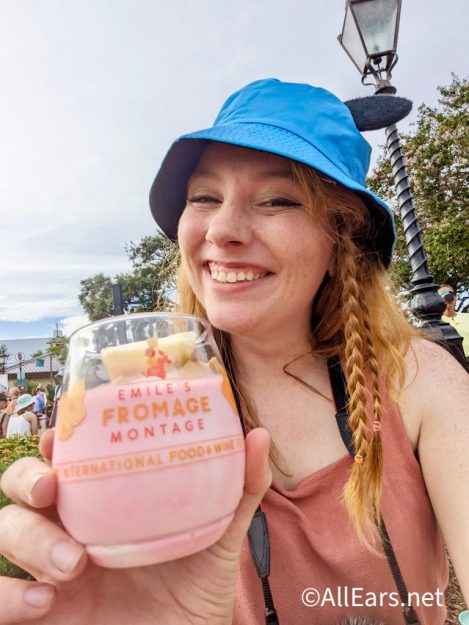 Again, you'll need to buy 5 of the qualifying dishes to get the prize — but which of these qualifying items are the BEST? Well, we'll tell you!
Returning: Canadian Cheddar Cheese Soup (Canada)
Cheese Crawl or not, this dish is a MUST-GET at the Festival time and time again. The Canadian Cheddar and Bacon Soup is served with a pretzel roll and priced at $6.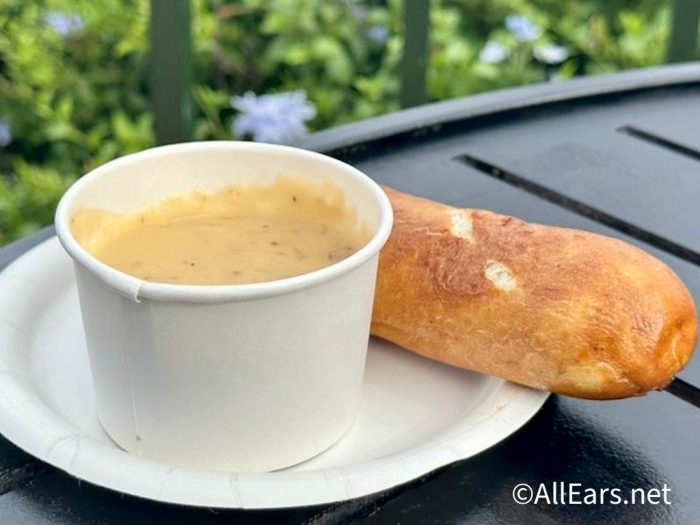 It's a popular Festival item for a reason. The soup was creamy, the bacon added a wonderful touch of saltiness, and the pretzel roll was SO soft (perfect for dipping into the soup!).
Returning: Smoked Corned Beef (Flavors from Fire)
We've also got to give a shout-out to the Smoked Smoked Corned Beef with house-made potato chips, cheese curds, pickled onions, and beer-cheese fondue at Flavors from Fire. This is priced at $6.50 and is WELL worth the price.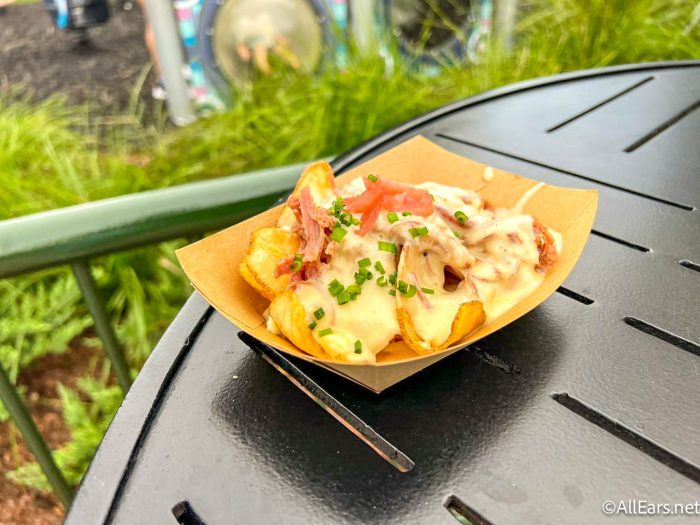 This is probably one of the best things you'll eat at the Festival (again, cheese crawl or not). Aside from being drenched in cheese in the best way possible, the dish has an awesome mix of flavors and textures — salty and savory, crunchy and creamy — it's one we'd get over and over again.
Best for Kids
Finally, let's talk about a great item for kiddos. Now, adults — just because it's great for kiddos does NOT mean it isn't great for you too. But we think this next item is one the littles will really enjoy.
Returning: Apple Strudel (Germany)
The Apple Strudel with Vanilla Sauce at the Germany booth is priced at $4.50 and is absolutely DELICIOUS.
The dessert has a fantastic apple filling that really captures the flavors of apple pie. Plus, it's coupled with a flaky pastry and seriously AMAZING vanilla sauce.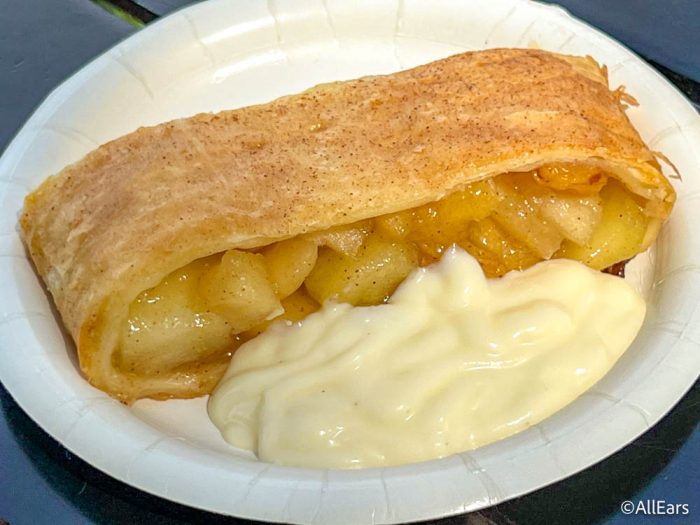 There you have it! If you're looking for a place to start when it comes to the overwhelming amount of menu items at the festival, take this list with you to the parks.
Stay tuned to AllEars for more from the EPCOT Food & Wine Festival!
What is your favorite thing to eat at the EPCOT Food & Wine Festival? Tell us your picks in the comments!