Another week, even MORE construction updates from Disney World!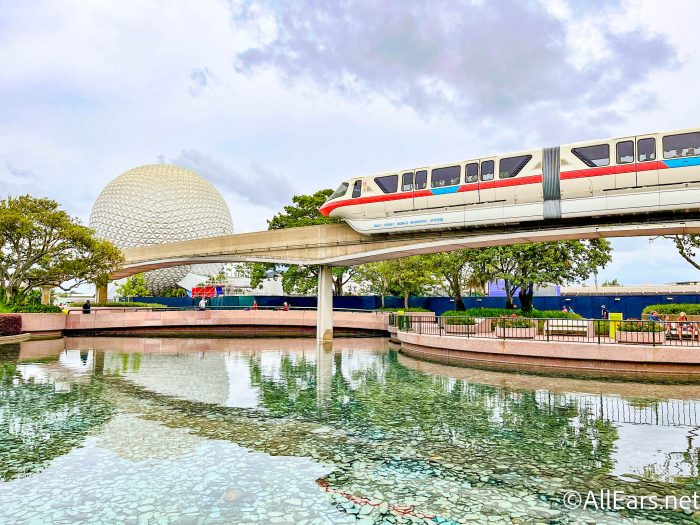 There are a lot of projects happening currently around the Walt Disney World property, with hotel updates, new restaurants coming soon, and a full-scale park transformation in progress at EPCOT. So today, we're sharing all the updates that you missed from Disney's construction projects in the past week!
Magic Kingdom
Starting out at Magic Kingdom, let's take a look at the progress on the TRON coaster! This week, more work was completed outside the building, especially on the large concrete wall by the attraction. We're excited to see the atmosphere around the building getting put together!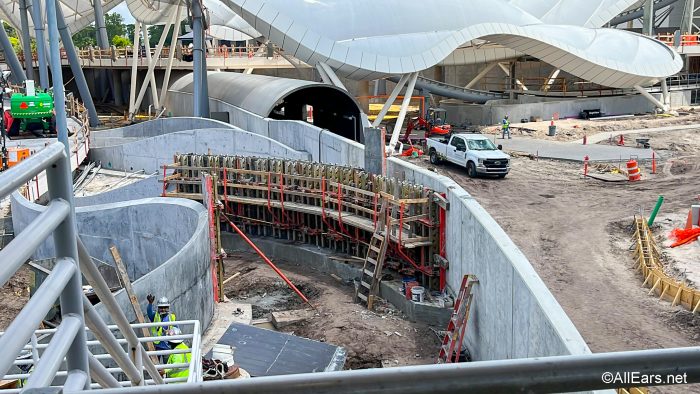 Over in Adventureland, the seating area near Magic Carpets of Aladdin was blocked off. Curtains were drawn around the entrances and windows, blocking guests from walking into this hallway.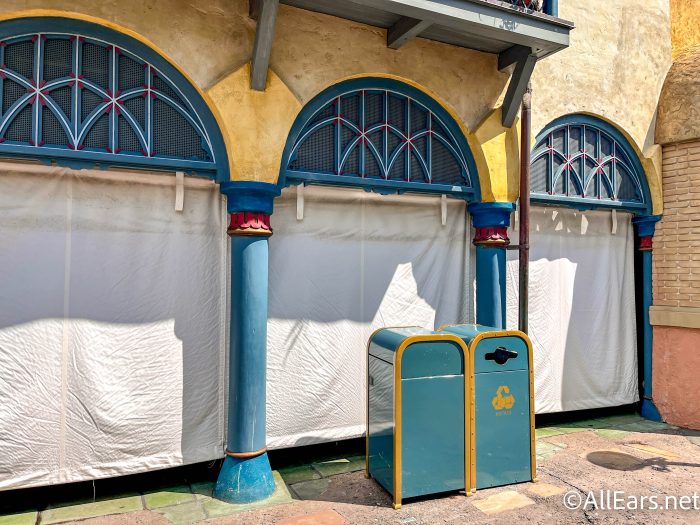 And over by Cinderella Castle, the turrets on the sides of the castle stage were blocked off as well. There were several planters stationed in the space to keep guests from standing underneath the awnings.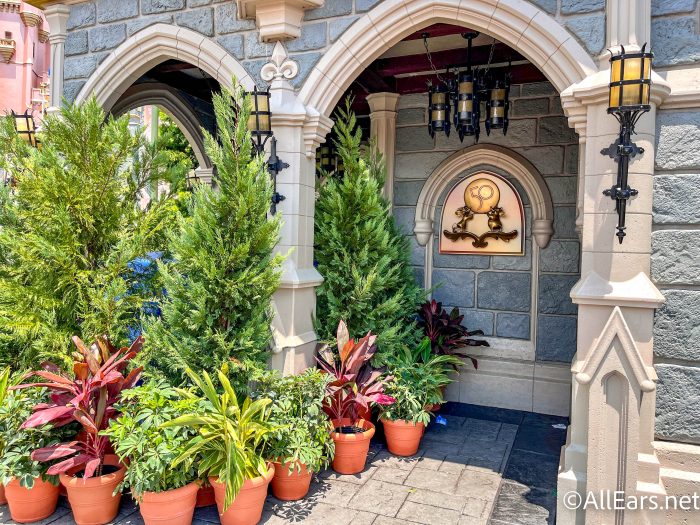 We'll be on the lookout to see if any changes happen near the castle!
EPCOT
Construction continues in the Mitsukoshi Department Store in EPCOT's Japan Pavilion. At this time, tarps are still covering the right side of the store, also known as the Modern Japan section. The store is still open for shopping.
And in the front of the park, we're noticing new progress every week! Journey of Water — Inspired by Moana is getting built rather quickly, with new rock structures popping up continually. Crews have been here almost every day when we stop by!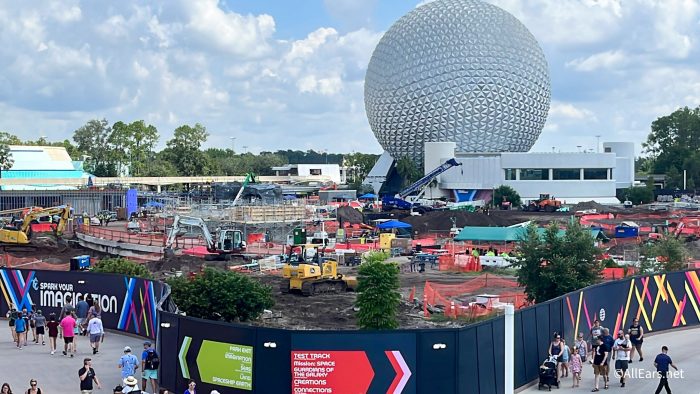 We can't wait to see the completed project in EPCOT — this transformation has been very exciting to watch from start to finish!
Animal Kingdom
We've got one construction update from Animal Kingdom — there are hedges up around the fountain at DINOSAUR. Earlier this year, the Iguanadon got a new paint job, and the fountain was drained, but now it's just blocked off.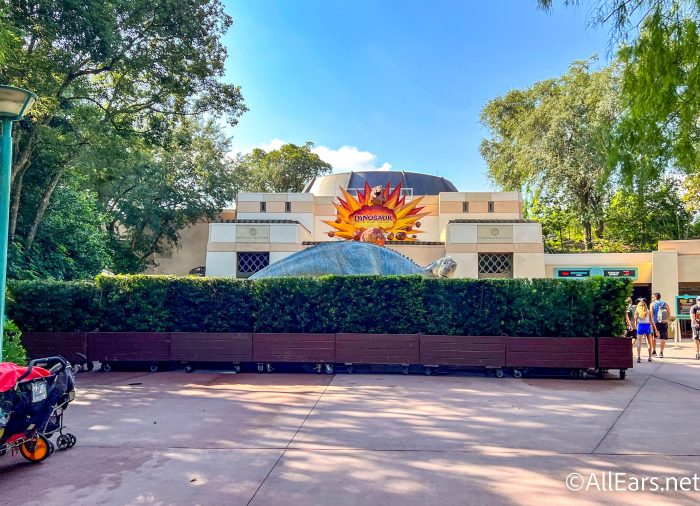 We'll be watching carefully to see if any changes are made over here, so stay tuned to AllEars for more updates!
Disney World Hotels
And last but not least, let's head over to Disney's Polynesian Village Resort, where there are two big construction projects. First of all, Kona Cafe is getting a big refurbishment right now, and the restaurant is currently covered with construction walls and tarps while work is being done.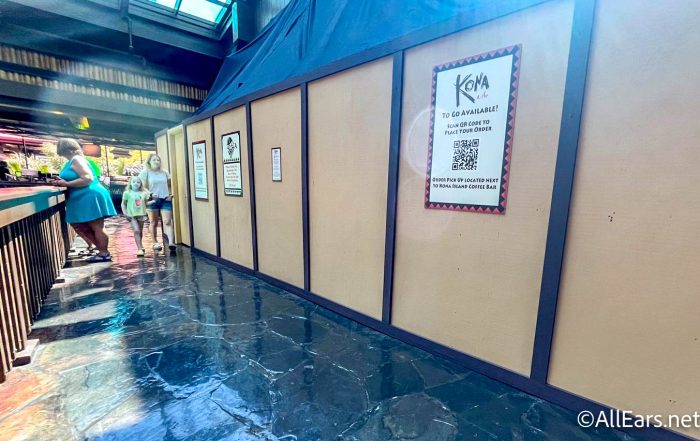 Then, outside, crews are working on preparations for the new DVC tower that's coming to this resort. The former Spirit of Aloha building was demolished, and now the land is being prepped for construction. We noticed that quite a bit of dirt was moved this week!
Those are all the major construction updates from Disney World this week — thanks for following along! We're ready to get more news about these ongoing projects, including some opening dates, and we'll make sure to update you as soon as that information is released.
Disney's D23 Expo is coming soon, and that particular event is usually littered with big project announcements for the parks, so maybe we'll be adding some new construction sites to our list soon. We'll have to wait and see!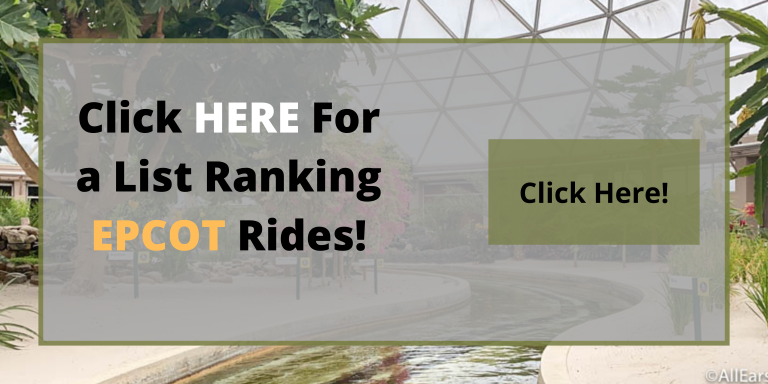 Which ongoing project are you most excited to see completed? Tell us in the comments!