Okay, let's say you're a big Harry Potter fan who has finally made it to The Wizarding World of Harry Potter at Universal Studios Orlando. But…you only have one day at the resort. What do you do?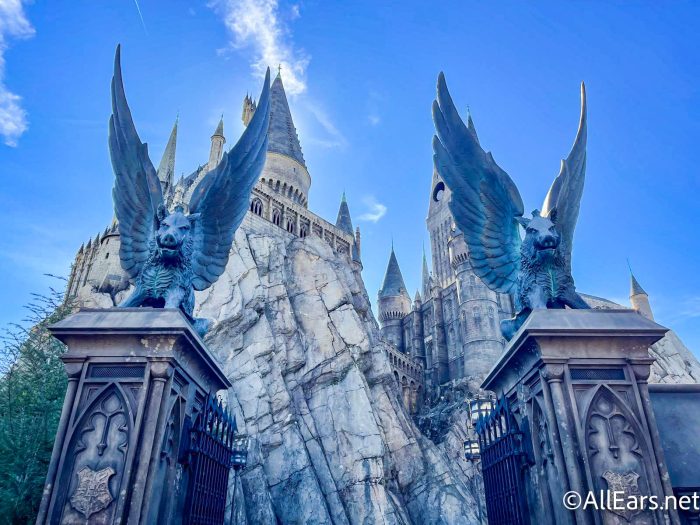 Can you do EVERYTHING in The Wizarding World in just one day? Is it possible? Well, we have an answer for you.
That answer is YES! Yes, you can absolutely do everything in one day, but it will take a little knowledge and planning. We're sharing our experience and tips here — with a full itinerary that will get you to your goal!
What You'll Need
First, you'll need to know that The Wizarding World of Harry Potter encompasses two parks (Universal Studios and Islands of Adventure), so the first thing you'll need is a 2-park 1-day ticket. That will cost you around $164 per adult and $159 per child.
We also recommend that you consider purchasing an additional Express Pass. There are several options available:
Universal Express Pass lets you skip the line one time per each participating ride. Price: $79 per person
Universal Express Unlimited lets you skip the line an unlimited number of times for participating rides. Price: $109 per person.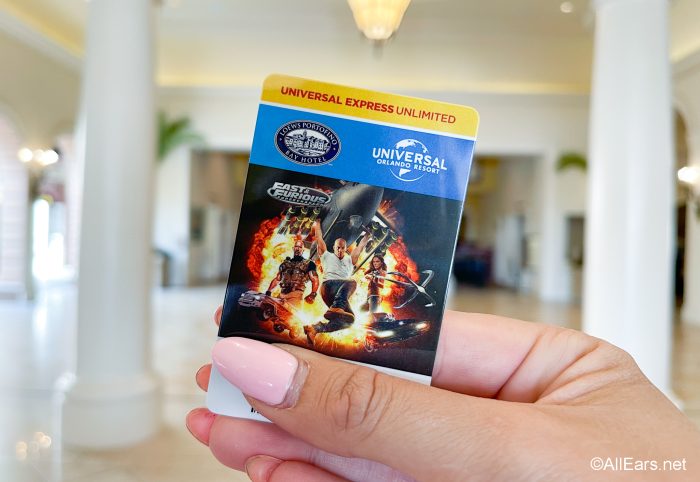 However, if you stay at a Universal Premiere hotel (Loews Royal Pacific Resort, Hard Rock Hotel, Or Loews Portofino Bay Hotel), you get a free Universal Express Unlimited Pass.
If you're not staying at one of these hotels, you'll ultimately have to decide if you'll have time to ride attractions more than once if you only have one day. Remember, The Wizarding World of Harry Potter is way more than just rides.
Your One-Day Wizarding World Itinerary
You've got your 2-park ticket and your Express Pass and you're ready to go. Here's the best way to experience everything the Wizarding World has to offer.
1. Ride Hogwarts Express…Twice
Start your day in Islands of Adventure and head straight for the Hogwarts Express at Hogsmeade Station. Because this ride is so limited, even with Express Pass lines can get a little long for it later in the day, so do it first thing in the morning. However, the ride is different each way, so here's what you need to do: Ride it twice in a row.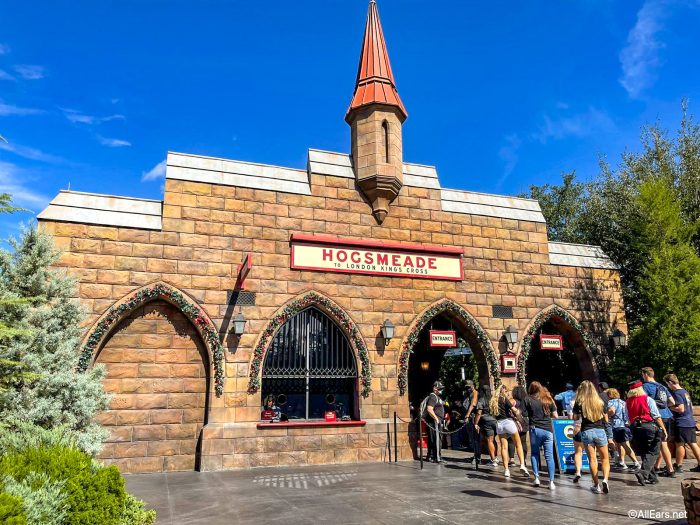 2. Sign Up For Hagrid's Magical Creatures Motorbike Adventure Virtual Queue
While you're waiting in line for the Hogwarts Express, sign up for the virtual queue for Hagrid's Magical Creatures Motorbike Adventure. This is the only Harry Potter ride that doesn't have an Express Pass lane, so you'll have to ride it when your virtual queue time comes up. Head back to Hogsmeade and hop in line for the ride when your queue time arrives.
Note: You will need to store your items in a complimentary ride locker located near the entrance of the ride. They work by scanning your park ticket. Just don't forget to pick up your things before you leave!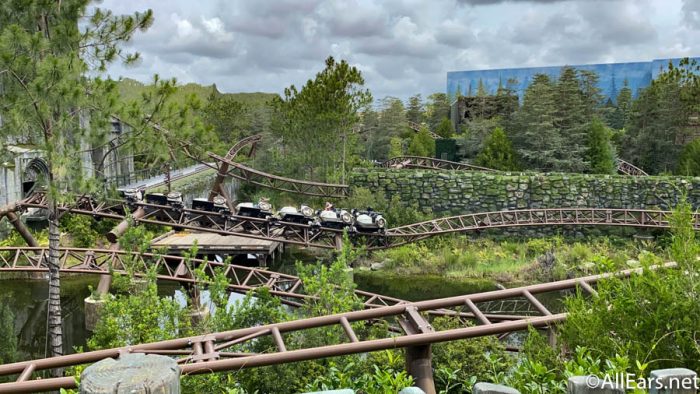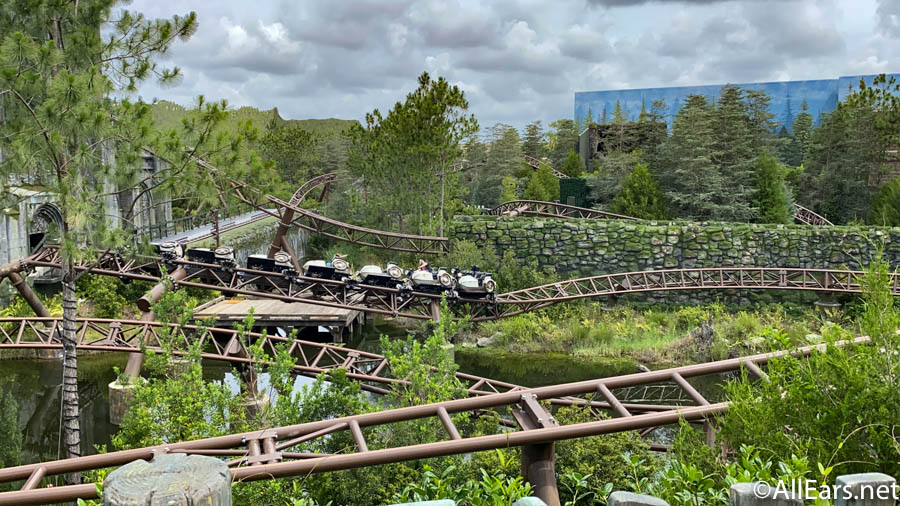 3. Grab A Bite at Three Broomsticks
Breakfast is served until 10:30AM at Three Broomsticks, so grab a delicious English breakfast or Porridge Breakfast when you can. You can even order a Pumpkin Juice to accompany your meal. You probably won't have a lot of time for lunch, so eat up!
4. Catch A Show
Be sure to keep an eye on showtimes on the Universal app. You'll be able to see the Frog Choir and the TriWizard Spirit Rally throughout the day. The Frog Choir is particularly entertaining, but you should try to catch both shows if you can.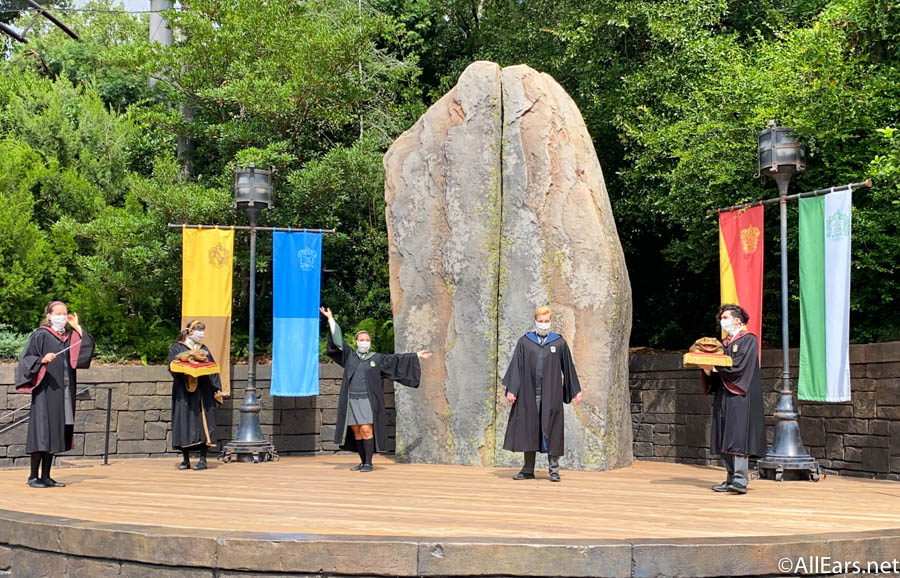 5. Visit Honeydukes
Don't forget to stop into Honeydukes to pick up a Chocolate Frog. Inside each package is a card with a famous wizard on it — who will you get? You can also pick up all kinds of wonderful sweets here, all inspired by the Harry Potter books and movies.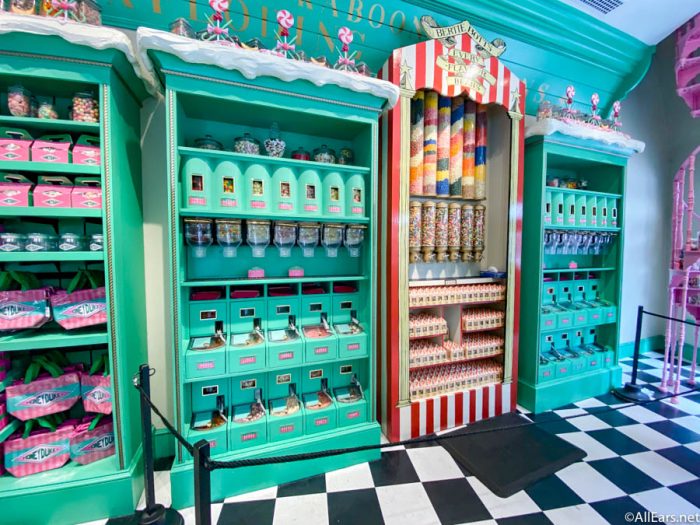 6. Hop on over to Universal Studios
You have two options here: You can either take Hogwarts Express again (but remember, the line could be long) or you can take the walkway to Universal Studios, which is usually the fastest way to travel between parks. So head on over there next!
7. Say Hello To the Knight Bus
Before you head on into Diagon Alley, be sure to stop by the Knight Bus parked just outside and visit with the driver and the shrunken head that hangs above the steering wheel. Be sure to ask about sightseeing recommendations around London!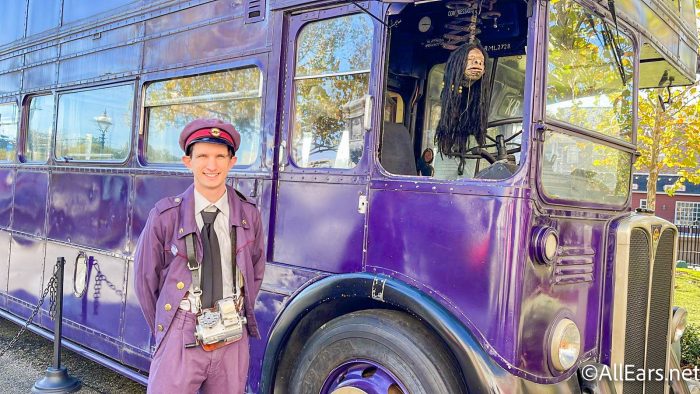 8. Head on into Diagon Alley
It's time to go into Diagon Alley! You'll want to take a moment to just enjoy the atmosphere because it's like stepping into one of the Harry Potter movies! Also, be sure to look up to the top of Gringotts Bank and watch the dragon carefully to catch it breathing fire!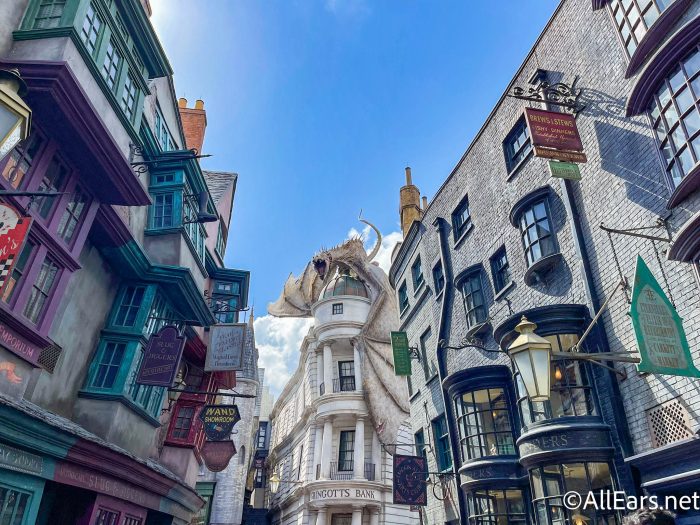 9. Get Butterbeer
While you're admiring Diagon Alley, head on over to the Butterbeer Cart and get a butterbeer. Pick whichever one you want to try first (because yes, we'll have more later), whether that be frozen, regular, or hot!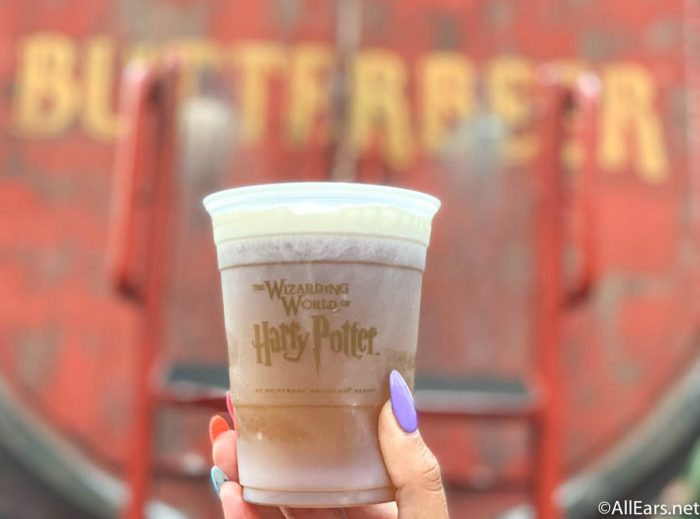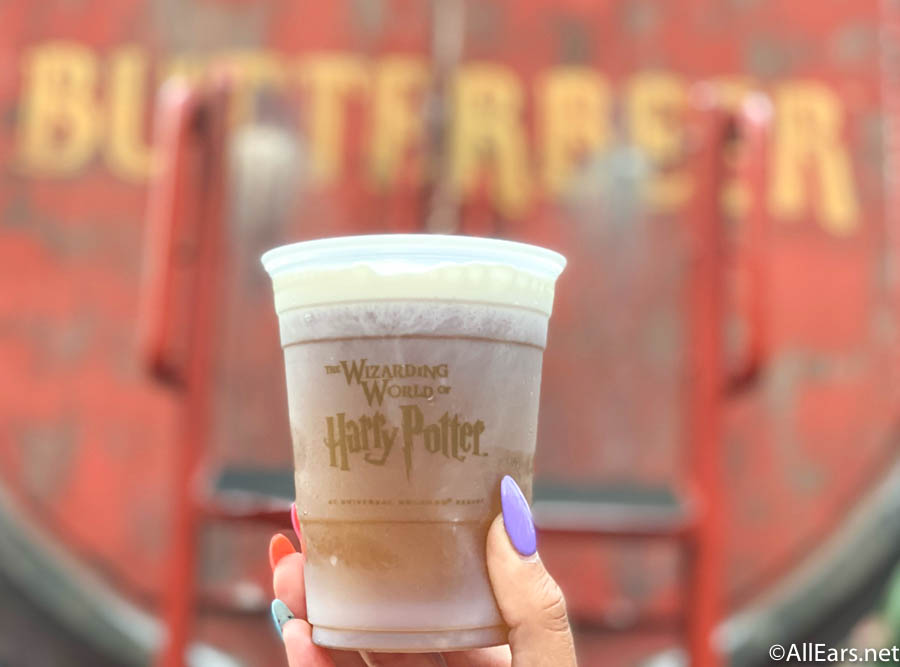 10. Enjoy another show
While you're enjoying your butterbeer, take time to check out another show. You'll be able to catch Celestina Warbeck and the Banshees or one of the Tales of Beetle the Bard shows. It's the perfect thing to do while you're sipping on a sweet beverage.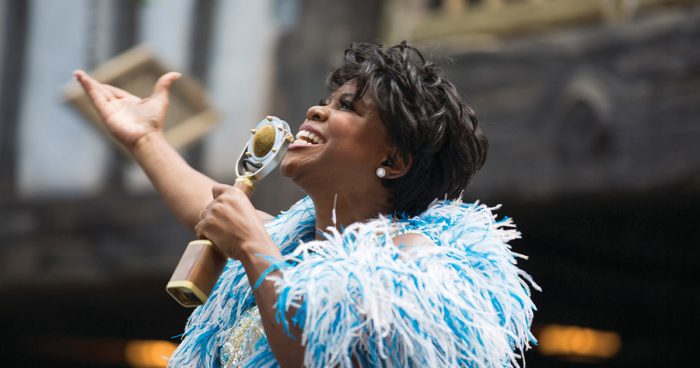 11. Get Wizarding Money
Okay, so you said you wanted to do EVERYTHING in the Wizarding World, so you'll need to pick up some Wizard Money (aka Gringotts Bank Notes) at Gringotts Bank Exchange. Basically, you exchange your money for Wizard Money, which you can use at most of the shops and restaurants in both Hogsmeade and Diagon Alley.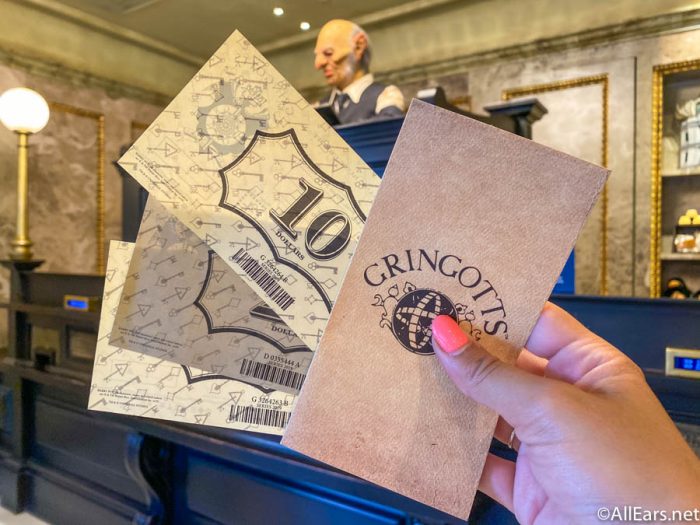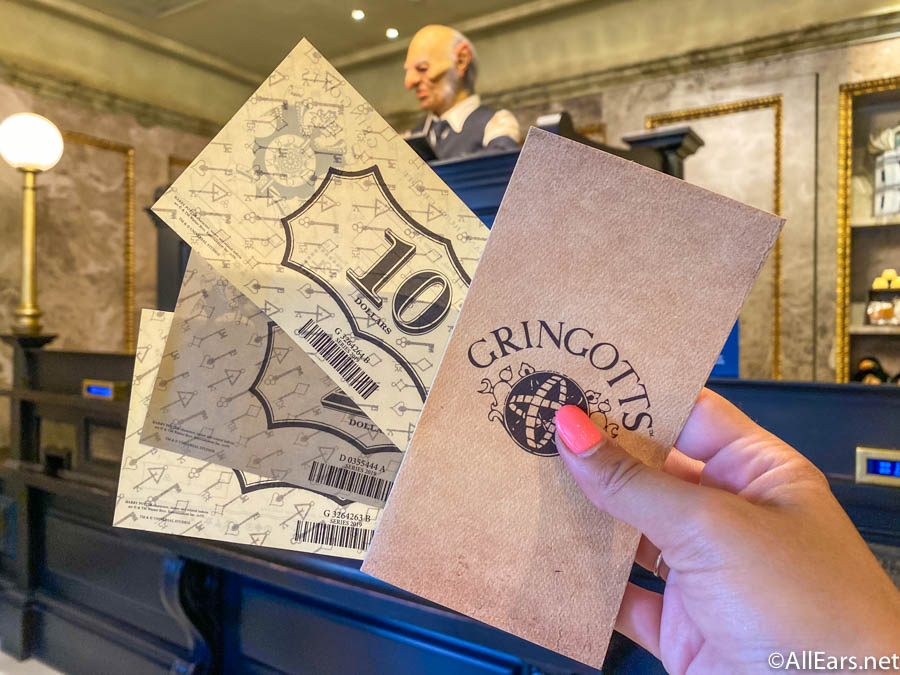 12. Buy A Wand
Okay, so you can do this at any point during your visit, but you'll want to pick up an interactive wand. You can get one at Ollivander's and see the whole "show," or you can find them throughout the Wizarding World at other shops (we picked one up recently in Burgin & Burkes). If you do go to Ollivander's, you'll need to know that the line there is often quite long.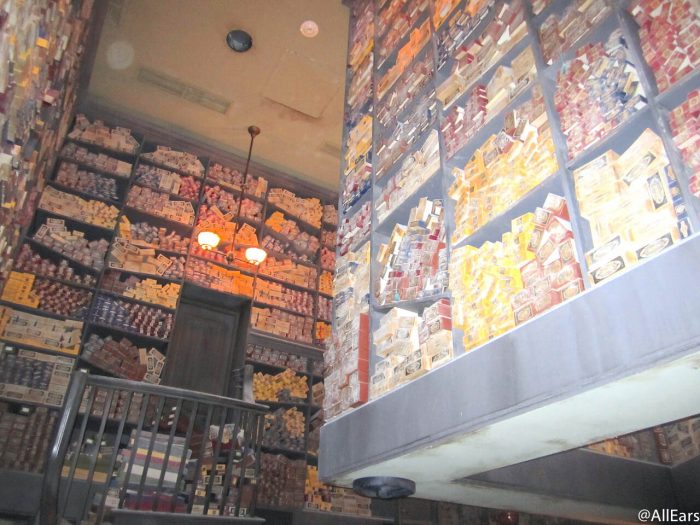 Once you have your wand, be sure to interact with shop windows throughout Diagon Alley AND Hogsmeade and watch the magic happen.
How do you know where the interactions are? Look for these symbols near the windows that work with the interactive wands:
Each symbol shows you what motion to do with your wand to interact with the shop window. Trust us — this is SO much fun. You'll feel like a real wizard!
13. Visit Knockturn Alley — if you dare
If you've got a soft spot for Slytherin House, you'll want to visit Knockturn Alley, where you can find shops that turn a little more toward the Dark Arts. Beware, though — skeletons and spiders adorn the walls, and mysterious merchandise lines the shelves of shops.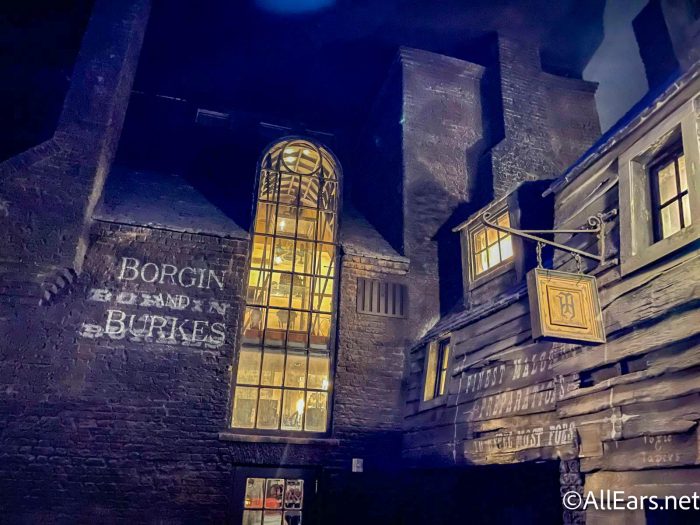 14. Visit Borgin and Burkes
If you want a wand that's tuned more into the Dark Arts,  you might wait and buy one here. You'll also see a Vanishing Cabinet, just like the one in the movie version of Borgin and Burkes. Be sure to stock up on all your Dark Arts magical needs.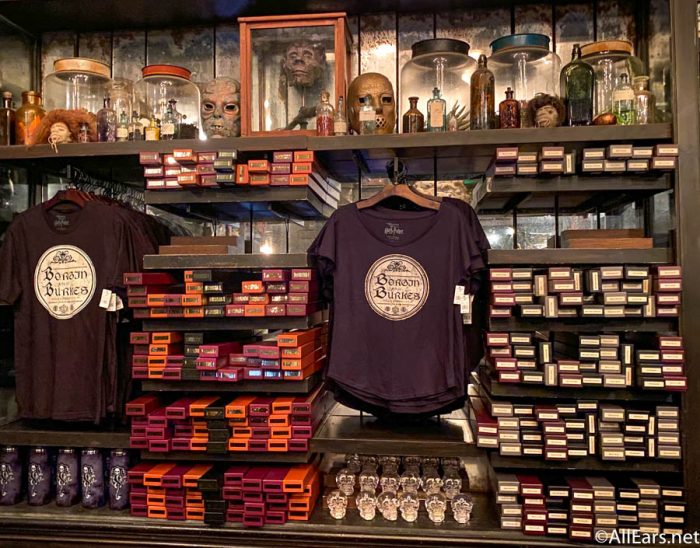 15. Eat Ice Cream
Using the Dark Arts uses up a lot of energy, so take a break and refresh with a unique ice cream flavor from Florien Fortescue's. Here you can get fun flavors like Butterbeer Ice Cream, as well as Orange Marmalade, Earl Grey and Lavender, and Clotted Cream.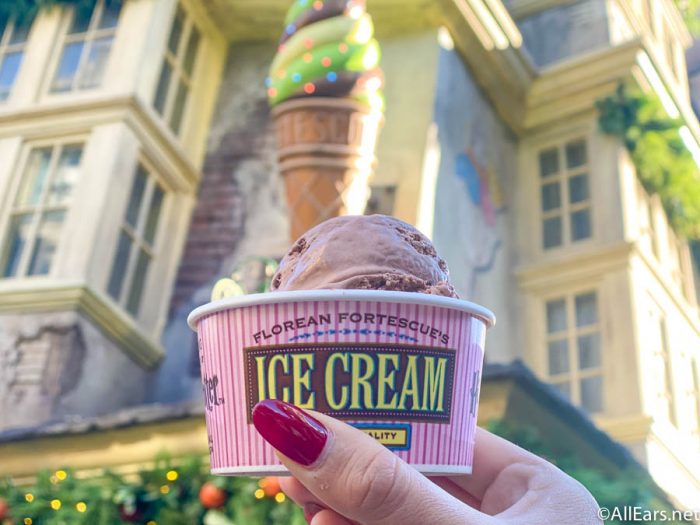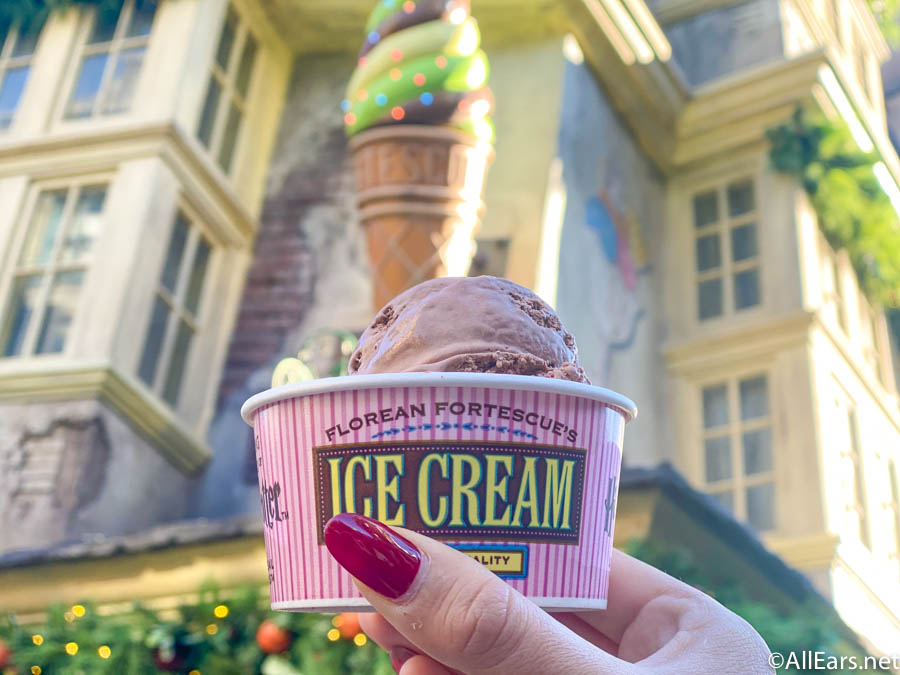 16. Visit the Magical Menagerie
If you want to see Fantastic Beasts and need to know Where to Find Them, you'll want to head to the Magical Menagerie, because they're all here! You can buy plush versions of many of those creatures, including Crookshanks, Cornish Pixies, Owls, Buckbeak, Scabbers, and more!
17. Pick Up A Wizard Joke
No trip to Diagon Alley would be complete without a stop at Weasley's Wizarding Wheezes, where you can stock up on Pygmy Puffs, Nosebleed Nougat, U-No-Poo Pills, Fever Fudge, and more. Don't worry, though — it's all just candy (or is it….?)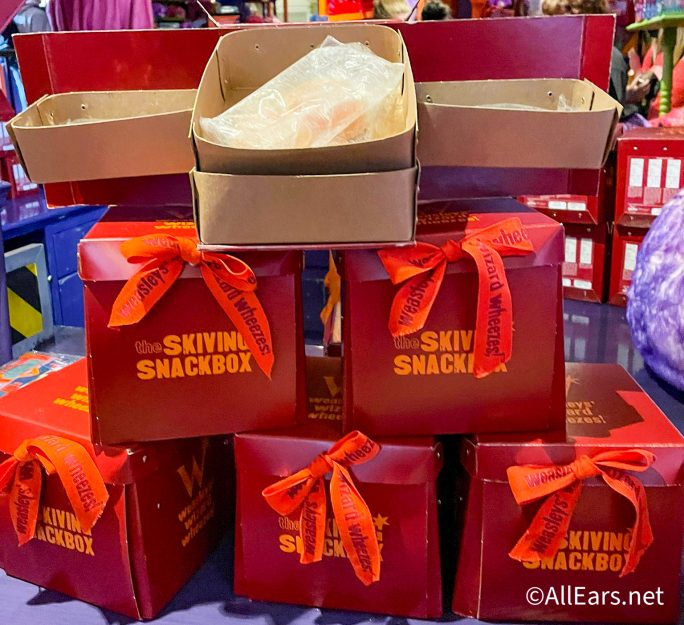 18. Grab a Meal at the Leaky Cauldron
At some point, you're going to want another meal, so grab a late lunch or an early dinner at the Leaky Cauldron (before things get too busy). The Fish and Chips here are solid, but you can also grab other traditional English food, like Bangers & Mash, Toad in the Hole, and Cottage Pie. Feeling brave? Grab some Fire Whiskey, too!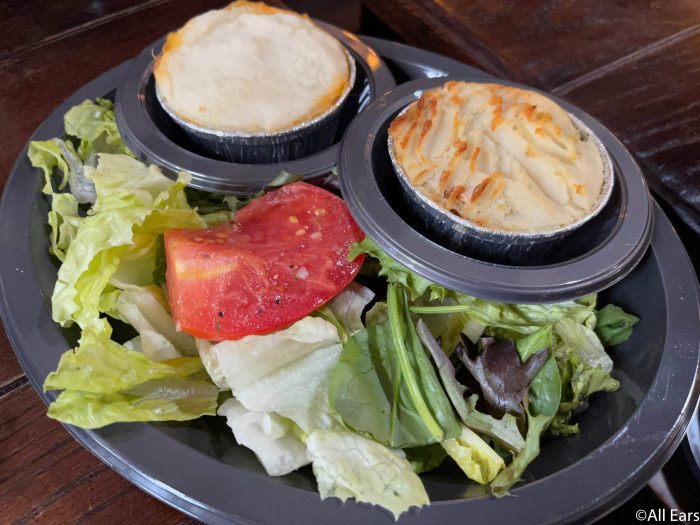 19. Ride Escape From Gringott's
This is where the Express Pass comes in handy again because the lines for this ride are notoriously long. So, again, like with Hagrid's, store your stuff in the provided lockers and get ready to head on into Escape From Gringott's. Do take some time to enjoy the queue, though, because there are a lot of great details that will make you feel like you're in the REAL Gringott's.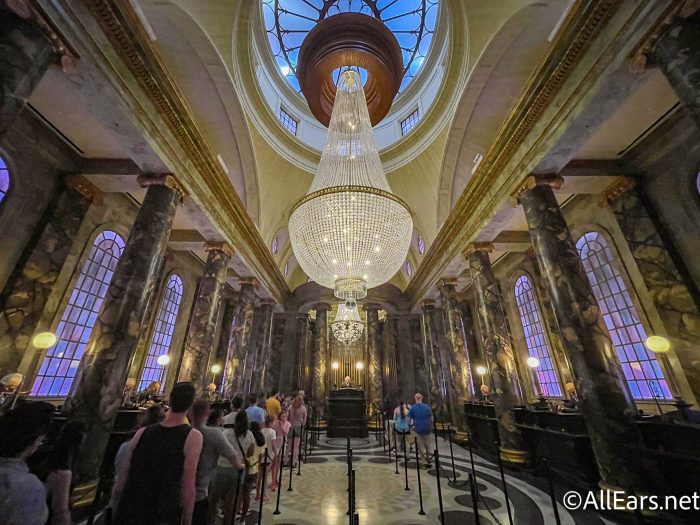 20. Get some last-minute shopping in
Okay, it might be time to stock up on souvenirs, so visit the shops you haven't been in yet, and pick up any more souvenirs you might like. A little retail therapy is good for the wizarding soul! You'll find everything from t-shirts, plushes, more wands, keychains, and more unique items in every shop.
21. Head back to Hogsmeade
Okay, remember that walkway? Take it back to Hogsmeade because we're going to ride the last two rides in the Wizarding World. This is also a good opportunity to get more shopping in to see if there's anything else you might want.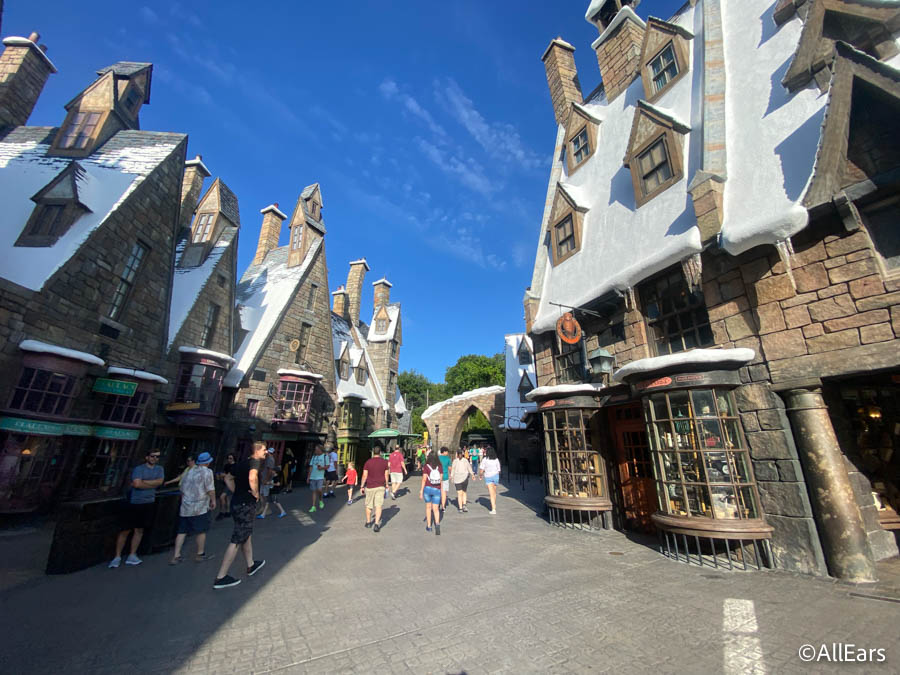 22. Catch Another Show
If you can time it right, you could catch another show — maybe even one you haven't seen yet. The entertainment here is fun and feels VERY Hogwarts, after all. Also, you're probably already taking more photos of Hogwarts (especially at sunset and after).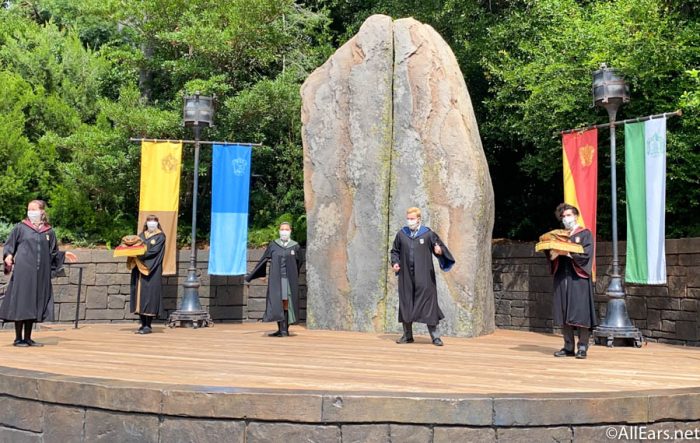 23. Drink ANOTHER Butterbeer
Okay, you have to try at least two versions of butterbeer, so while you're waiting for a show or watching a show, you can sip on a second Butterbeer to compare and see which is your favorite.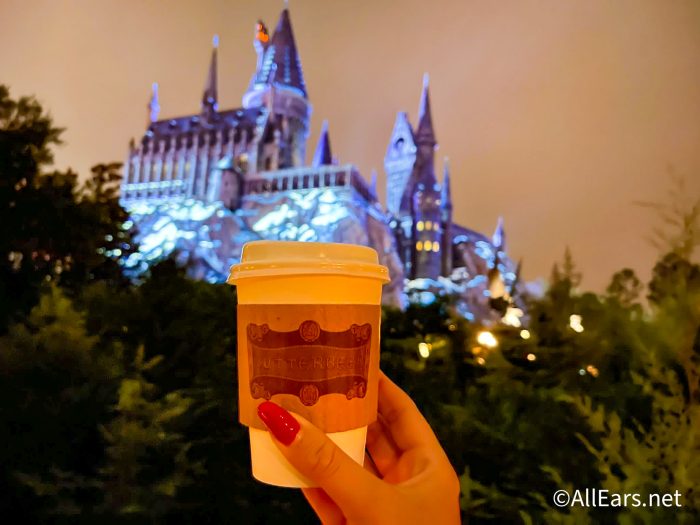 24. Ride Flight of the Hippogriff
Okay, so you want to ride Flight of the Hippogriff at night because the view of Hogwarts is outstanding. This isn't a big thrill kind of rollercoaster, so you don't have to worry about it being too much for most people. You can also use your Express Pass here.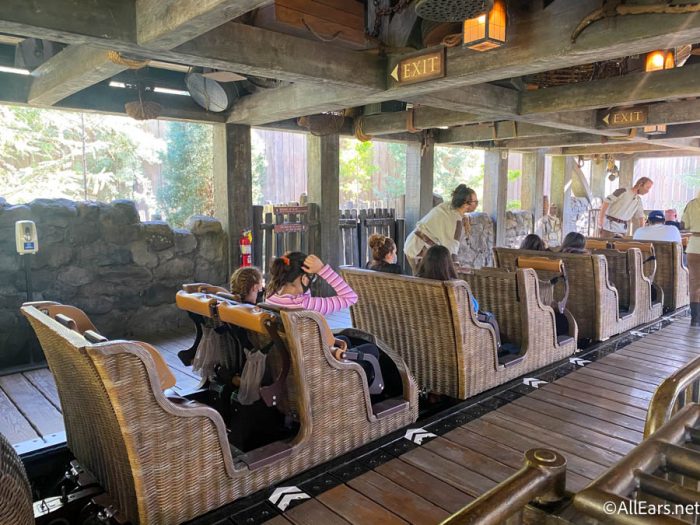 25. Harry Potter and the Forbidden Journey
It's time to finally go inside Hogwarts Castle! This is another one we recommend doing at night because although you can use Express Pass, you don't want to miss the queue — and the lines are shorter at night.
So what's so special about the queue? You'll get greeted into the castle, as part of a visiting group to attend a lecture. You'll go through the Headmaster's Office where Dumbledore greets you, and then you get more story elements, as well as get to see moving portraits as they appeared in the movies.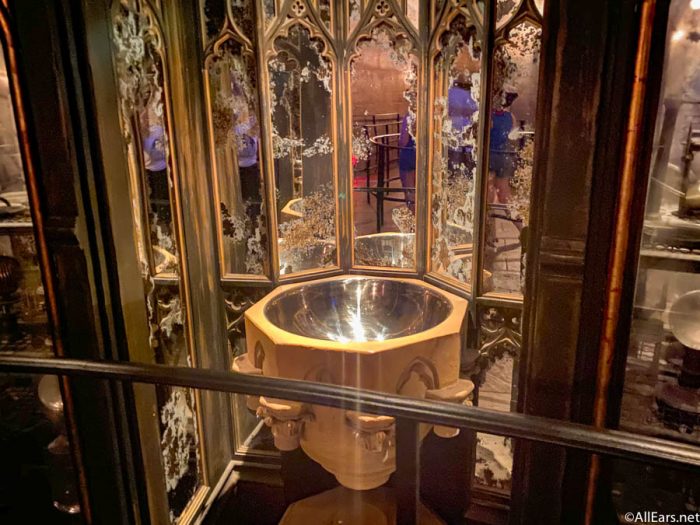 We will give you a warning, though: this ride has caused motion sickness for many guests, so if that's an issue, don't ride it. However, you can walk through the queue and duck out before the actual ride.
26. You Did It!
By now, it's probably the end of the day, but if you have time, you can always do more shopping or eating or Butterbeer-drinking (we won't judge you). Enjoy what time you have left in Hogsmeade and know that you conquered the Wizarding World in one day. 10 Points to Your House!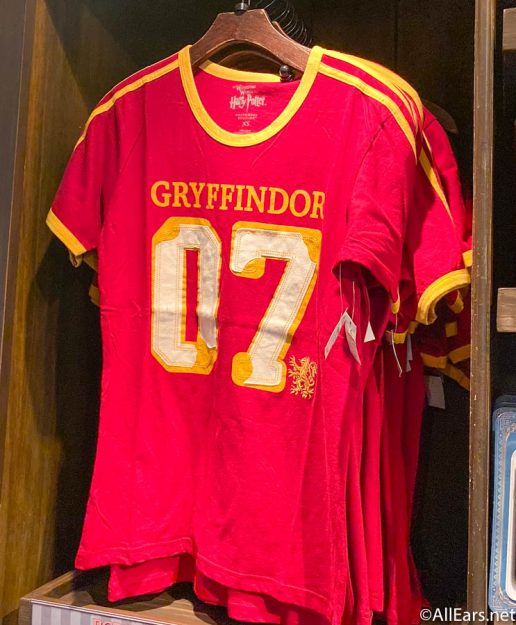 We will recommend that if you do have more than one day, spend each day on one side of each park (although you'll still need a 2-park ticket to ride the Hogwarts Express). There are so many details and things to discover that you don't want to rush through everything.
Keep in mind that although there really aren't that many rides in the Wizarding World, this is where you go for the full Harry Potter experience. There is so much more to Hogsmeade and Diagon Alley than the rides, so if rides are important to you, you might want to take some time to visit the rest of Universal.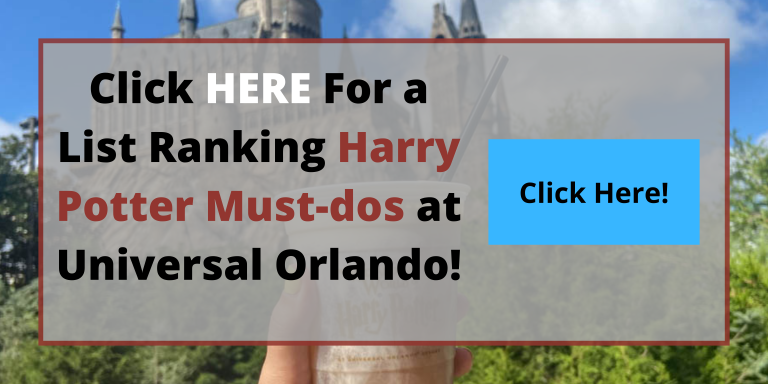 Have you done The Wizarding World of Harry Potter in one day? Let us know in the comments!