Disclosure: We were invited by Universal Orlando to attend a media event for The Toothsome Chocolate Emporium & Savory Feast Kitchen. This did not affect our reporting of the event — our opinions are our own.
Do you love chocolate?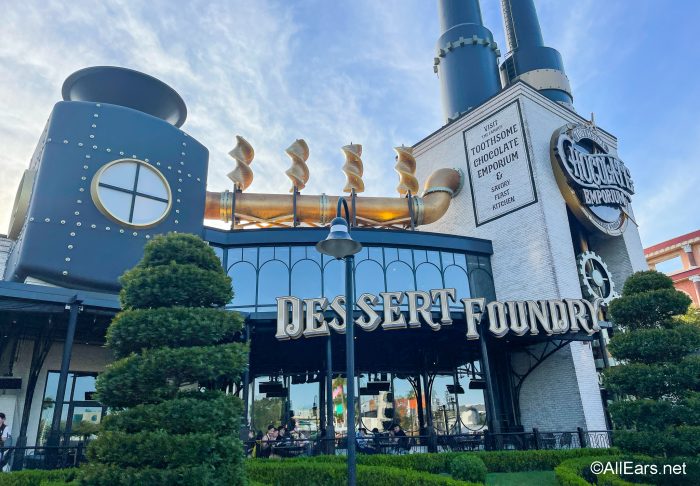 No, really, do you love LOVE chocolate? Would you eat it in everything if you could? Well, in case you didn't know, there's a restaurant at Universal Orlando's CityWalk that makes almost EVERYTHING with chocolate. We recently visited, and we're here to make our recommendations on what you should get!
The media event we went to was called the Thrills Experience and we certainly got our chocolate thrills while visiting The Toothless Chocolate Emporium & Savory Feast Kitchen. Now that we've had our chocolate fill, we've come back here to tell you all about our experience.
Location, Hours, and Reservations
Since The Toothsome Chocolate Emporium is located at Universal's CityWalk, you don't need a park ticket to eat here.  Currently, this restaurant is open daily from 8AM to 12AM, so you have plenty of time on any given day to partake in its chocolate delights.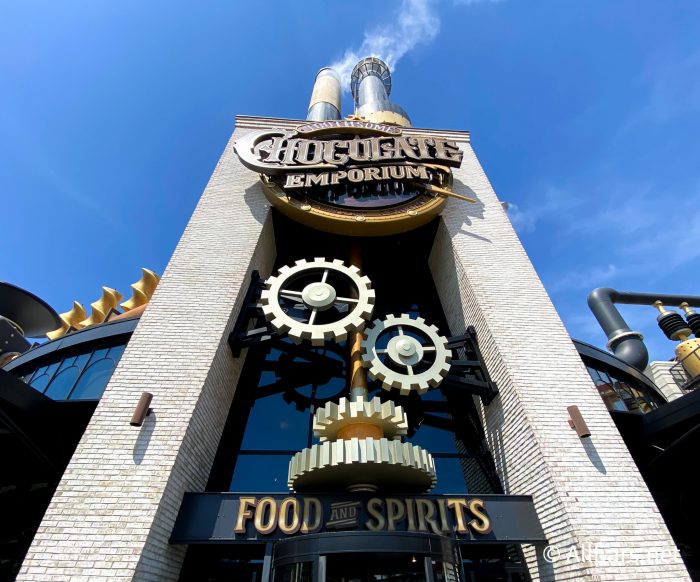 However, we highly recommend making reservations by calling (407) 224-3663 or by clicking here to book online.
Atmosphere & Decor
So what would happen if Willy Wonka decided to go full-on steampunk? Well, that's pretty much the theme of The Toothsome Chocolate Emporium. You can pretty much tell by looking at the outside of the building, what with all the gears. However, that theme carries inside, too.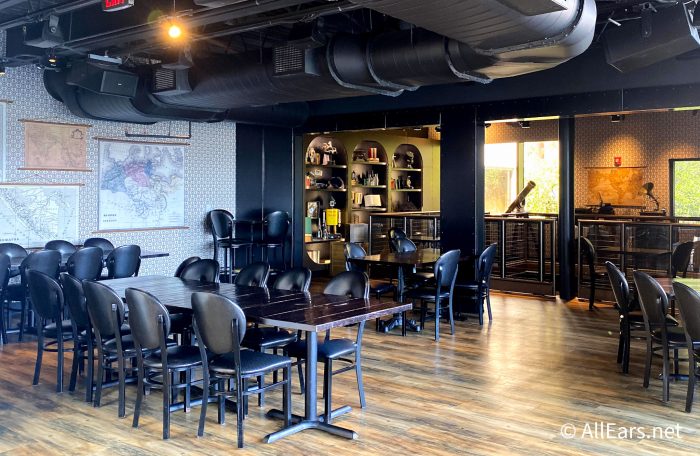 The restaurant even has its own mascots, Jacques (a steampunk-y robot man) and Penelope.  We love how this feels kind of gimmicky, but here, it works — they lean into the gimmick and deliver. We can't always say that about similarly-themed restaurants.
Menu
The standard menu features appetizers, like Warm Chocolate Almond Bread, Baked Brie en Croute, Roasted Brussels Sprouts, and more.
A wide variety of Salads and a French Onion Soup are also available.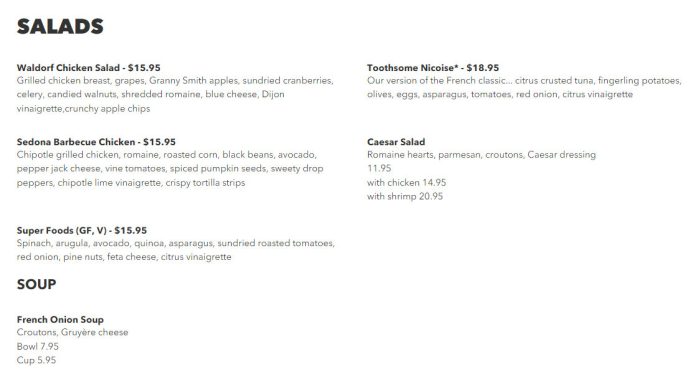 Craving a Flatbread? There's a selection of options available.

You can get sandwiches like a Red Reuben, The Croque Monsieur, Tuna Melt Madame, and more.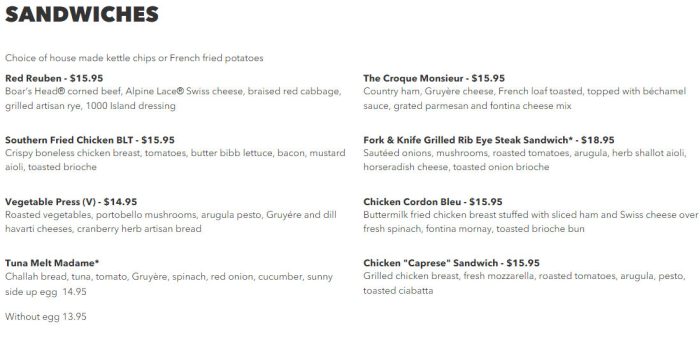 If a Hamburger is more your speed, you have several to choose from.

How about Pasta? Choose from options like Shrimp Macaroni & Cheese, Gnocchi, and more.

Entrees include Braised Short Rib, Chicken Bourguignon, Classic Flounder Amandine, and more.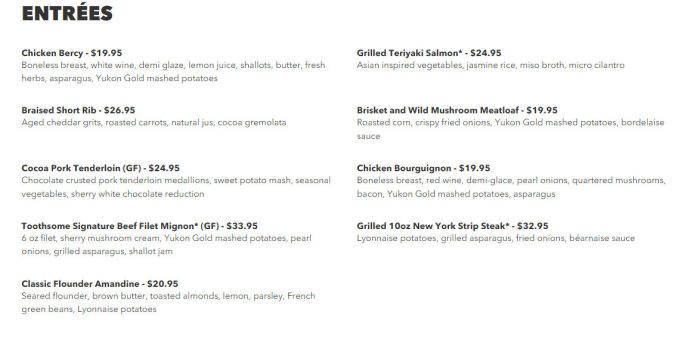 For drinks, there's an extensive Cocktails Menu…
…along with a choice of drinks served "Neat" and "Flights."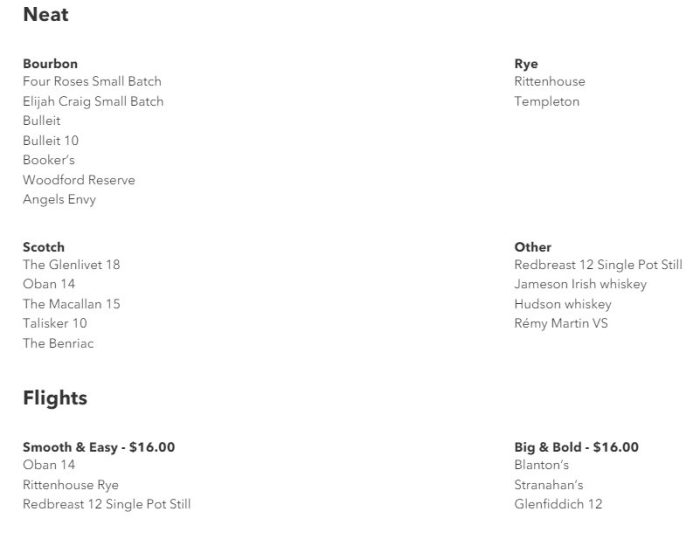 Beer is available by draught or bottle. This includes The Toothsome Chocolate Emporium's Signature Beer, Too Chocolate Stout.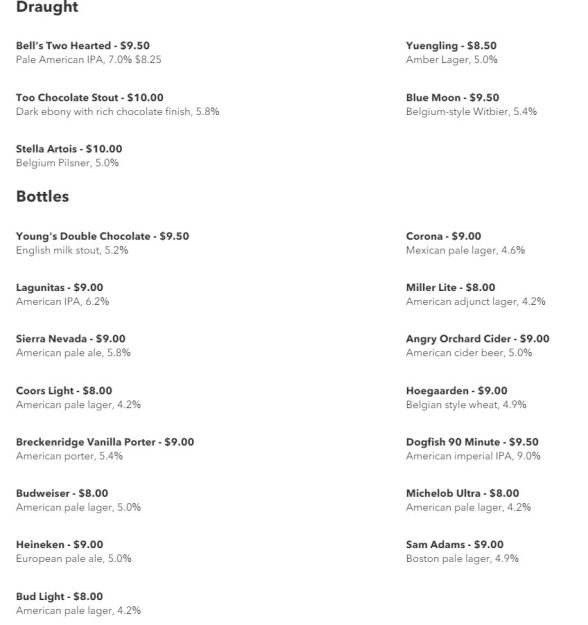 You can also get a variety of Bourbons, Whiskeys, Gins, Scotches, and more, along with a variety of wines.
Desserts include the over-the-top Jacques' Specialty Milkshakes.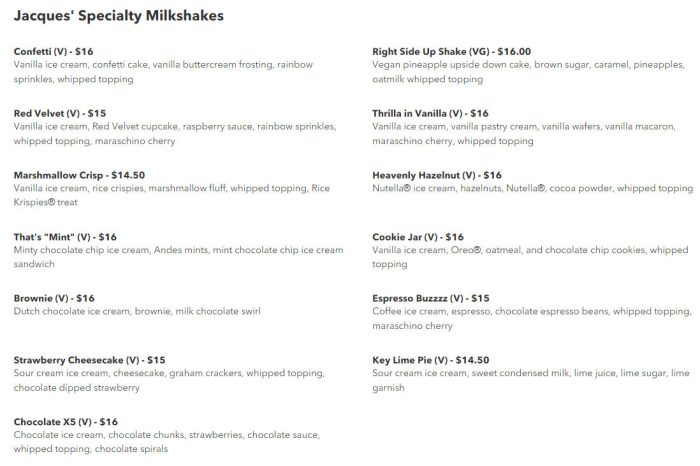 You can also get Sundaes and other Desserts.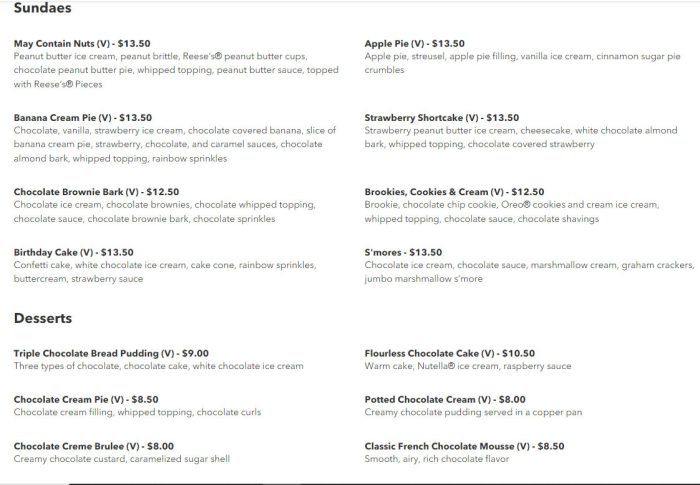 As you can tell, the menu is rather extensive — you'll likely find something for everyone in your party, including picky eaters.
Review
We started our meal out with a drink, the Old Chocolate Fashioned ($14), which is made with Bird Dog chocolate whiskey, cherry Heering liqueur, sugar, chocolate, and orange bitters. We've had this before and it's VERY good. It's sweet (borderline too sweet if you aren't much of a sweet tooth!), but works when paired with the strong chocolate whiskey flavor.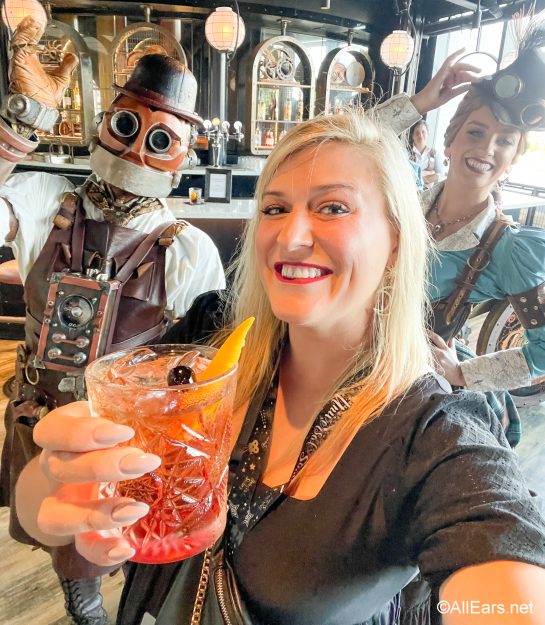 The chocolate is a very forward flavor, but then you get a taste of whiskey, and after that, it's perfect. If you're going to put chocolate in EVERYTHING, this is how you do it with a cocktail.
We also tried the signature beer, the Too Chocolate Stout ($10). At first, it tastes like drinking a Hershey bar, but then the flavor balances out. Although it's dark, it's not that heavy, which surprised us. We would definitely order this again!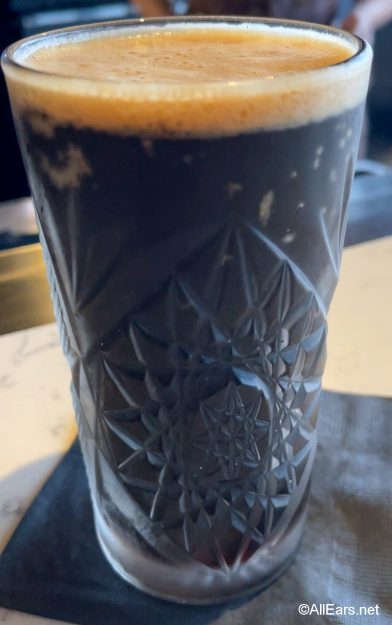 We also got to try out some eats! But first a note, most dishes were served in smaller portions than they normally are because we were tasting a lot of them. We started with the Warm Chocolate Almond Bread ($4.95), which we've had before, but just LOVE. It's fresh chocolate almond bread with salted caramel butter.
Basically, this tastes like a gigantic chocolate muffin — it's warm and tasty. It's also better than cake because it's not frosted, which means it's not so sweet. It's the perfect chocolate appetizer, especially with the salted caramel butter.
Okay, let's talk about the wings, the Coffee and Chocolate Stout Chicken Wings ($14.95). These wings were awesome. The sauce is made with that signature beer and adds just a bit of sweet to the glaze on the wings. These wings are also cooked perfectly — they've got a nice crispy skin, but moist on the inside.
The Sedona Barbecue Chicken Salad ($15.95) was a knockout. It's made with chipotle grilled chicken, romaine, roasted corn, black beans, avocado, pepper jack cheese, vine tomatoes, spiced pumpkin seeds, sweety drop peppers, chipotle lime vinaigrette, and crispy tortilla strips. This is just a solidly good salad.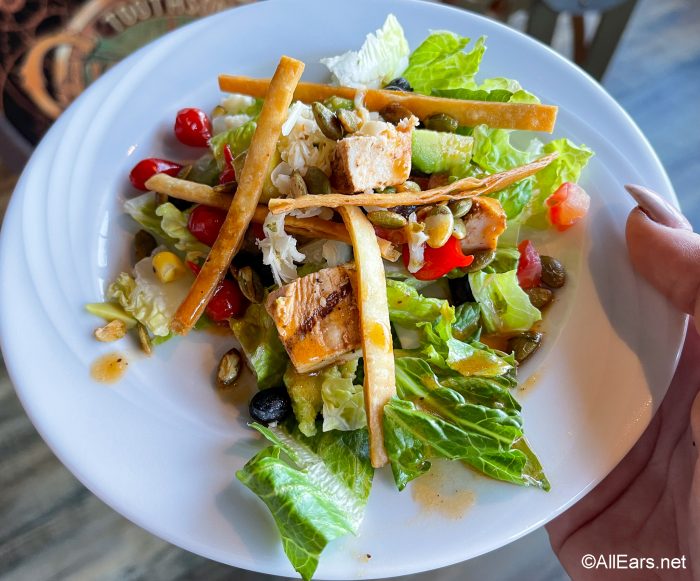 The dressing has just a little bit of heat. The grilled chicken is a nice addition, as are the tortilla strips. This has a very Southwestern-inspired flavor and we're giving this an A+ because we would eat this again.
Okay, so the Cocoa Pork Tenderloin ($24.95) was the only real miss of what we ate here. Its Chocolate crusted pork tenderloin medallions, sweet potato mash, seasonal vegetables, and a sherry white chocolate reduction. Let's just say that white chocolate came through as much too sweet for a dish like this. The pork was cooked nicely, but it was overwhelmed by all that sweetness.
The Gnocchi ($18.95) was good, even if you're not a huge fan of gnocchi. It's made with grilled chicken, sweet peppers, rapini, mole cream sauce (which has chocolate in it). We felt like this was a marriage between Tex Mex cuisine and gnocchi. It was very well-executed. There isn't a lot of heat here, but the sauce was nice and creamy and it had a great flavor.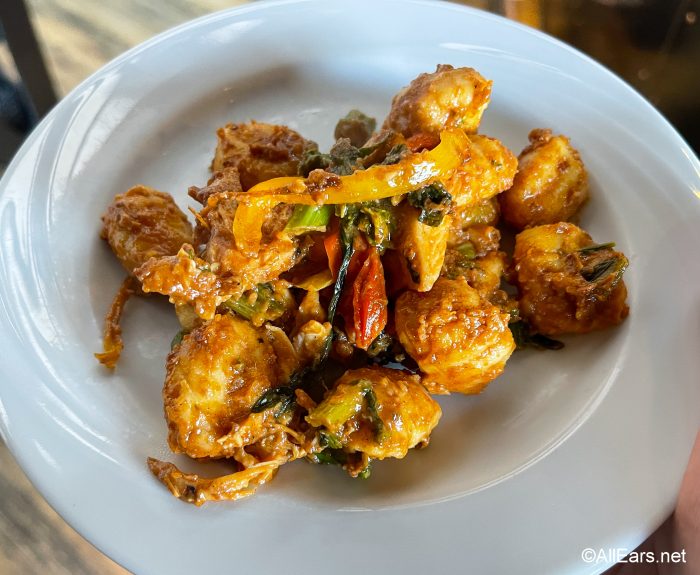 Okay, who's ready for dessert? It's time to try some milkshakes! Now, these are over-the-top OUTRAGEOUS milkshakes, but what makes them different from other over-the-top shakes is that the baked goods on and IN the shakes are made in-house. Yes, we said in — those baked goods are also BLENDED into the shakes, which elevates the flavors.
First up is the Red Velvet ($15). This is made with vanilla ice cream, a red velvet cupcake, raspberry sauce, rainbow sprinkles, whipped topping,  and a maraschino cherry.
So this was our least favorite of the shakes because we're not necessarily big fans of red velvet. But everything about this shake was still good. The cupcake was moist and tasty, although we're not fans of the grainy and sugary frosting (there isn't much of it, though). This is a SUPER sweet shake that kids will probably adore.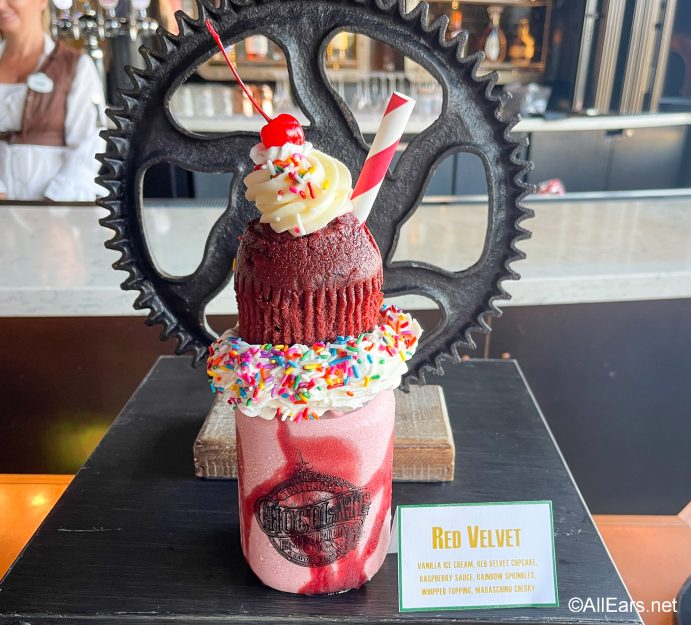 Next up was the Brownie Shake ($16), which is made with Dutch chocolate ice cream, a brownie, and milk chocolate swirl. Here's the thing — even if you don't love super chocolatey things, you might still love this shake. If you DO love chocolate, this is your dream dessert. The brownie was moist and dense and worked well with the rich chocolate shake.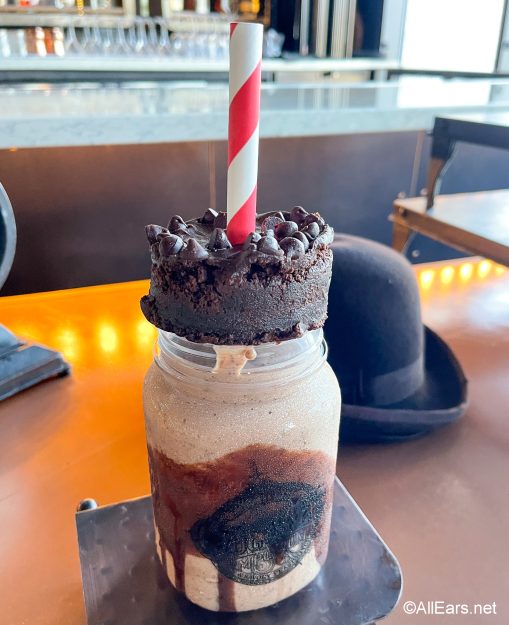 The Marshmallow Crisp Shake ($14.50) is made with vanilla ice cream, rice crispies, marshmallow fluff, whipped topping, and a Rice Krispies treat. We've had this before and it is DELICIOUS. We also love the gigantic Rice Krispie treat on top, as well as the marshmallow fluff that's swirled in the shake. This one also has a nice crunch with each sip because Rice Krispies are IN the shake itself.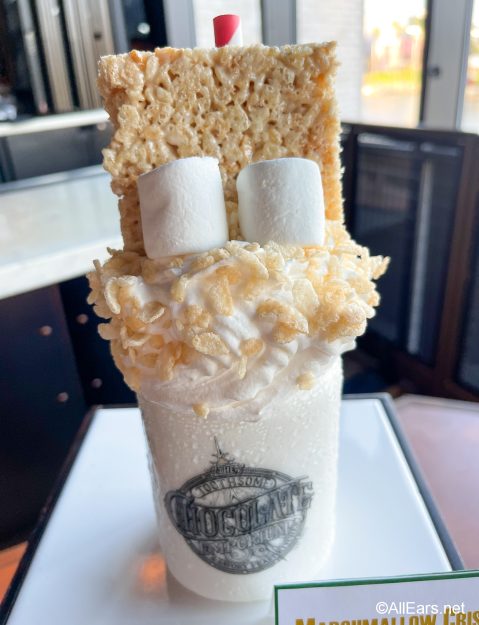 The Cookie Jar Shake ($16) is a standout because it has THREE different kinds of cookies blended into it. It's made with vanilla ice cream, Oreo cookies, oatmeal cookies, and chocolate chip cookies with whipped topping on top. The chocolate chip cookie on top is also solidly good. We love how when you're drinking it you can actually taste what kind of cookie you're getting in each sip. This is a MUST for cookie lovers!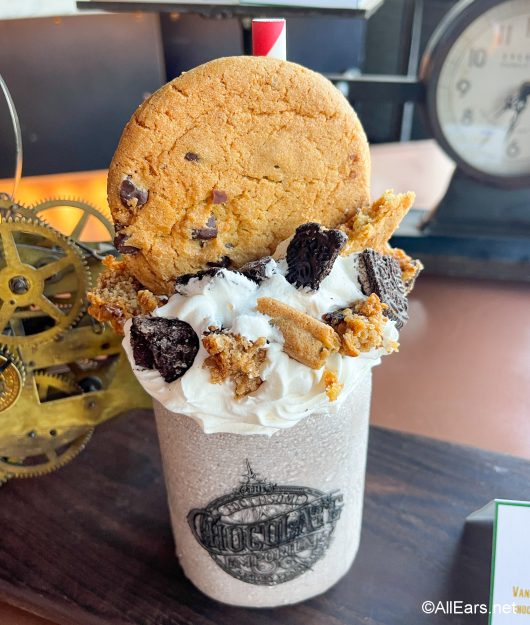 But our favorite milkshake BY FAR was the That's "Mint" Shake ($16). Not only was it so much fun, but you see that mint Oreo on top — THEY MADE THAT IN-HOUSE. We want to get like 50 of those ginormous cookies to take home, thank you very much. It's just SO good, especially when blended into the shake.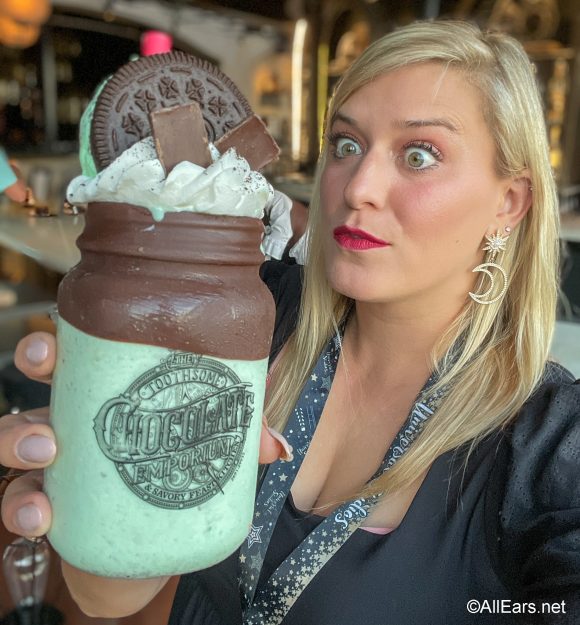 This shake was also lighter than the others and we would recommend it to anyone.
Overall
What we love about The Toothsome Chocolate Emporium is that it just gets it. There are a LOT of themed restaurants out there, but for some reason, this is the only one that really delivers on that theme, both with its decor and food.  We've been here before, and we will wholeheartedly continue to recommend this restaurant.
Even better? You can get milkshakes, sundaes, and chocolate to go if you aren't interested in a sit-down experience (or you can't get reservations).
Stay tuned to AllEars for more news from Universal Orlando and tips for your next vacation!
Join the AllEars.net Newsletter to stay on top of ALL the breaking Disney News! You'll also get access to AllEars tips, reviews, trivia, and MORE! Click here to Subscribe!

Have you ever eaten at The Toothsome Chocolate Emporium? Let us know what you thought in the comments!