There has been a lot of news coverage surrounding Florida's Parental Rights in Education Bill (what critics are calling the "Don't Say Gay" Bill) and The Walt Disney Company's response.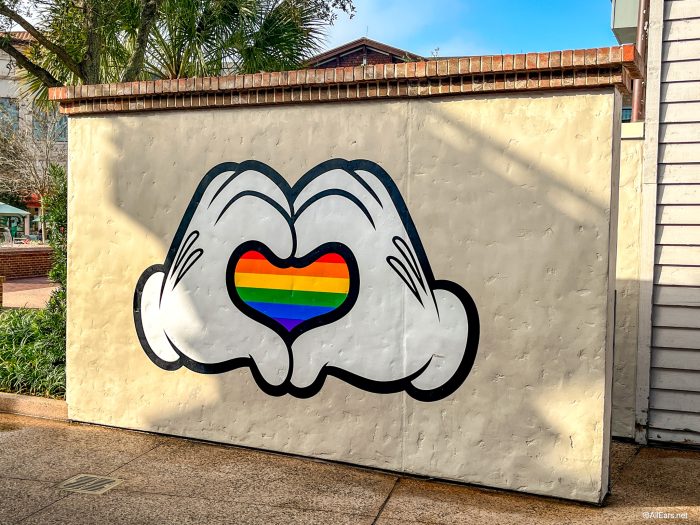 We've been sharing updates on the response from Disney's CEO, criticisms of Disney's response, and reactions from current Disney employees, former Disney executives, and more. Recently, Disney shared that they would be acting to repeal the bill after it was signed into law, leading select Florida representatives to begin challenging the 1967 Reedy Creek Improvement Act which essentially makes Disney its own county. But, what exactly would happen if the act was repealed?
What is the Reedy Creek Act?
If you're not familiar with the 1967 Reedy Creek Improvement Act, it is a bill that was signed into law by Florida's then-governor, Claude Kirk, to establish the Reedy Creek Improvement District (RCID). At the time, Walt Disney was just beginning to build Disney World, and "the nearest power and water lines were 10-15 miles away" according to Reedy Creek's website.
Orange and Osceola County didn't have the resources needed to support this huge theme park project, so the Reedy Creek Improvement Act and another bill that created two incorporated cities within the new district where Disney World is located — Bay Lake and Reedy Creek (which was later renamed the City of Lake Buena Vista) — soled the problem.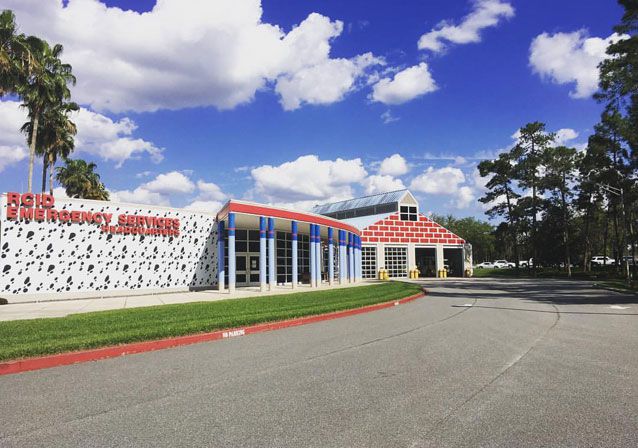 At its most basic level, RCID is a multi-purpose district that regulates business codes, land use and environmental protection, and provides essential public services (like fire protection, flood control, waste collection and environmental protection) to the area that is considered Walt Disney World property.
It essentially makes Disney World its own county, meaning that all the things you'd expect your county to provide to you as a homeowner, RCID provides to Disney itself. It also gives Disney a lot of freedom to do what they want on the property, with the ability to "…zone the way they want…do things the way they want…[and] even build a nuclear power plant if they want," according to News 6 political analyst Jim Clark in a Click Orlando post.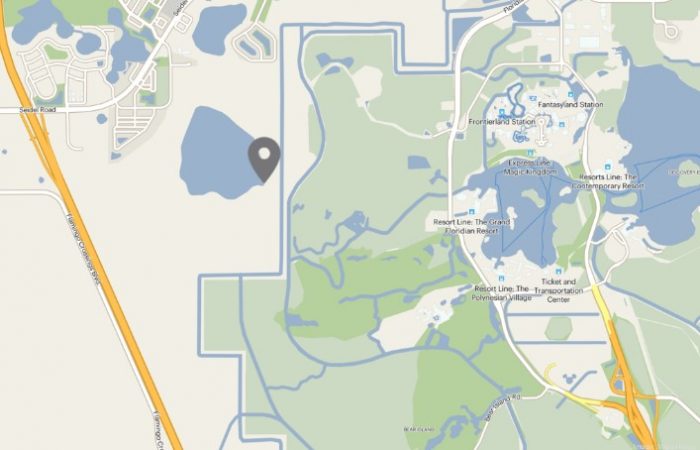 Becoming an improvement district was an important step for Disney World because (1) it meant that Florida taxpayers would not have the burden of paying to maintain the infrastructure and public services of the large resort area, especially while it was being built (Disney pays for it all instead), and (2) the Walt Disney World Resort spans two different counties (Orange and Osceola), so this made it so Disney has one unifying governing body.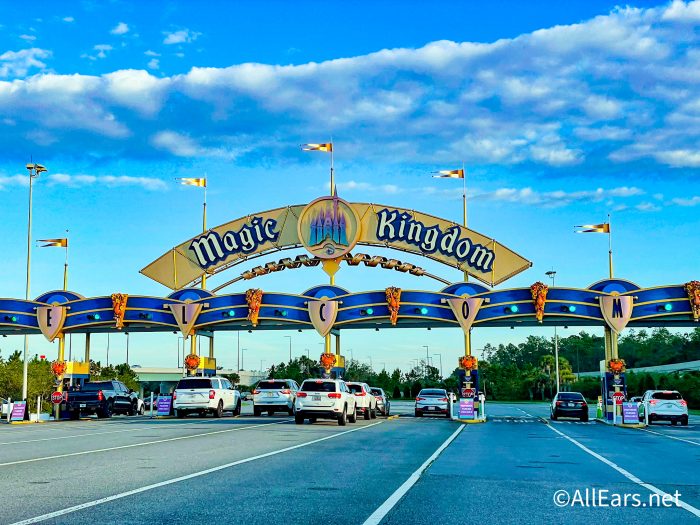 So, how exactly does RCID work? Well, an improvement district (which is relatively common in rural areas and exists in all states) is formed by the agreement of property owners to create a political subdivision that is then governed by a Board of Directors. This board is made up of landowners, but it can't just be Disney.
So, Disney sells five-acre blocks of undeveloped land on the Walt Disney World property to landowners that they have selected. These landowners then make up the five supervisors of the board. It's important to note that votes are proportional to the acreage owned by each board member, so the Walt Disney Company basically has governance over its own property as they have a majority of the land and are able to select who they sell the undeveloped land to.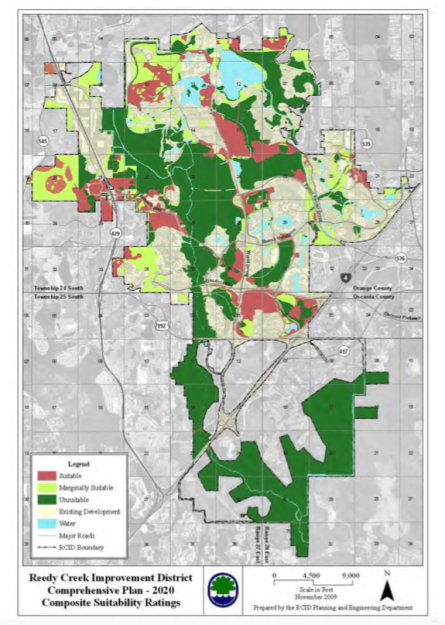 This board votes on things like taxes, ordinances, contracting for professional services, pest control, and much much more, making the RCID fairly essential to Disney's ability to expand and manage their property.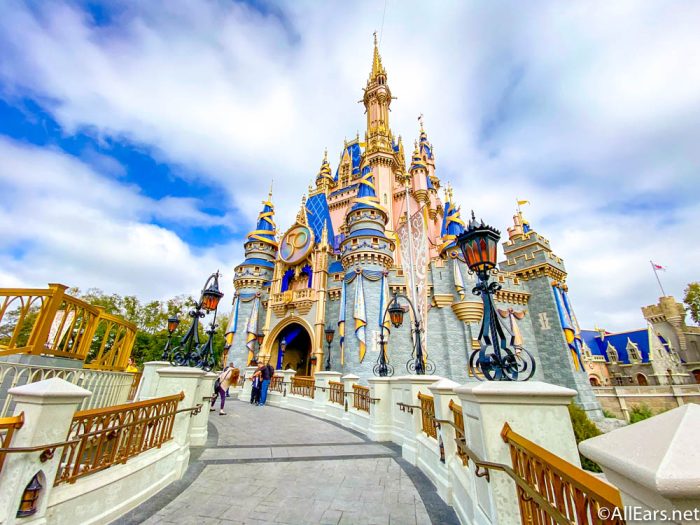 Here are a few examples of what Disney has been able to do thanks to the Reedy Creek Improvement Act:
They created the "EPCOT Building Codes" which encourages "new methods on design, construction and materials" and has informed many of Disney's projects like the construction of Cinderella Castle with fiberglass.
Disney established the first Automated Vacuum Assisted Collection (AVAC) in the United States to be used as their waste management system underneath Magic Kingdom.
They employed new construction methods when building both Disney's Polynesian Village Resort and Disney's Contemporary Resort, constructing the rooms at another location and then essentially "stacking them into place" after they were transported to Disney World.
Disney created a "first-of-their-kind" transportation method that was used to move ride vehicles at the Universe of Energy attraction in EPCOT and The Great Movie Ride in Disney's Hollywood Studios.
Why is it in jeopardy of being repealed?
So, why after 55 years is this act in jeopardy? Well, shortly after Florida's Governor, Ron DeSantis, officially signed the Parental Rights in Education bill into law, Disney released a statement saying that the bill "should never have passed and should never have been signed into law." They also shared that they planned to have the law "repealed by the legislature or struck down in the courts" by continuing their support of "national and state organizations working to achieve that."
Statement from The Walt Disney Company on signing of Florida legislation: pic.twitter.com/UVI7Ko3aKS

— Walt Disney Company (@WaltDisneyCo) March 28, 2022
This was then met with criticism from the Florida Governor himself and other Florida politicians. And, it also sparked a tweet from Republican member of the Florida House of Representatives, Spencer Roach, saying that he had met with fellow legislators twice now to discuss "a repeal of the 1967 Reedy Creek Improvement Act." If this were to be successful, Disney would then be regulated by both Orange County and Osceola County.
Yesterday was the 2nd meeting in a week w/fellow legislators to discuss a repeal of the 1967 Reedy Creek Improvement Act, which allows Disney to act as its own government. If Disney wants to embrace woke ideology, it seems fitting that they should be regulated by Orange County. pic.twitter.com/6sj29Gj6Wz

— SpencerRoach (@SpencerRoachFL) March 30, 2022
Florida's Governor referenced this the following day at a news conference in Ponte Vedra Beach saying "I would not say that that'd be retaliatory. I mean, the way I view it is, you know, there are certain entities that have exerted a lot of influence through corporate means to generate special privileges in the law, and I don't think we should have special privileges in the law at all."
The "special privileges" that DeSantis was referring to include the 2021 Senate Bill 7072 (also known as the "Big Tech" law), which "sought to stop social media outlets from de-platforming political candidates." According to the Orlando Sentinel, a special exemption was made for Disney in the bill that would ensure that the Disney+ streaming platform was not impacted.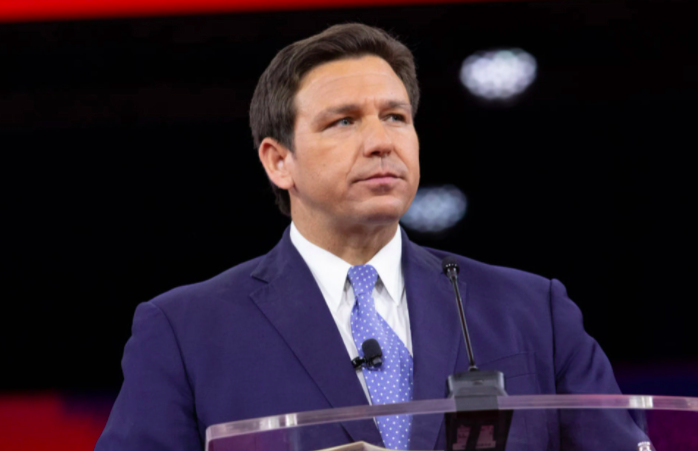 DeSantis recently commented on the matter saying, "I could be presented with changes to that…and I think I've said I'd be receptive to that. But ultimately, the Legislature would have to move forward." And, some experts are saying that a repeal likely would not be successful, with Richard Foglesong (author of Married to the Mouse) saying, "If you ask me whether it's politically possible to take these privileges away from the Disney Company, I don't think so" according to Click Orlando.
It's important to note that, at this point, the repeal of the Reedy Creek Improvement Act is just a discussion and no formal action has been taken — truly repealing the act would take quite a bit of time and, according to CNN, Florida lawmakers "recently concluded their legislative business for the year," so the repeal would need to be discussed next year or politicians would need to call for a special session.
UPDATE: Governor Ron DeSantis has added a discussion about repealing the Reedy Creek Improvement Act and ending other privileges for Disney to a special session of the Florida legislature. This session will take place beginning on April 20th, 2022.
What could it mean for Disney if it is successfully repealed?
Of course, there would be some consequences for the Walt Disney Company if a repeal were successful with News 6 political analyst Jim Clark telling Click Orlando that "It would be a disaster for Disney. One of the reasons they came here in the mid-60s was the legislature's promise that they could have self-government."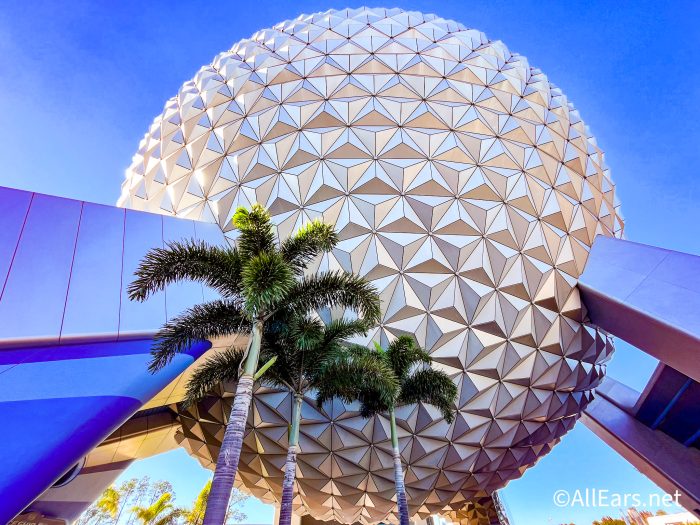 If repealed, Disney World would no longer function as its own county and would instead need to follow policies and regulations in both Osceola County and Orange County. They would also need to gain approval from the county legislatures in order to move forward with many of their essential functions.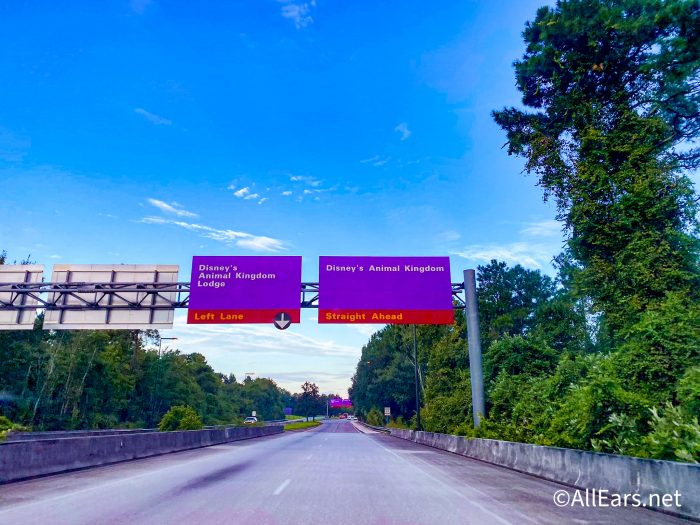 Essentially, it would strip away Disney's legislative and regulatory flexibility that has enabled them to implement innovative construction techniques in both the structures that we see as everyday guests (like new attractions) and the things that we don't see, like water control and environmental protection of the land.
It could also slow down the construction progress on many of Disney's current and upcoming projects, as they would need to seek approval from the counties and follow certain city regulations. Plus, with no control over their own zoning, Disney could face heavy restrictions when it comes to what they build and where.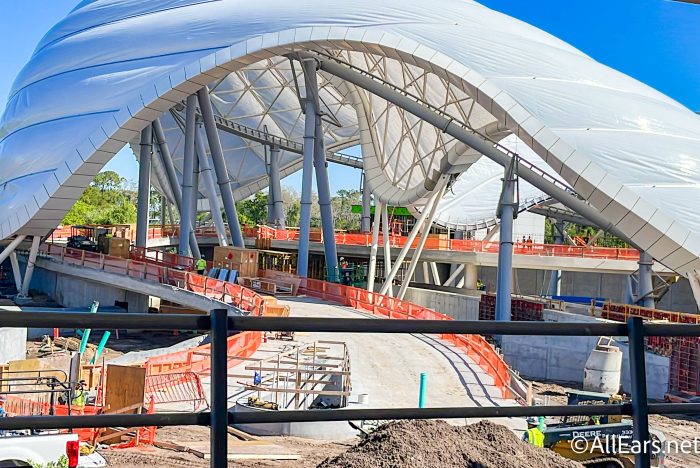 Additionally, repealing the act would have significant tax impacts for Disney World because, as an improvement district, Disney receives quite a few tax breaks as it relates to construction. The Orlando Sentinel explains it by saying that "Construction inside the district is exempt from certain taxes and fees added by the county governments."
More specifically, Disney is exempt from impact fees, which are "one-time payments developers make to offset the cost of public services like roads." If the RCID didn't exist, "Disney would pay the fees, like any other developer, to Orange and Osceola counties."
In fiscal year 2020, this would have totaled to "about $21.1 million," according to an Orange County comptroller's office analysis. But, because the improvement district does exist, Disney ended up paying roughly "$10.5 million in a contract with the Orange County Sheriff's Office," meaning that they saved "about $10.6 million a year thanks to the tax exemption."
That being said, Disney does currently have to pay property taxes to both Osceola and Orange County each year and is actually the "largest property taxpayer in Orange County currently." According to the Orlando Sentinel, Disney paid "$296.2 million in property taxes for its theme parks in tax years 2015 through 2020" to Orange County (though the Orlando Sentinel reported that, in 2021, Disney was awarded a $7.8 million refund for tax years 2015 through 2019).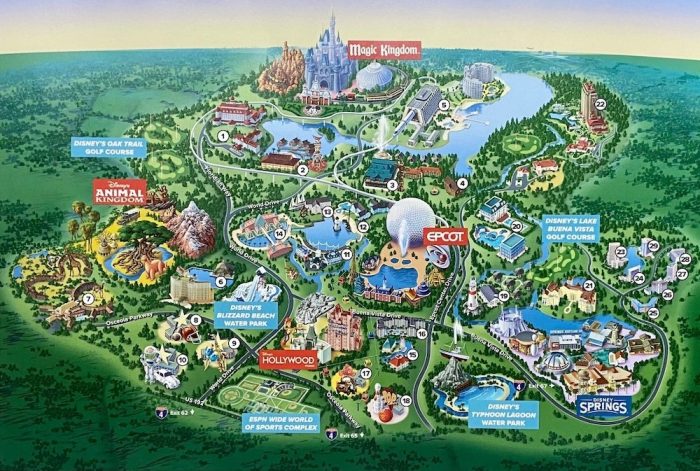 Other impacts could be a delay in emergency response time on Disney property, as Disney World has its own fire department as an improvement district, and those living in Osceola and Orange County could see an increase in their taxes as the cities would need to provide public services and support to Disney World.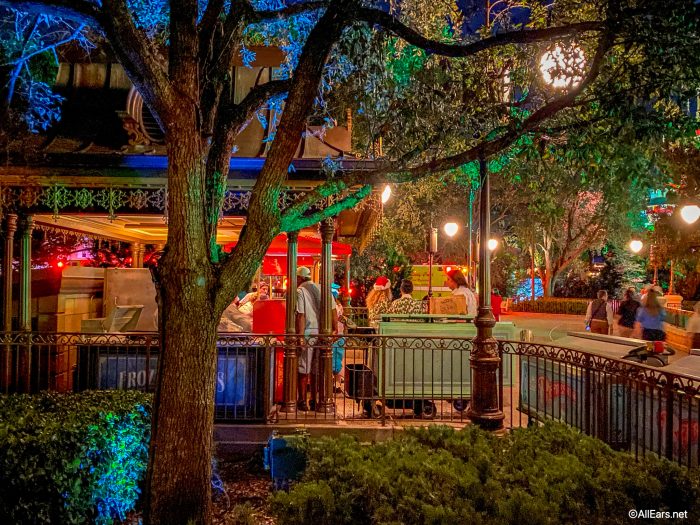 Now, again, it could be quite a bit of time before the act is truly repealed if Florida legislators choose to move forward with action, but we'll continue to keep an eye out for any updates and let you know what we see. And, in the meantime, be sure to stay tuned to AllEars for more of the latest Disney news!
Join the AllEars.net Newsletter to stay on top of ALL the breaking Disney News! You'll also get access to AllEars tips, reviews, trivia, and MORE! Click here to Subscribe!

Did you know anything about the Reedy Creek Improvement Act? Let us know in the comments!