The new quick service restaurant coming to EPCOT — Connections Cafe and Eatery — is set to open sometime this spring (we're still eagerly awaiting the official date!).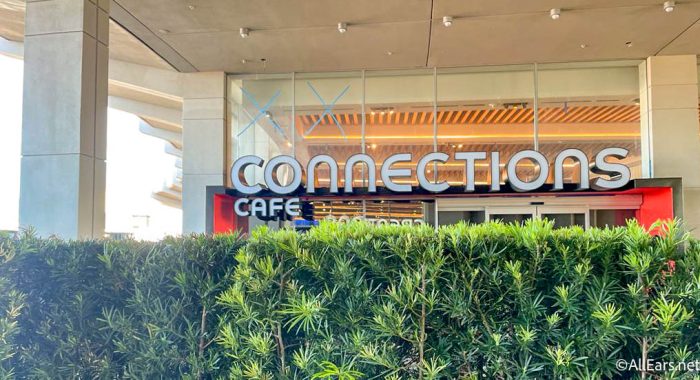 We've seen glimpses of the inside designs, as well as the outside signs, but what we wanted to know about the most is the FOOD. Disney just released a first look at the food a few hours ago, but now, the FULL menu has been posted online! Let's check everything out.
We only got a glimpse of some of the food earlier, but now we can see everything, including prices!
Starting with the Burgers and Chicken, there will be things like the French Bistro Burger for $12.99 or the Hand-breaded Chicken Sandwich for $11.99.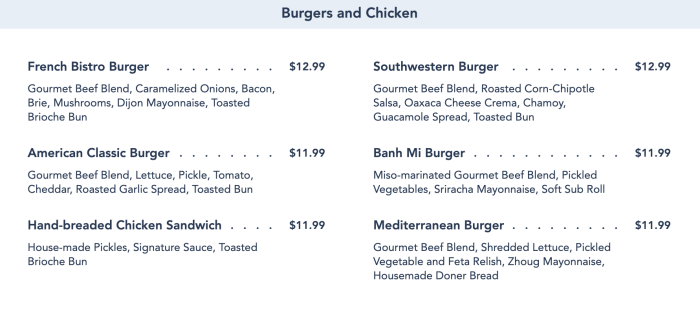 Then, we have some pizzas! There's a classic Pepperoni, or you can get a fun Meatball Pizza! These are all served with a side salad for $10.99.
There is also a plant-based pizza available — the Curry Spice Pizza, which sounds super flavorful and is the same price as the other pizzas.

For something lighter, check out the 2 salads on the menu — the General Tso Chicken Salad for $11.49 or the Nicoise-style Salad for $10.29.
For side dishes, you can get Coleslaw, French Fries, a Mediterranean Side Salad, or a Cuties Mandarin. These are pretty standard sides that you can find around Disney World.
Kids' Disney Check Meals will be available here and include a Cheeseburger or a Grilled Chicken Bao.

The other two Kids' Menu choices are a Chicken Breast Nuggets Basket or a Five-Cheese Pizza. All of these meals come with a choice of 2 sides and a small milk or water.
There is only one dessert on the menu, the Liege Waffle for $5.29.

Even thought there is only one option, it does look pretty tasty!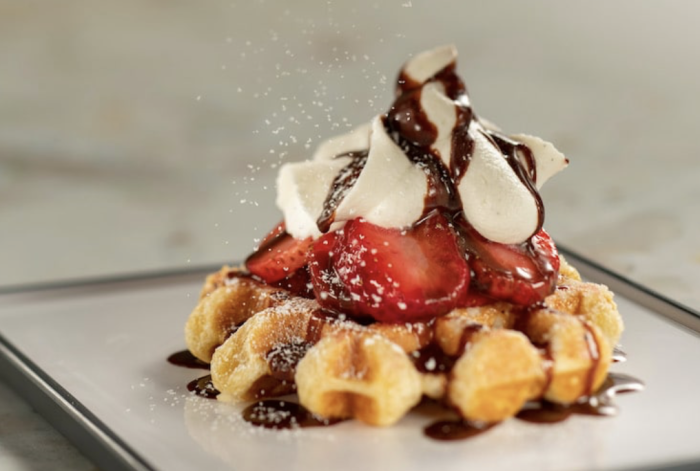 You can also get some Shakes here — the Apple Pie Gelato Shake and the Mango-Coconut Milk Shake. Uh, yum!

As for drinks, there are your basic options, plus a non-alcoholic Watermelon-Mint Agua Fresca for $4.99.

Hot beverages are available over here too, including coffee, tea, and hot cocoa.
There is also alcohol on the menu, like the Cucumber and Thai Basil Cooler Specialty Cocktail for $14.
And, there are some beer and wine options, like an IPA or Chardonnay.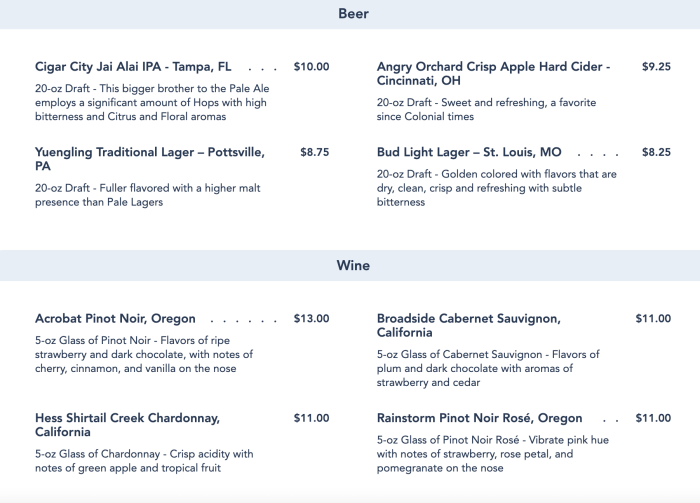 There you have it — a look at the full menu and prices coming to Connections Cafe and Eatery! Stay tuned to All Ears to find out when exactly this new spot will open up.
What do you think about the food coming to Connections? Tell us your thoughts in the comments!