The EPCOT Flower and Garden Festival just kicked off in Disney World and now it's time for another festival to start over on the west coast!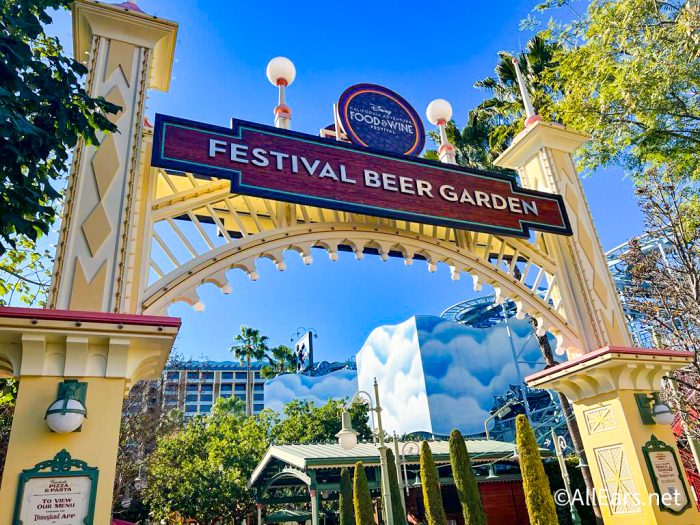 The Disney California Adventure Food & Wine Festival is starting today, March 4th, and continuing through April 26th! Ever since Disney released the menus for this year's festival, we've been looking forward to checking out the new eats and drinks and, now that the event is in full swing, we're taking you along with us to explore everything that the festival has to offer this year!
Come along with us for the 2022 Disney California Adventure Food & Wine Festival!
Food Booths
All twelve festival booths from the previous festival have returned this year, so prepare for tons of new and returning selections! You can find food kiosks located throughout Disney California Adventure, and some of the permanent food locations like the Cappuccino Cart are also serving special foods during the festival — let's take a look!
We are at the official ✨OPENING DAY✨ of Disney California Adventure Food & Wine Festival 🍷 pic.twitter.com/ShGW7xQU7l

— AllEars.Net (@AllEarsNet) March 4, 2022
Avocado Time
Over at the Avocado Time booth, you'll find a variety of eats and drinks featuring…well…avocado!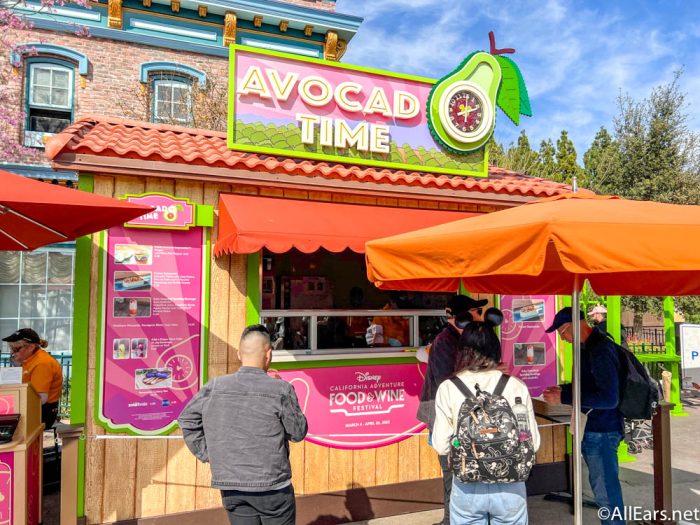 You can stop here for a plant-based burger or grab a drink to pair with a red or green grapes glow cube charm for $5.50.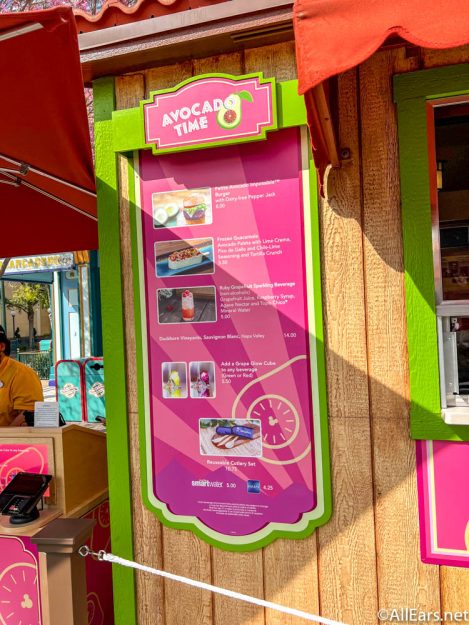 We stopped by to try the Frozen Guacamole (which is an avocado paleta with lime crema, pico de gallo, and chile-lime seasoning) for $5.50 and the non-alcoholic Ruby Grapefruit Sparkling Beverage (which is made with grapefruit juice, raspberry syrup, agave nectar, and Topo Chico mineral water) for $5.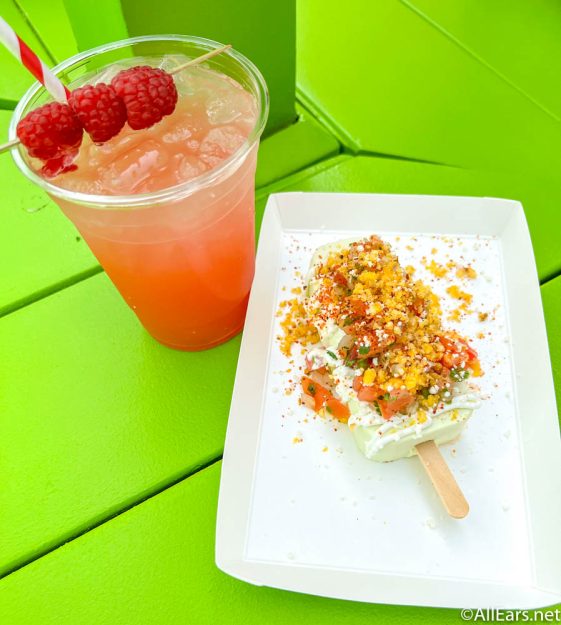 Berry Patch
In the mood for some pie? Look no further than the Berry Patch booth!
There are THREE new items here this year including the Strawberry Cheesecake with lemon Chantilly for $6.50, the Blueberry-Buttermilk Pie for $6, and the Cherry-Chocolate-Mint Dessert Cocktail for $15. 
The cocktail is made with vodka, crème de menthe liqueur, cherry, chocolate syrup, coconut cream, and heavy whipping cream and then topped with chocolate pieces that you might find on a french silk pie.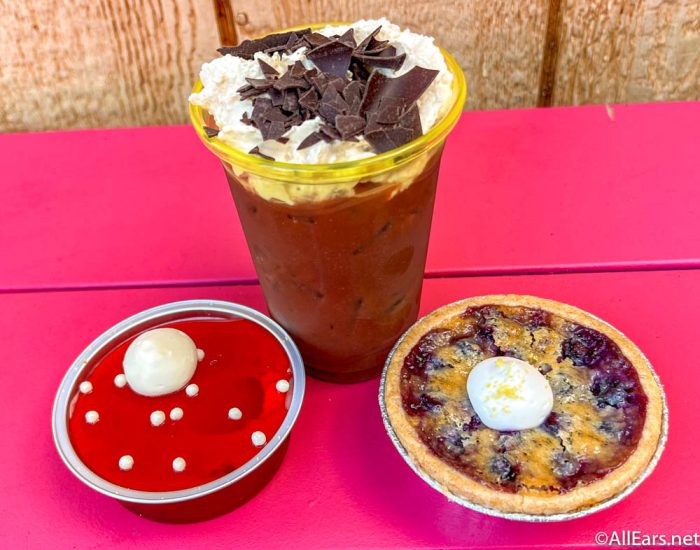 Cluck-a-Doodle-Moo
And, Cluck-a-Doodle-Moo is serving up some classic snack foods once again this year!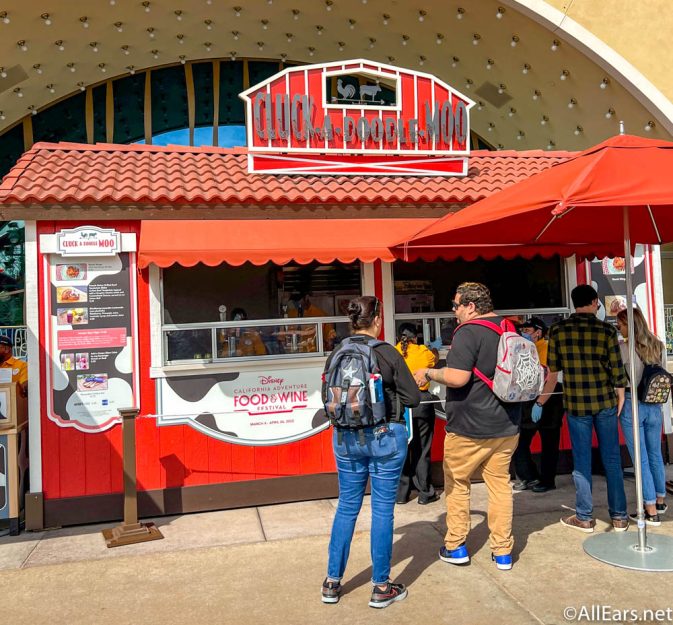 Whether you want some wings or you just want to sample beer, this is a must-stop spot.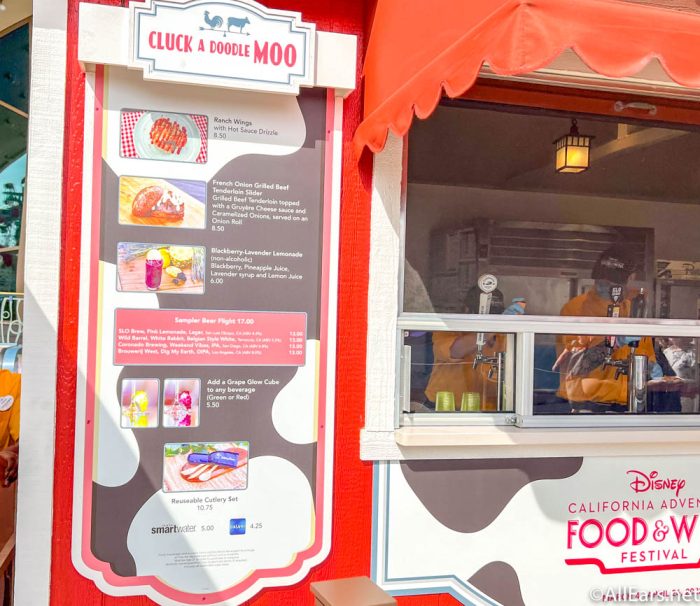 We tried the Ranch Fried Chicken Wings with Buffalo Hot Sauce Drizzle for $8.50…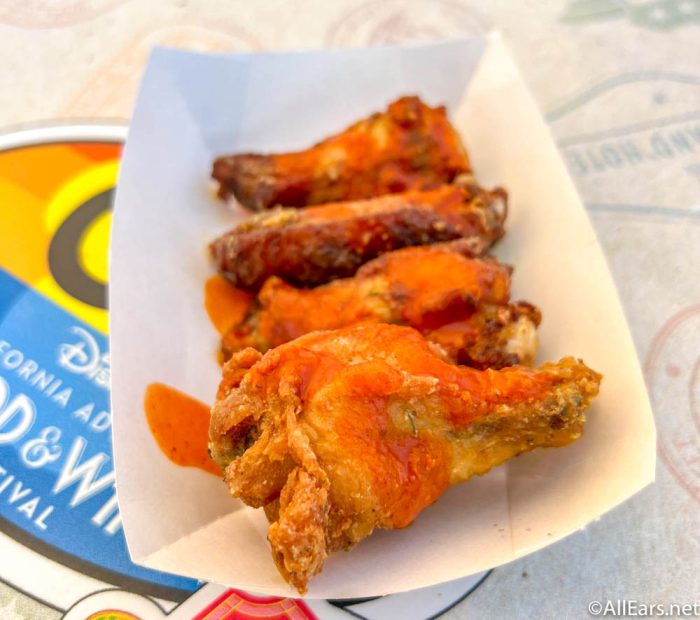 …along with the French Onion Grilled Beef Tenderloin Slider for $8.50. It is grilled beef tenderloin topped with a Gruyère cheese sauce and caramelized onions served on an onion roll.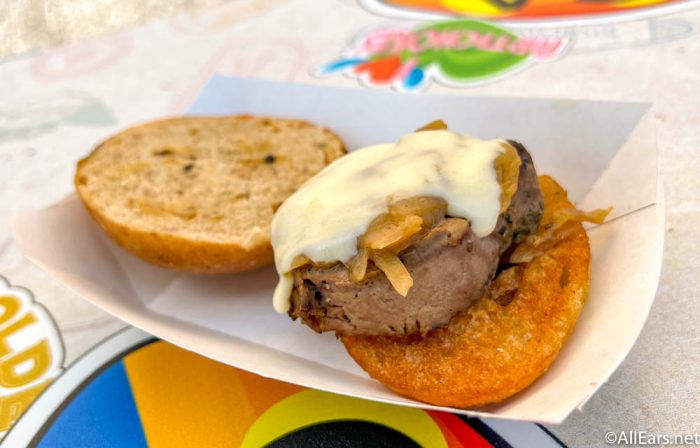 And, we couldn't resist getting something to drink too! We opted for the non-alcoholic Blackberry-Lavender Lemonade (which is a mix of Blackberry, pineapple juice, lavender syrup, and lemon juice) for $6…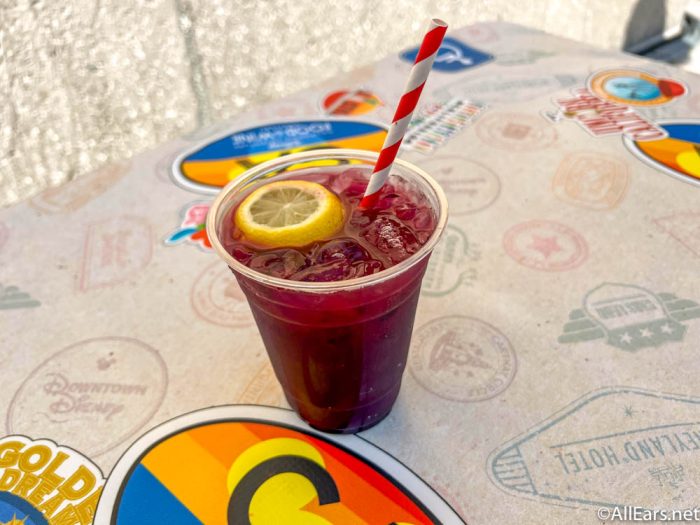 …and the Sampler Beer Flight for $17. It comes with SLO Brew Pink Lemonade, Lager, Wild Barrel White Rabbit Belgian Style White, Coronado Brewing, Weekend Vibes, IPA, and Brouwerij West Dig My Earth, DIPA.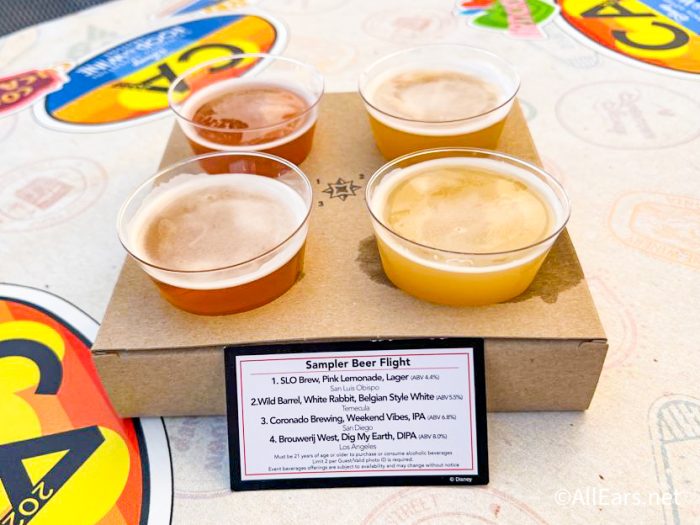 D•Lish
Over at the D•Lish booth, the eats and drinks are just that — D-LISH!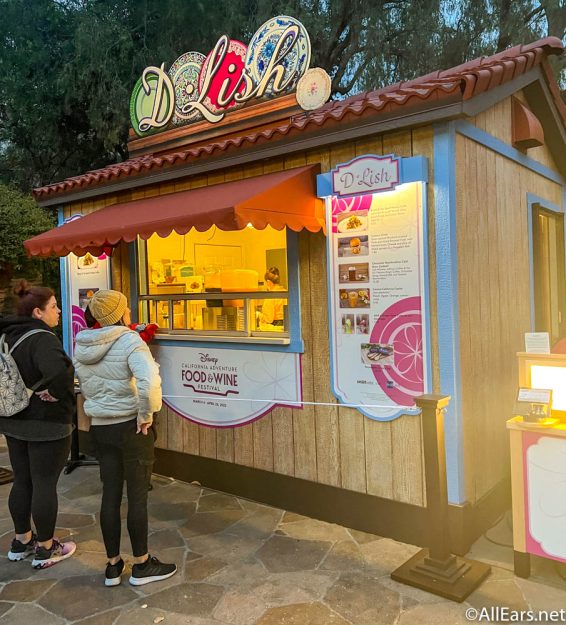 This spot has two foods to choose from — or you could grab both — and each item is available with the Sip & Savor pass.
There's the Black & Tan Beef Potato Puffs (which features Karl Strauss Wreck Alley stout gravy and lager micro sponge) for $8.50…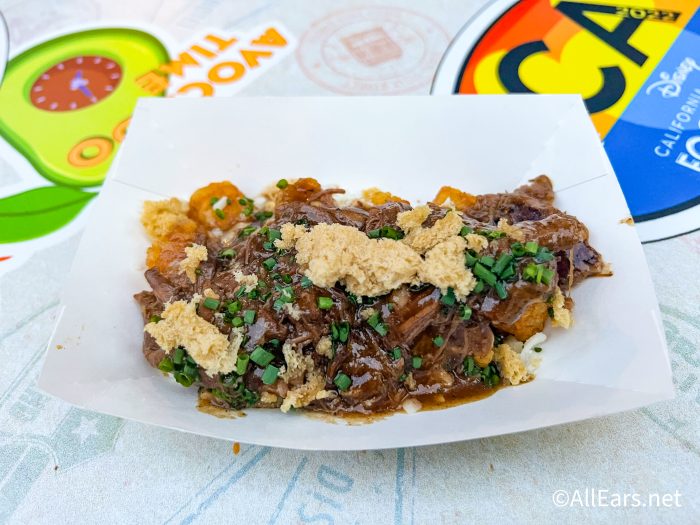 …and the Cubano Slider (which is a slow-roasted mustard-crusted pork and sliced smoked ham with melted Swiss cheese and slice of pickle served on a Hawaiian roll) for $7.50.
And, you can pair your food with some chocolate and coffee — just order up the Chocolate Marshmallow Cold Brew Cocktail! It costs $15 and is made with a mix of Irish whiskey, Joffrey's Coffee & Tea Co. Mexico Origin Coffee, chocolate syrup, almond milk, and toasted marshmallow.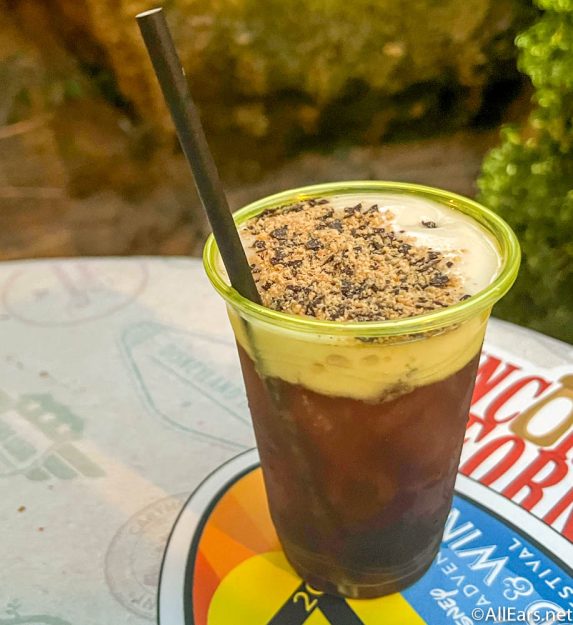 Or, if you want something a bit more tropical (and non-alcoholic), there's the Central California Cooler, which is made with peach, apple, orange, and lemon juice and costs $6.50.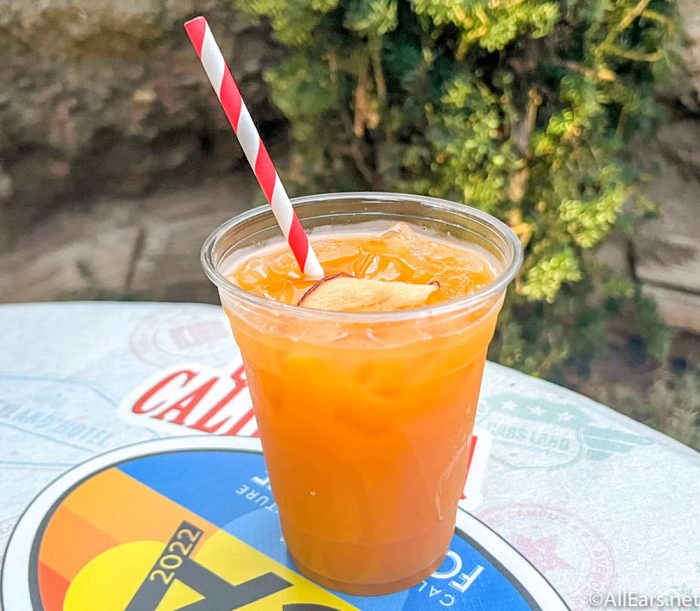 Garlic Kissed
Steak and mac and cheese? You can find BOTH at the Garlic Kissed booth!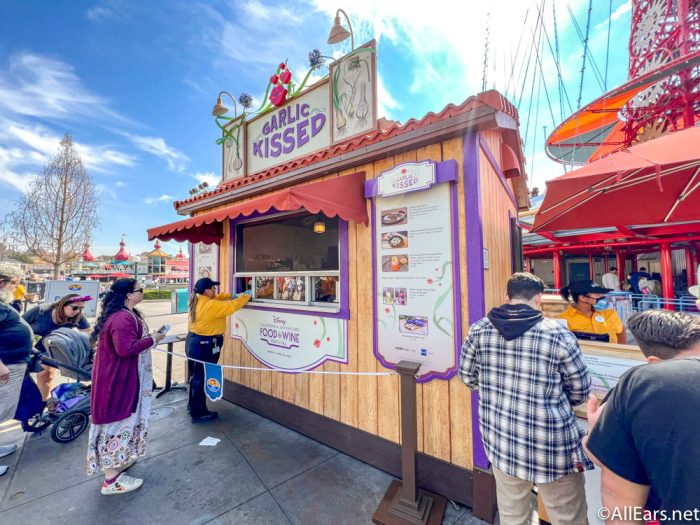 First up on the menu here is the Carbonara-Garlic Mac & Cheese with Nueske's Peppered Bacon for $8…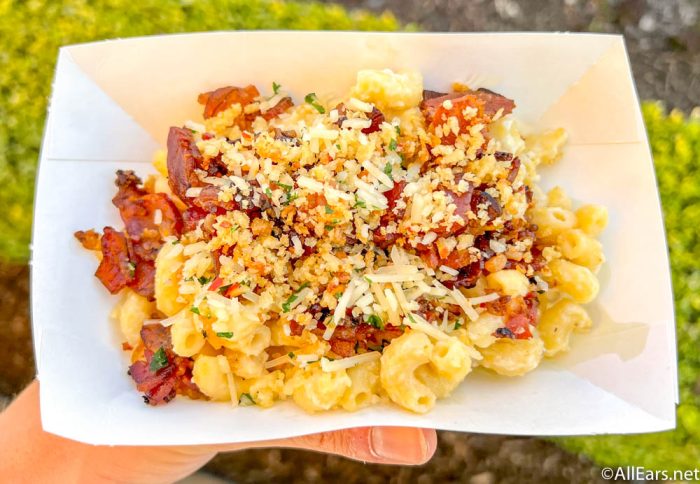 …and there's also the Grilled Top Sirloin with roasted garlic-Gruyère smashed potatoes and black garlic chimichurri for $8.25.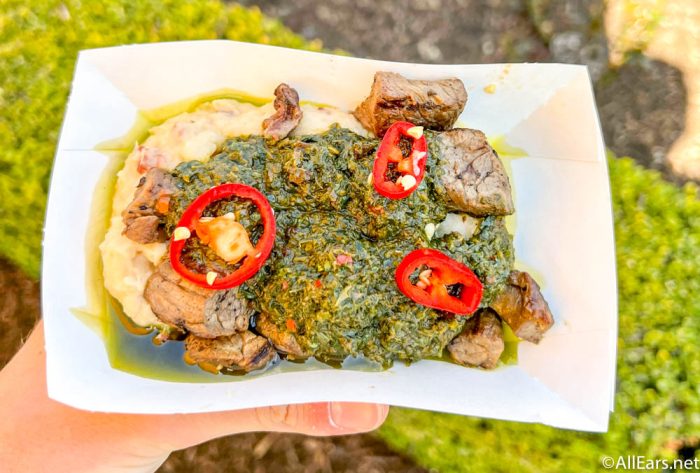 And, if you want a particularly insta-worthy drink, try the Rosemary Bitter Orange Mule! It features vodka, Aperol, orange juice, lime juice, rosemary syrup, and ginger beer and costs $14.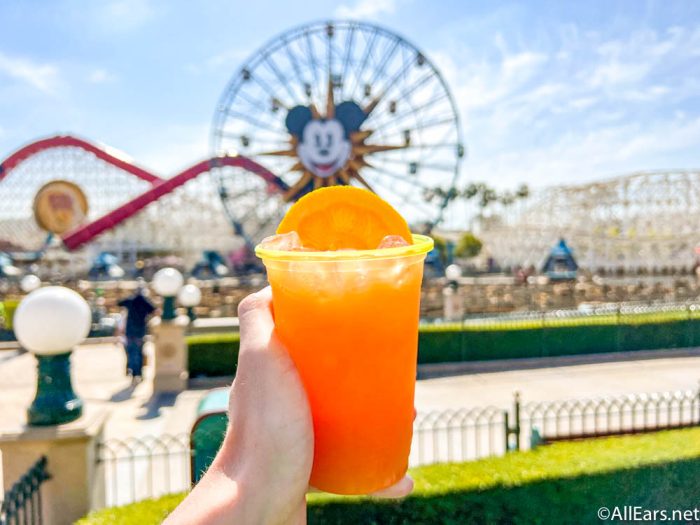 Golden Dreams
On your way around the park, you'll also stumble upon the Golden Dreams booth, which features some seafood offerings this year.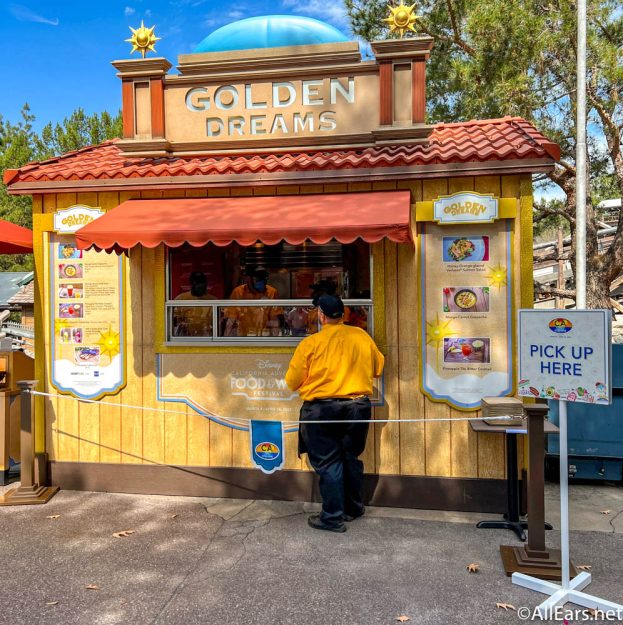 This booth was new back in 2019 and it is making its return to the festival with FOUR new items.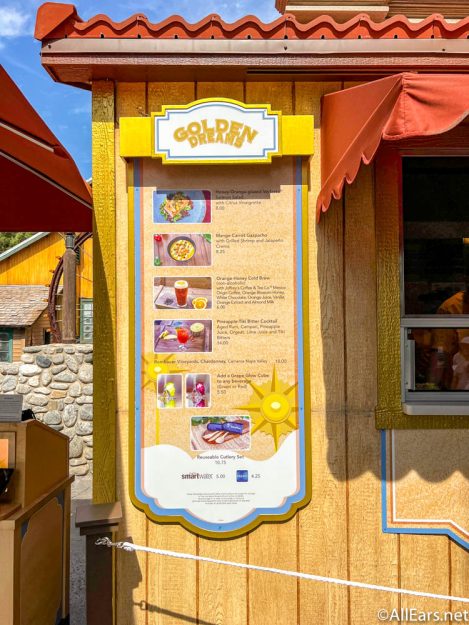 For something on the healthier side, there's the Honey-Orange-glazed Salmon Salad with citrus vinaigrette for $8…
…and more adventurous eaters can give the Mango-Carrot Gazpacho with grilled shrimp and jalapeño crema a try for $8.25.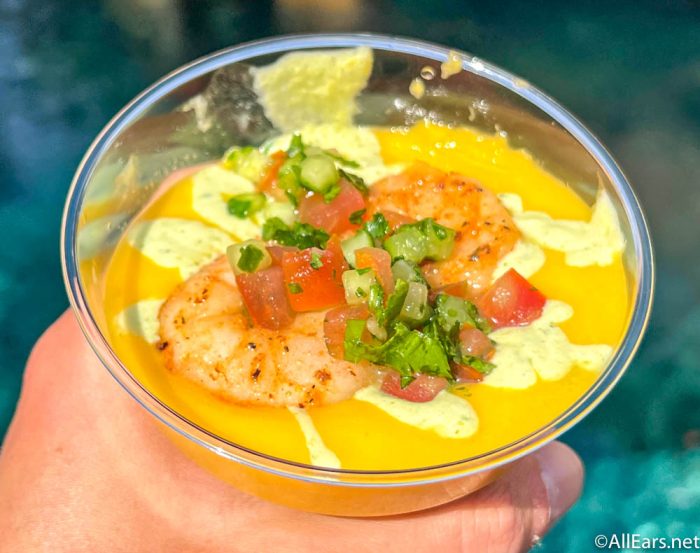 You'll also find the non-alcoholic Orange-Honey Cold Brew here for $6 and we've got to admit that this was one of the more interesting flavor combinations that we tried during the festival this year.
It is made with Joffrey's Coffee & Tea Co. Mexico Origin Coffee, orange blossom honey, white chocolate, orange juice, vanilla, orange extract, and almond milk.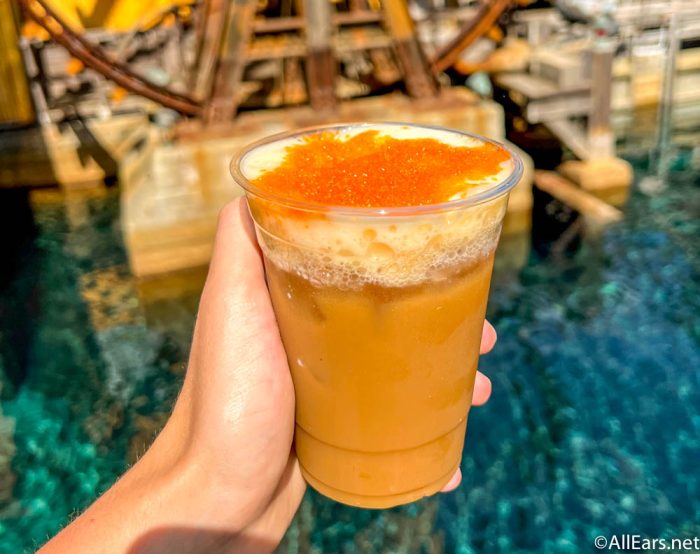 If you want to opt for a drink that is more likely to please almost anyone, the Pineapple-Tiki Bitter Cocktail can be found here for $14. It is made with a mix of aged rum, campari, pineapple juice, orgeat, lime juice and tiki bitters.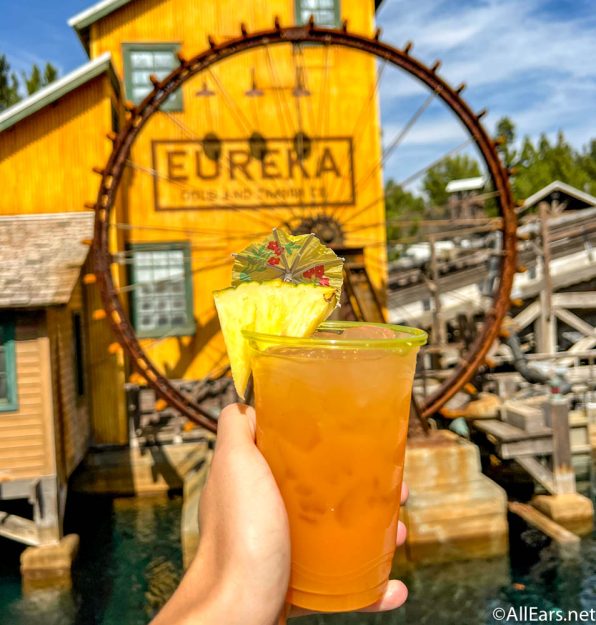 I Heart Artichokes
Calling all you artichoke-lovers out there — you won't want to miss tthe I Heart Artichokes booth!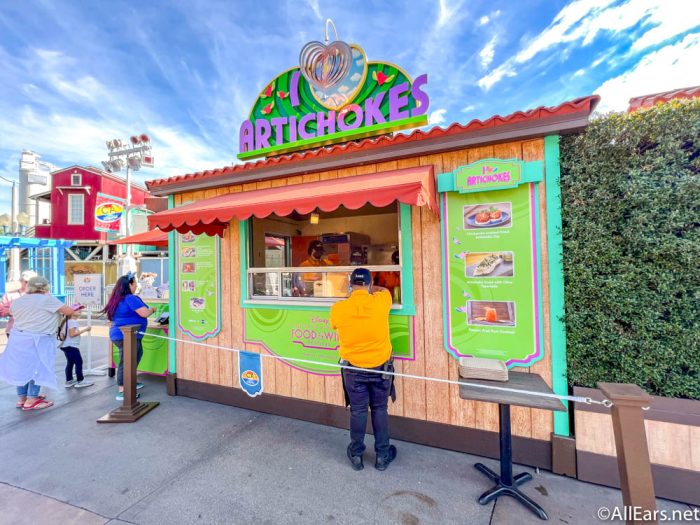 You'll find two dishes here that feature artichokes along with a fruity cocktail on the menu.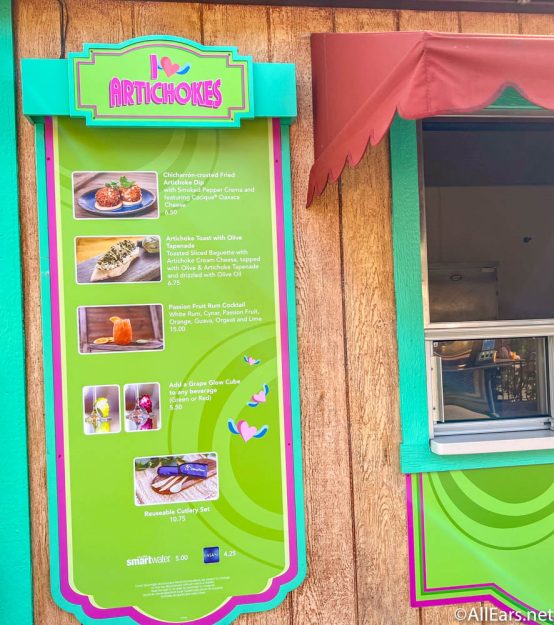 If you want something a bit smaller so that you have room to hit up more food booths, try the Chicharron-crusted Fried Artichoke Dip. It costs $6.50 and comes with a smoked pepper crema and features Cacique Oaxaca Cheese.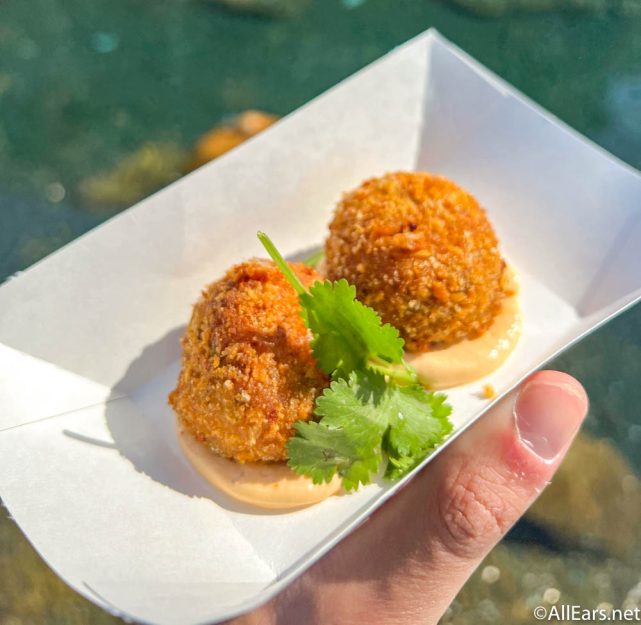 And, while it may not feature artichokes, we also had to give the drink a try here (we even topped it with the Red Grapes Glow Cube Charm for an extra $5.50). The Passion Fruit Rum Cocktail costs $15 and is made with white rum, Italian bitter apéritif, passion fruit, orange, guava, orgeat, and lime.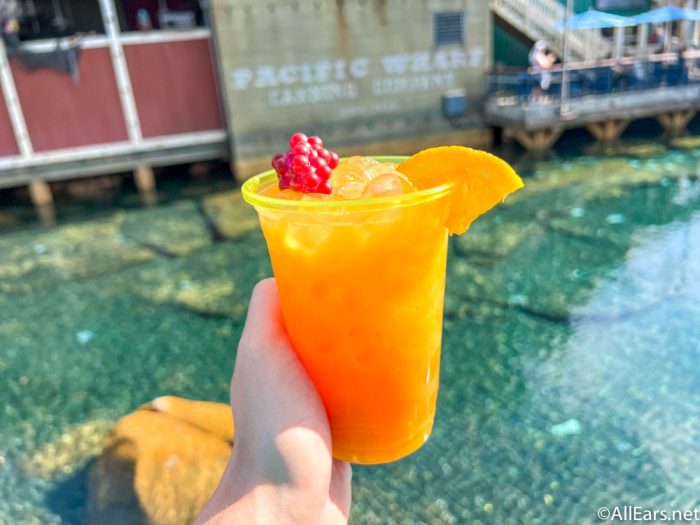 LA Style
Looking for a booth that screams LA? California Adventure has it!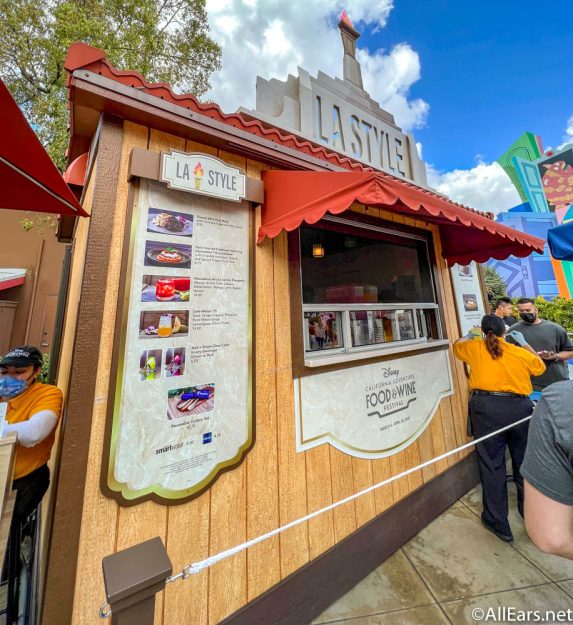 Inspired by the busy city, you can find a small selection of eats and drinks on the menu here that just might fill you up!
For example, there's the Gyro-inspired Flatbread featuring Impossible Ground Beef with chipotle hummus, tzatziki and spiced crispy chickpeas for $6.75…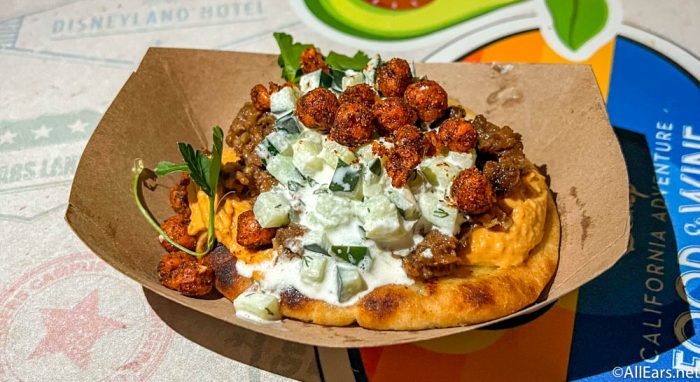 …and the Glazed BBQ Pork Belly with furikake-togarashi mac salad for $8.50. We thought that both of these were pretty hefty portions for the cost.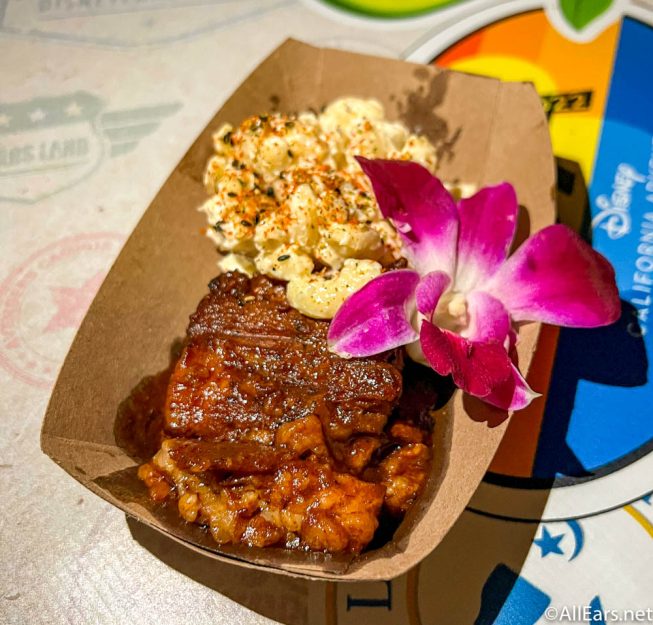 There are also two boozy drinks on the menu including the Mezcaleros Ancho Sandia Margarita (made with Mezcal, ancho chile liqueur, watermelon, mango, lime, and agave nectar)…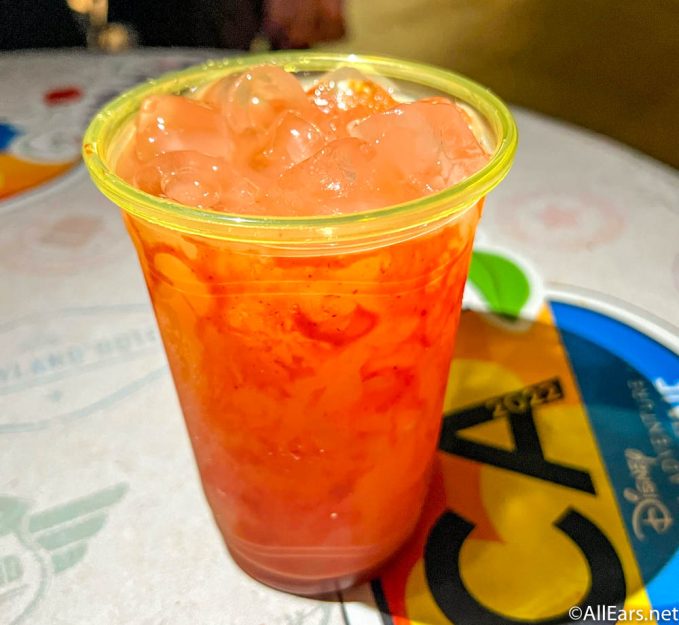 …and the Sake-Melon '75 (made with Sake, ginger liqueur, prosecco, rock melon syrup, and lemongrass-citron purée). Both drinks cost $14 each.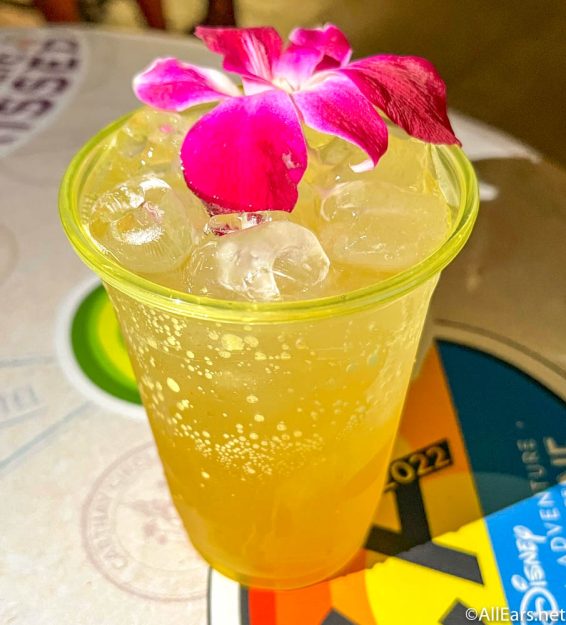 Nuts About Cheese
Of course, it's hard not to love cheese, and that's what the Nuts and Cheese booth is all about at the Food & Wine Festival!
For a twist on your classic cheese and crackers, you can try the Next Level Crackers & Cheese. it costs $8 and is a sandwich featuring house-made herb crackers with white cheddar-infused fromage blanc, spicy prosciutto spread, and cherry jam.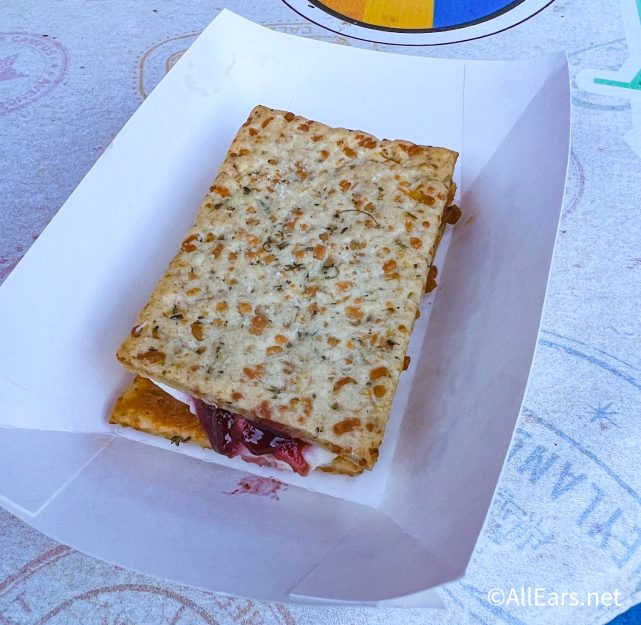 PB&J fans AND mac & cheese fans can get the best of both worlds with the Peanut Butter & Jelly Mac! It is topped with brown sugar streusel and strawberry crackle and costs $8.25.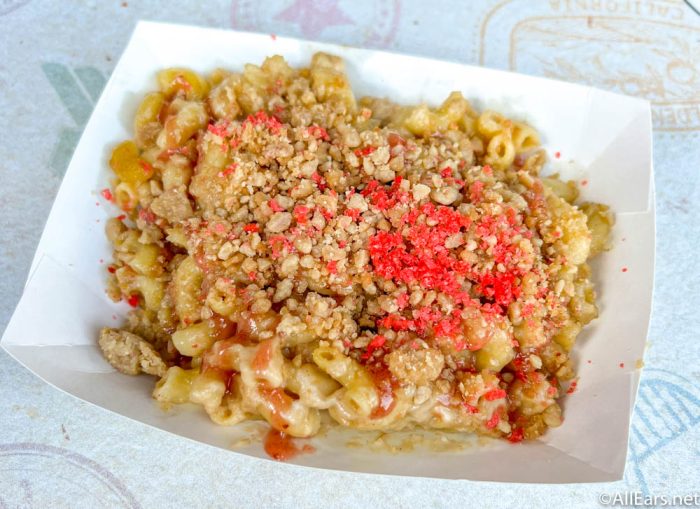 The Snickers Caramel-Peanut Milk Chocolate Mickey Macaron is also new to the booth this year (though we've seen a similar treat in the past) so you can get your chocolate fix with the chocolate Mickey macaron filled with caramel ganache and Snickers pieces for $6.50.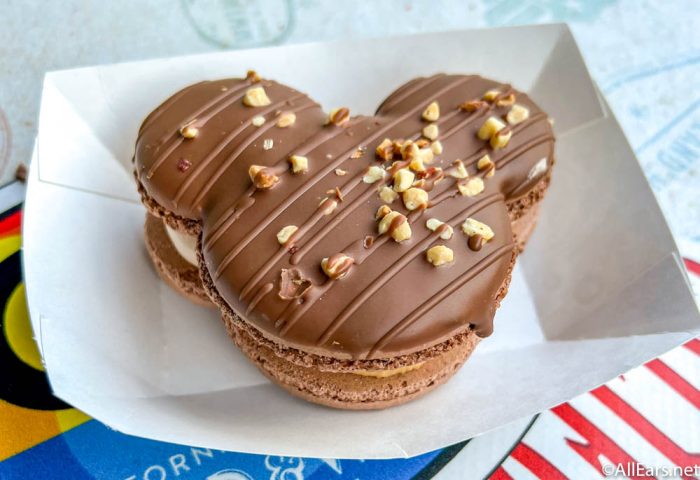 And, we decided to pair it all with the new Spicy Honey-Apricot Cocktail. This drink is made with Rye Whiskey, apricot, orange, lemon juice, spicy honey syrup, and bitters and is available for $14.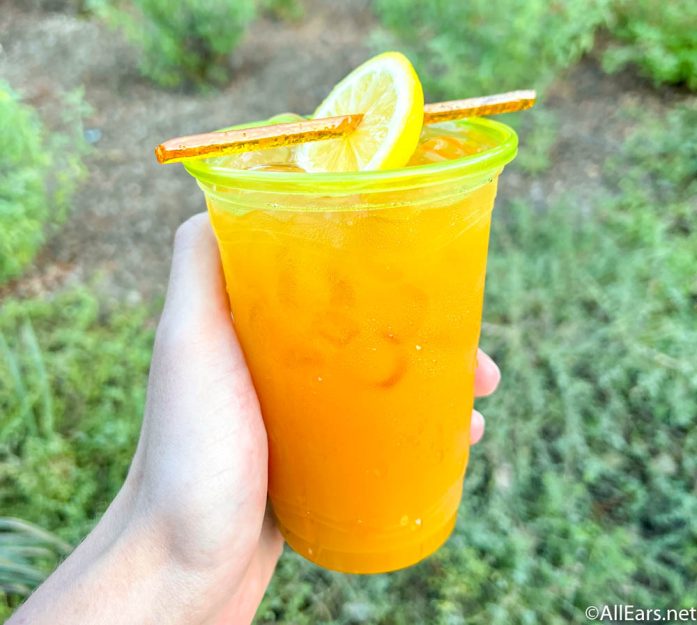 Peppers Cali-Ente
We've almost made our way around to all of the booths now, but we couldn't miss stopping by Peppers Cali-Ente!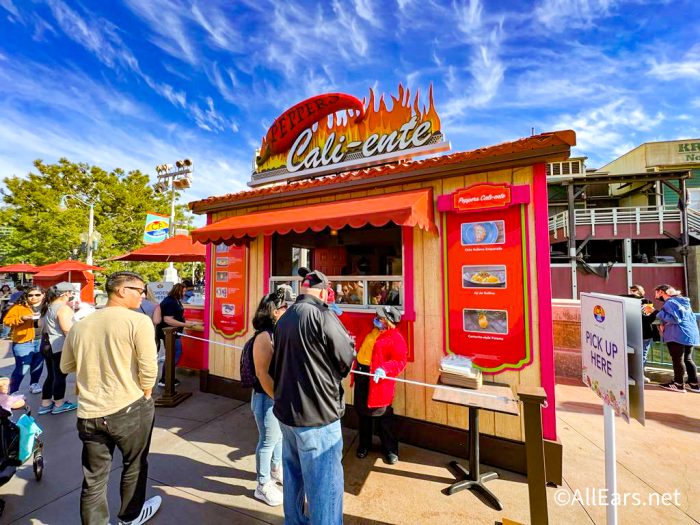 This spot is serving up some SPICY dishes once again so you might want to have a drink with you when you give them a try.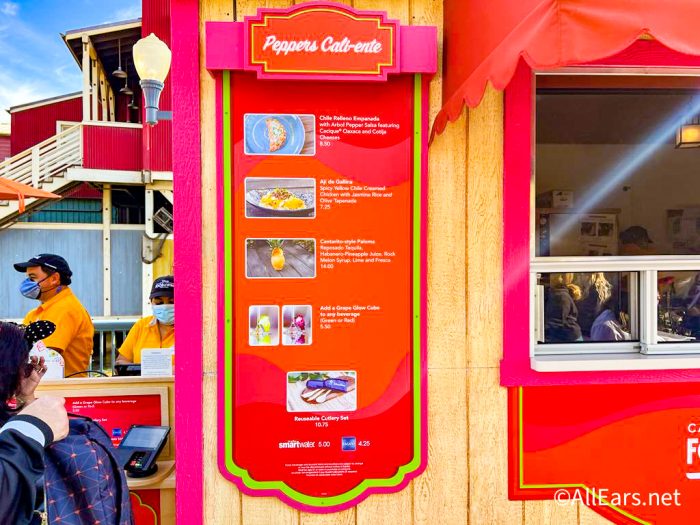 On the menu, you'll find the Chile Relleno Empanada with arbol pepper salsa and Oaxaca and Cotija cheeses for $8.50…
…and the Ají de Gallina for $7.25. It is a spicy yellow chile creamed chicken with jasmine rice and olive tapenade.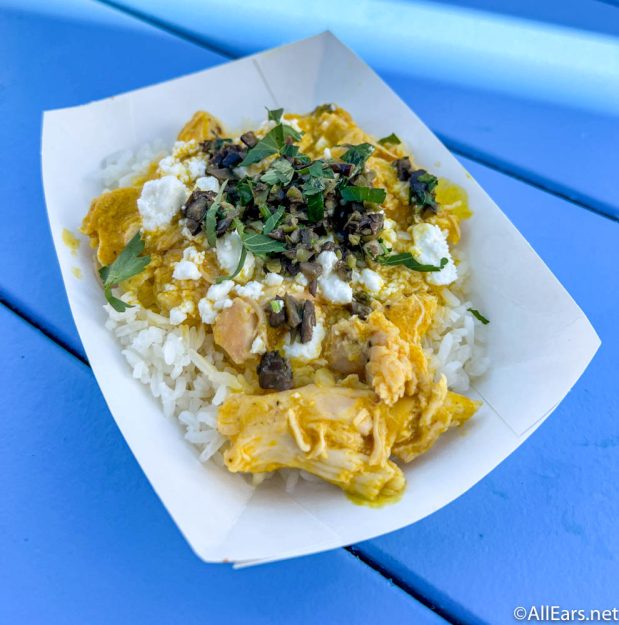 Uncork California
And, lastly, those looking for some little bites to snack on while you sip some California wine won't want to miss the Uncork California booth.
Here you can find the California Artisan Cheese Selection which includes Vella Cheese Company Habanero Jack and Point Reyes Farmstead Cheese Company's TomaProvence for $8.50…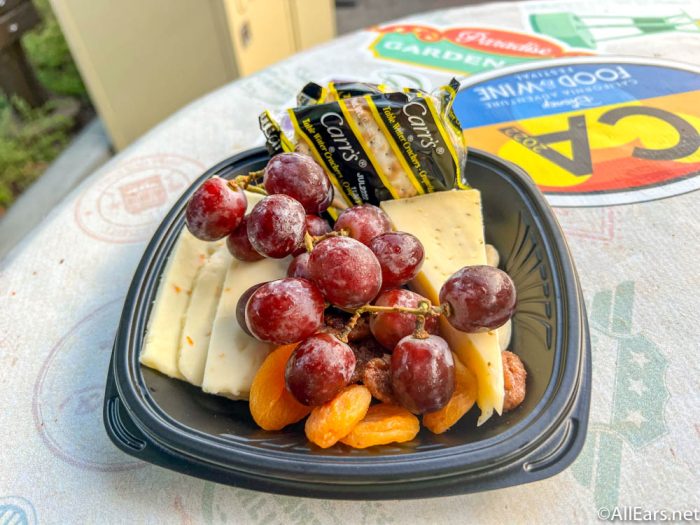 …and the Chocolate Hazelnut Crunch to top your day off with something sweet! This little ball costs $6.50 and is a chocolate-hazelnut mousse topped with chocolate-hazelnut glaze and a gold leaf.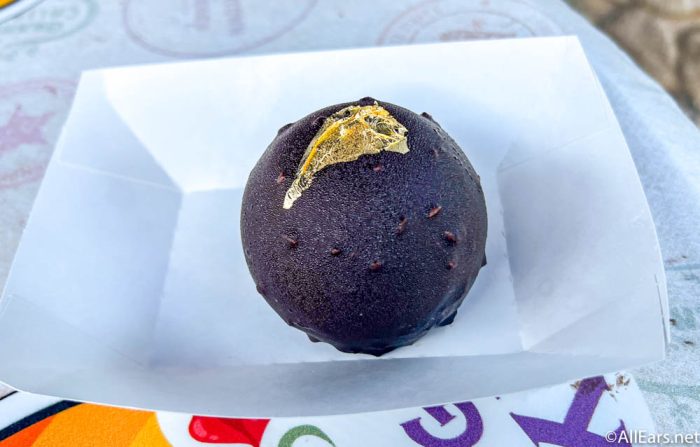 California Craft Brews
We tried some beer at the California Craft Brews location! First, we sampled the Bigger & Bolder Beer Flight, which came with four unique beers.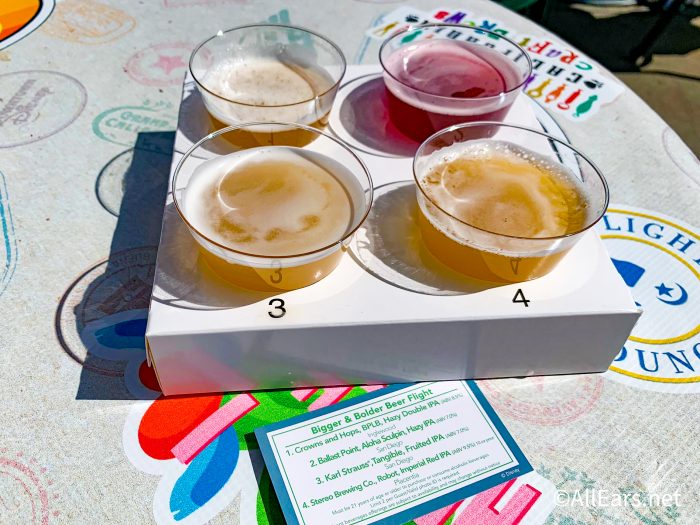 We also went for the Bright & Balanced Beer Flight!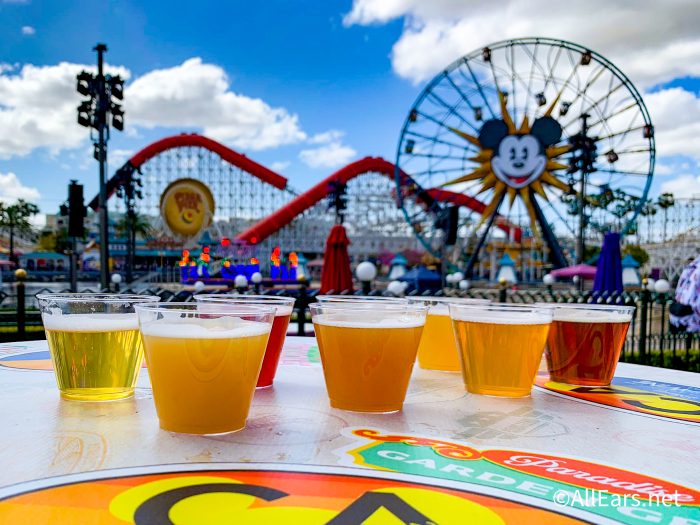 Other Locations
It's not just the food booths that feature specialty eats and drinks for the festival this year! There are also a variety of other locations throughout Disney California Adventure that have a few items to try.
The Avengers Campus had a little fun with the new festival, too! The Pym Test Kitchen is serving a new Elote Pretzel for $10.49. It's a five-ounce pretzel topped with corn three ways, cilantro sprigs, radish, cotija, and flavored crema.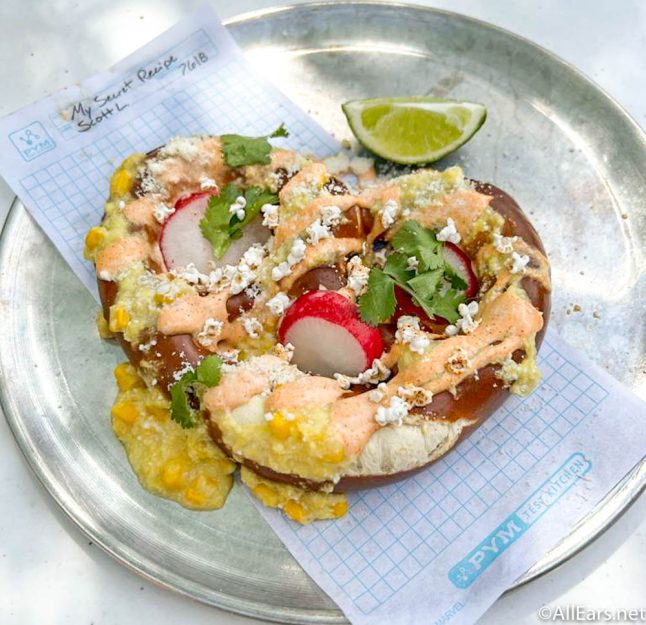 At Pym Tasting Lab right next door, you can pick up Snack Molecules during the festival for $7.50. The little snack bag is filled with a mix of mini pretzels, honey-roasted peanuts, and popped sorghum with spring flavors.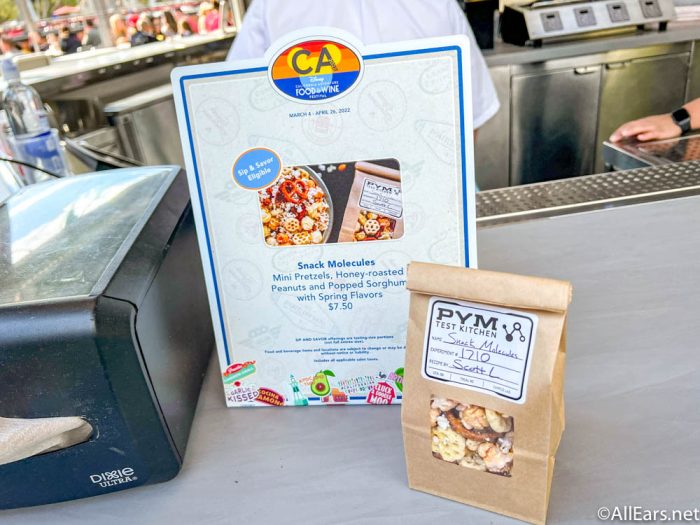 And, nearby at Terran Treats, you can try the Raspberry Spiral Rotation for $6.25. This treat is a yellow spiral churro topped with berry compote.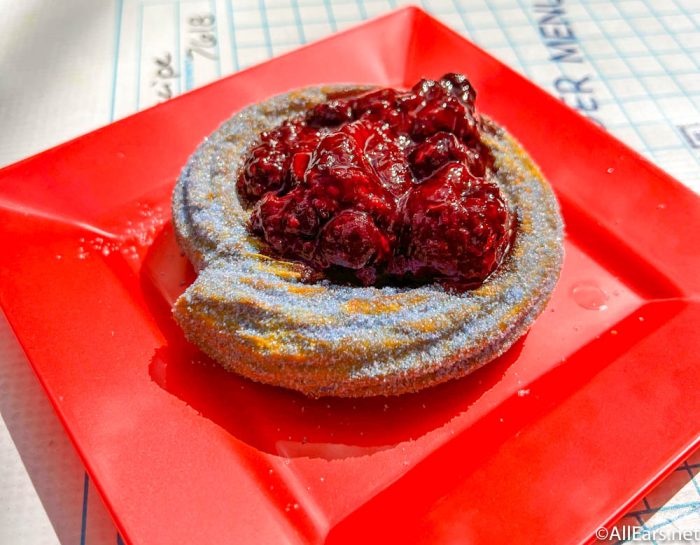 Over at Paradise Garden Grill, the menu has EIGHT new additions for the festival. If you're hungry you can pick up the new Impossible Gyro (which is seasoned plant-based meat served in pita bread with dairy-free tzatziki, seasoned tomatoes, cucumber, and onions)…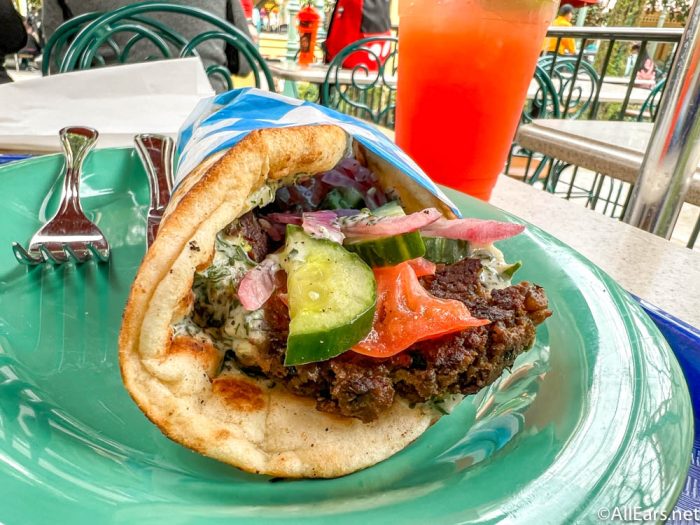 …or you can grab the Char Siu Ribs (they are Chinese-inspired grilled pork ribs with steamed rice and almond-cabbage salad).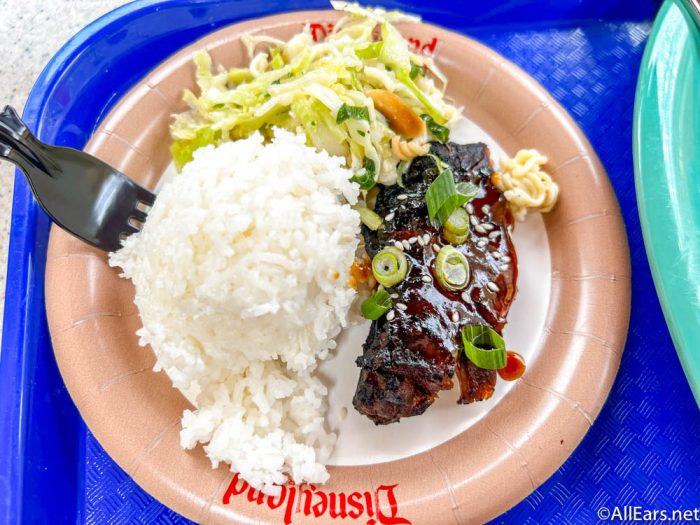 Plus, to drink, there's also the new Bourbon-Strawberry Lemonade garnished with fresh strawberry and mint.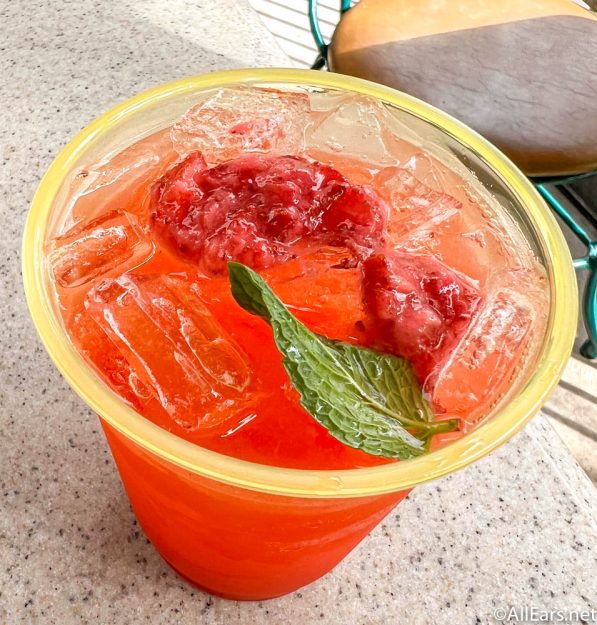 Perhaps the prettiest-looking drink from the festival can be found at Cocina Cucamonga! It's the Strawberry Horchata which can be made with or without rum and is a house-made rice and cinnamon beverage with strawberry sauce. The spiked version costs $14 and the non-alcoholic version is $5.99.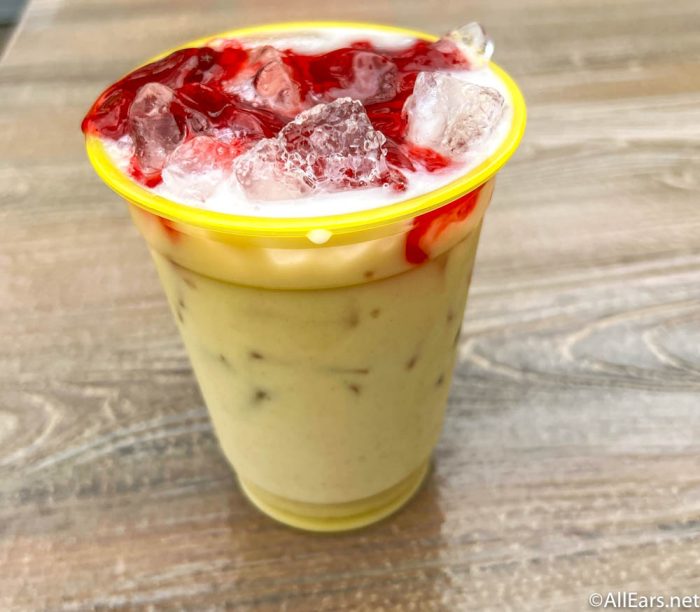 Want to try a twist on some classic American dishes? Head to Smokejumpers Grill where you can find the Pepperoni Pizza Slider and the Peach-Blueberry Lemonade with blueberry flavor-filled boba. The pizza slider features angus beef and pork sausage patty, pepperoni, pizza sauce, mozzarella cheese, and fried pepperoni served on a ciabatta slider roll and topped with a pepperoncini.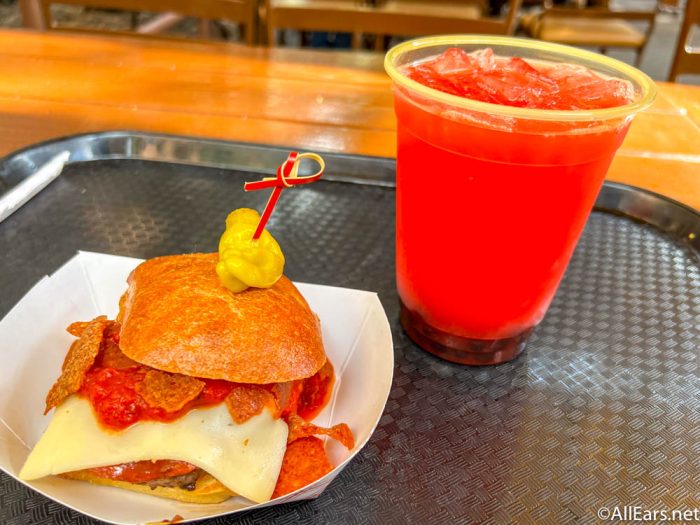 Willie's Churro Cart has a bold new Mango Churro with mango sauce, chili-lime sugar, and tamarind chamoy. It's available for $6.25. This churro isn't for the faint of heart it's spicy, sweet, and a little sour, too!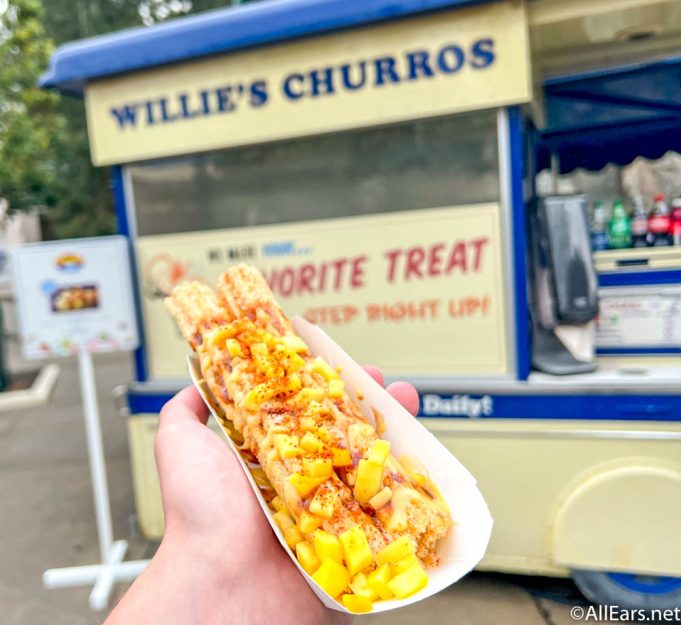 Next up, Pacific Wharf Cafe is serving a California classic: Avocado Toast! It's made with smashed avocado on a piece of toasted sourdough bread with fire-roasted cherry tomatoes, mozzarella, cilantro, and balsamic reduction. You can try it for $7.99.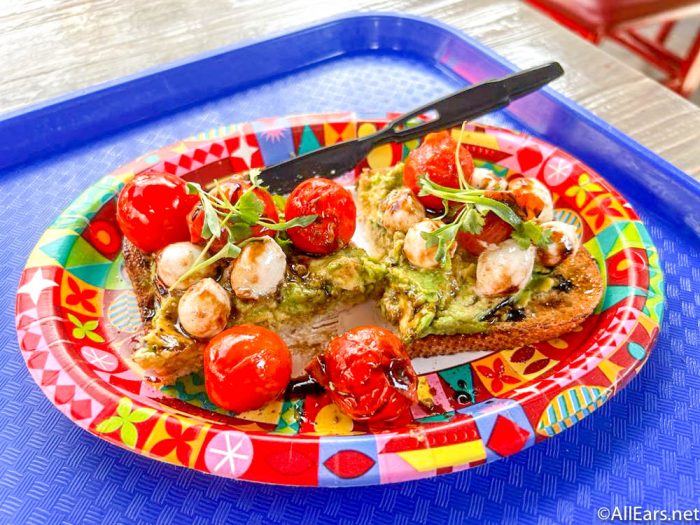 The Pacific Wharf Coffee Cart has a new Horchata Cold Brew for $6. It's made with a creamy blend of rice and cinnamon — yum!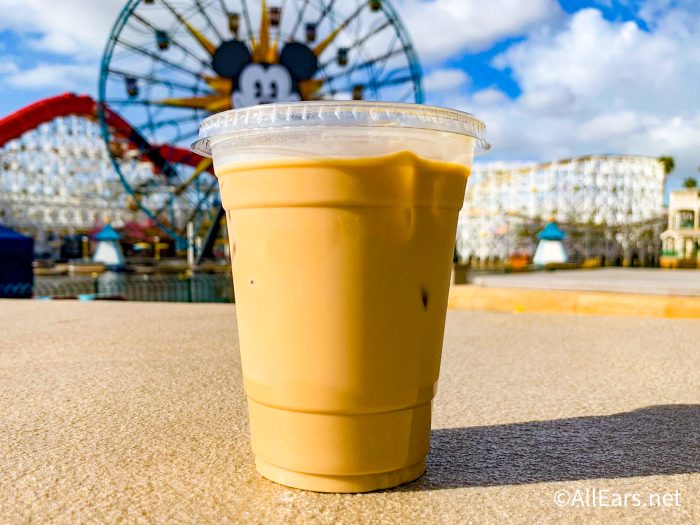 The Paradise Gardens Special Event Cart has two new treats! If you're craving something salty, try the new Pretzel Bites with Beer Cheese Sauce for $6.50.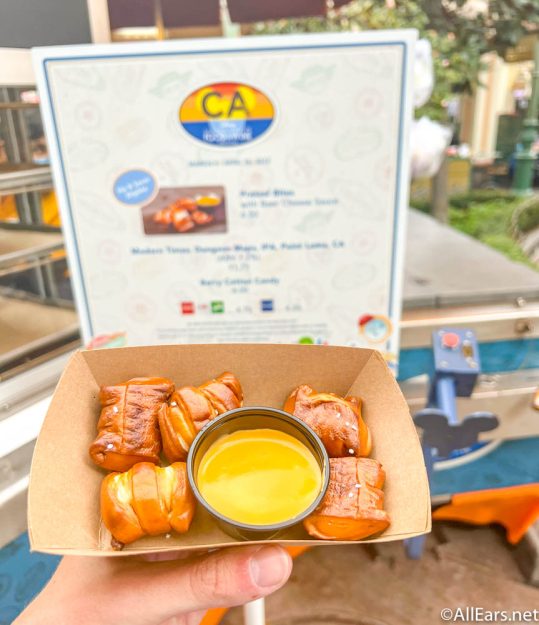 On the other hand, if you're in the mood for something sweet, try the new Berry Cotton Candy for $6. If we had to guess, we'd peg this as a mixed berry flavor — it was pretty good!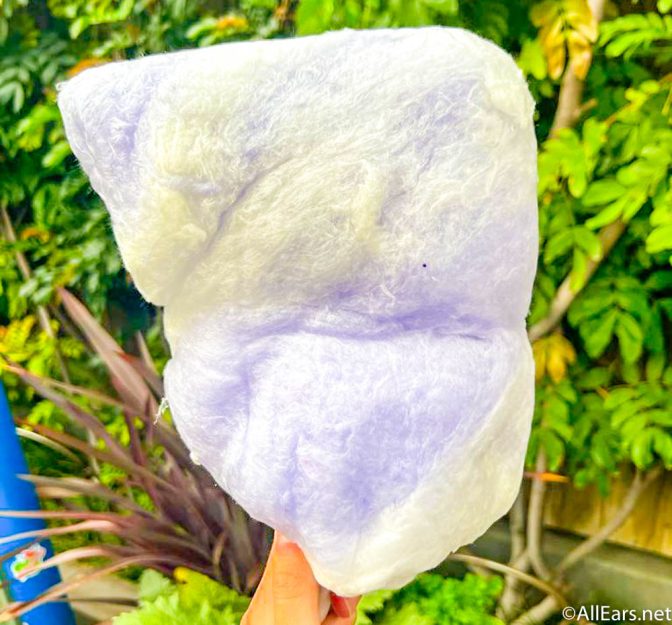 Sonoma Terrace also has a new limited-time offering! The Old World Aged White Cheddar Lager Soup, available for $7.50, comes with a toasted fig and prosciutto sandwich. Our soup was thick, creamy, and cheesy; we were very impressed!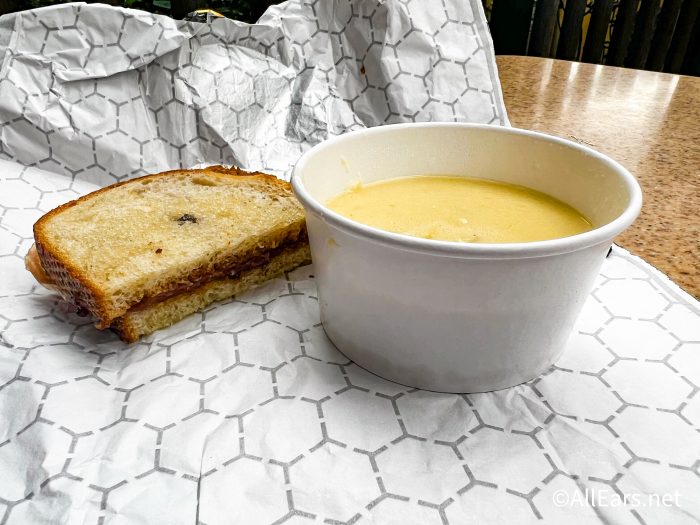 Lamplight Lounge has sweet new Cookies and Cream Donuts topped with crème-filled chocolate cookie pieces served with a vanilla and cookie dipping sauce. This treat is $10.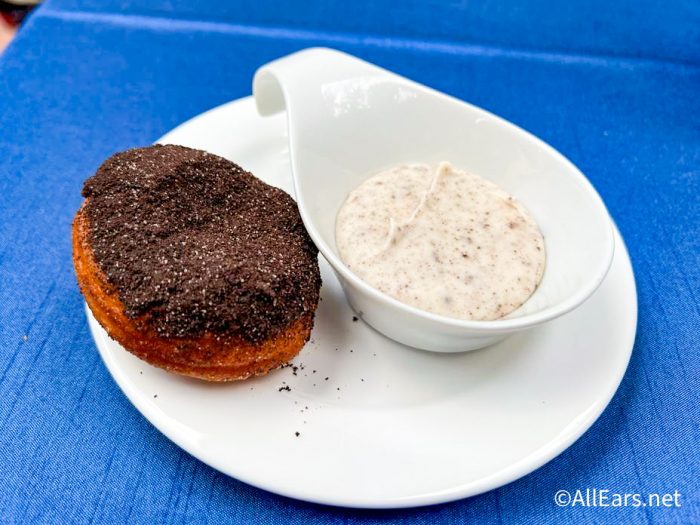 Sip and Savor Pass
If you're planning to dine at multiple festival booths and you want to save a little bit of money, you can look into purchasing the Sip and Savor Pass.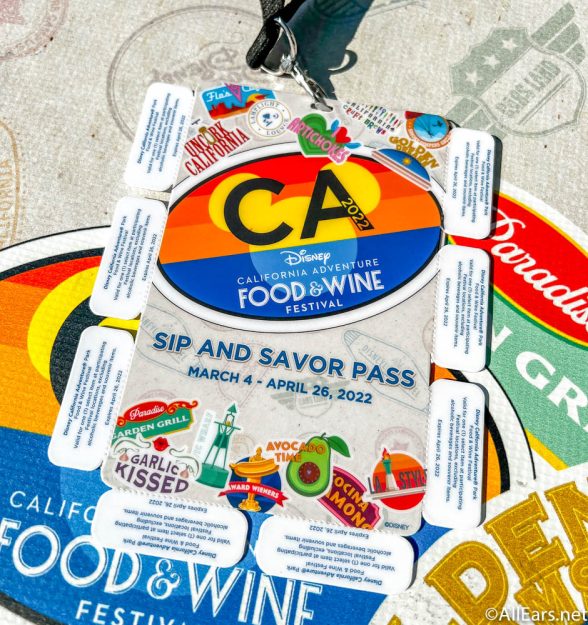 This is offered at most Disney California Adventure festivals and includes 8 vouchers that you can redeem for select food and non-alcoholic beverages for a set price.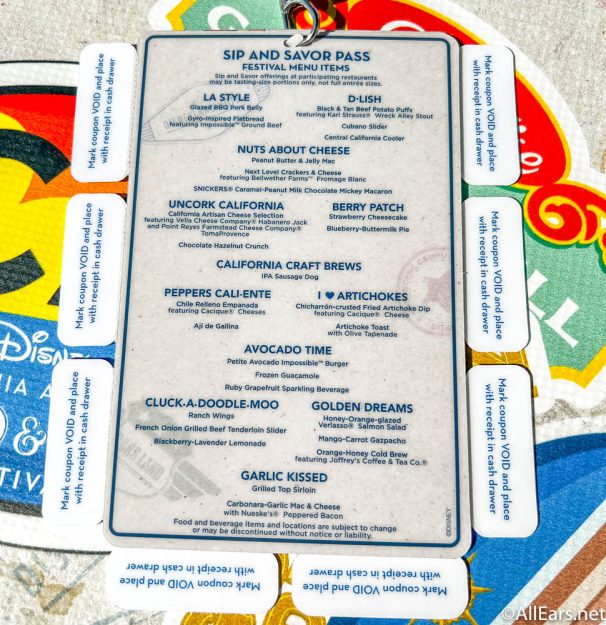 Entertainment
Look out for live music every evening at the Palisades Stage by Pixar Pier! You can also visit the Paradise Garden Bandstand to see a musical performance at 12:45PM, 1:45PM, 2:45PM, 4:15PM, 5:15PM, or 6:15PM.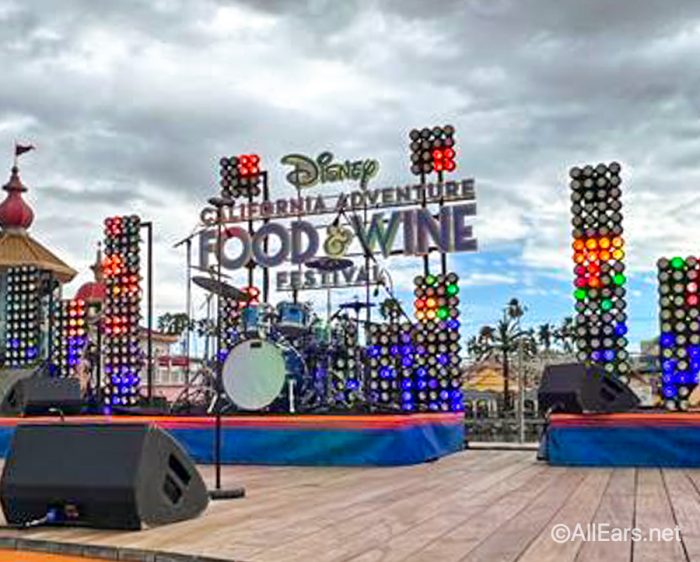 If you like music with a little character, check out the Jammin' Chefs in front of the Hyperion Theater! Our friends Daisy, Pluto, and Chip were busting some moves during our visit.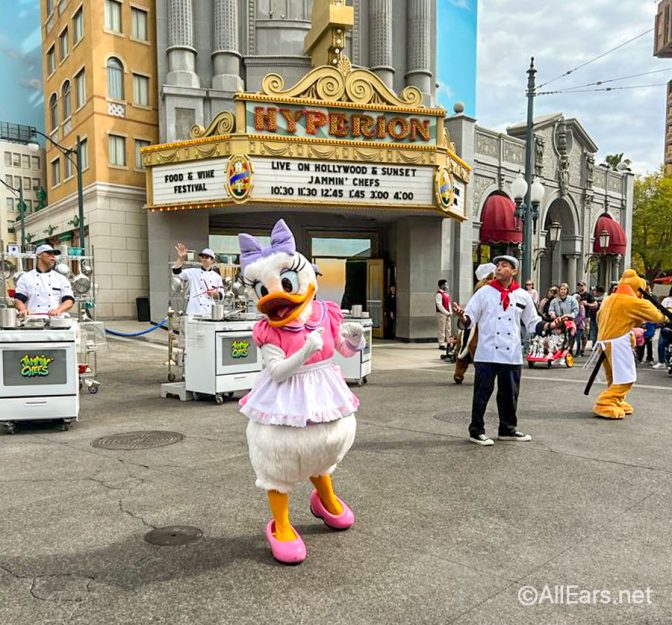 The Food and Wine Festival is also hosting Alice's Wonderland Bakery Unbirthday Party for kids ages 3-11. Kids can sign up and decorate their very own cupcakes with the help of a Disney friend!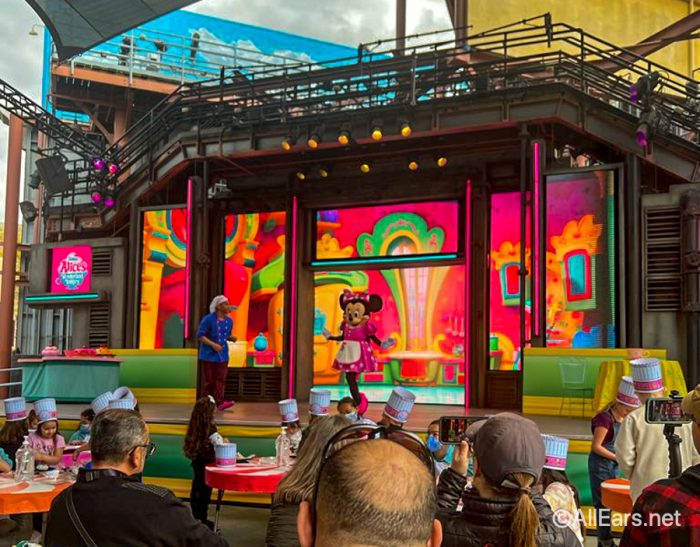 Chef Goofy may even make an appearance during the festival to show off his cooking skills!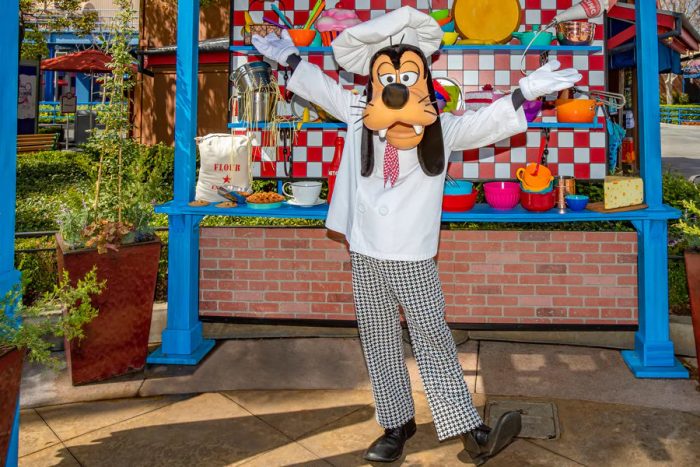 For more information including a full list of showtimes, you can read more in our Food & Wine Festival entertainment post!
Merchandise
In the mood to do some shopping between bites? Well, there's plenty of exclusive festival merchandise available this year! Disney shared the first look of some of the new merchandise earlier this year, but we're excited to check out the full collection!
You can find things like an exclusive festival Spirit Jersey…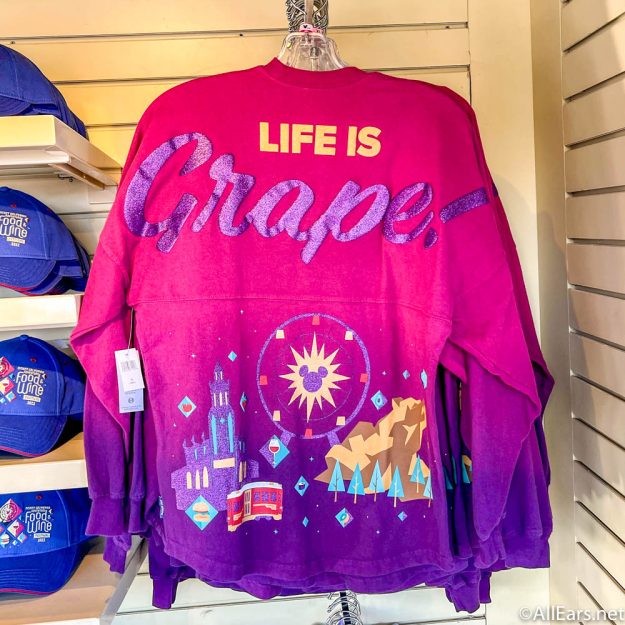 …t-shirts…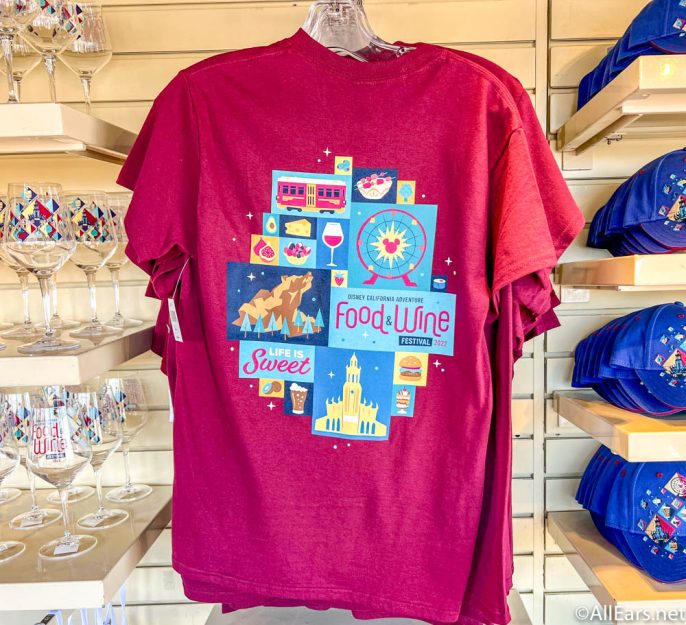 …and kitchen essentials.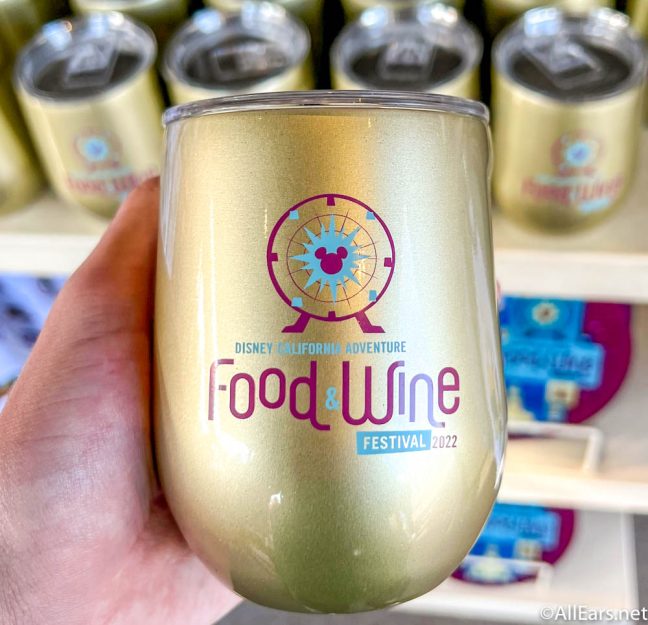 Plus, there's even a NEW pair of Minnie Ears available!
You can find these items and more at pop-up shops throughout the park!
We'll be updating this post throughout the day, so be sure to check back often to follow along with us as we give you a look at EVERYTHING happening at this year's Disney California Adventure Food and Wine Festival! And, stay tuned to AllEars for more Disney news!
Join the AllEars.net Newsletter to stay on top of ALL the breaking Disney News! You'll also get access to AllEars tips, reviews, trivia, and MORE! Click here to Subscribe!

Will you be visiting the Disney California Adventure Food & Wine Festival? Let us know in the comments!