Disney California Adventure Food and Wine Festival Marketplace Menus
2019 Festival Marketplace Menus
Standalone Festival Marketplace kiosks around the park will serve a variety of food and beverage items inspired by California cuisine and ingredients.  Paradise Garden Grill will offer a Festival menu with full-size entree portions.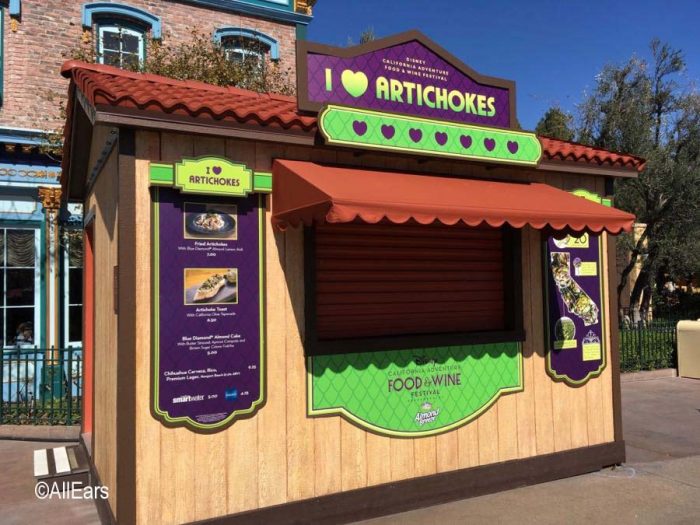 2019 Festival Marketplace Menus
Nuts About Cheese
Fiscalini White Cheddar Lager Soup – served in a mini Boudin sourdough bowl. $6.75
Ham & Vella Jack Cheese Pinwheel – with smoked pistachios. $7.00
Creamy Oikos Yogurt Cheesecake. $5.25
Karl Strauss Brewing Company Columbia Street, Amber Lager. $10.25
Uncork California
California Artisan Cheese Selection – select from either Point Reyes Blue or Fiscalini White Cheddar handcrafted Californian cheese. $8.50
White Wine Flight $17.00
(Also available by the glass)

Twomey Cellars, Sauvignon Blanc, Napa, Sonoma County ($15.00)
Simi, Chardonnay, "Reserve", Russian River Valley ($12.00)
Patz & Hall, Chardonnay, "Dutton Ranch", Russian River Valley ($19.00)

Red Wine Flight $17.50
(Also available by the glass)

Erath, Pinot Noir, Oregon ($14.00)
Klinker Brick Winery, Old Vine Zinfandel, Lodi ($12.00)
Rowen, Red Blend, Sonoma County ($19.00)

Mimosa Flight $17.00
(Also available by the glass)

Hibiscus Mimosa, with hibiscus flower garnish ($14.00)
Tropical Mimosa ($14.00)
Mixed Berry Mimosa ($14.00)

Chandon Brut, Sparkling Wine, California $12.00
Assorted Wine Varietals
Citrus Grove
Orange Chicken and Rice. $7.50
Citrus-brined Pork Roast – with tangy barbeque sauce and lemon pepper slaw. $8.00
Meyer Lemon Blue Diamond Almond Macaron. $5.50
Meyer Lemon Ginger Mule – with lemon garnish. $13.50
Ginger Beer (non-alcoholic). $6.00
California Craft Brews
Pepperoni Pizza Egg Rolls with Marinara and Pesto Sauce. $7.00
Bright & Balanced Beer Flight. $15.00
Pizza Port California Honey Golden Ale
Hangar 24 Orange Wheat
Left Coast Pink Bikini Raspberry Wheat
Karl Strauss Columbia Street Amber Lager
Hoppy & Bold Beer Flight. $15.00
Smog City Sabre-Toothed Squirrel Amber Ale
Lost Winds Tropiclemente Tropical Ale IPA
Towne Park Blacksmith Black IPA
Asylum Rorschach Brown Ale
Pizza Port California Honey Golden Ale. $10.75
Hangar 24 Orange Wheat. $10.75
Left Coast Brewing Co., Pink Bikini, Raspberry Wheat. $10.75
Three Weavers Brewing Company, Day Job, Pale Ale. $11.75
Karl Strauss Brewing Company, Columbia Street, Amber Lager. $10.75
Smog City Brewing Co., Sabre-Toothed Squirrel, Hoppy Amber Ale. $10.75
Stereo Brewing Company, Perfect Day, American IPA. $10.75
Lost Winds Brewing Company, Tropiclemente, Tropical IPA$10.75
Towne Park Brew Co., Blacksmith, Black IPA. $10.75
Asylum Brewing, Rorschach, Brown Ale with Kenyan Coffee. $13.00
Berry Patch
Strawberry & Coconut Rice "Frushi" – with sweet Oikos Greek nonfat yogurt wasabi sauce. $5.50
Fresh California Berry Pie. $5.75
Blue Diamond Almond Breeze Almondmilk. $2.50
Strawberry Float – with vanilla ice cream, whipped cream and crunchy cereal garnish (non-alcoholic) $6.50
Peppers Cali-ente
Verlasso Sustainable Salmon Peruvian Poke – with cucumber-lime salad and aji verde salsa. $7.50
Ghost Pepper Mac & Cheese. $7.75
Jalapeno-Lime Margarita – with jalapeno garnish. $13.50
Veggie Veggie Fruit Fruit
Grilled Asparagus Chicken Caesar Salad. $7.00
Cauliflower Ceviche – with chile corn crumble and tortilla strips. $6.25
Duo of Frozen Strawberry and Lime Fruit Fruit Bars. $5.50
Davis Bynum Sauvignon Blanc, "Virginia's Block", Russian River Valley, California. $14.00
Chihuahua Cerveza, Limon, Premium Lager, Newport Beach. $9.25
Cool Lime Michelada – with frozen lime ice and salt rim. $11.00
Avocado Time
Petite Impossible™ Burger – with guac and pepper jack cheese. $8.00
Spiced Roasted Chicken on Pita – with avocado hummus and garlic sauce. $7.50
Kombucha Mojito Cocktail – with fresh mint. $13.50
Suja Organic Pineapple Passionfruit Kombucha (non-alcoholic). $6.00
I ♥ Artichokes
Fried Artichokes – with Blue Diamond Almond Lemon Aioli.  $7.00
Artichoke Toast – with California olive tapenade. $6.50
Blue Diamond Almond Cake – with butter streusel, apricot compote and brown sugar creme fraiche. $5.00
Chihuahua Cerveza Rico, Premium Lager, Newport Beach.  $9.25
Cluck-a-Doodle-Moo
Harris Ranch Grilled Beef Tenderloin Slider with Chimichurri Sauce. $8.50
Salt and Vinegar Parmesan Chicken Wings. $8.00
Watermelon Lemonade with Watermelon Garnish (non-alcoholic) $5.75
Festival Beer Flight (and By the Glass) – $14.50
Thorn Brewing, Barrio, Baja-style Lager ($11.75)
Strand Brewing Co., 24th Street, Pale Ale ($11.75)
Karl Strauss Brewing Company, Festiv-Ale, Belgian-style Brown, (Festival Exclusive) ($11.25)
Brouwerij West, Dog Ate My Homework, Blackberry Saison ($13.00)
Garlic Kissed
Chocolate Crunch Cake. $5.50
Bloody Mary – with garlic-stuffed olive. $13.50
Off the Cob
Shrimp Boil Tacos – with Andouille sausage and fresh corn. $7.00
Esquites Sweet Corn Nuggets – with bacon lardons. $6.25
Peach Tea – with peach garnish (non-alcoholic). $5.00
Citrus Radler Beer Cocktail, Lager with Grapefruit and Blood Orange Juices, T.W. Pitchers' Brewing, San Francisco. $11.75
Golden Dreams
Deconstructed Teriyaki Chicken Musubi with Pineapple Relish. $7.25
Anaheim Chile Relleno Bites with Salsa Verde. $6.75
Chocolate-Peanut-Caramel Parfait. $5.50
Yippee! Mickey's Cotton Candy Soda (non-alcoholic) – Sprite, cotton candy., premium syrup, half-rimmed butter cream with pineapple cotton candy garnish. $7.00
LA Style
Asian-style Beef Barbacoa Taco – with pickled ginger. $8.00
BLT Chicharron Duro – with ranch crema. $7.00
Tiki Cocktail – aged rum, falernum, bitters, lime & grapefruit juices, with a mint sprig and Luxardo cherry garnish. $13.50
Festival Beer Garden
Beer Garden Flight
2 Towns Outcider Hard Apple Cider
Ommegang Hennepin Saison
Modern Times Booming Rollers IPA
Karl Strauss Baltic Porter
Bright & Refreshing Beer Flight
The Dudes' Brewing Company, Los Dudes Cerveza, Mexican-style Lager
Lost Coast Brewery, Watermelon Wheat
2 Towns Ciderhouse, Outcider, Unfiltered Hard Apple Cider
Brewery Ommegang, Hennepin, Farmhouse Saison
Hoppy & Bold Beer Flight
Modern Times Beer, Booming Rollers
Divine Science Brewing, Third Contact, Gluten-friendly IPA
Bear Republic Brewing Co., Apex, Double IPA
Karl Strauss Brewing Company, Baltic Porter
Festival Indulgences
Twisted Horn Mead, Blue Cloak
Founders Brewing Co., Backwoods, Bourbon Barrel-aged Scotch Ale
Paradise Garden Grill
Beer-battered Cod – with steak fries and spiced remoulade. $11.99
Impossible No "Meat" Ball Submarine – with marinara sauce, topped with soy cheese and served with kettle chips. $11.99
Beer-braised Pork Tacos – with pickled apple slaw, black beans and queso.  $12.99
Buffalo Style Roasted Turkey Leg – with celery slaw and crumbled blue cheese. $12.49
Large Soft Pretzel – with beer cheese dipping sauce. $7.99
Black Forest Parfait – layers of chocolate cake, vanilla chantilly, chocolate mousse, and cherries. $5.99
Matanzas Creek, Sauvignon Blanc-Fume Blanc, Sonoma County. $9.00
Nielson Chardonnay, Santa Barbara County. $11.00
'Ōlelo Cabernet Sauvignon, Paso Robles. $9.00
Deschutes Brewery, Pacific Wonderland, Lager. $9.50
Sudwerk Brewing Co., Marzen, Amber Lager. $9.50
If you have comments or tips to share with others about touring Disney California Adventure, please email us. Thank you.