Today, National Geographic gives us a close-up look at a woman just as at home under the sea as above it in their documentary on Valerie Taylor, Playing With Sharks.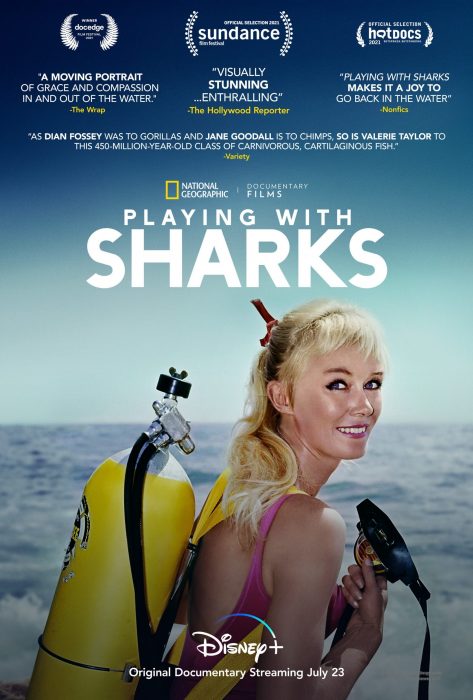 Utilizing archival footage shot by Taylor and her husband Ron, along with interviews with Taylor herself and her past and present associates, writer/director Sally Aitken paints a picture of a woman who possesses more determination and indomitable will in her beribboned ponytail than most of us do in our whole bodies.
Starting from when she contracts polio at age twelve and regains the ability to walk in defiance of expert opinion, Taylor proves herself repeatedly made of sterner stuff than the chain mail she dons in an attempt to make herself shark bait.
As an adult, Taylor achieves popular sensation as a champion spearfisher with Bond Girl looks.  As she and her husband (also a champion spearfisher) spend time on expeditions and fishing trips, however, the wholesale and careless slaughter of the animals wears on them and they eventually come to the decision that they will only shoot with cameras from that point on.  After filming a number of documentaries on sharks and becoming particularly renowned for being the first to photograph them without using a cage, they attracted the attention of Stephen Spielberg who used them for the shark footage he needed for his little film Jaws.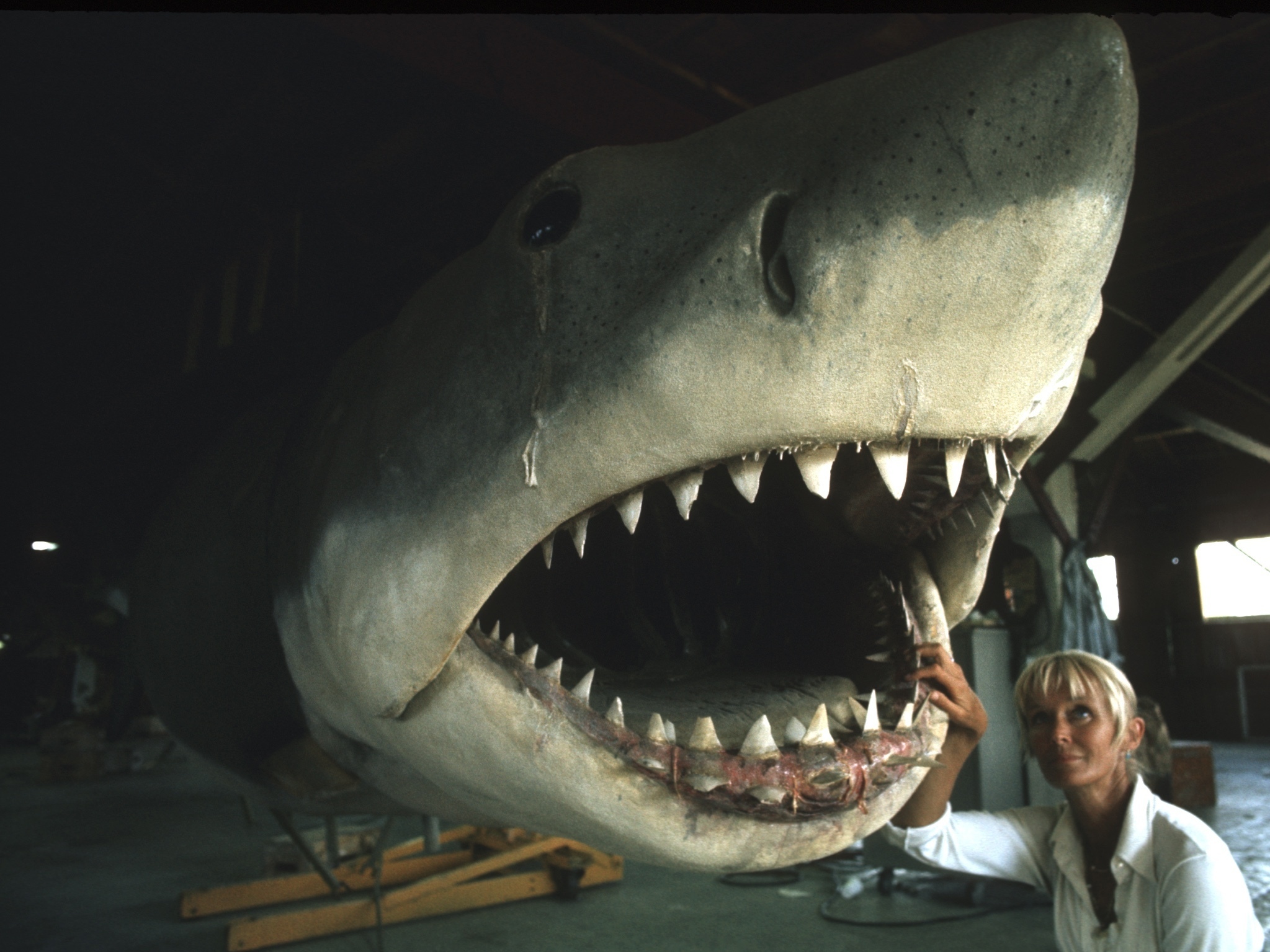 While the couple is initially excited about the colossal success of the film, their feelings quickly turn to horror and remorse as Jaws single-handedly changes public opinion against sharks and leads to behaviors at best, needlessly fearful, and at worst, resulting in ruthless extermination.  They try to make talk-show rounds to redeem the shark reputation, but as history has shown us, once people get ahold of something to hate and fear, they don't give it up easily.  Taylor spends the rest of her life dedicated to conservationist causes, lobbying to protect the environment, and establishing sanctuary zones around South Australia.
The portrait Playing With Sharks shows us is an admirable one–a story in which a woman is strong enough to learn from experiences and to choose to provide for Nature and the environment instead of only taking from it.  Fearless in many regards, Taylor shows courage and determination as she faces up to not only Great White Sharks but the even more fearsome and vicious predators in the world press and governing bodies.  In the later shots, even in her eighties, Taylor is still diving and enjoying her interactions with sharks and moray eels.  It is only here that we ever see her affected by the passage of time, watching her struggle to put on a wetsuit with shoulder pain and limited range of motion that she surely would not have even given a thought of shrugging on some fifty years earlier.  It's possible I have still not recovered from watching WDAS' beautiful and heartbreaking short Us Again, but to see someone still so strong mentally and emotionally being betrayed by a body that was once renowned for its athleticism seems cruel.
But when she gets into the water, gravity ceases to be the problem it is on land, and she can fly again, even doing some of the same rolls and underwater maneuvers we saw her do back in the 60s.  At a panel discussion after the film's premiere, Taylor expressed her disappointment that more countries have not taken more action to protect sharks and other marine life from being hunted to extinction and her doubts that the situation will change much in the future.  The film tells us a different story, however–that people can learn and evolve and ultimately make a difference if they get the exposure they need to move past fear for these creatures.  Maybe for people watching Playing With Sharks, this can be the first step.
The National Geographic documentary Playing With Sharks is set to premiere today, Friday, July 23rd on Disney+. 
Check out our YouTube Channel for reviews, news, information and more!
Questions?  Comments?  Suggestions?  Let us know below!
Click below to subscribe to the AllEars® newsletter so you don't miss any of the latest Disney news!