There are SO many different places to eat all around Disney World, it can be hard to know which snacks are good enough that you should go out of your way to try them.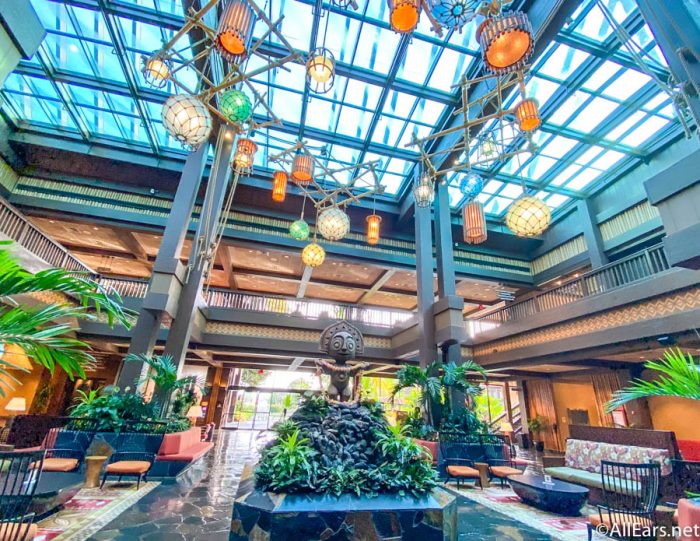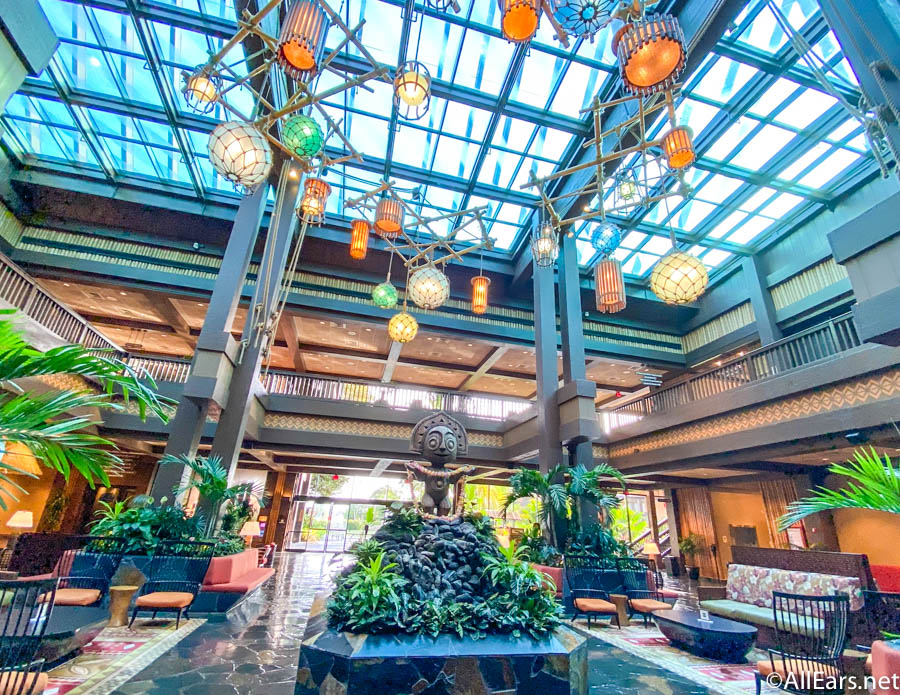 One place that has a LOT of delicious treats is Disney's Polynesian Village Resort. But if you've never stayed here or visited the hotel, you may have missed them.
Today we're sharing our list of the 10 snacks you'll regret not getting at the Poly!
1. 'Ohana Bread Pudding
We start with a cult classic, the 'Ohana Bread Pudding! If you have not had the distinct pleasure of having this decadent dessert in the past, allow us to fill you in on what this treat consists of. It is made with soft, fluffy pineapple bread doused in custard, covered in Bananas Foster Sauce, and served with a LARGE scoop of vanilla ice cream that just deliciously melts into all of the flavors. And to answer your question, yes, it is as good as it sounds and looks.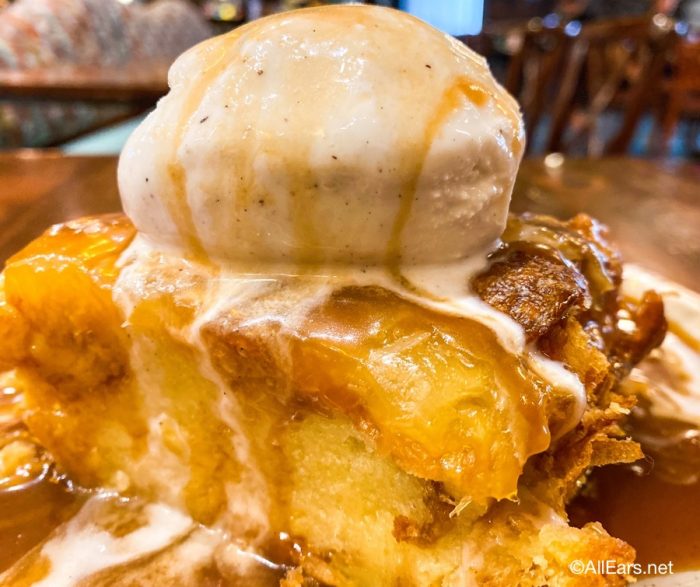 This dessert has long reigned as one of the ULTIMATE treats in all of Disney World. 'Ohana is currently serving family-style meals, so you can dig into this dessert as part of your "All You-Care-To-Enjoy" dinner.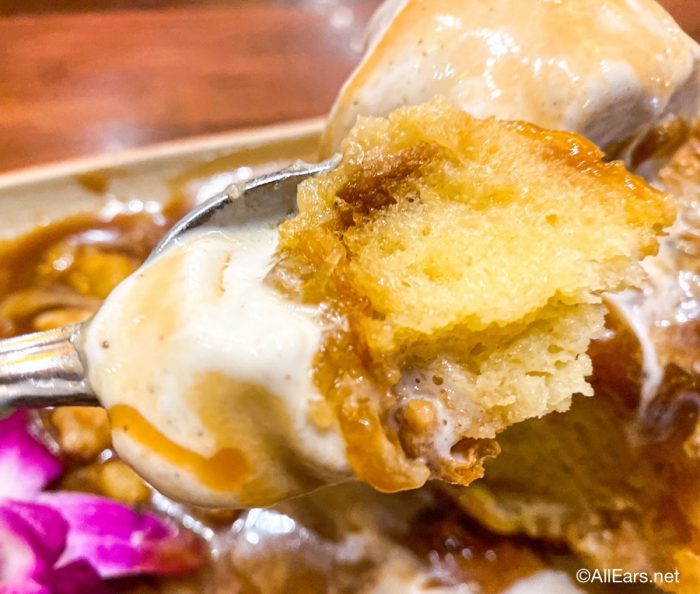 This is definitely a must-try anytime we stop by 'Ohana! Sometimes you may also find a bread pudding available at Tambu Lounge, so be sure to check and see what's available during your next trip.
2. Tonga Toast
Another staple from the Poly is Tonga Toast! What is this "Tonga Toast", you ask? Well, it's Banana-stuffed Sourdough Bread, Battered, Deep-fried, and Dusted with Cinnamon-Sugar! Simple, yummy, sweet — for many, this is a must-get breakfast item they dream about between trips.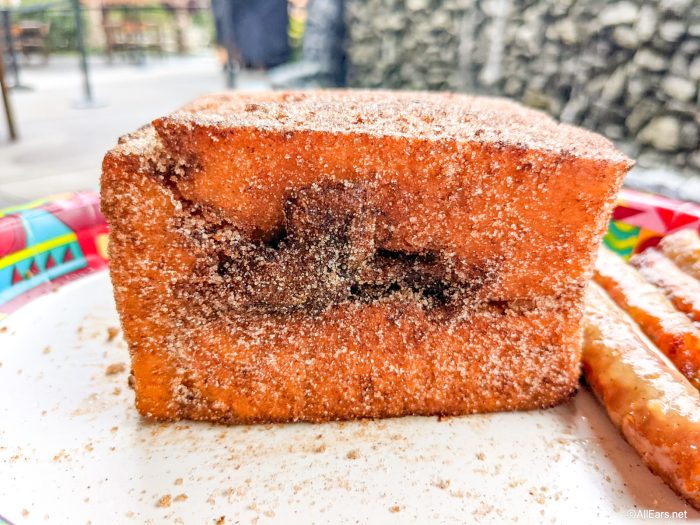 There are two spots to grab this famous treat. You could get it served with bacon or sausage for $10.49 at Capt. Cook's (a Quick Service spot at the hotel), or you can get it at Kona Cafe if you're looking for a Table Service experience. At Kona Cafe it's priced at $17 and is served with a Strawberry Compote and your choice of Ham, Spiced Ham, Bacon, or Sausage.
3. Pulled Pork Nachos
Next, we head to something a bit more savory. The Pulled Pork Nachos from Capt. Cook's are seriously some of the BEST nachos in all of Disney World and are certainly a stand-out snack at the Poly. The nachos feature pulled pork, cheese, spicy mayonnaise, pico de gallo, and pineapple salsa. They're priced at $9.99.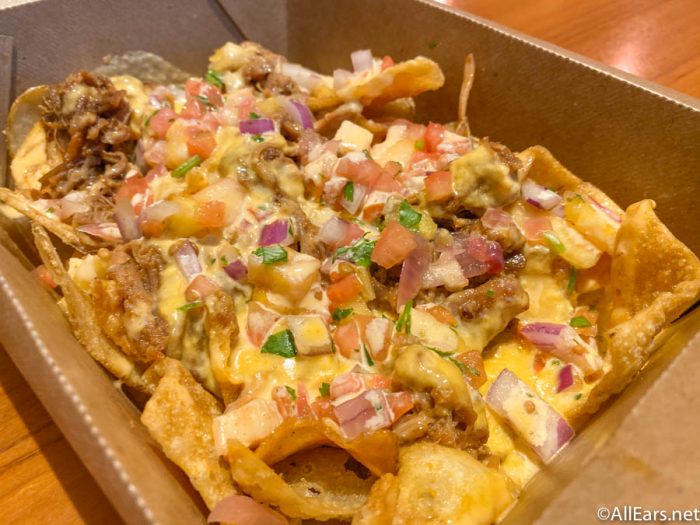 Basically, it's a WHOLE lot of yummy, fantastic flavors all featured in one dish. If you've never tried these before, you might want to take a special trip out to the Poly to grab these (along with the other snacks on this list).
4. The Poly Chips
If you're looking for some more savory chips but not the FULL nacho experience, you can just get the Poly's house-made potato and wonton chips as a snack on their own! These delicious creations are over at Capt. Cook's.
They're served warm (YUM) and are priced at just $3.29. These chips have quite a few adoring fans out there, and for good reason! They're a tasty alternative to a regular bag of chips.
5. Honolulu Cookie Company Goodies
Another snack that's got a bit of a following are the shortbread cookies from the Honolulu Cookie Company. You'll typically find these treats (if they're available) at BouTiki, a gift shop located on the first floor of the hotel, and the prices vary depending on the size of the container.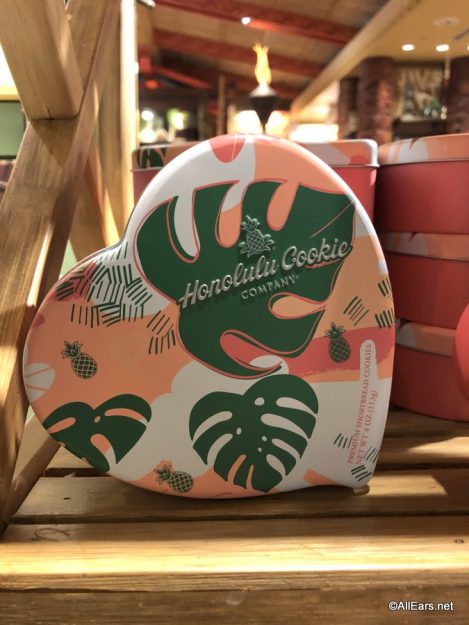 These boxes and bags come full of the company's premium, Hawaiian-inspired shortbread cookies.
Be sure to grab some of these cookies during your next visit to the Poly!
6. The Dole Whip (Of Course)
Okay, of course, we couldn't make this list without mentioning the Dole Whip! You can get Dole Whips in various spots around Disney World, one of which is over at the Polynesian at Pineapple Lanai.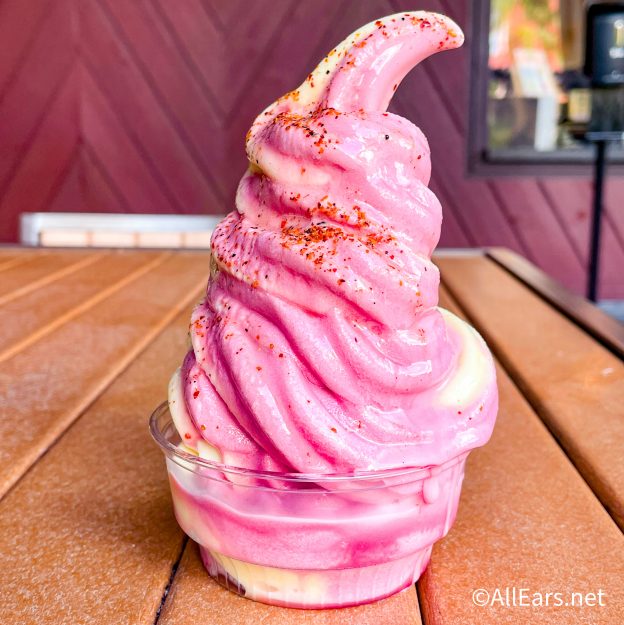 This spot typically has a number of different Dole Whip flavors available, and sometimes even has really unique Dole Whip or other soft-serve creations specific to different holidays. Stop by to see what's available when you visit!
7. Thai Coconut Meatballs
Okay, now that we've filled up on sweet Dole Whips and soft-serve, let's head back to savory-land. If you're looking for a hearty and creamy treat while at the Poly, the Thai Coconut Meatballs from Capt. Cook's might be JUST the thing!
This dish is made with House-made All-Beef Chili-Garlic Meatballs cooked in a Coconut Cream served over White Rice, and it is priced at $10.49.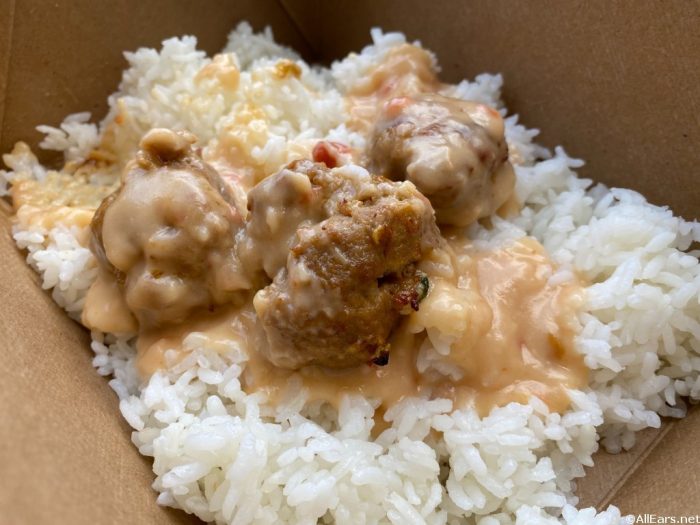 The meatballs are absolutely delicious, and that creamy, coconut flavor in the sauce is addictive. They're very mild in terms of spice, so there's no need to be worried about that. Truly, the star here is that sauce — it's so good you might just find yourself licking the plate or box, and frankly, we wouldn't blame you!
8. Themed Cupcakes
The Poly also typically has some delicious and totally Instagram-worthy cupcakes that you'll want to look out for at Capt. Cook's. Most recently, they've had the 50th Celebration Cupcake which is a Vanilla Cupcake with a Dole Whip Pineapple Center, Pineapple Buttercream, and a 50th Anniversary Polynesian Medallion.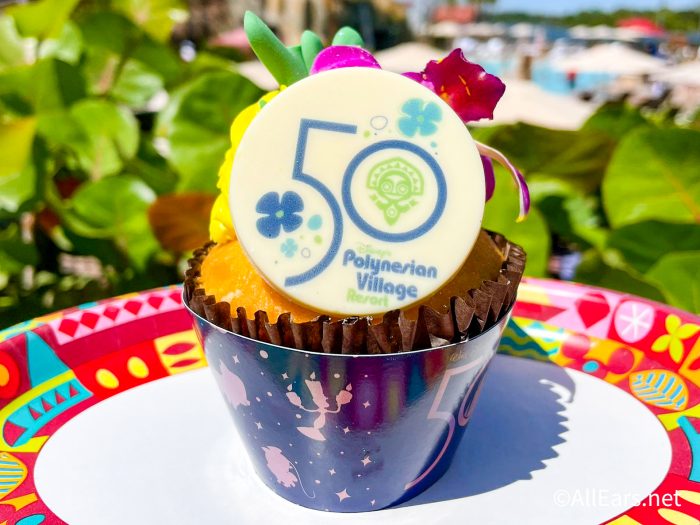 In the past, we've also seen a number of specialty dessert items here that are SUPER tasty, like this beautiful holiday cupcake which had TONS of icing and a great white chocolate peppermint filling.
If you're looking for a sweet treat that is absolutely GORGEOUS, be sure to see what's available.
9. Lapu Lapu
Okay, while this is more of a drink than a snack, we couldn't leave the Lapu Lapu off of this list! You can grab this drink over at Tambu Lounge or Kona Cafe for $19.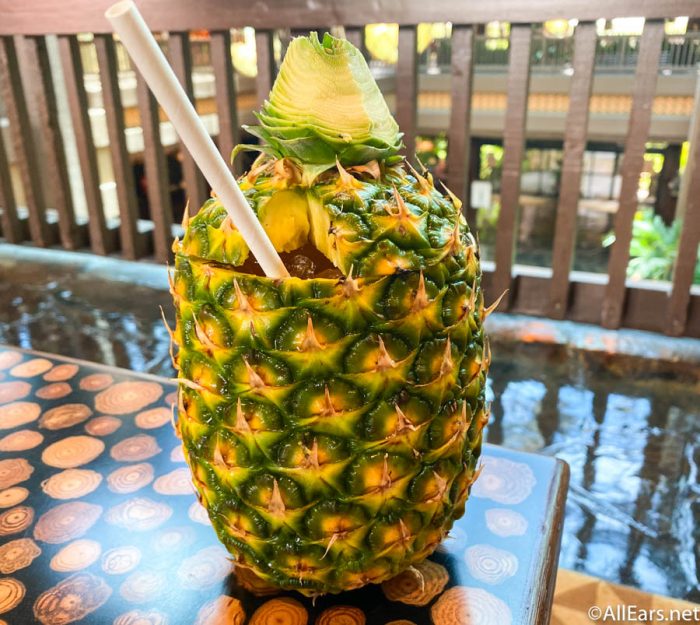 It features Plantation Original Dark Rum and Tropical Fruit Juices, served in a fresh Pineapple, topped with Gosling's 151 Rum.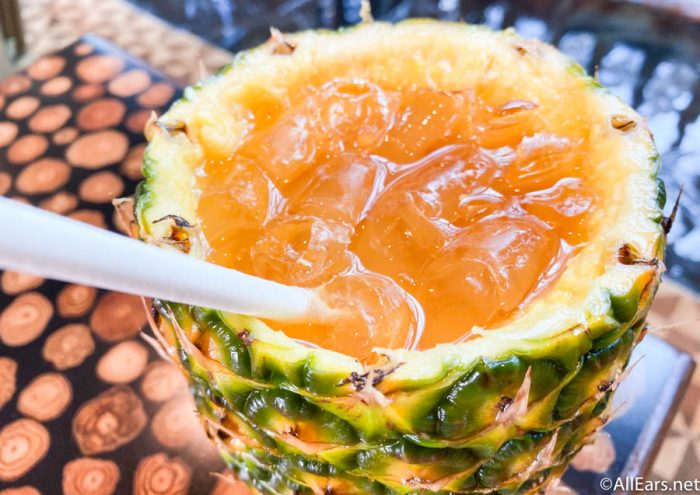 Can we all just agree that snacks are (generally) better when they are served in some kind of giant fruit, especially a pineapple?! Just looking at this drink has us feeling like we're relaxing on a tropical island. We can practically feel the cool breeze and hear the tropical music! This fan-favorite drink might just be the perfect start, end, or any-time treat for your next vacation.
10. Glazed Chicken Wings
And finally, we end our tour of fantastic snacks with the Glazed Chicken Wings from Kona Cafe. These are served with a sticky wing sauce and are priced at $14.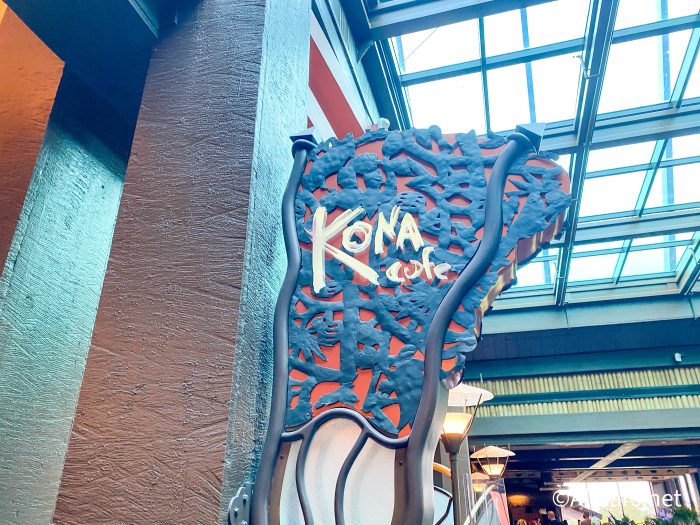 They're meaty, delicious, and juicy, and that sticky wing sauce is SOOOOOOOO good. These are a big fan favorite at Kona!
And that's our list of the 10 snacks you'll regret not getting at Disney's Polynesian Village Resort. Keep in mind that even if you aren't staying at this hotel, you could place a Mobile Order for some of these items or make a reservation at Kona Cafe and take a quick monorail ride over to the Transportation and Ticket Center and walk from there to the Poly for a morning, afternoon, or evening FULL of yummy treats.
We'll keep an eye out for more delicious snacks all over Disney World and let you know what we think you might want to add to your must-try list. Stay tuned for more!
Join the AllEars.net Newsletter to stay on top of ALL the breaking Disney News! You'll also get access to AllEars tips, reviews, trivia, and MORE! Click here to Subscribe!

What is your favorite snack from Disney's Polynesian Village Resort? Tell us in the comments!