Debuting exclusively on Disney+ on March 19, 2021, is Marvel Studios' follow-up to its smash-hit series WandaVision, The Falcon and The Winter Soldier.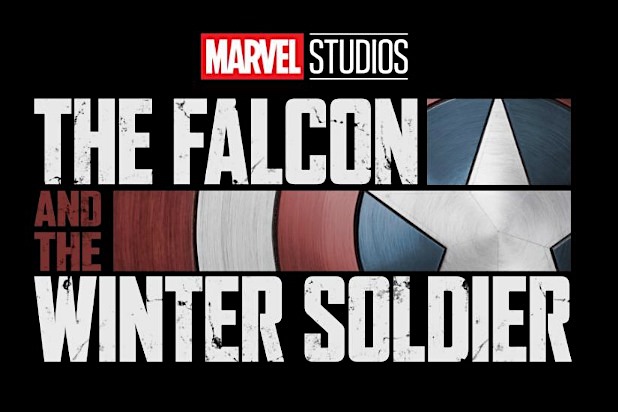 The Falcon and the Winter Soldier picks up with Sam Wilson/The Falcon and Bucky Barnes/The Winter Soldier shortly after the events of Avengers: Endgame.  While the return of half the planet's population has certainly been a cause for rejoicing, the process of resuming a life that's been on hiatus for five years proves to be a complicated one for both men.  Problems both personal and professional dog their days while memories of past events they have yet to reconcile continue to haunt their nights.  The two are hardly friends and have nothing in common…except the relationship they each had with Steve Rogers and their commitment to his legacy, which will lead them to team up once more to save the world.
At a recent virtual press conference, Anthony Mackie ("Sam Wilson,") Sebastian Stan ("Bucky Barnes,") Kari Skogland (Director,) Malcolm Spellman (Head Writer,) and Kevin Feige (Producer) held court on what the process was on bringing the MCU to an episodic format, where the characters are at since Endgame, and the importance of emotional trauma.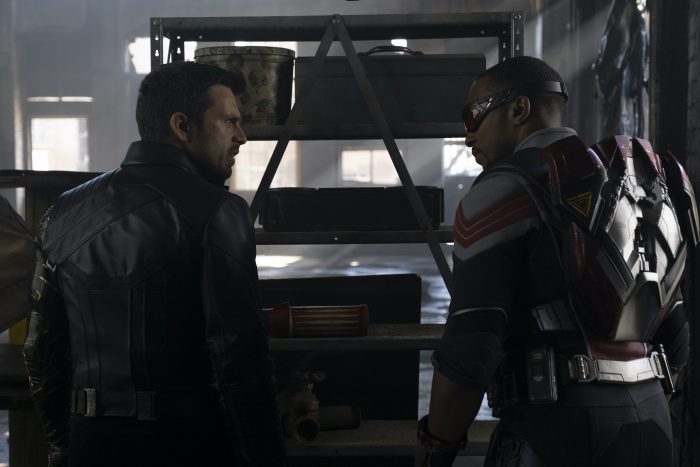 Press Conference highlights:
Feige on Marvel Studios telling stories on a streaming platform:  "You know, it was really meant to prove…to ourselves, to the audience, and to Mr. Mackie and Stan there, that just because it's on TV doesn't mean it's not gonna be as big as it possibly could be as a movie, and that we were working just as hard on it and putting all of our blood, sweat, and tears in it.  Which is why, in this first episode…it really starts off with a bang.  We kept saying, 'if we're gonna do a series with Falcon and Winter Soldier in it, we need to at least start off with the best action that we've ever seen…and we've seen a lotta cool action with both of them before.'  More importantly…I think you also see in that first episode and will see much more of over the course of the series…who the heck they are.  We know a little bit about poor Bucky Barnes and what he'd been through.  Sam Wilson, other than that he likes the job and is an inherently moral man and had been in the service and worked with PTSD–we didn't know much about him.  So, it was really an opportunity to go deep."
On the characters: 
Stan:  "I was pretty freaked out because, I felt like we had established a character a certain way, you know, and there were certain things about him that I knew and I was very comfortable and familiar with tonally in the movies, right?  And then, we had to kind of go into this and go, 'all right.  Well, what is he like now?'…Part of that was really kind of us homing in on his sense of humor, so to speak.  That really came into the tone of the series and, particularly, with his dynamic with Sam Wilson along with my own dynamic with Anthony and kind of just marrying the two, you know?
"I think…we're really finally kind of zooming in on sort of his quest for identity and in terms of really accepting his past and sort of re‑educating himself really, about the world that he's currently in…The ideals and principles he might've lived by and been driven by at one point that perhaps no longer really serve him the same way.  So, he's really, kind of in an interesting trajectory when we start out the show, and, obviously, that's always exciting for an actor."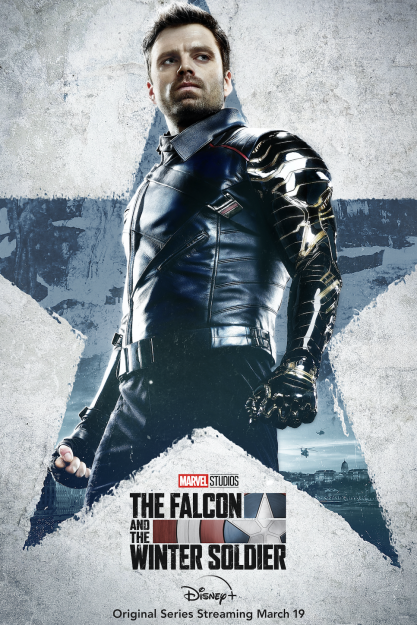 Mackie:  "You know, Sam's whole thing is, he went on this Avenger journey, over six movies with Steve, because of his respect and admiration for Steve…He says, 'when Captain America shows up at your door, you answer it.' So, that being said, it's the pain, the idea of not being able to go on these missions, not being able to help his friend….There's still people out there that really appreciate camaraderie and friendship, and Sam is one of those people.  He enjoys his friend so, he doesn't–just like everybody else–wanna see Steve Rogers go away.  You don't wanna see Captain America go away.  Because just like Captain America was your captain, Captain America was Sam Wilson's captain.  So, you know, that's why he says at the end of Endgame, when he's holding his shield, 'it feels like it's someone else's.'  It feels like it's yours."
Feige on the possibility of a second season:  "You know, it's a funny question, and it's one that we obviously get asked much more in television because people expect it to be what like people know before.  So, where's season two?  Where's season one?  We really did approach it like we do the movies, which is, we better make this great, or we won't be able to do another one.  If we were able to do another one, there's certainly ideas.  The slight difference, of course, is as you've all heard me say, and as I think is becoming clear, with Wandavision, is that they really will go back and forth between Disney+ series, and the  Marvel Studios Features.  So, where characters show up, and how, sometimes will be in a direct season two, sometimes will be in a feature, and then into an additional season.  We're just not gonna say who does what right this second."
Spellman on the big picture:  "I think what worked out really nicely was that where Endgame leaves off…dispatching Thanos has created a situation where the entire world is dealing with one single issue….which is very familiar to what's going on today, and everything is born from that.  The villains in this series are responding to that, and in fact, every villain in the series would tell you he or she is a hero.  The heroes are responding to that in their personal lives–you know what I'm saying?  And that A story plot, it's all born from one single, organic thing:  This continuum from what happens after Endgame that sort of galvanizes and affects everybody on the planet the same time and creates a nice cohesion, and direct lineage to the MCU."
Feige on exploring emotional trauma:  "I think you feel it more because we have more time with the Disney+ series, but I think that's something we've always tried to do.  Ironman 3 was all about Tony Stark's PTSD from Avengers essentially…What's great about the Marvel characters is, you've always heard us say, their flaws…for as crazy and extraordinary and science fiction and fantasy and supernatural as the MCU can get, it's grounded in the character experiences and the emotions of the character, and that's always by far the most important anchor for any story we're gonna tell.
"And there has been a lot of trauma for these characters over the years and you can easily forget that or brush that under the carpet because there's sparkly portals opening and people cheering and Iron Man punching a flying lizard.  But really, if you think about it, which we do, we think about what if we were those characters, what if we lived this…there would be horrific elements to that that would have repercussions years down the line.  And that is very fun to explore."
On whether we can expect more surprise cameos throughout the season:
Spellman:  "Yes.  There are many surprises."
Feige:  "Hm."
Spellman:  "Uh, can't say who they all are.  But they are all very pleasant surprises."
Feige:  "What if we said, 'no.  No more surprises.  No more."
Spellman:  "That was it."
Moderator:  "That would be the surprise, actually."
In case you missed it, here's the new trailer for The Falcon and the Winter Soldier:
The Falcon and the Winter Soldier has its premiere on Disney+ March 19th, 2021.
Questions?  Comments?  Suggestions?  Drop us a line below.
Be sure to follow @allearsnet on Facebook, Instagram and Twitter!
Check out our YouTube Channel for reviews, news, information and more!
Click below to subscribe to the AllEars® newsletter so you don't miss any of the latest Disney news!