From running around to snap photos of the character cavalcades to mobile ordering your next meal, a day at Disney World can be draining for everyone involved — even your phone!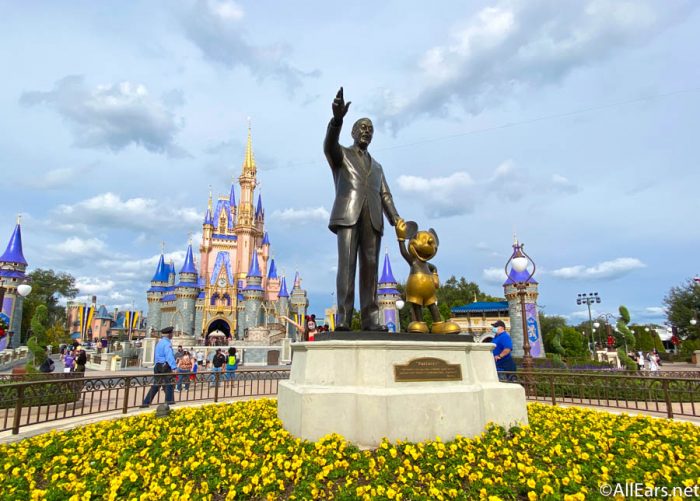 But, just like coffee, there's a way to bring your phone battery back to life when you're in the Disney Parks. FuelRod stations! These have been around the parks for a little while now so here's a quick history lesson to get you updated and ready to charge up on your next visit!
FuelRod stations came to Disney all the way back in 2016. At these kiosks, guests can purchase a new charging kit or swap out a previously purchased FuelRod that is out of juice for a fully charged one instead.
When the chargers were first introduced at Disney, guests had to shell out $30 for the first FuelRod and accompanying charging cords, but then any and all replacements were free. That was until Fall 2019.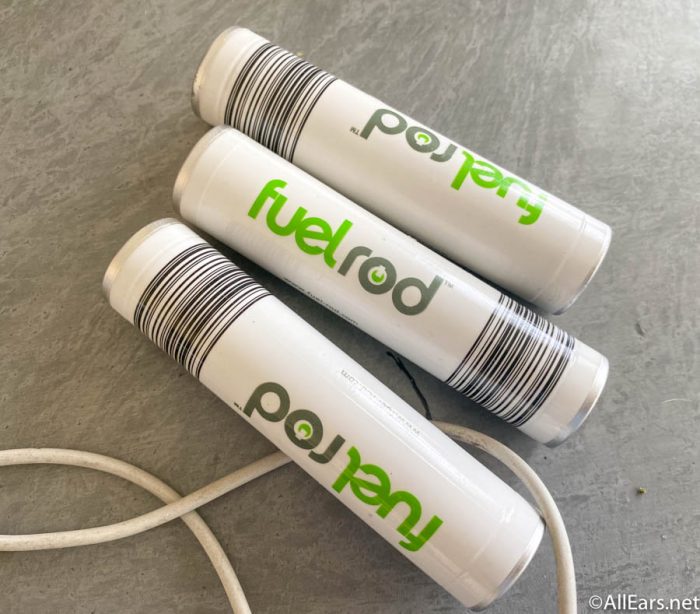 That fall, Disney announced that it would cost $3 to swap for a fully-charged FuelRod at the kiosks. This sent customers into a spiral and shortly after a Class Action Lawsuit was filed against FuelRod citing false advertising. Disney quickly rescinded the fee for a temporary amount of time and replaced it with a Founder Program in 2020.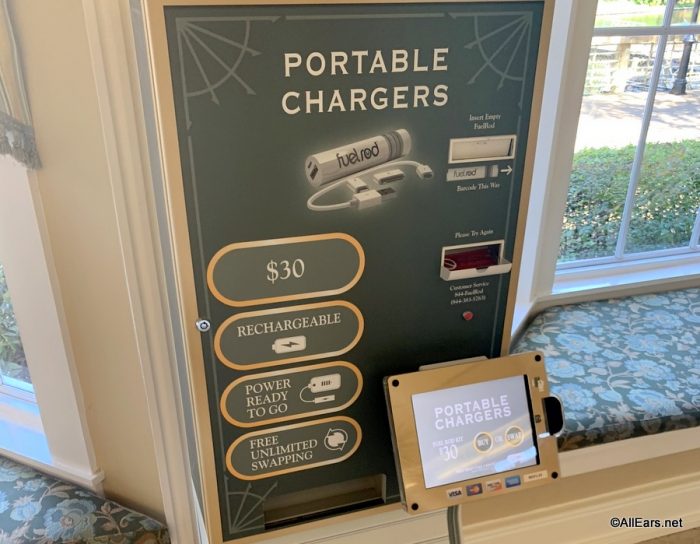 According to the Founder Program, users who purchased a FuelRod prior to October 26th, 2019 would not be charged a $3 replacement fee. However, anyone who purchased one after would be subject to the fee.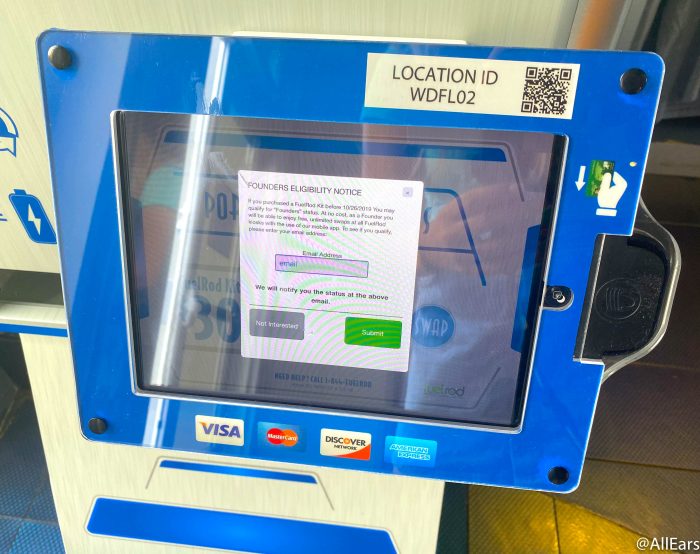 In order to distinguish between customers who qualified for the free charger, the kiosks asked for an email address when swapping. Those who qualified for the Founders Status had to fill out an online questionnaire, create an account, and register with the same email address they used when filling out the questionnaire.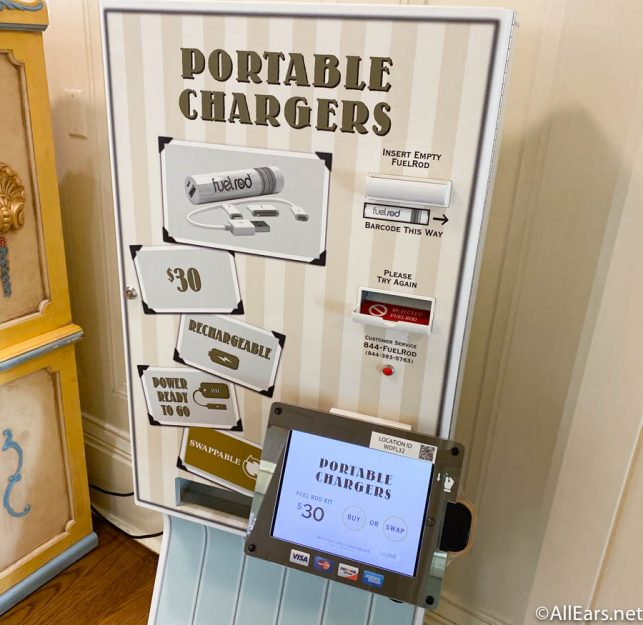 Well, we've got another development in the FuelRod saga. As you can imagine, our phone batteries drain pretty quickly while we're searching for everything new in the parks so we put these stations to the test pretty often. And, recently the kiosks haven't been prompting us to enter our email address to swap our charger.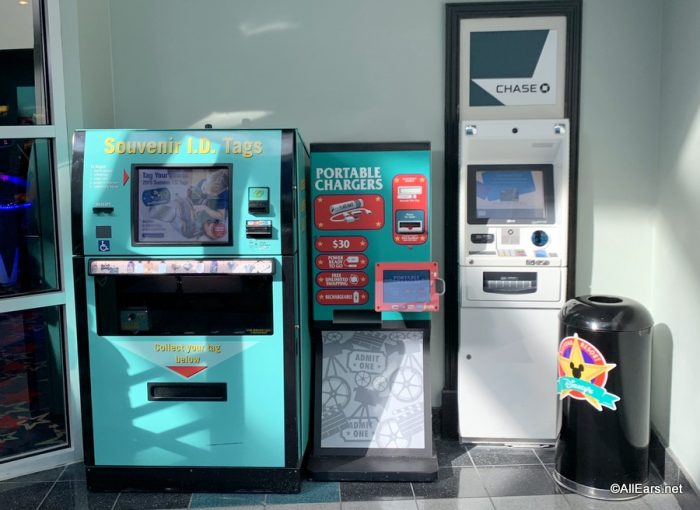 Disney has not released any official word on whether FuelRod replacements are free for new and old customers, but a few reporters on our team who have purchased one of their own recently have not been charged the $3 swap fee.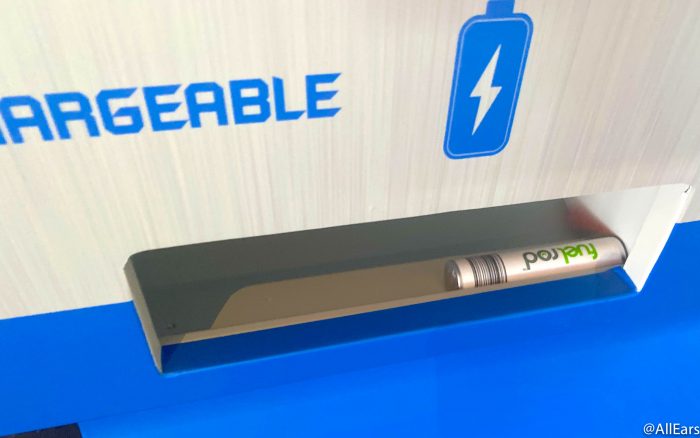 If you're interested in picking up a FuelRod at your next Disney visit, you will need to pay $30 for the first portable charger, but seemingly after your replacements will be free of charge! As always, we'll continue to keep you updated on all the changes around the parks!
Join the AllEars.net Newsletter to stay on top of ALL the breaking Disney News! You'll also get access to AllEars tips, reviews, trivia, and MORE! Click here to Subscribe!

Do you have a FuelRod? Let us know in the comments!