If you didn't get a photo of your epic time in Disney World, did it really happen?!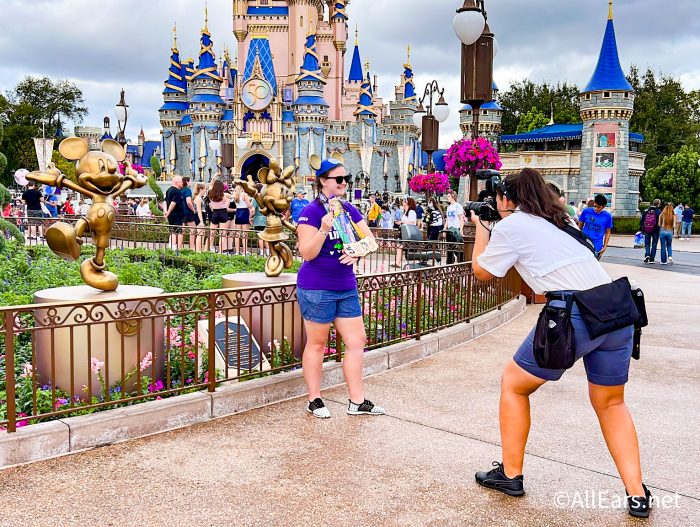 You may have already gotten photos of you and your family in front of Cinderella Castle, in front of those Instagram walls, and with other iconic parts of the parks. But there are some amazing photo spots that are more hidden in the parks (and resorts and beyond!). Want to take your family photos to the next level? THESE are the spots you need to visit!
1 — Casting Agency Door
The Castle is great and all, but what about getting a photo that shows off a little more of a connection to Walt Disney and the Cast Members that make the dream a reality? Head down Main Street, U.S.A. and look closely at the left-hand side of the street (where the Emporium is located).
As you walk along, you'll find a Casting Agency Door.
The door has Walt's quote about how it takes people to make the dream a reality and has some hidden Mickeys sprinkled in too. Grab a photo of you trying to open the door or holding onto the door's handle, and you'll have a more unique shot within the Magic Kingdom!
2 — Behind Cinderella Castle
Again, the front of Cinderella Castle is stunning (there's no doubt), but if you want a more unique castle-inspired shot, head to the back of the castle. Specifically, you can get some great shots by the turrets and castle walls that stretch out to the border of Fantasyland and the New Fantasyland expansion.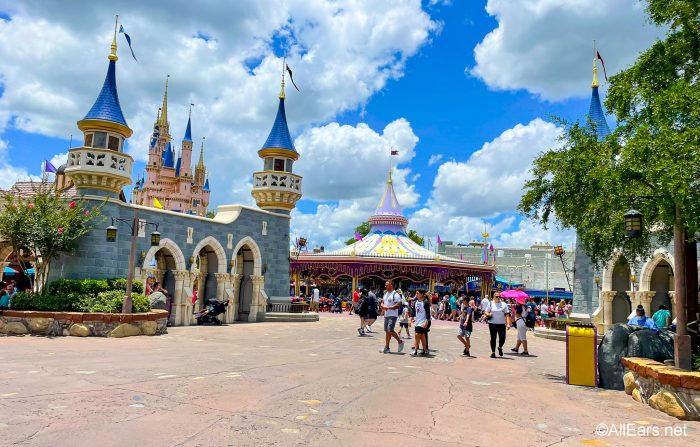 People often walk right past these spaces, but if you time it well, you can get some pretty great shots by standing between some of those beautiful arches.
3 — Head to the Treehouse!
If you want a more unique view of Magic Kingdom from above, head on over to the Swiss Family Treehouse!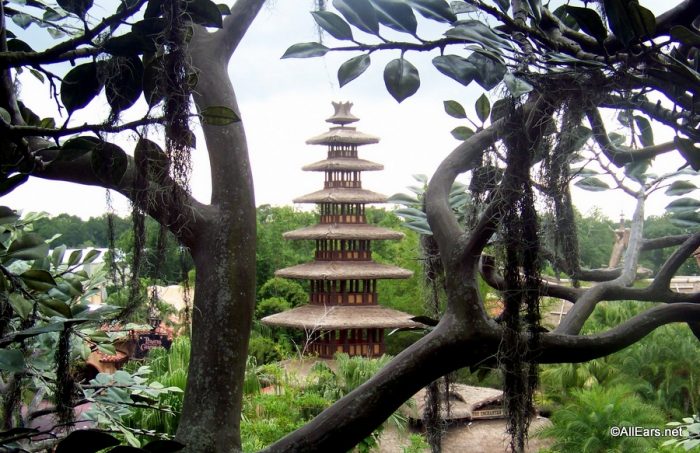 If you walk to the top, you'll get some really fun views of the attractions below you. Plus, you'll really get those steps in!
4 — Canada Waterfall
If you want to grab some more nature-inspired photos, head to the back of the Canada pavilion in EPCOT to find this gorgeous waterfall.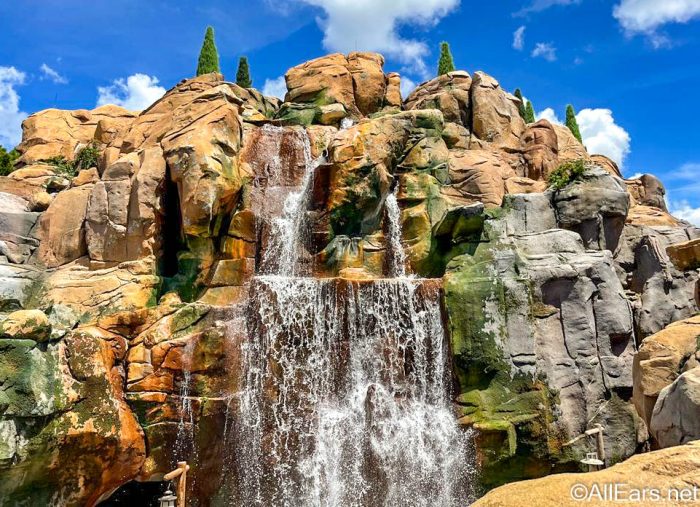 You can make believe you're actually in Canada and grab some gorgeous photos of the fam with lots of natural light.
5 — Morocco Pavilion
Many of the pavilions within EPCOT have some amazing and often more tucked away photo spaces, so we won't talk about them all here, but we did want to highlight the Morocco pavilion.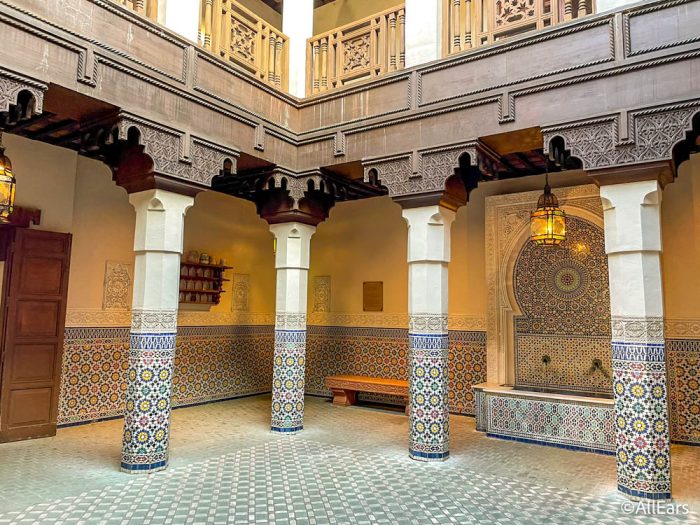 There are all kinds of opportunities for great photos here, but one of our favorites is a little hidden space on the left-hand side of the pavilion. Look for an area that has a fountain, all kinds of beautiful tiles, and an open roof. Take photos by the tiles, pointed up to the sky, or from a bunch of other angles — the possibilities are endless!
6 — Muppets
If you love the Muppets, be sure to head ALL the way to the back area of the Muppets section in the park, specifically over by where Muppet Vision 3-D lets out.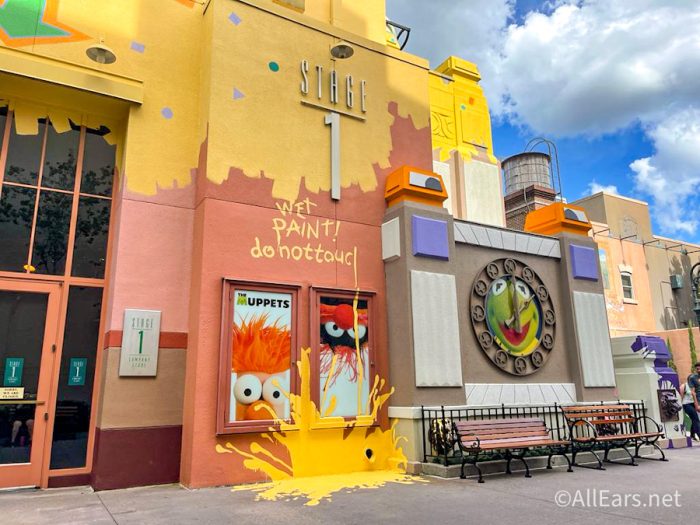 There are some awesome photo spots here, particularly if you jump in to "immerse" yourself in the action — like if you sit in the "wet paint!"
Disney's Animal Kingdom
7 — Walkway from Africa to Asia
On the walkway between Africa and Asia, be sure to look for little paths along the right-hand side (toward the Tree of Life).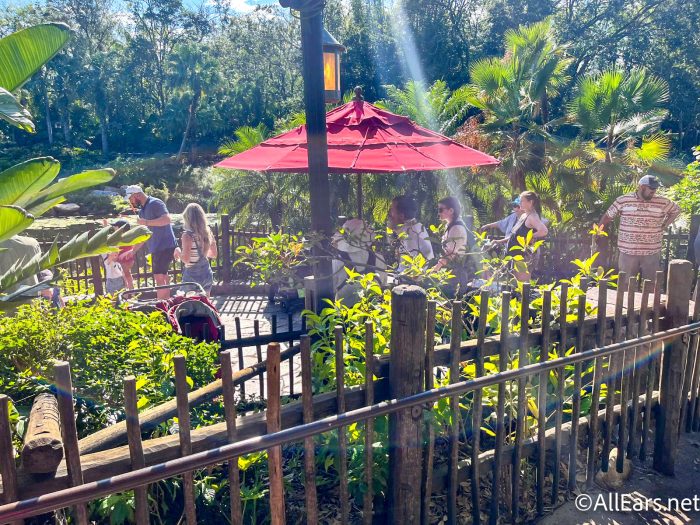 One spot here takes you closer to the water and gives you some AMAZING views of the Tree of Life from the back!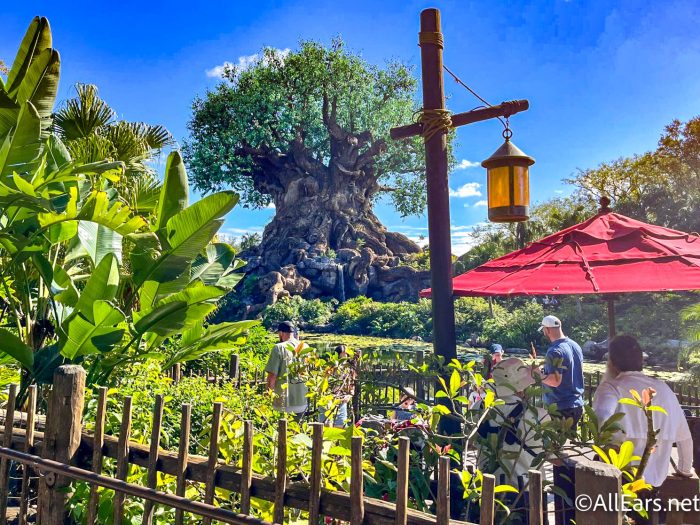 8 — Discovery Island Trails
Speaking of the Tree of Life, if you want some epic up-close shots of this icon, head to the Discovery Island Trails.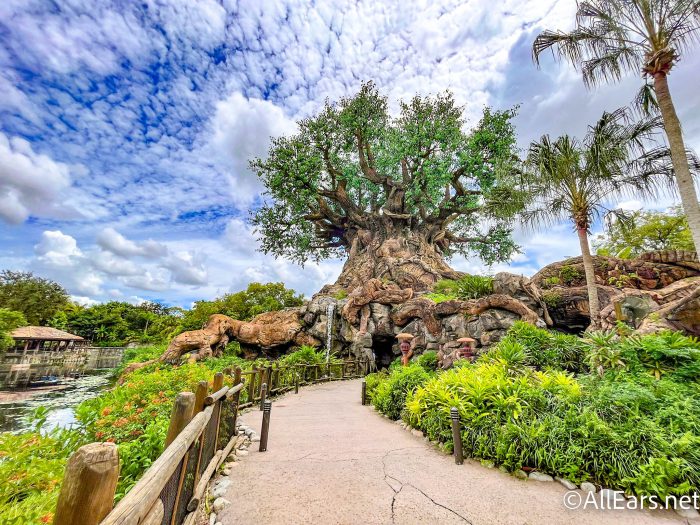 These trails are located right around the Tree of Life (they're marked as #6 in the map below) and are often overlooked by folks.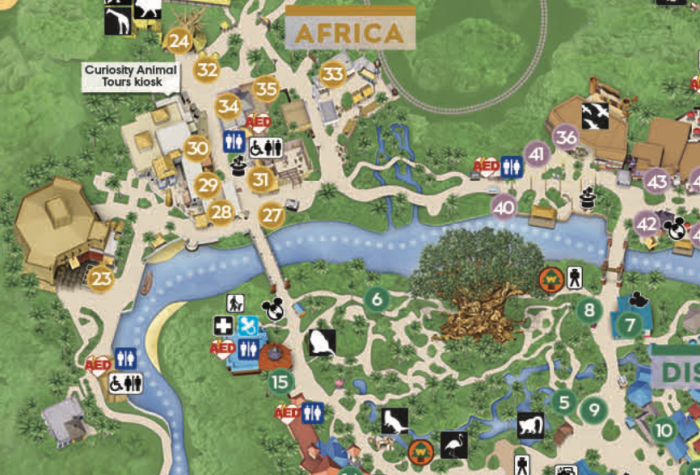 Walk through this spot and you'll get some photos you wouldn't be able to snag otherwise and you'll have everyone asking you "where'd you take that picture?!"
9 — Harambe
The "Ficha! Fellow" Mickey sign and other Harambe-area signs are a bit more popular with those who know where to go in Disney World, so they may not be super "hidden" but we think they're worth mentioning because people can sometimes walk right past them without even noticing that they're there!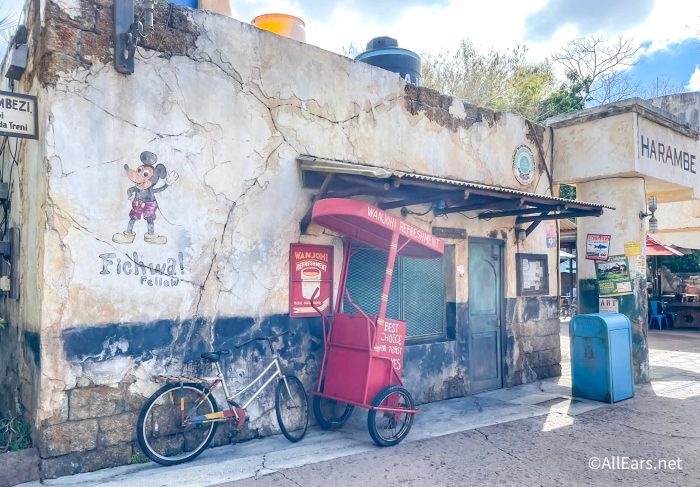 As you walk through the Harambe portion of Africa, pay close attention to your surroundings. There are all kinds of gorgeous signs, paintings, and props that really put you "in" that world.
While these aren't necessarily as "iconic" as a photo with the Tree of Life, they will provide you with some more unique pictures. Plus, hunting for all the signs and designs in this space can be a fun scavenger hunt!
10 — Maharajah Jungle Trek
Another unique spot for photos in the park is the Maharajah Jungle Trek. Oftentimes, people walk through here and are so focused on seeing the tigers and other animals that they forgot to take in their surroundings!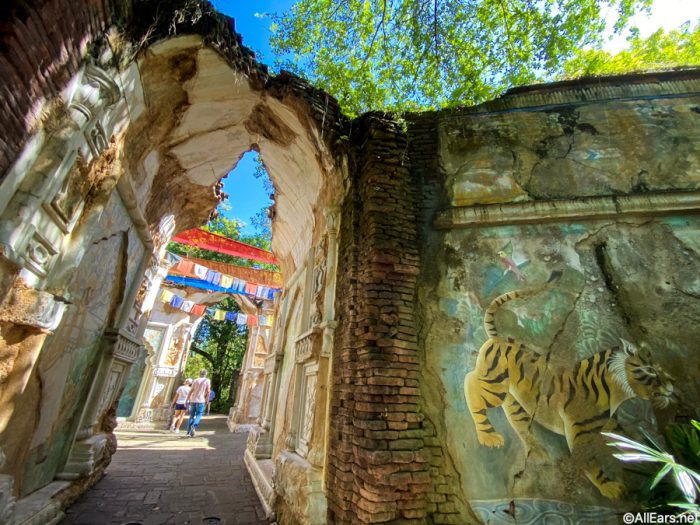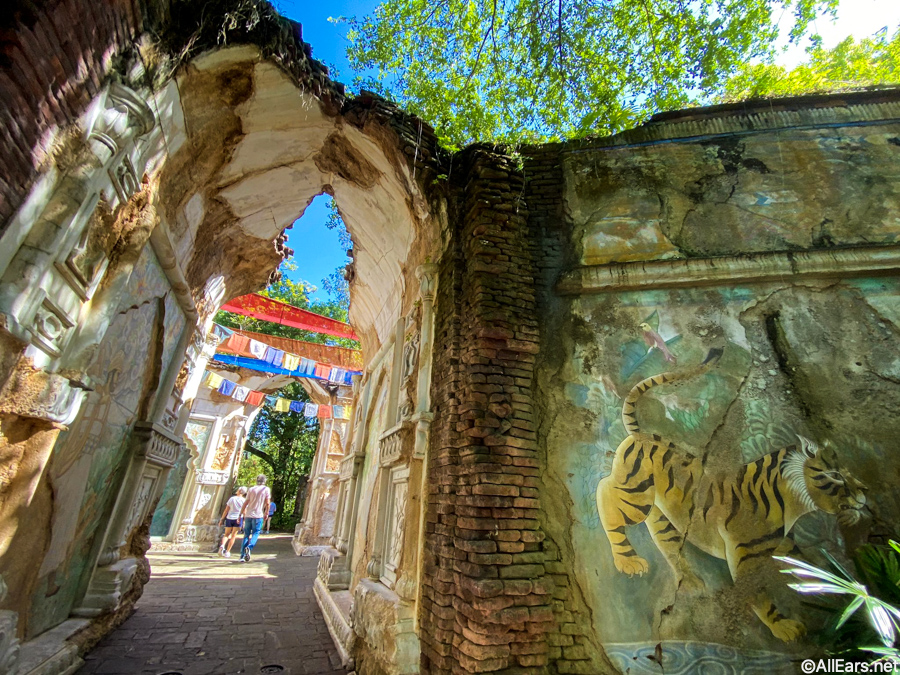 There are some fantastic walls and designs here that'll really make your photos stand out against all the rest!
Disney World Hotels
11 — Disney's Riviera Resort Mosaics
At Disney's Riviera Resort, you can find some INCREDIBLE mosaics themed to Peter Pan…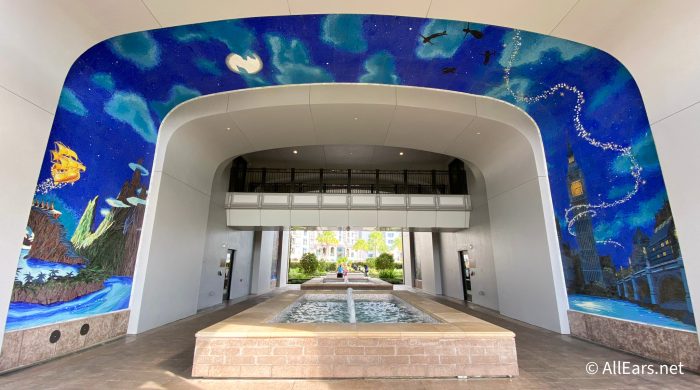 …and Tangled. You'll find them closer to the entrance of the Skyliner at this resort. Whether you grab photos of them from wall to wall, lie down and get a photo of the top, or stand in front of the mosaics to "immerse" yourself in the worlds of those characters, you're sure to get a great shot!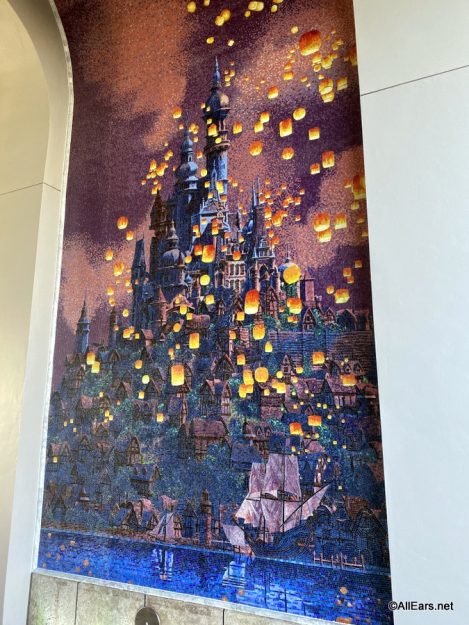 There is some fantastic food to get at this resort too, so you can hop on over, check out the mosaics, grab a snack, and then take a Skyliner ride — sounds like an amazing day!
12 — Mickey Statue
You might be very familiar with Disney's Contemporary Resort, its iconic shape, and some of its popular restaurants, but have you ever walked to the BACK of the hotel?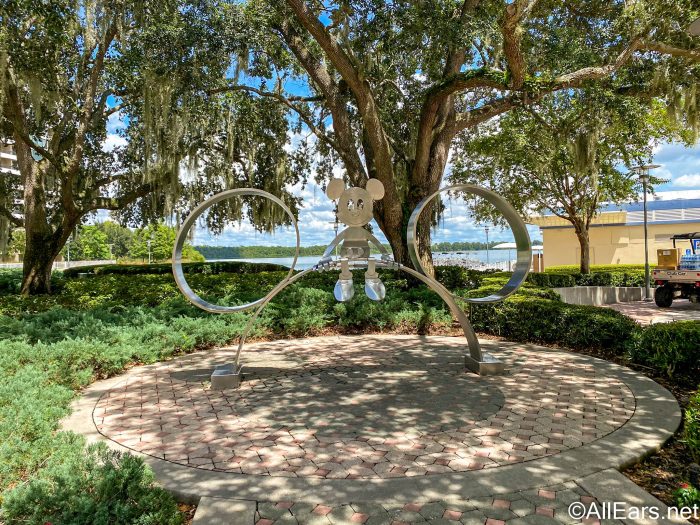 If you head outside the hotel (on the ground floor) toward the pool area, you'll find an adorable Mickey figure sitting atop Mickey's ears. It's a nice spot to grab a photo of the whole family with Mickey (without even having to wait in line to see the Main Mouse!).
13 — Neon Mickey Wall
Also at Disney's Contemporary Resort, you'll find a Neon Mickey wall near the gift shops.
It's a little more unique than some of the other Mickey designs you might find scattered throughout Disney's other stores, and the colors really POP, making it a fun photo op!
14 — Larger-Than-Life Photo Opportunities
While some of Disney World's fancier hotels have great photo spots, you'll also find a PLETHORA of epic ones at some of Disney's cheapest hotels — specifically, the All-Star Resorts and Art of Animation!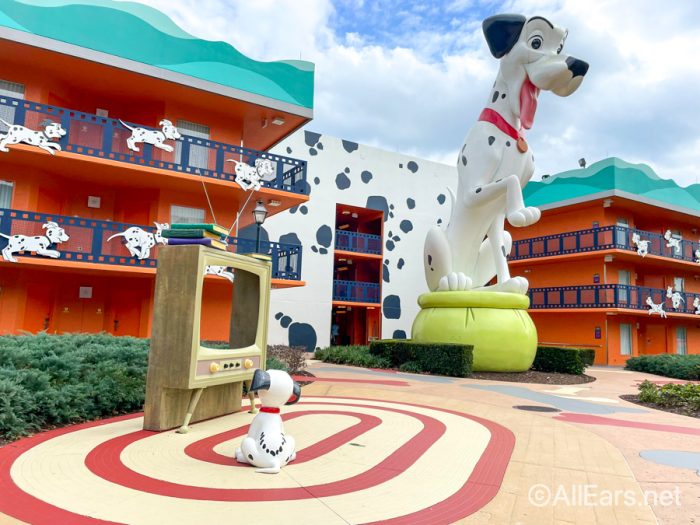 The characters here are LARGER than life, providing you with some hilarious and fun photo opportunities. Stick yourself inside the TV the dalmatian is watching, cower in fear before a giant Ursula, or dance along with the fish in The Little Mermaid section.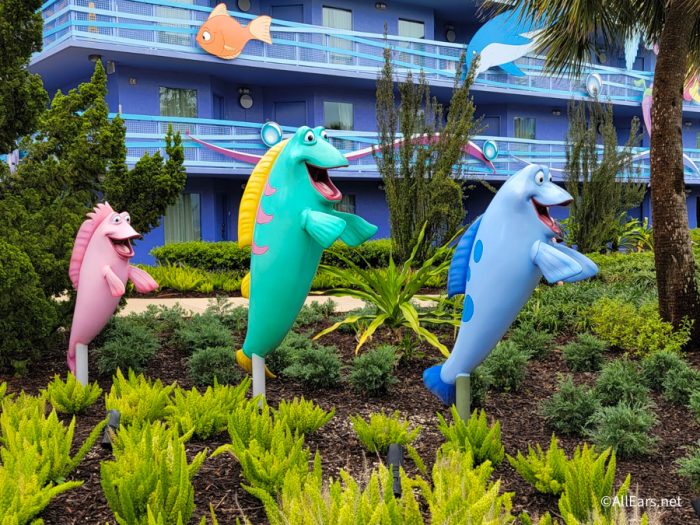 You could probably spend an entire day just hopping between these hotels and trying to take photos with as many of the characters as you can — make it a challenge on your next trip!
Disney Springs, Multiple Spots, and Beyond
Looking for MORE photo spots? There are some at Disney Springs, in various places in the parks, or only accessible through special rentals that might really take your pictures to the next level.
15 — Magic Shots
Throughout the Disney World parks, you'll find Magic Shots available with select PhotoPass photographers. These are special photos where effects are added after the picture is taken.
These photo options can change (and sometimes specific ones are only available for a limited time) but these can present some really special opportunities.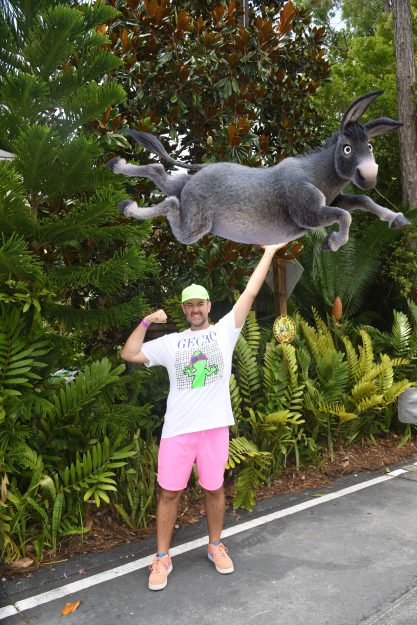 There are Magic Shots that feature popular characters (like the Encanto one with Craig above) and even ones with unique effects that are unlike any other photo you'll get in the park.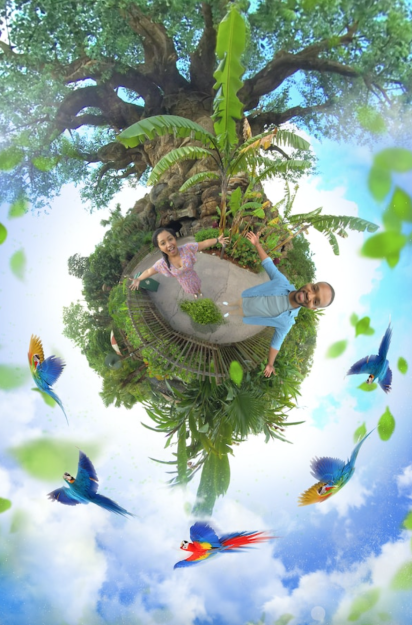 Be sure to ask the PhotoPass photographers about what Magic Shots are available!
16 — Orange Bird Wall
The purple wall gets a lot of attention, but don't overlook the Orange Bird Wall in Disney Springs!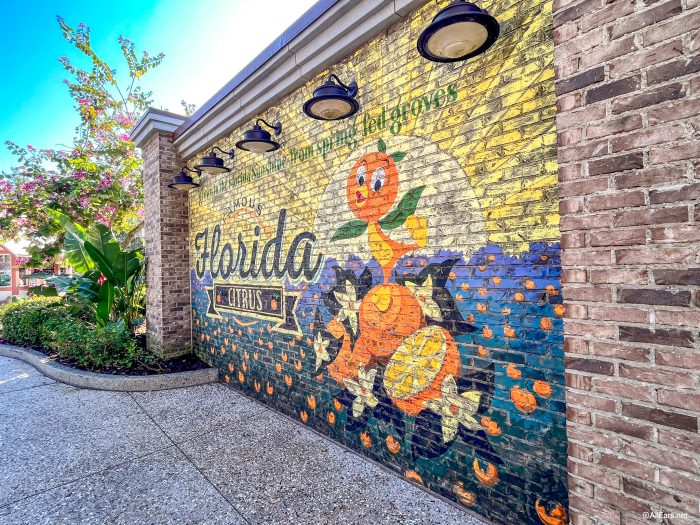 This wall has a lovely "worn" look to it with Orange Bird featured prominently. Grab a DOLE Whip creation from Swirls on the Water, snap a photo here (if you can make it there before it melts), and you'll have one great shot!
17 — On a BOAT!
Did you know that you can RENT a boat at Disney World? Pontoon boats (which can seat up to 10 guests) are available to rent for $45 per half-hour. You can find them at a few different spots including Disney's Contemporary Resort, the Beach and Yacht Club, and Disney's Grand Floridian Resort.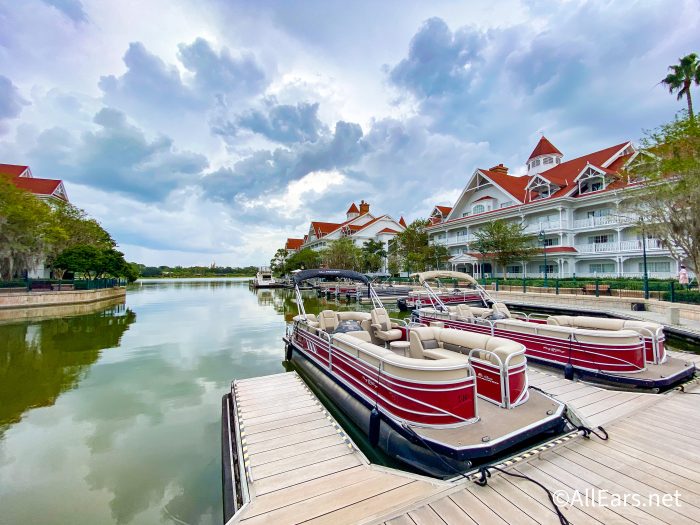 Hop on one of these and you'll get to drive around some of the waterways of Disney World and create your own unique shots. If you get closer to Magic Kingdom, you'll get some especially fun photos so be sure to travel around and find those perfect locations.
18 — Photo Booths
You've probably walked past the photo booths in Disney World and thought "I've seen those at the mall and arcades, why do I need to take photos in there?" But these booths can provide you with unique photos AND a fun (and relatively cheap) souvenir.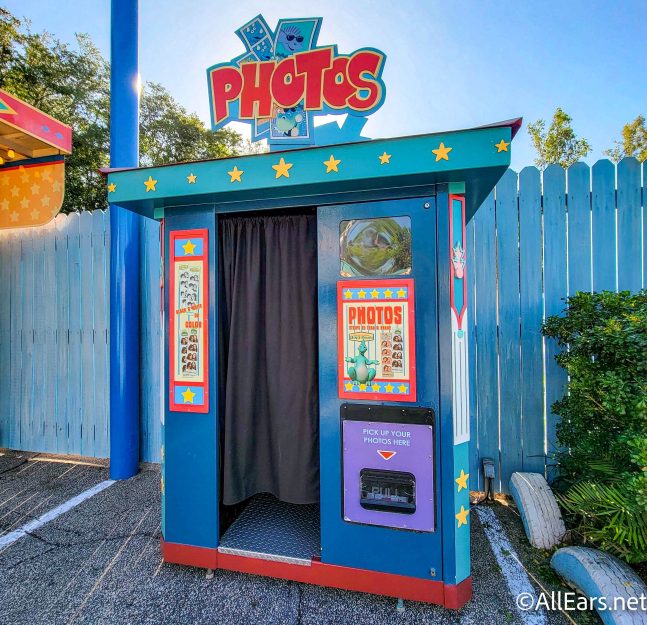 Keep an eye out for photo strips that have unique details on them, are themed to specific anniversaries, or have other fun features.
19 — PhotoPass Studio
And finally, you've got to stop by the Disney PhotoPass Studio in Disney Springs!
At this spot, you'll be able to grab perfect portraits in a professional setting (indoors, with air conditioning!). There are a whole bunch of different backgrounds to pick from too. No reservations are needed and the photos are included in an active Memory Maker package (or you can purchase them separately if needed).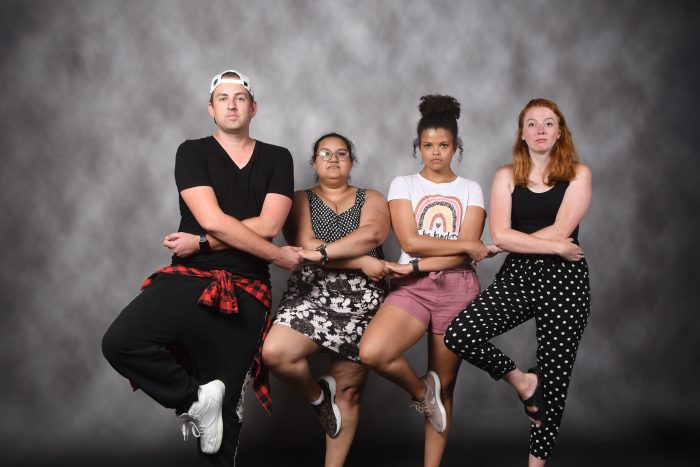 And that's it for our photo spots! Hopefully this list gives you a better idea of where to go during your next trip to really grab that perfect shot. If you need to plan an ideal outfit for each photo, check out our AllEars Style page!
There, we have style guides to help you plan looks themed to your favorite parks, characters, and movies, so you'll get the best look for each of your park photo shoots!
For more Disney information, check out our links below, and stay tuned for more news!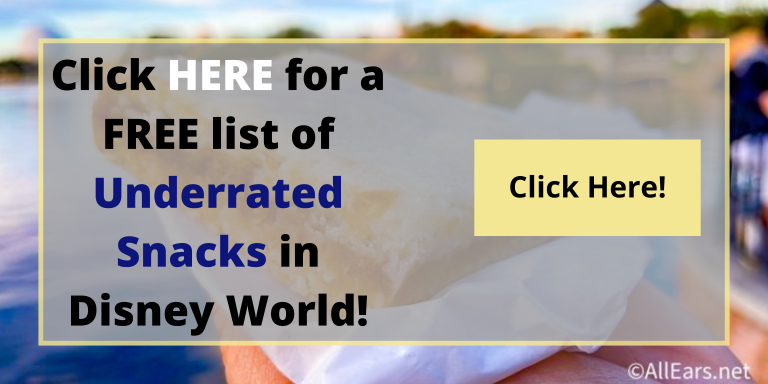 What is your favorite secret photo spot in Disney World? Tell us in the comments!