Photos are a big part of any Disney vacation! If you want everyone in your family to be in the pictures, Disney's got a solution; the Memory Maker package allows Disney's PhotoPass photographers to take your picture at various spots around the parks so no one has to miss being in the shot.
Your in-ride photos will also be included in this deal, along with the chance to take "Magic Shots" around the parks. In Magic Shots, special items or characters will appear in your picture to make them a little more fun. Some of these photos can get a little strange, and today we're checking out the most ridiculous ones we've seen.
Take a stroll with us down memory lane, as we enter the weird Magic Shots Hall of Fame!
Cinderella's Unusual Choice in Art
Starting with the photo that gave us the idea for this post, here's our first honoree: our photo as a painting on Cinderella's wall. Listen, Cindy, we're honored that you're a big fan and all, but this is just strange. Do you do this with all the castle guests?
Also, why is she striking that pose? We're not sure if she's charmed or offended that we're framed above her fireplace. We have no idea what inspired this photo, but we laughed pretty hard when we first saw it!
Being Zen With Rafiki
We're all about getting our relaxation on, and Animal Kingdom is certainly the park to do that, but look how awkward this pose is! We're relatively sure that many people wouldn't be able to hold that stance long enough to get their picture taken, and we certainly wouldn't be able to stand like that without falling into a fit of giggles.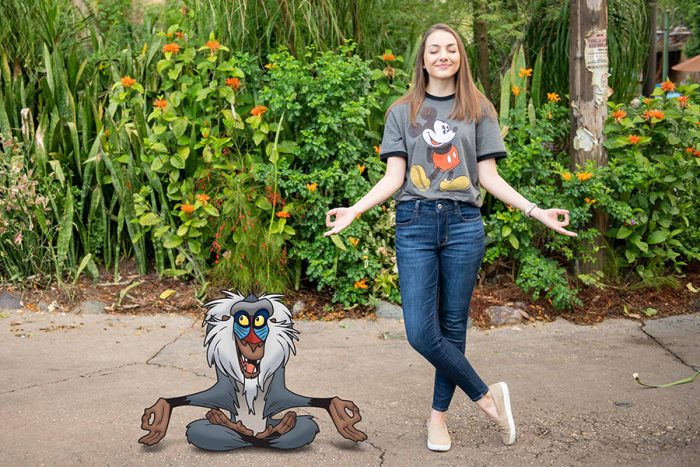 Also, it pretty much always feels awkward to close your eyes for pictures, so this is one we're glad we didn't partake in.
Dole Whip of Doom
Okay, don't get us wrong: we love Dole Whip as much, if not more, than the next person. But seriously, why?! Who said "Ya know, this photo isn't jazzy enough, let's add a GIANT Dole Whip!"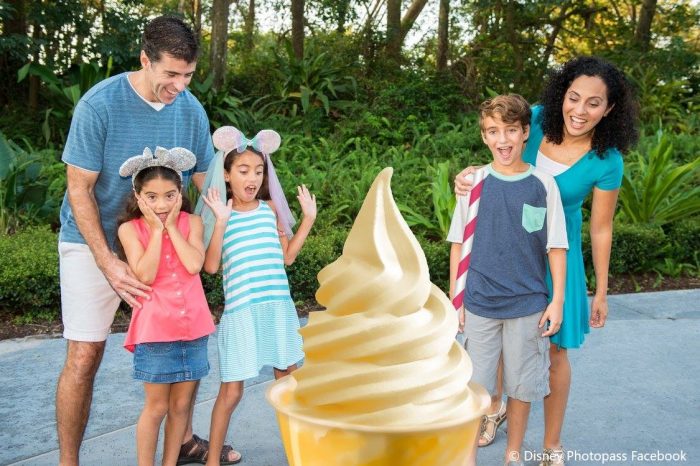 Also, we aren't really sure if these kids are excited or terrified…they'll probably never eat Dole Whip again after this.
Naughty or Nice?
For the holiday season at EPCOT this year, guests could get this Magic Shot in front of Spaceship Earth. It would be kind of cute, except it left us wondering if Santa was about to put us on his naughty list or nice list.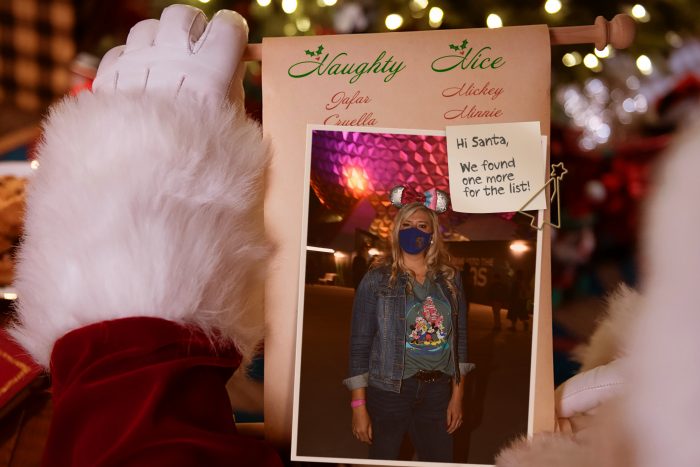 We suppose we landed on the right side of things, considering we got presents this year and not lumps of coal, but the big guy really likes to leave us guessing.
Banshees Are Honestly Terrifying
There are several variations of Pandora's banshee-themed Magic Shot, but they're all pretty strange. You're pointing randomly off in the distance at a bird-like dinosaur thing that's honestly a lot more terrifying than it is exciting.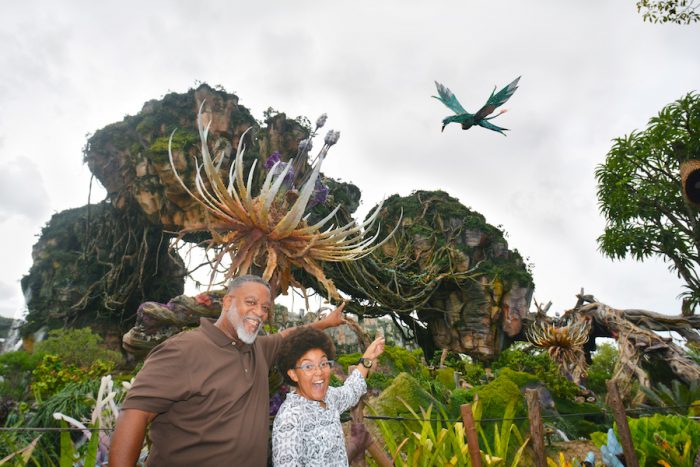 If you saw one of these in real life, you'd be running away as fast as you could, not stopping to pose for a photo!
Mickey's Biggest Fan
Also in the realm of "Why does this person have our picture?", we have this glorious Magic Shot with Mickey Mouse himself. It seems as though Mickey is getting ready for a big night (he's dressed up in his suit), but he stopped to take a photo of himself holding our photo…???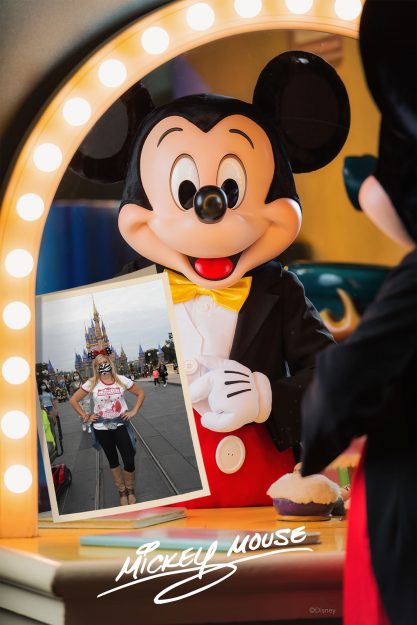 To top it off, Mickey autographs his picture of him with our picture, so we suppose this is a gift to us. We love you Mickey, but this is just really confusing!
The Wilderness Must Be Explored
This one makes it on the list of weirdest Magic Shots simply because it's too convincing! When our team first saw this picture, several of us completely believed that Molly was wearing this Wilderness Explorer sash.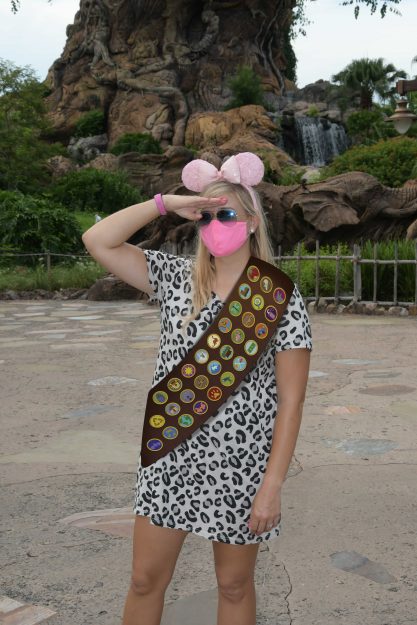 Honestly we were all just really impressed that she racked up that many badges. You could totally pass this one off to your friends, and they wouldn't be the wiser!
KEVIN!
Man, Animal Kingdom really loves these Up-related Magic Shots! This one features Kevin, the humongous mama bird who loves chocolate. Depending how you feel about giant birds, this shot could be either really funny or really terrifying.
Also, it kind of seems like her one eye is looking at you no matter where you're standing…we're just a smidge creeped out.
Fire Hazard
We saved this photo for last because we think it's by far the most absurd of the bunch! That pumpkin is on FIRE!
Molly's costume makes this shot 100% more entertaining, but Halloween at Disney is supposed to be "Not-So-Scary", and that flaming Jack-O-Lantern is nightmare-inducing.
Thank you for taking this journey with us through the most ridiculous and weirdest Magic Shots of all time. We look forward to more memorable photo ops in the future, so keep 'em coming Disney!
In your opinion, which of these is the weirdest? Let us know in the comments!
Join the AllEars.net Newsletter to stay on top of ALL the breaking Disney News! You'll also get access to AllEars tips, reviews, trivia, and MORE! Click here to Subscribe!