Picture it: you just got off Pirates of the Caribbean, and you've got about an hour before you're planning to meet up with some friends to ride Buzz Lightyear's Space Ranger Spin. This is your chance to grab lunch, and you want something fast and delicious — where do you go?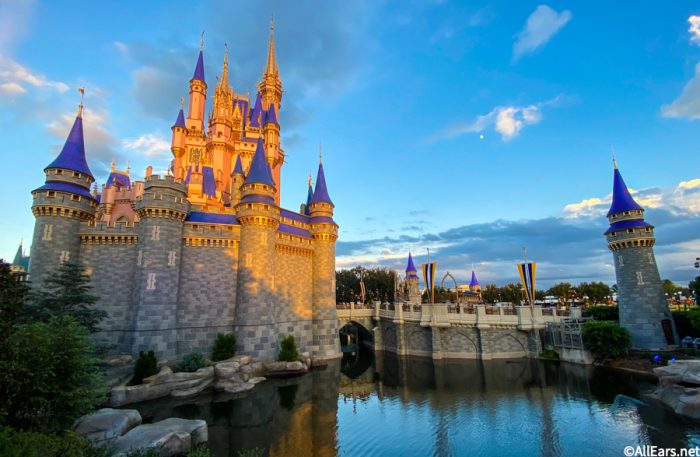 There are quite a few Quick Service spots to choose from. Do you head to Cosmic Ray's Starlight Cafe in Tomorrowland? Or maybe place a Mobile Order at Pecos Bill Tall Take Inn and Cafe in Frontierland? We've got you covered.
Today, we're sharing with you the three BEST Quick Service meals in Magic Kingdom, and believe us, these are yummy, satisfying meals you won't want to miss.
1. Sweet-and-Spicy Chicken Waffle Sandwich
First, we're going with an absolutely fantastic meal that's sure to satisfy ALL of your tastebuds. To grab this meal, you'll want to head over to Sleepy Hollow in Liberty Square.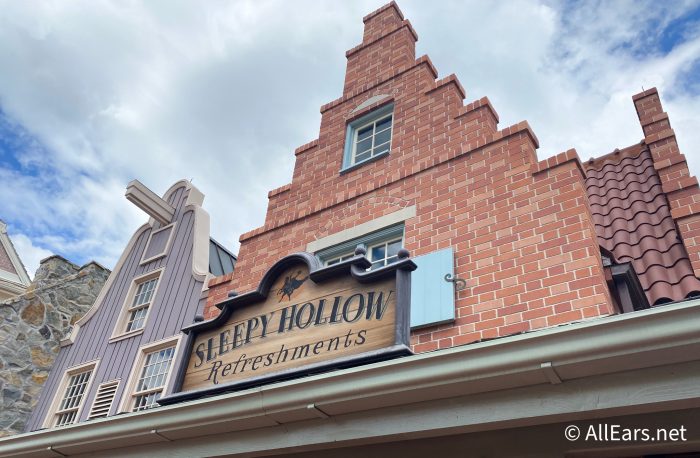 There, you'll be able to order the Sweet-and-Spicy Chicken Waffle Sandwich served with House-made chips. If you're looking for a meal that's really serving up ALL kinds of awesome flavors, this is one for you! The chicken itself is battered and deep-fried (is there any other way to eat chicken, really?) and covered in a genuinely sweet-and-spicy sauce.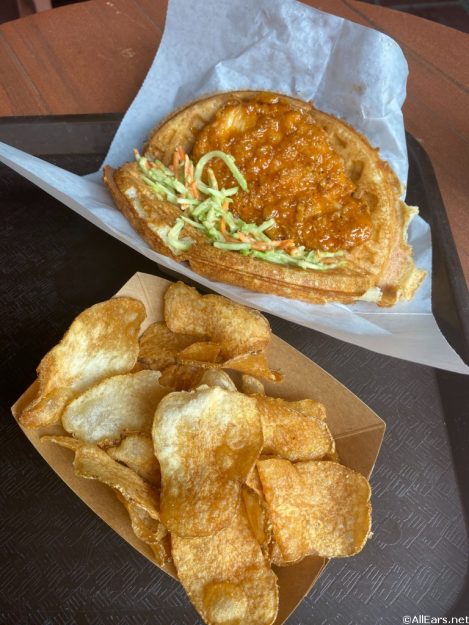 There is a bit of a kick here in terms of spice (so be aware), but it's nicely balanced with the creamy slaw and the delicious, fresh waffle. The chips it comes with are also fantastic as they are house made. They're thick and feel substantial, plus the saltiness also helps make all the flavors from the sandwich really pop!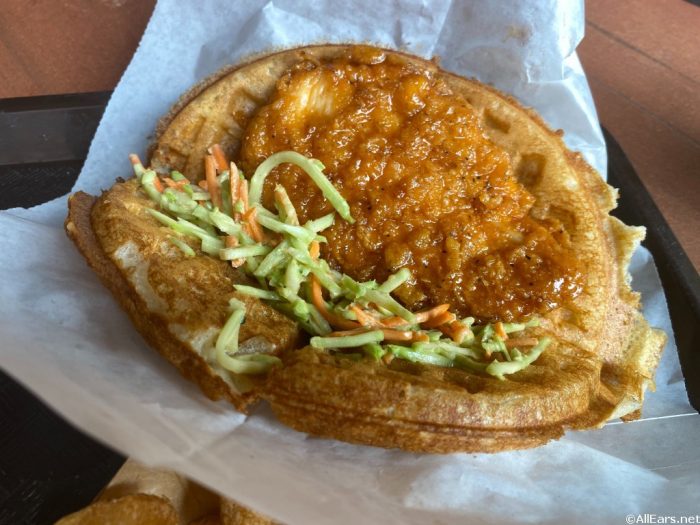 This is a fan-favorite for a reason. Once you try it, you'll find yourself drawn to get it over and over again. There's always room for dessert, right? We say follow your "main meal" with a little dessert in the form of a Funnel Cake with powdered sugar, strawberries, and whipped cream from this same spot.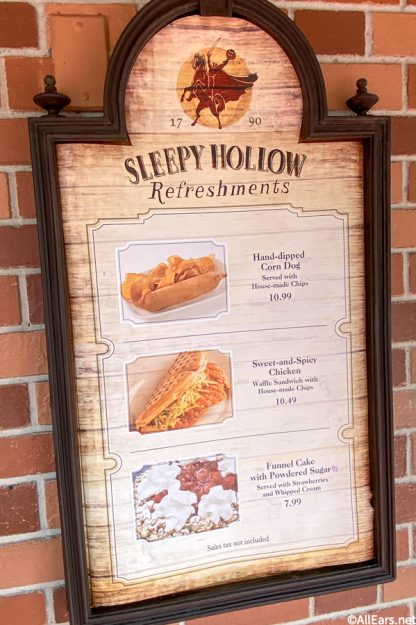 You're in Disney so you might as well go ALL in!
2. Light Sandwich or Fish Feast
Unfortunately, Columbia Harbour House in Liberty Square is closed at the moment, but we couldn't make this list without including a few favorites from this spot. You won't be able to grab these if you're headed to Magic Kingdom right now, but we are DEFINITELY hopeful that these will all be on the menu whenever Columbia Harbour House reopens!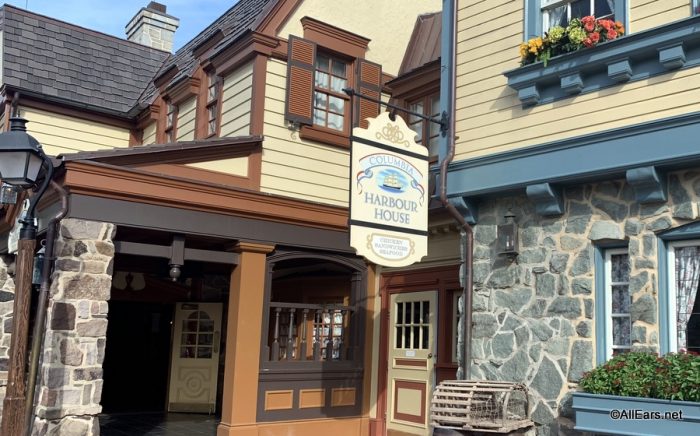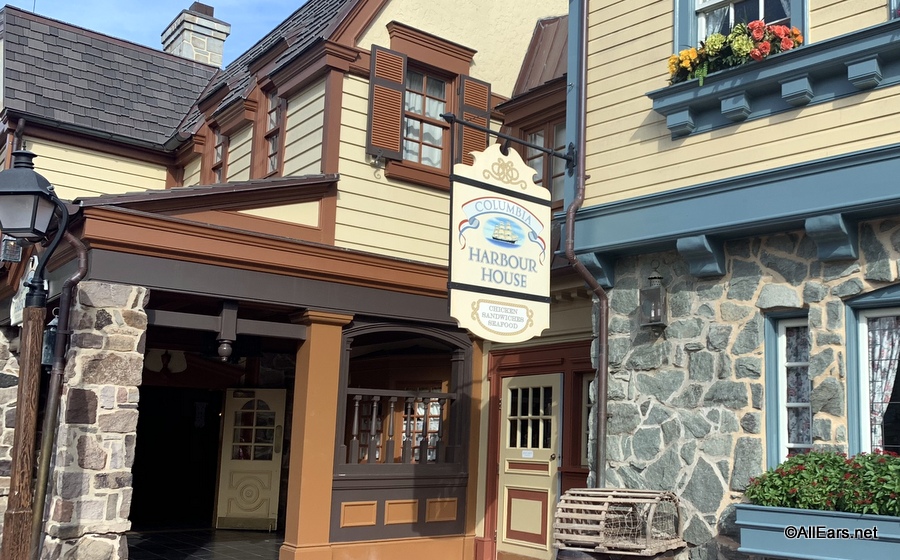 First, we've got an option for those looking for a somewhat lighter meal. The Lighthouse Sandwich is on the plant-based menu which is a spot you may not be looking at too often when you go to order your food in Disney, but this is one that you definitely NEED to try. The sandwich is made with Hummus with Tomato and Broccoli Slaw served on Toasted Multigrain Bread with House-made Potato Chips.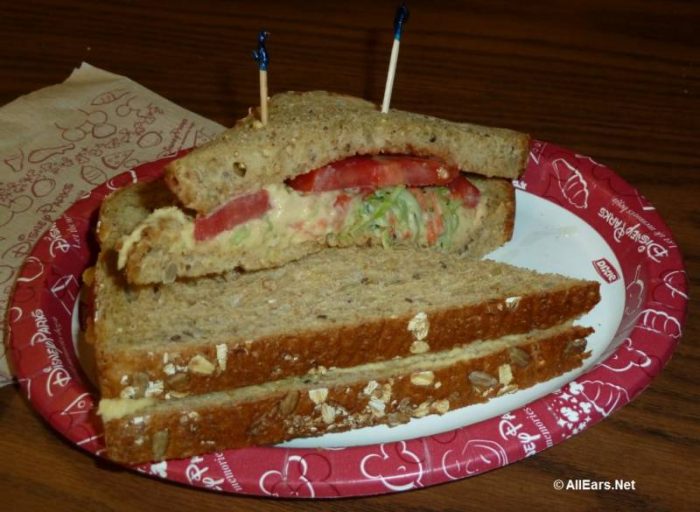 This is a satisfying, quality sandwich that will fill you up without weighing you down. If you need a break from the fried food and sugar overload, this is just what you need. It's definitely unique, with that hummus served on the bread, but if you like hummus, you'll likely LOVE this. To make this meal a bit heavier, or just sample a bit more of the menu, we'd say grab some yummy Hushpuppies!
If you're looking for something with a bit more meat, check out the Trio Platter! Can't decide between shrimp, chicken, or fish?  You won't have to with this dish as it comes with all three!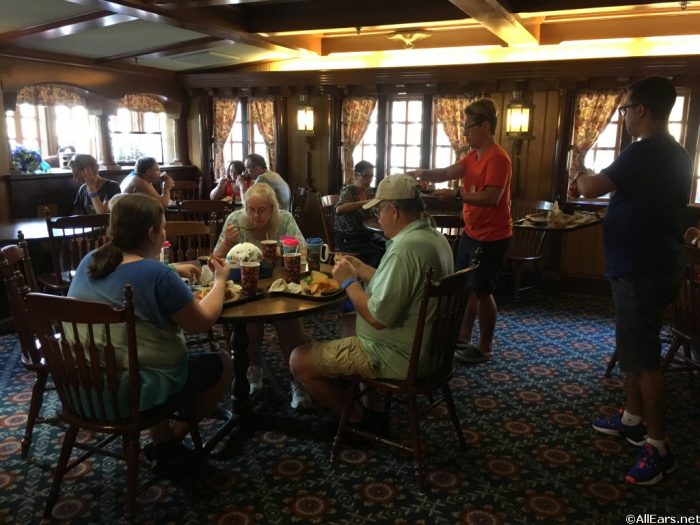 You'll get to enjoy fried shrimp, breaded chicken chicken nuggets, and battered fish, served with hushpuppies and a side of green beans and carrots, or french fries. This is sure to satisfy ALL of your fried food desires!
Looking to end on a sweet note? Grab the Minnie Mouse Chocolate Lava Cake — a Chocolate-Chip Lava Cookie served warm with buttercream and a chocolate Minnie bow!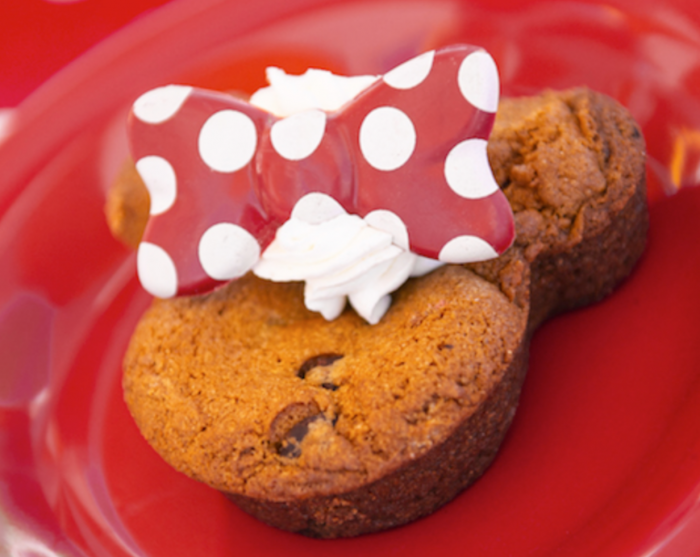 Could it get any cuter?!
3. Fajitas or a Bowl That's Sure to Satisfy! 
Next, we're headed to another unique spot. While Pecos Bill Tall Tale Inn and Cafe does have some more "standard" theme park options, it's also got some delicious meals that will make your taste buds sing! Some great choices here include the Fajita Platter (served with Pork Carnitas and Seasoned Chicken with Yellow Rice, Beans, Fajita Vegetables, Lettuce, Tomato, Sour Cream, Salsa and Flour Tortillas)…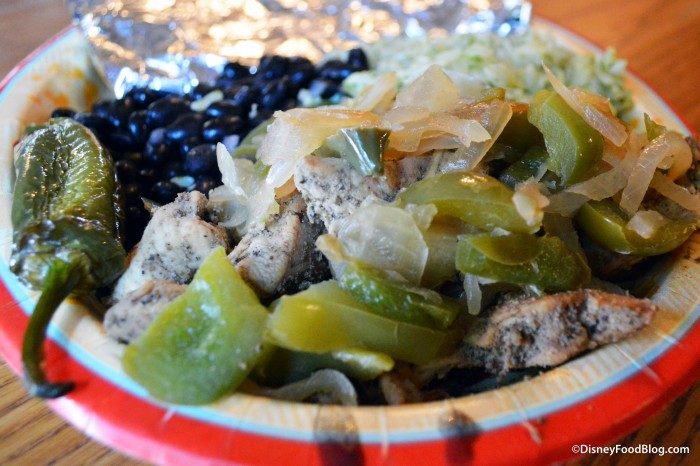 …and the Chicken Rice Bowl, which features Yellow Rice topped with Seasoned Chicken, Black Beans, Lettuce, Tomato, Sour Cream, and Salsa.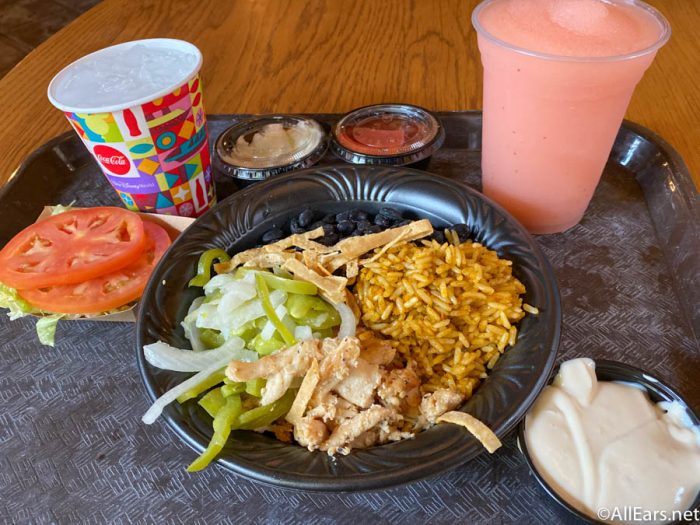 These are both delicious options that will totally fill you up and can offer a bit of a break from the fried options you'd find elsewhere in the park.
To finish off your meal, you can grab some Mini Churros with chocolate sauce. Crunchy, bite-sized, sugary, and delicious — what's not to love?
Tied for 3rd. Corn Dog Nuggets + Plastic Cheese
Sadly, Casey's Corner has not yet reopened, and even though you can get a delicious hand-dipped corn dog at Sleepy Hollow, we still miss the Corn Dog Nuggets Meal with French Fries and CHEEEEESE sauce from Casey's.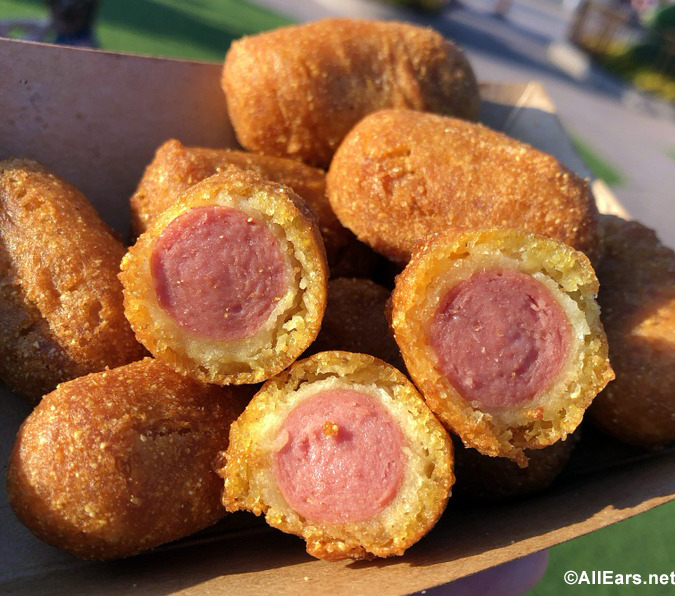 It truly is the perfect meal. Delicious fries, perfectly crunchy corn dog nuggets, and LOTS of cheese sauce to dunk everything in! We are eagerly awaiting the day the gates to corn dog heaven open once again. Believe us when we say we would absolutely love to be FIRST in line to grab these beauties.
Honorable Mention
Is it a top-3 list if you don't at least have one honorable mention? We think not! We had to give a shout-out to Friar's Nook and the Loaded Buffalo Chicken Tots there.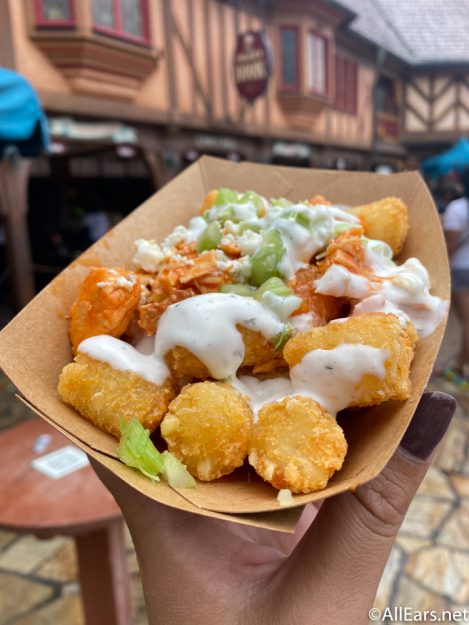 Buffalo chicken, celery, bleu cheese crumbles, garlic ranch dressing, and tater tots — this dish has it ALL! It's also a great snack to share (or not share, depending on how you're feeling!) with a few friends.
Well, that list has made us INCREDIBLY hungry! There really are so many delicious options all around Disney World, even at the Quick Service spots.
Now, we'd love to hear from you. What do you think is the very BEST meal you can get at a quick service spot in Magic Kingdom? Let us know in the comments below!
Join the AllEars.net Newsletter to stay on top of ALL the breaking Disney News! You'll also get access to AllEars tips, reviews, trivia, and MORE! Click here to Subscribe!