Some of the most beloved Disney attractions are timeless classics that generation after generation can enjoy together. One such gem is It's a Small World.
This merry boat ride, with its colorful international cast, catchy music, and rich history, has captured the fascination of countless Disney fans.
Today, we'll explore
nine unusual things

you might not have known about It's a Small World.
1. It First Appeared at the World's Fair
While today It's a Small World is firmly linked to the Disney parks, the boat ride actually first opened somewhere else entirely: the 1964-1965 World's Fair in New York City. Disney hosted a whopping total of four different pavilions at the World's Fair, each with its own unique attraction. One such ride was Small World, serving as the highlight for the fourth pavilion. Originally, Walt Disney had only intended for three pavilions, but when Pepsi Cola's own plans for a pavilion fell through, they asked Disney for help. Though he hadn't planned for another attraction, Walt accepted the offer and began hastily coming up with a new ride.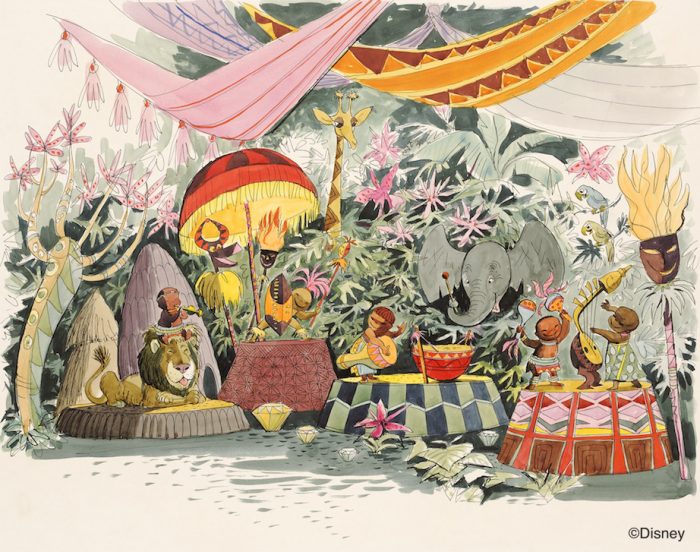 Due to the short notice, Imagineers tasked with Small World had to really scramble, since they only had 11 months to plan, design, and create this new ride in time for the World's Fair. The fact that they succeeded so spectacularly showcases the brilliance and dedication of Disney's talented staff. Even though many people involved expected this to be a one-time thing for the World's Fair, Small World proved incredibly popular, with over 10 million tickets sold. Proceeds for the ride went to UNICEF as donations, further highlighting the ride's international message of world peace.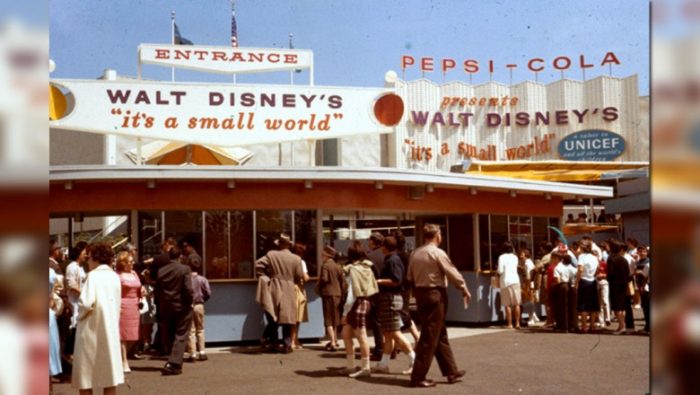 All of the four different World's Fair Disney attractions later found their way to the Disney parks and remain available for guests to this day. Main Street, U.S.A., in Disneyland hosts Great Moments with Mr. Lincoln, Tomorrowland in Disney World has Carousel of Progress, and the Disneyland Railroad features dinosaur animatronics formerly from Ford's Magic Skyway in the Primeval World diorama. But of these various attractions that got their debut at the World's Fair, It's a Small World, now found at Disney Parks worldwide, continues to stand out as the most beloved.
2. The Scenery Still has Shipping Labels
While Small World first opened at the World's Fair in 1964, that was only a temporary placement for the ride until the fair ended. So when Disney decided to continue the attraction at Anaheim's Disneyland, they decided to use the already-built ride rather than rebuild it from scratch. And he didn't even have to pay for moving it. See, Pepsi Cola, out of desperation for some sort of pavilion, agreed to multiple conditions for letting Disney host an attraction with them. Pepsi Cola came out of the deal owing lots of money to Disney, but Walt said he'd cut down their debt if they moved the entire attraction to California for him, free of charge.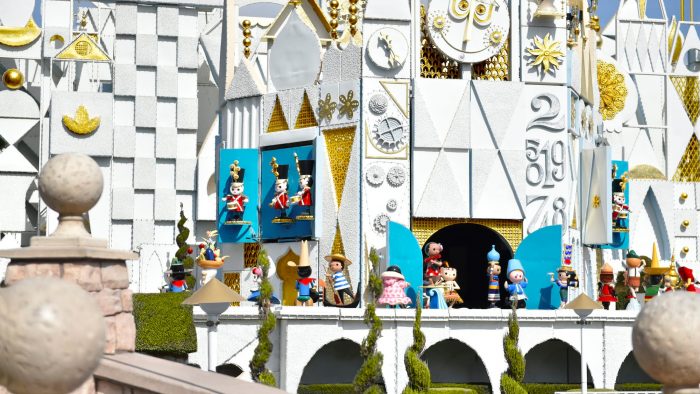 As a result of Walt's shrewd deal, It's a Small World reopened in Disneyland in May 1966, just about half a year after the World's Fair closed in October 1965. Due to reusing the original features, Disneyland's ride still includes set pieces that with the original shipping labels. Maintenance workers making adjustments to the scenery have sometimes noticed these old shipping labels and assembly directions, demonstrating the ride's vast history.
3. Its Disneyland Opening was Spectacular
After being moved World's Fair to Anaheim, California, It's a Small World opened in Disneyland on May 30, 1966. The new version of the attraction, complete with a gleaming, palace-like façade, was sponsored by Bank of America. Its board chairman even got to ride in the first set of boats through along with Walt Disney himself. But this was no ordinary opening day for the new ride! Walt opened the former World's Fair attraction with style and flair, complete with over 50 representatives from foreign consulates.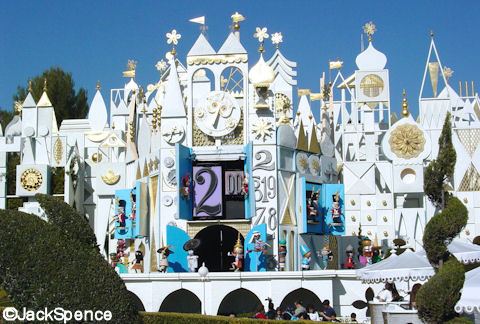 To celebrate the opening, Walt invited Californian children from 16 different ethnic groups to ride through Small World, dressing them in traditional attire from countries around the world. Moreover, for the opening ceremony, Walt sprinkled water collected from different oceans into the ride's main canal. The symbolic gesture made the "Seven SeaWays" ride canal into truly a journey across the seven seas [oceans]. The event also featured fireworks and the release of white doves and 10,000 balloons. All this vibrant celebration shows just how important Small World was to Disney.
4. Many Disney Legends were Involved
To reach its full potential, It's a Small World required the assistance of many brilliant Imagineers at Disney, and many of them have longstanding reputations in Disney history. If you've heard of Mary Blair, the artist responsible for art for Alice in Wonderland and other films, you probably know how she designed Small World's whimsical and colorful art. She even earned her own cameo in the ride as a glasses-wearing doll in the balloon over Paris. But have you heard of these other talented Disney legends who also made Small World possible? Truly, just as Small World symbolizes the harmony and diversity of people around the world, the Imagineers involved in making the ride came from a wide range of remarkable backgrounds at Disney.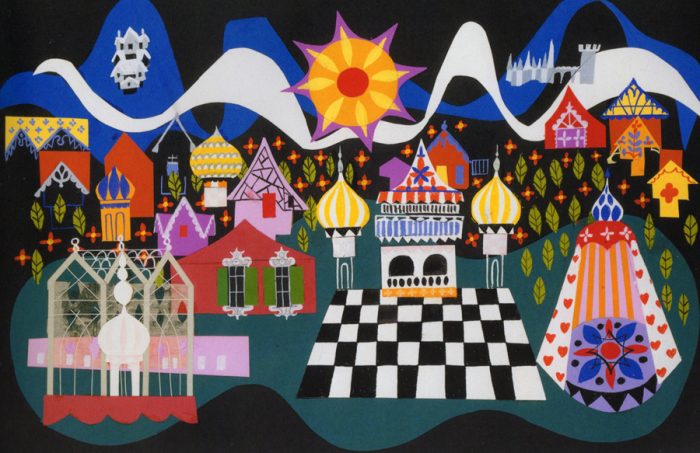 Marc Davis, famous both for his animation of classic Disney characters and for engaging animatronics at attractions like Jungle Cruise and Pirates of the Caribbean, designed scenes throughout Small World. His wife Alice Davis also helped by making the costumes for the dolls. Sculptor Blaine Gibson, who made works ranging from Haunted Mansion busts to Walt's statue with Mickey, designed and sculpted out the dolls. And when the ride came to Disneyland, Imagineer Rolly Crump, responsible for designing many Disney attractions as well as the World's Fair features, created the beautiful white palace façade, drawing on Mary Blair's works for inspiration.
5. The Song Has its Own Fun Facts
Not only does It's a Small World offers the eyes a colorful masterpiece, it also treats the ears to a happy – and catchy – song of the same name. In fact, the song itself has an interesting history behind it. At first, there was going to be a different set-up for the music entirely. The original plan had been for each country to play its own national anthem. That plan fell through once Disney realized that the discordant deviations between the various songs, each going by its own beat, would combine into an indecipherable cacophony of agonizing noise. Instead, the Sherman Brothers (famous for other Disney melodies like "Chim Chim Cher-ee" and "Winnie the Pooh") created a bright and cheery song highlighting how much we all have in common.
Although the original idea for individual anthems never happened, the idea of each country singing its own individual song remained in a fashion. Instead of each country having a separate song, they all sing the same song, but in different languages. Next time you ride, try to see how many different versions you can make out. Also, Disney doesn't actually own the rights to the song. Since the World's Fair version paid tribute to UNICEF's international relief efforts, UNICEF asked Disney to not copywrite it, so the song could continue to belong to the world as a whole. Perhaps the fact that everyone can share the song helps explain why it remains the world's most-played song – that, and how it plays nonstop at Disney parks daily.
6. Small World Reshaped the Course of Disney Rides
Aside from its individual contribution to Disney's fun collection of rides, It's a Small World also influenced future Disney approaches to rides. When the ride first opened at the World's Fair, it managed to keep a steady flow of traffic going without backing up the line, something that drew Disney's attention. There had been boat rides in the past such as Jungle Cruise, but the fast and steady pace of Small World's boats made Disney Imagineers ponder applying it to other attractions as well.
The ride most significantly affected by Small World's success was Pirates of the Caribbean. Still under development when Small World first opened , Pirates was originally supposed to be just a walk-through attraction, passing by different pirate figures and townscapes. After realizing the potential for Small World's boats, Imagineers reworked the entire ride into a boat adventure, with riders passing by the various pirate scenes instead. Since then, other rides such as Frozen Ever After, Gran Fiesta Tour, and Na'vi River Journey have also used boat systems.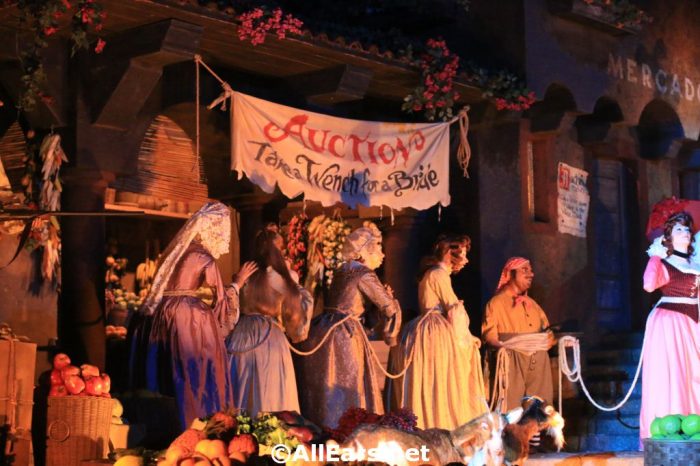 But boat rides weren't the only thing that Small World inspired. The World's Fair attraction dropped riders off next to a UNICEF gift shop, encouraging them to give more to people around the world. Disney realized the benefit of tying rides with similarly themed gift shops. This started the trend of placing shops at the exits to attractions. Ironically, since Small World no longer has a direct UNICEF theme, it doesn't have a gift shop at the end, even as it inspired many other rides to get their own shops. All of these influences make Small World a critical milestone in the history of Disney attractions.
7. There's a Special Holiday Version
Disney likes to add some holiday magic to the parks during the wintertime, and Small World gets its own Christmas rendition annually. Each year during Christmas and the winter holidays season, Disneylands around the world transform their Small World rides into a home for merry carolers. To start out, the front facades get decorated with bright holiday lights. Anaheim's display in particular is marvelous, blanketing the entire palace with color. Disney even places Santa hats atop the smiling clock tower heads! And that's just the start of the magic. While all versions of Disneyland change the inside of the ride, the exact changes vary, making each ride its own wonderful experience.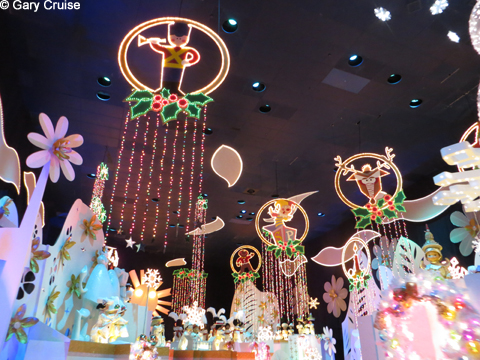 Once you enter the ride, the music mixes the usual Small World tune with various Christmas songs like "Jingle Bells" and "Deck the Halls". And just like with the normal version of the ride, the songs change to match the languages of the different countries. Not only that, but extra features like toys, candies, bells, and Christmas trees transform the whole experience into a holiday celebration spanning the globe. You'll even pass by Santa's workshop in the North Pole at the start of your journey. However, unlike other parks, Walt Disney World doesn't change its Small World ride for the winter festivities, so keep that in mind if you plan to go there for Christmas.
8. Disney World Has the Only Small World Without Extra Characters
Each Small World ride at the different Disney parks varies somewhat from the others, but Disney World's in particular stands out in one big way: it avoids the extra character inserts found at other parks. At all the other parks, even at the original ride in Disneyland Anaheim, Disney has added in extra dolls representing movie characters. For instance, Lion King characters are found in Africa, Alice in Wonderland characters appear in England, the Three Caballeros show up in Mexico, etc.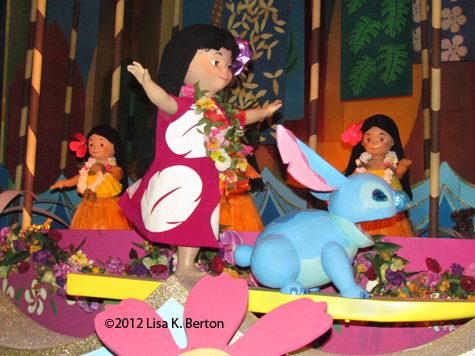 Opinions on these additions remain rather mixed. While some Disney fans enjoy the tributes to classic Disney films, others feel that the changes take away from Small World's originality. It doesn't help that these extra dolls don't mesh the best with the original dolls and art that Blair and others created. Walt Disney World is the only version that hasn't changed from its original approach. However, plans are underway to apply the cameos to Magic Kingdom as well. If you have a chance, go on the ride for the original experience before it's too late.
9. Small World Had Its Own Animated Show
Just as many Disney attractions stem from movies and shows, sometimes original Disney attractions in turn inspire their own media counterparts. In the case of It's a Small World, the international boat ride has actually inspired a cartoon series. It's a Small World: The Animated Series first played in November 2013 on Disney's official website, Youtube, and Disney-related apps.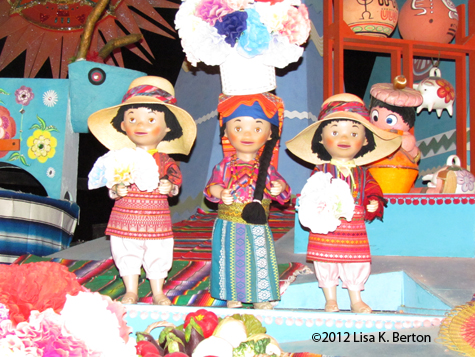 Drawing on its roots with the ride, the online-exclusive show features six children from different countries around the world. Each episode involves them flying around in a balloon much like one from Small World. Wherever they go, they visit different lands and learn about the different people and cultures there. This show is sponsored in part by Rosetta Stone, which offers programs for learning different languages. Who knows, maybe one day Small World will even get its own movie.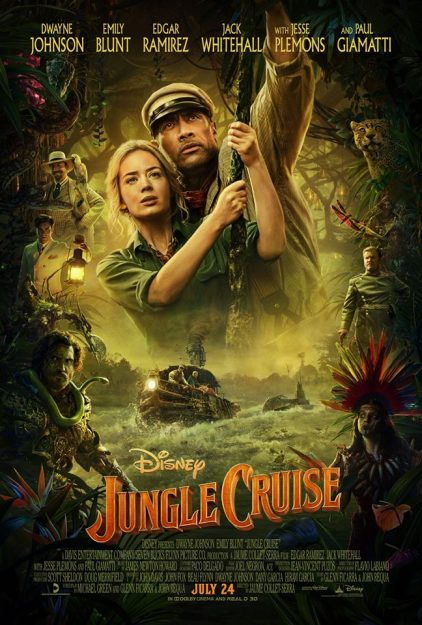 While the world continues to change and grow, the timeless themes of It's a Small World continue to live on. Many visitors first rode the attraction as kids, and then returned years later to share the experience with their own children. In this fashion, Small World brings together generations and people from around the world. With its diverse array of characters and lands, there's always something new to discover in Small World.
What's your favorite part of 'it's a small world'? Let us know in the comments!
Join the AllEars.net Newsletter to stay on top of ALL the breaking Disney News! You'll also get access to AllEars tips, reviews, trivia, and MORE! Click here to Subscribe!