Today is a media preview at Walt Disney World's Star Wars: Galaxy's Edge, and we're already getting TONS of new details about Star Wars: Galactic Starcruiser — including information about the transport vehicle that will shuttle Resort guests to Black Spire Outpost!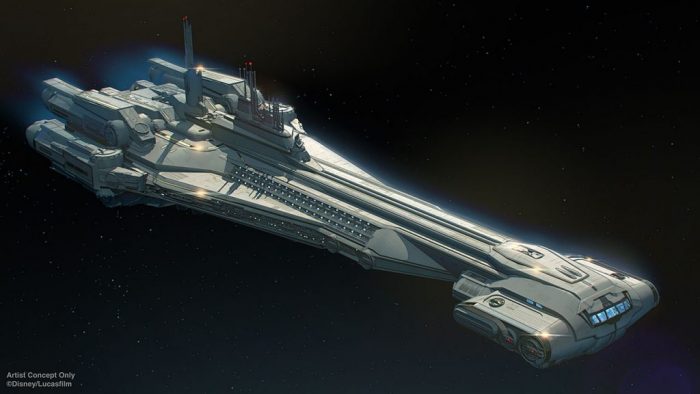 Star Wars: Galactic Starcruiser is the immersive hotel being constructed adjacent to Galaxy's Edge, and we heard a few new details over the weekend from the D23 Expo — click here for a refresher of those details! We even saw a model of the Resort/ship at D23.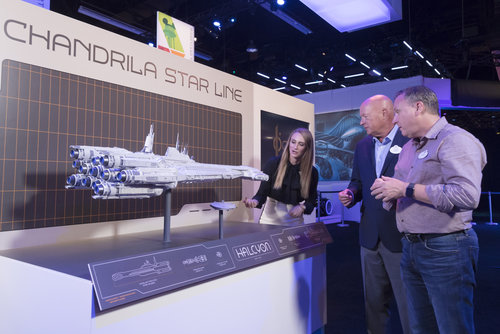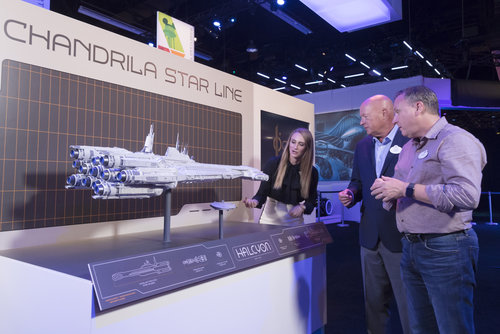 Now we've got even more incredible information about what's shaping up to be one of the most unique hotels in the galaxy. The ship at the heart of Galactic Starcruiser is called the Halcyon, and now we know that Chandrila Star Line is the fictional operator of the ship.
The ship is outfitted with everything a starcruiser full of passengers would need. Defense systems are in place should the ship get into a space battle (we'll have to wait and see if this happens!). And if the ship does get into a scrape, passengers will be able to practice using that defensive equipment on the ship's bridge! Not only that, guests will also be able to train in lightsaber skills, ensuring they're always ready take on any enemy.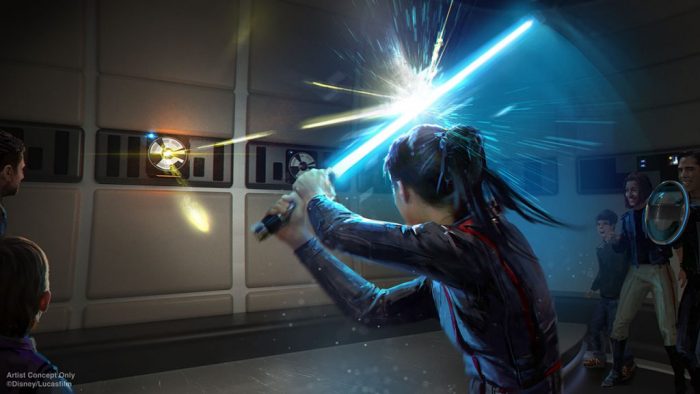 Some recognizable characters (and some you'll meet for the first time) will be on board from time to time — including Rey, Kylo Ren, and Chewie — but guests will want to beware the allegiances they make on-board.
The choices you make on the Halcyon and in Black Spire Outpost will determine the experience  you have, so secret meetings, strategic alliances, and your performance during your "port day" on Batuu will impact your stay on the Halcyon — choose your partnerships wisely!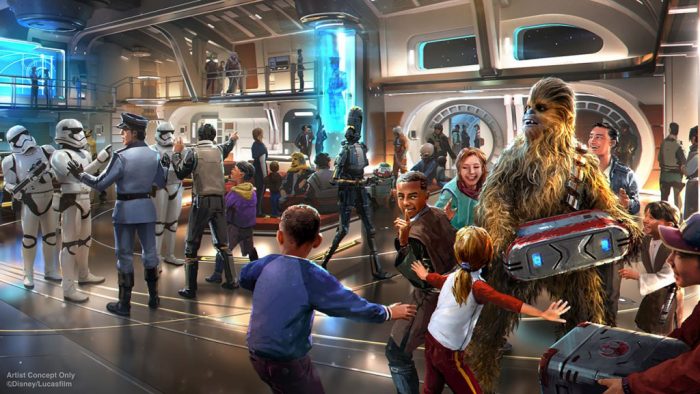 As for the guest experience onboard, dining and activities will be included like a cruise. Rooms will feature bunk beds, and from concept art, they appear to be relatively stark (as one might expect on a spaceship.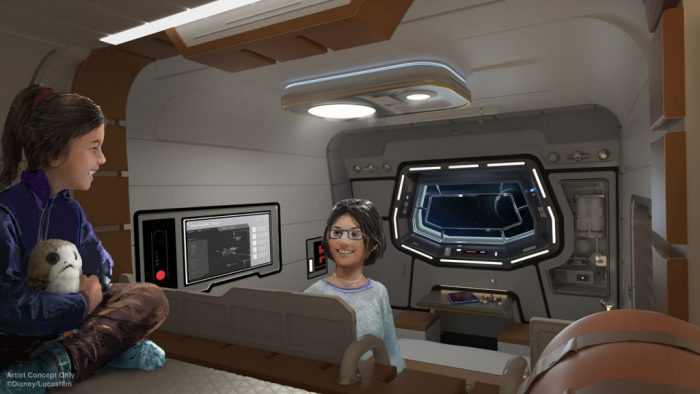 Guests will board the Halcyon via the Star Wars: Galactic Starcruiser Terminal which, according to photos we saw at the media event, looks like a space-age port cochere with posters of places in the galaxy (presumably places that the starcruiser could hypothetically travel to).
For the port day on Batuu, guests will use a transport vehicle. This looks like a big, gray box with blue thrusters. Inside are orange padded seats (jump-seat style) lining both sides of the transport, and it appears there's standing room as well. The transport pod appears to be immediately between the Resort and Galaxy's Edge, ensuring that guests never have to leave the story during their two-day stay.
As more information and images arise, we'll update this post, so stick with AllEars for your Galactic Starcruiser news! 😉
Are you planning a voyage on the Star Wars: Galactic Starcruiser? Let us know in the comments! 
Need to know more about Disney World's Star Wars: Galaxy's Edge? Don't miss:
And follow along on Instagram, where we'll be bringing you news ALL WEEK LONG (and forever after that, too!)!
Disclosure: We were invited by Walt Disney World to attend the media preview of Star Wars: Galaxy's Edge. This did not affect our reporting of the event — our opinions are our own.