Disney's Riviera Resort opens its glamorous doors on December 16, 2019, as the newest Disney Vacation Club property at Walt Disney World, and we. can't. wait.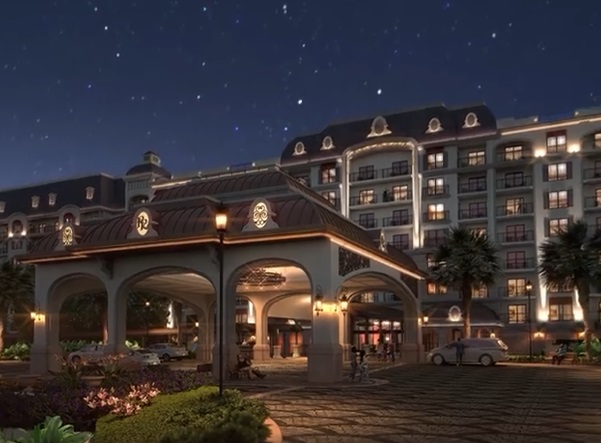 While we haven't strolled through the Riviera-inspired hallways of the Resort just yet, the concept art and sneak peeks given by Disney have painted a fabulous picture  of what to expect.
We've compiled a list of five reasons you'll want to stay at Disney's Riviera Resort on your next Disney World vacation.
Topolino's Terrace — Flavors of the Riviera
Topolino's Terrace — Flavors of the Riviera is the Resort's rooftop dining location. The restaurant will offer a signature dining experience for dinner, glances of fireworks shows at Epcot and Hollywood Studios, and a prix fixe character breakfast.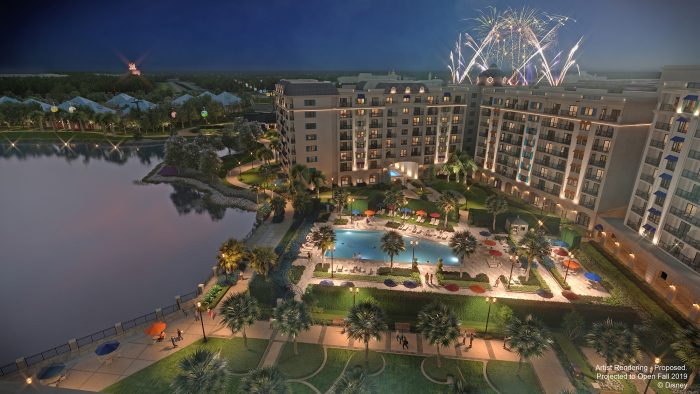 The breakfast menu will include items like Sour Cream Waffles and Spiced Sausage Hash, while you'll be able to try made-from-scratch dishes like Linguini Scampi and Bouillabaisse during dinner.
If you're going to be at Walt Disney World on New Year's Eve, you may want to check out Riviera's New Year's Eve event, Mezzanotte at Topolino's: An Italian Masquerade. You can attend this event (and check out the restaurant) without staying at the Resort, but it would sure be convenient to just walk right upstairs. 
Tower Studios
If you're spending your honeymoon or anniversary at Disney World, Disney's Riviera Resort may be perfect for the two of you! The Resort is introducing a new room category just for couples — Tower Studios.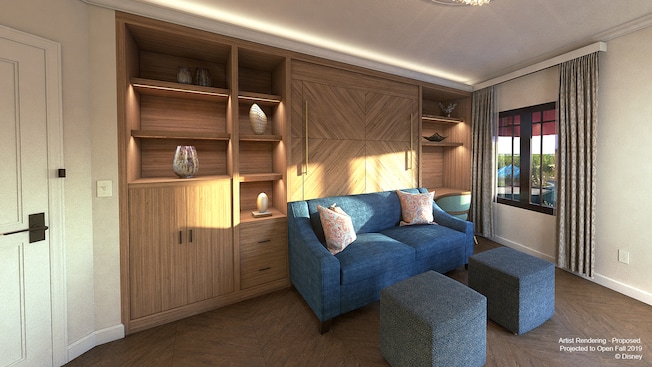 These studios will "feature flexible living space and a private balcony" and are priced lower than the Deluxe Studios and Villas at the Resort. This room category allows one to two guests all the amenities of a Deluxe stay but at a more affordable price point than other DVC room categories.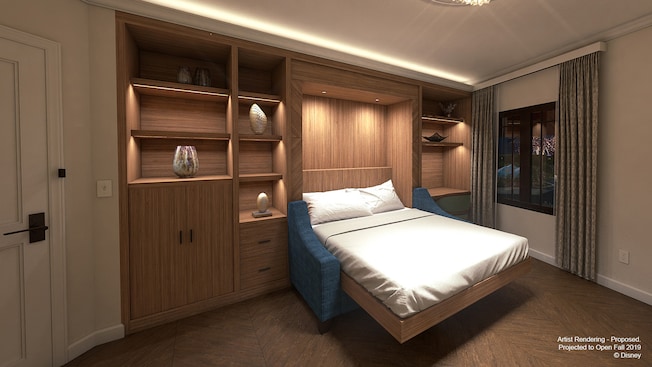 In-Room Washers and Dryers
While other Disney Vacation Club Resorts have laundry facilities, Riviera Resort will actually feature washers and dryers in the Villas themselves. If you're staying in a one-bedroom Villa or larger, you'll get to do laundry in the comfort of your own room.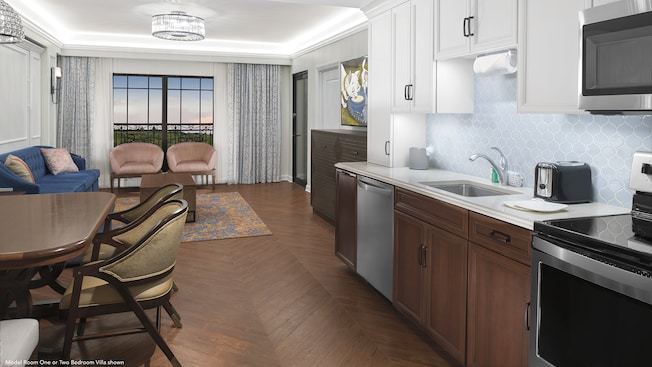 We know: doing laundry may not be a huge priority for you during your Disney World vacation, and we totally get that. But if you're traveling from far away and/or spending quite a few days on property, having a washer and dryer in your room is a really nice perk.
Disney Skyliner Access
The Skyliner Gondola System is a hot-button topic amongst Disney World fans. Some seem to be apprehensive (read: absolutely terrified), while others are ready to try it out when it opens September 29.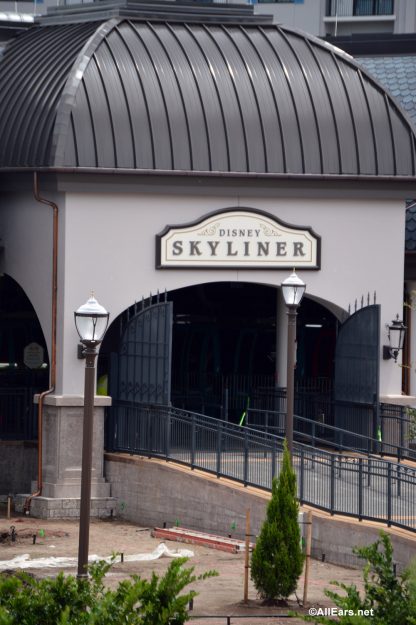 When the new transportation system does open, it will connect Disney's Riviera Resort, Caribbean Beach Resort, Art of Animation Resort, and Pop Century Resort to Epcot and Disney's Hollywood Studios.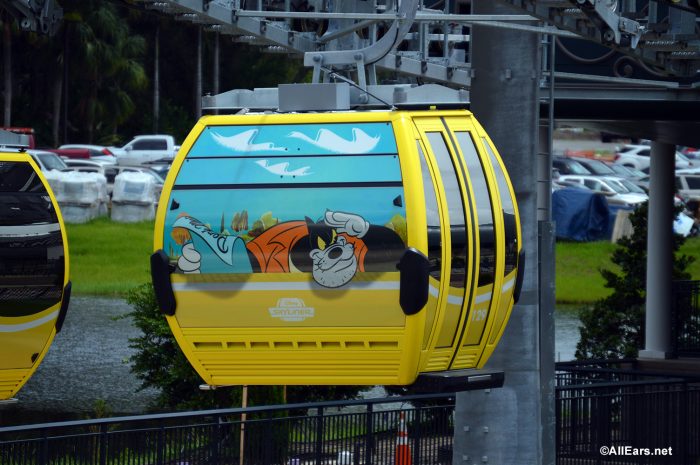 If you ARE looking forward to using the Skyliner System, Disney's Riviera Resort will be a great place to stay.
Pool Areas
If you want to bask in the sun or take a dip in the pool with a serene, European backdrop, Disney's Riviera Resort will have you covered.
You'll be surrounded by "stucco facades" while you enjoy the Riviera Pool with your family. Older kids will enjoy the main pool's slide, which wraps around a "stately column tower." Little ones can have some fun at S'il Vous Play, an interactive splash area complete with characters from Fantasia.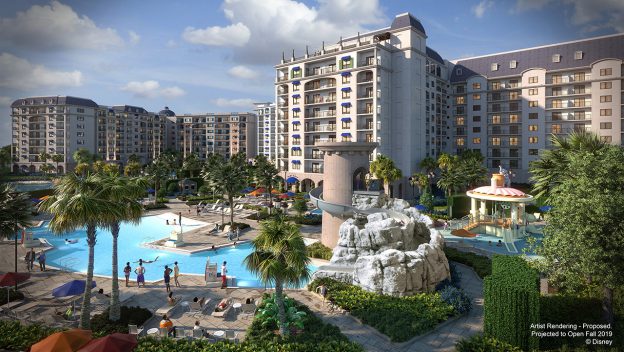 If you're looking for a calmer setting, you can take a load off at the Beau Soleil Pool instead. Whichever pool you choose, you're sure to have a relaxing (and even elegant, if that's your thing!) time.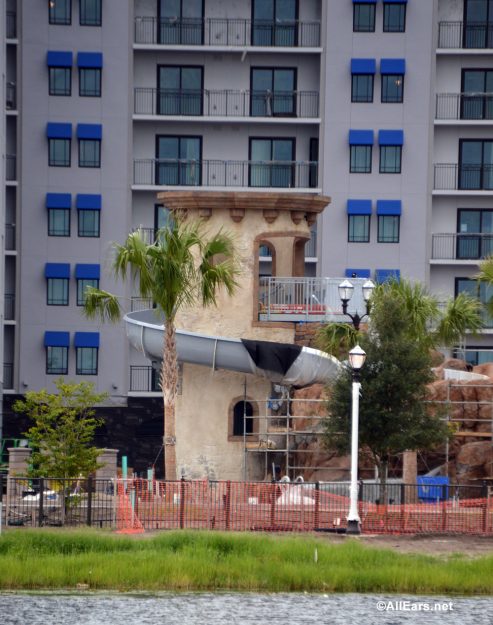 These are just 5 of the reasons why we think you'll want to consider Disney's Riviera Resort for your next Disney World trip. Let us know if you have any others to add to our list!
Click below to subscribe to the AllEars® newsletter so you don't miss any of the latest Disney news!