While we were at the first Mickey's Not-So-Scary Halloween Party we checked out the brand new Cruella's Halloween Hide-a-Way. This is an add-on event to the Halloween Party ticket.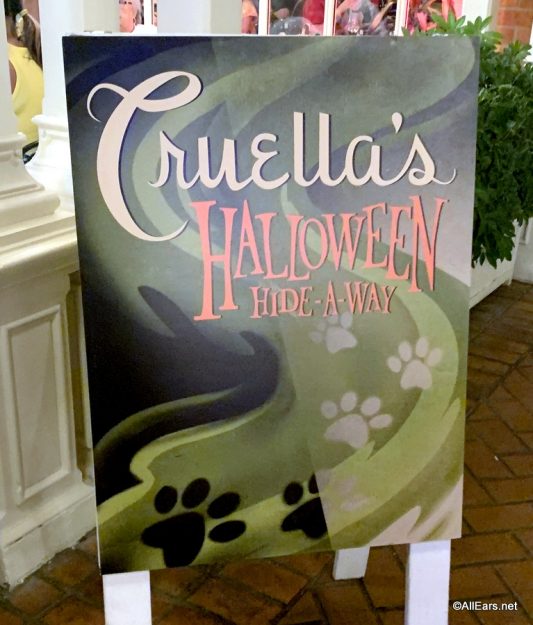 Cruella's Halloween Hide-a-Way is known as Tony's Town Square during the day, but on Party nights Cruella takes over!
Cruella is there to welcome you to her hideaway. You can grab photos with her — she's a wicked good time! Keep in mind she does pop in and out of the Hide-A-Way, so if she's not there just wait a moment. Cruella will return, and when you see her you make take a sudden chill!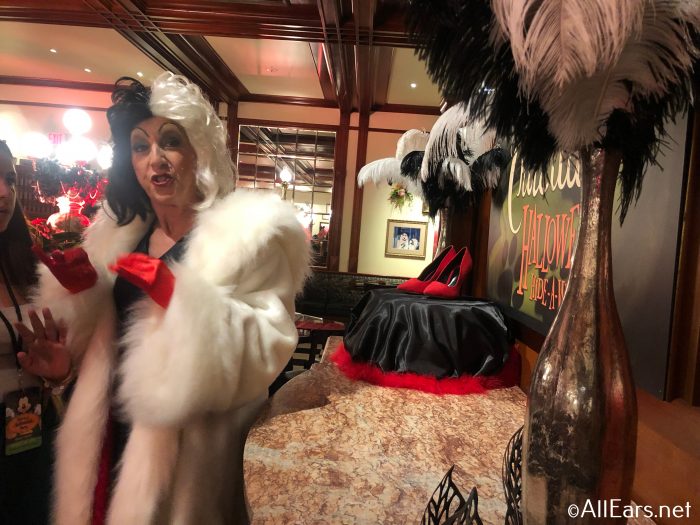 Tony's has received a not-so-spooky Cruella makeover complete with white feather boas, black and white decor on the tables, and more.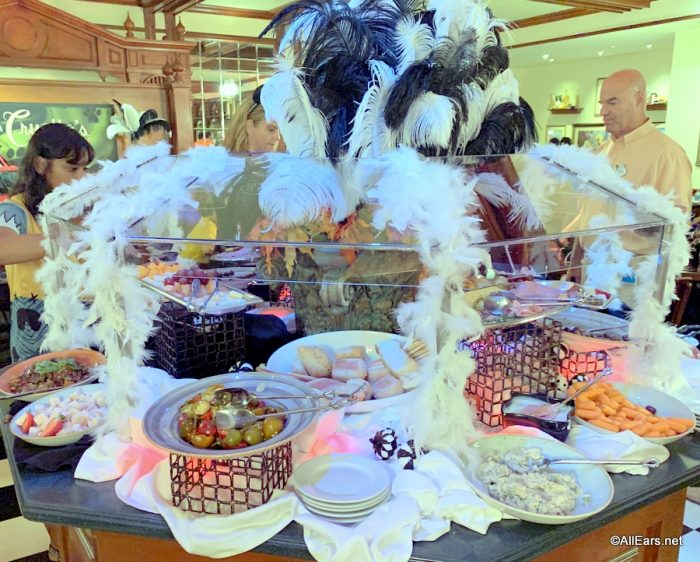 Now, the food! Disney promised flatbreads, chocolate-covered strawberries, cheesecake, beer, wine, and a taste from the Witch's Cauldron, which Disney described as "a kettle of gooey and creamy spinach dip" served with various dippers, and more. We have to say they delivered!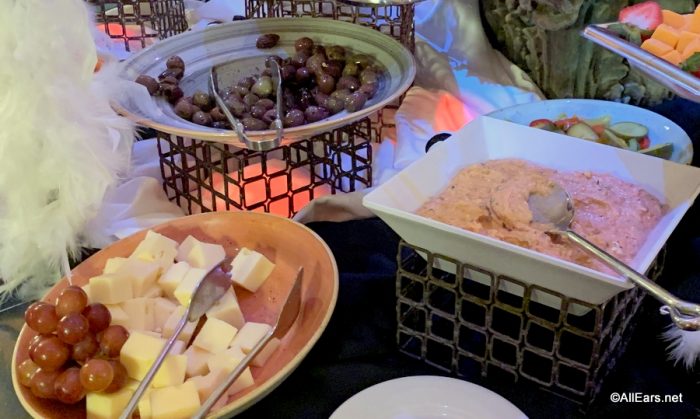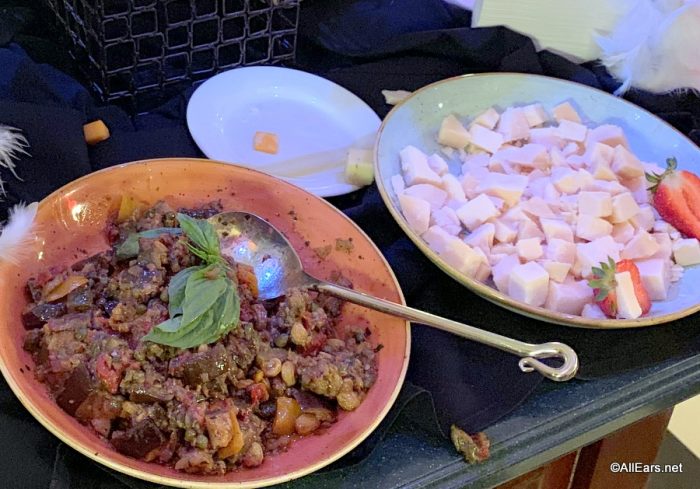 The Witch's Cauldron was warm and gooey — definitely a stick-to-your-ribs dish. (And we loved the cauldron in which it was served!) It was served with a slice of garlic bread or two for dipping, but you could dunk other Hide-A-Way eats in it, too, if you wanted!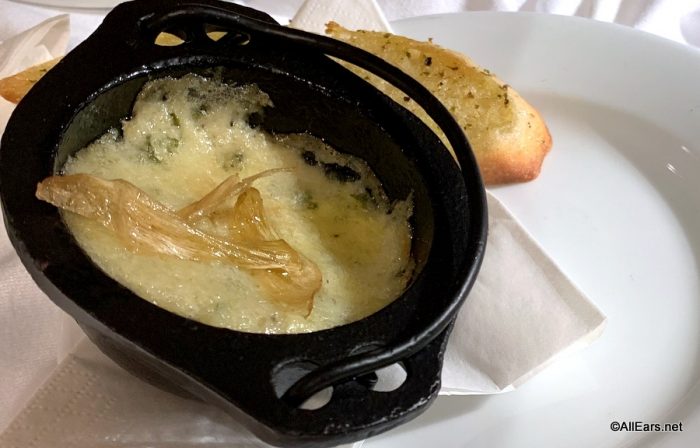 Guests can also snack on baby carrots and dip, deli meats, and several cheeses. There are Italian rolls and sliced peppers, too.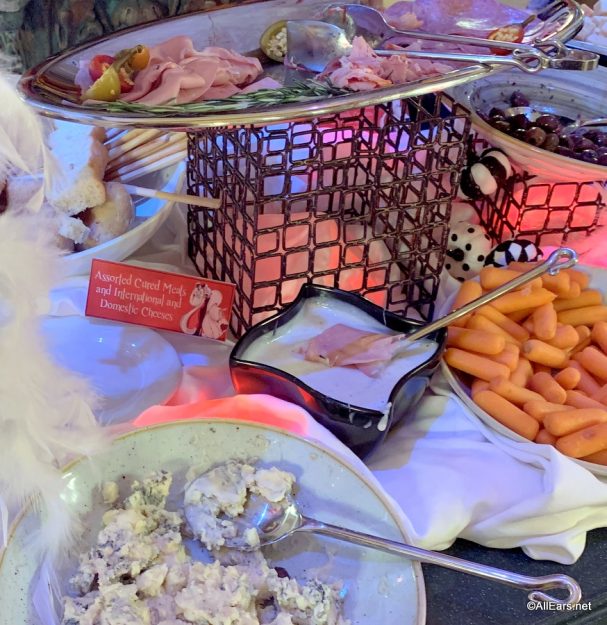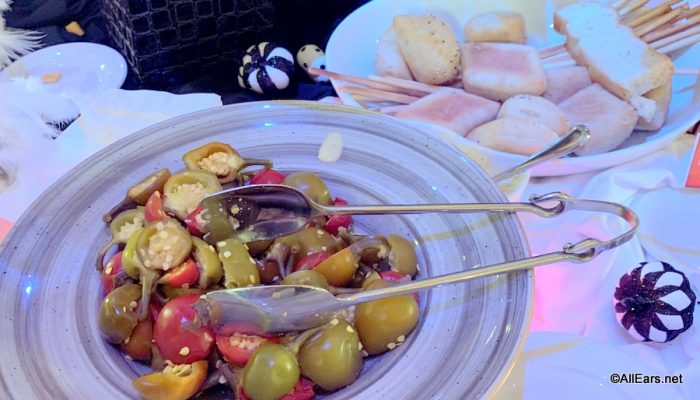 Next, we tried the flatbreads. Our options were cheese and veggie, and these were tasty. The flatbread crust was crispy, and they were freshly baked throughout the night, so quality should remain high.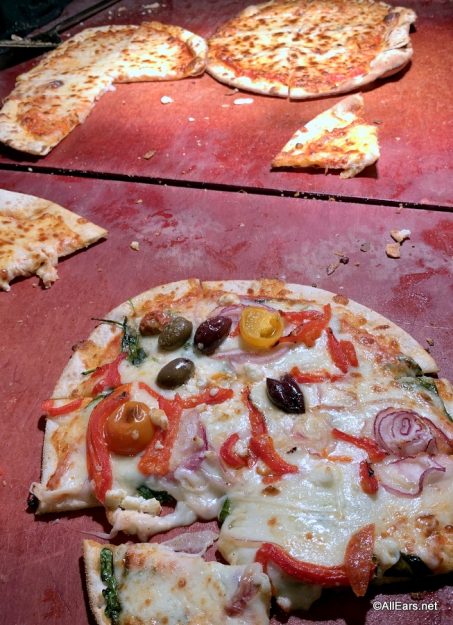 Hot Italian favorites included Goblin Bites (mini-meatballs), a Trio of Arancini (with braised beef, truffled mushrooms, and mozzarella), and Fried Mozzarella.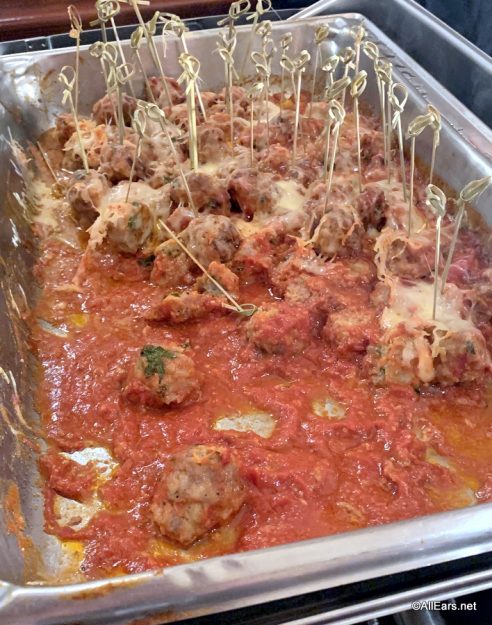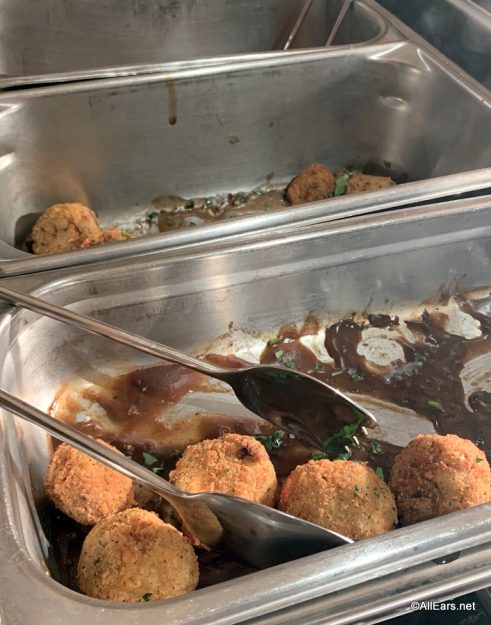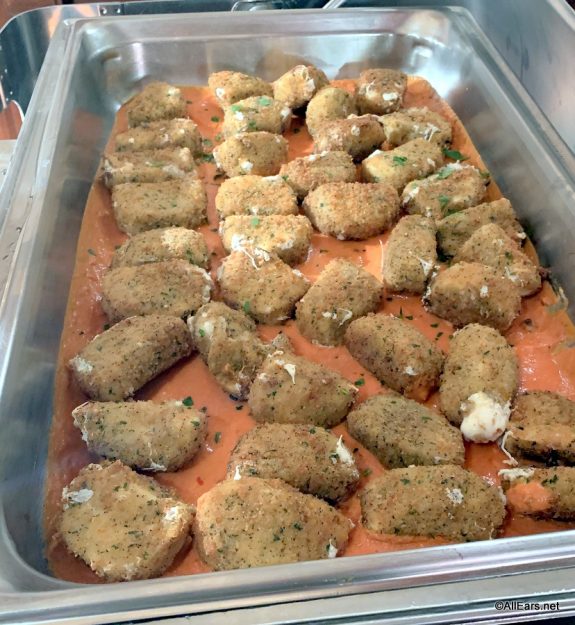 There's also a Butternut Squash station where diners can select the add-ins they'd like tossed with their ravioli if they have dietary preferences. This was hands-down our favorite dish of the night!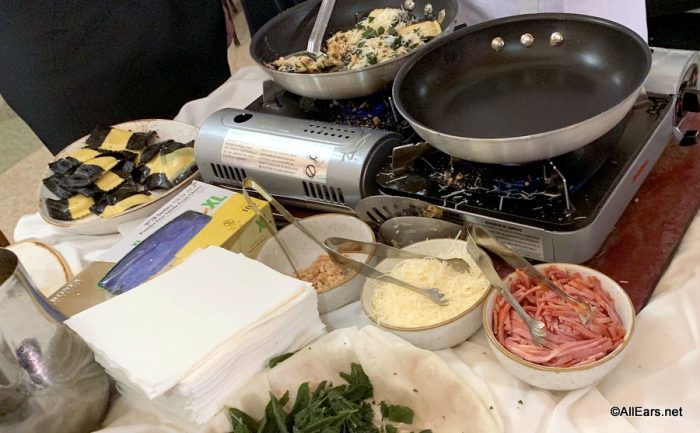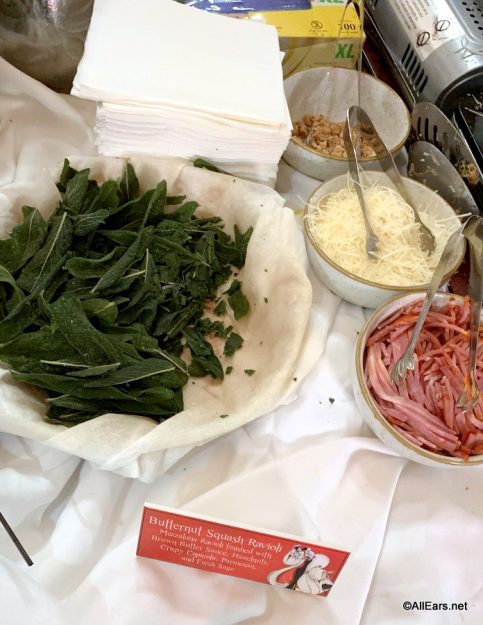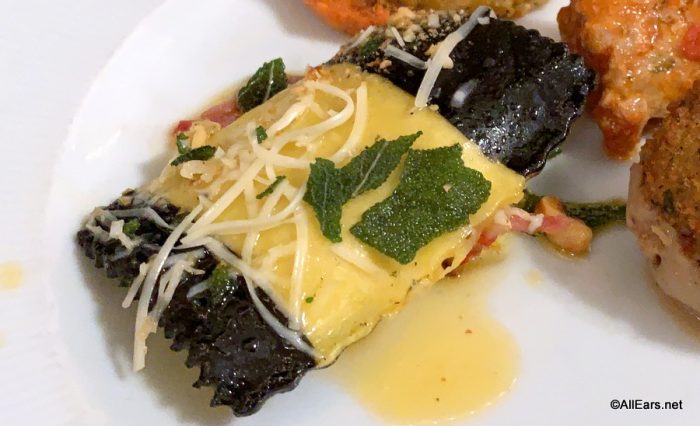 We dug into a few bites and found everything to be as you'd expect. The Fried Mozzarella was a great version of that dish, likewise for the meatballs, arancini, etc.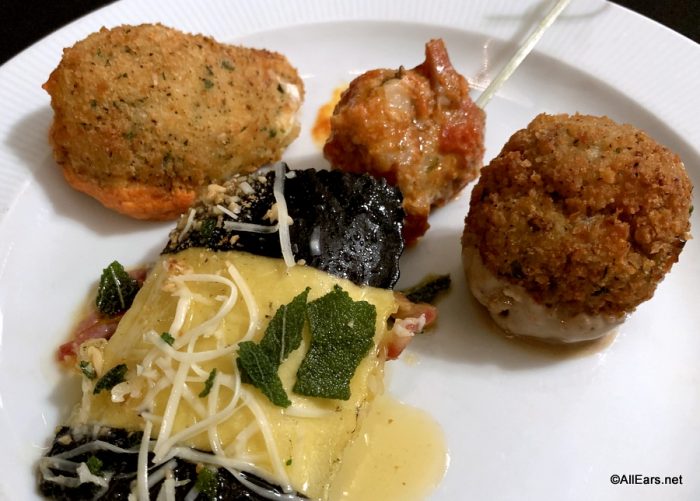 Now on to the sweet stuff! It is a Halloween party afterall! The dessert spread is good but not amazing. The selections were a little limited, but they were all well-done, and that's par for the course of what we experienced food-wise at Cruella's.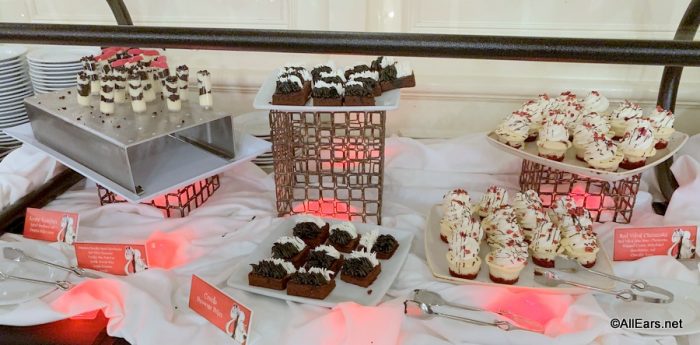 Dessert items include Red Velvet Cheesecake, Cruella's Shoe Push Pops, Cruella's Brownie Bites, Cannolis, Dalmatian Chocolate Dipped Strawberries, and Kanine Krunchies.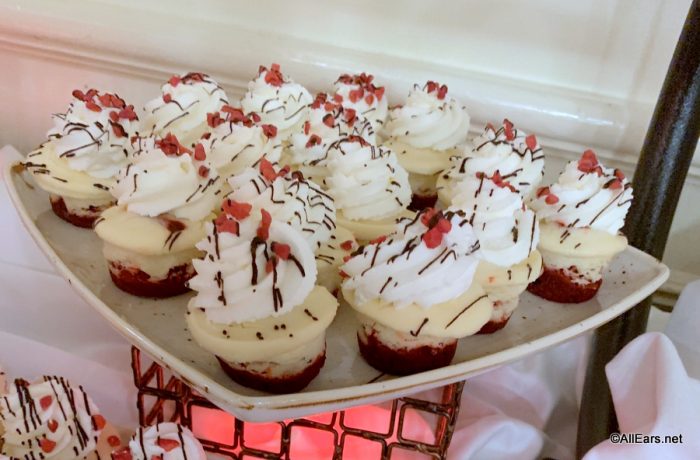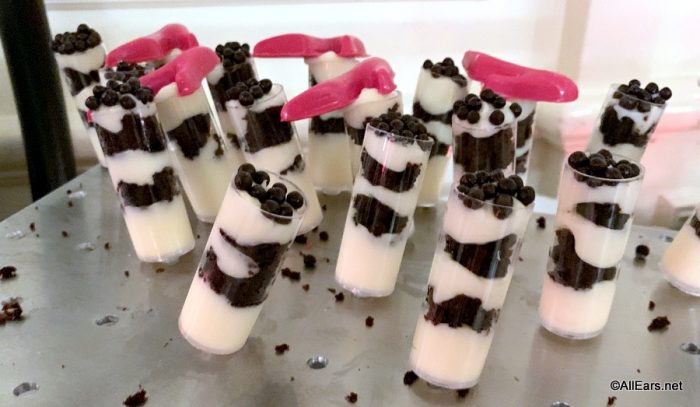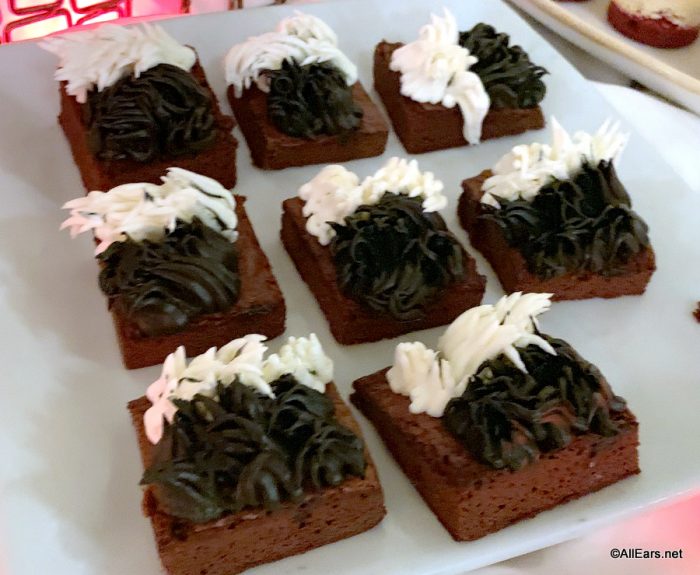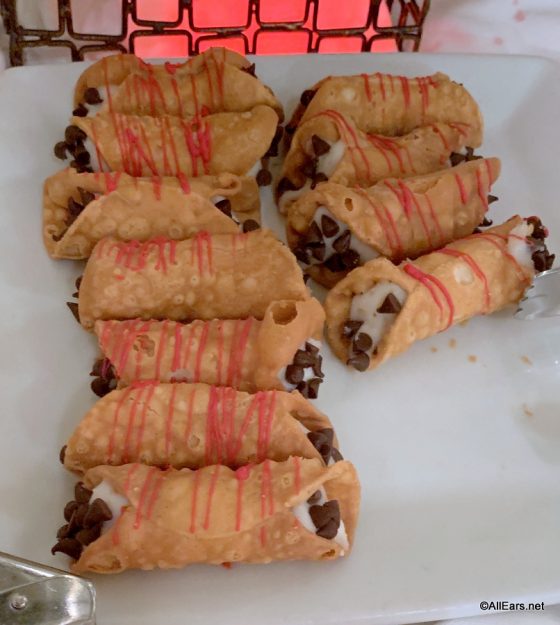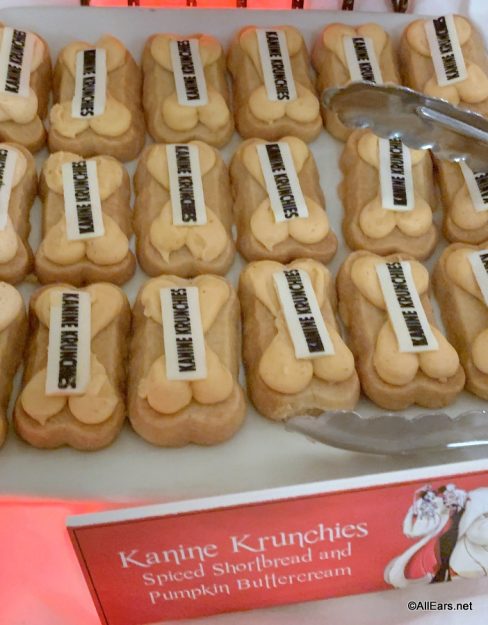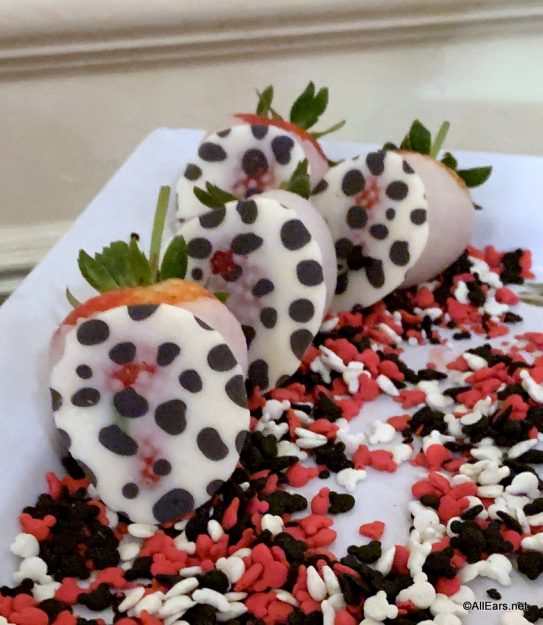 Our favorite treat was the pumpkin-flavored Kanine Krunchie! But all of the desserts were satisfying in their own simple ways.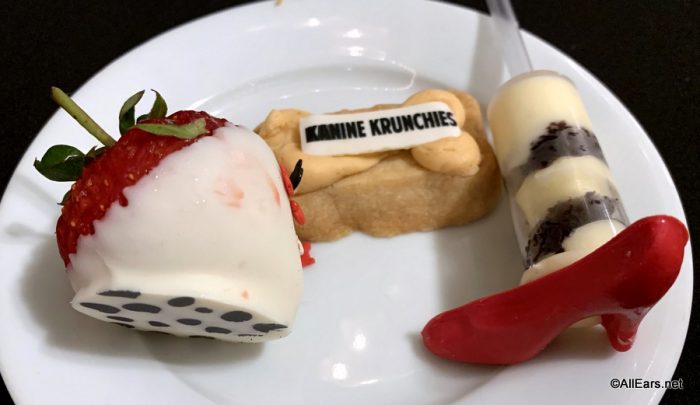 The wine and beer on hand are the wine and beer that are available during the day at Tony's. We were disappointed we didn't see any themed drinks or anything a little more Halloween-y as far as the drinks go.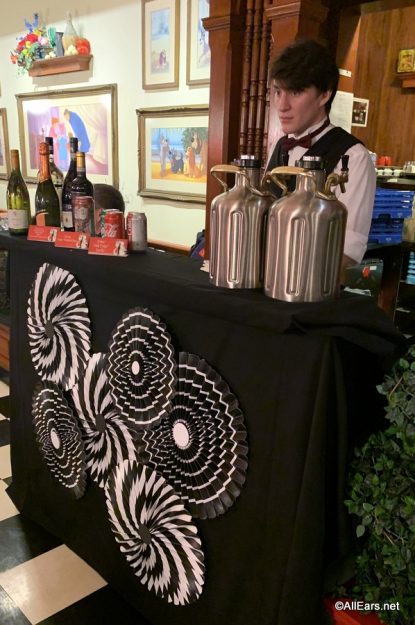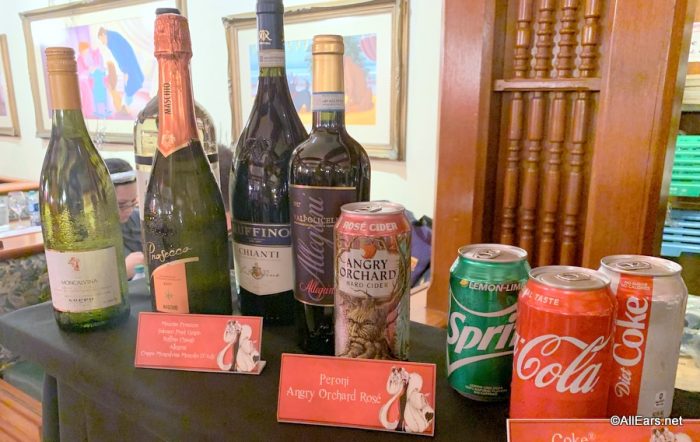 Another benefit of the add-on is access to a reserved viewing area for the 11:15 pm Boo-to-You parade. The viewing area is in the circle where the flag pole is across from Tony's. This offers a great view of the parade, but with it being the second, less popular showing of the parade, the reserved viewing is not really necessary, and we found a spot closer to the Hub to watch the Parade.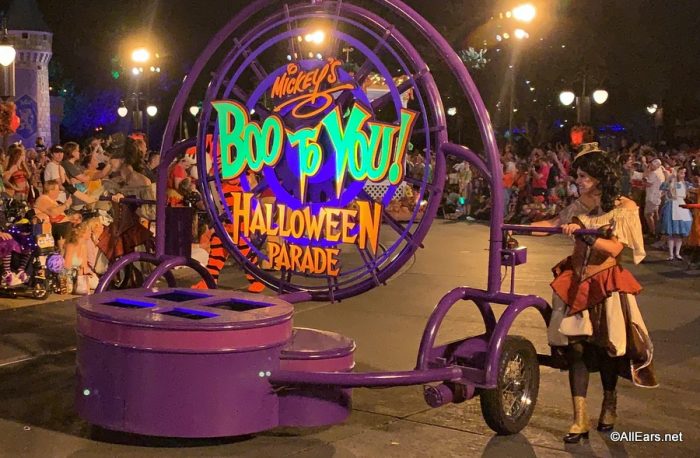 Is this worth the price? Probably not. It is in a location at the Park entrance, and most Party activities are in the lands behind Main Street, USA. If you want to sit for a moment or munch on some of the eats, it may be a lot of walking back and forth for you and your family.
The food was slightly above average, but again, probably not worth $99 unless you plan to spend a lot of time eating and drinking at the Hide-A-Way. As we said before, the reserved viewing for the parade is great but not really necessary for the second showing of the parade.
However, if you are die-hard Cruella fan this party is for you! She will be out and about interacting with guests, and since she is a rarely-seen-in-the-Parks character, this is the perfect way to meet her and get some fun pictures.
Cruella's Halloween Hide-A-Way Logistics
Some details: Cruella's Hide-a-Way opens at 9:30PM and closes at 12:30AM. You have come-and-go access during that time, access to the food and entertainment there, and a reserved viewing area for the 11:15PM Boo-to-You Parade. The ticket to the Hide-A-Way is $99, on top of your Mickey's Not-So-Scary Halloween Party ticket. Learn more and purchase tickets on Disneyworld.com or call 407-939-3463.
Are you planning on hiding out in Cruella's Hide-a-Way this year? Let us know in the comments!
Disclaimer: AllEars.net was an invited media guest to Disney World's Mickey's Not So Scary Halloween Party, including Cruella's Hideaway. This did not affect our opinions, however. Our opinions are our own.
Read the latest about Mickey's Not So Scary Halloween Party!
Be sure to follow @allearsnet on Instagram and Twitter!
Click below to subscribe to the AllEars® newsletter so you don't miss any of the latest Disney news!