A Walt Disney World vacation is filled with fun, magic, and memories. Unfortunately, these exciting things often come at a pretty hefty price.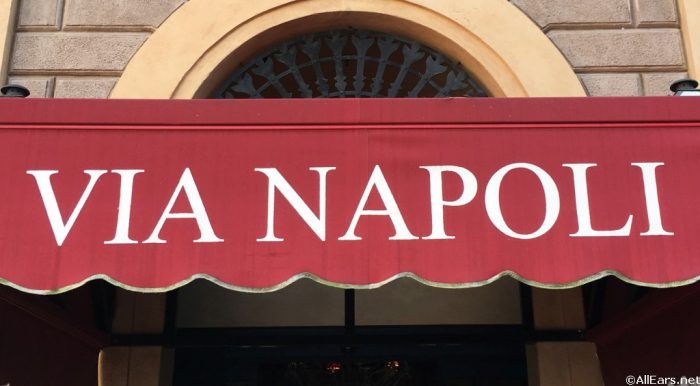 But there is some good news! If you do your research, you may actually find that there are a few more cost-effective options at Walt Disney World. And guess what? Today we're going to share what we think are some budget-friendly table-service restaurants that may help you save a few dollars!
Just to be clear, a table-service restaurant is a "sit-down" dining location at Walt Disney World where servers take your order and you can sit and enjoy your meal.  These often require an advanced dining reservation (ADR) and can be somewhat expensive. Here are a few of what we've found to be more budget-minded table-service spots at Disney.
Trail's End at Fort Wilderness
Trail's End happens to be one of the cheaper options when it comes to a sit-down meal at Disney World. You will have to travel over to Fort Wilderness to check out this awesome joint.
To get there, we suggest taking a boat from Magic Kingdom or the Contemporary Resort. If you choose to drive and park, you'll have to navigate the location's internal bus system, which can be tricky.
What's so cost-efficient about Trail's End, you ask? Well, for starters, their adult breakfast buffet is not only stellar, but it's only $25 per adult, which is a pretty great rate at Disney World. The kiddo buffet is $14.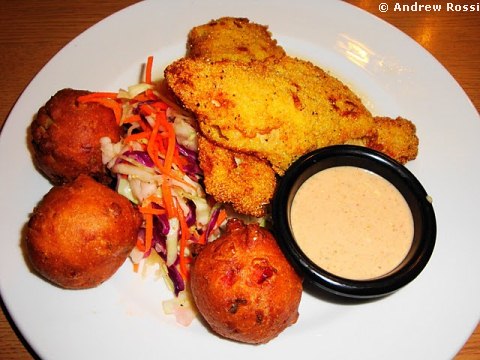 The breakfast menu features options like Mickey waffles, pulled pork Benedict, bread pudding, biscuits, sausage gravy, and more.
Brunch, which is offered on Saturdays and Sundays from 7:30 a.m. to 2 p.m. is $28 per adult and $15 per child. The brunch buffet also features Mickey waffles, plus cheese grits, vegetable frittatas, sausage, bacon, and much more.
Dinner is a little more expensive, but it's still pretty budget-friendly, considering it's an all-you-care-to-eat buffet at Walt Disney World. This buffet, which features seasonal vegetables, smoked pork ribs, fried chicken, and more, costs you $35 per adult and $19 per child. Compare that to the buffet at Boma over at Animal Kingdom Lodge, which, depending on the season, can cost as much as $47 for adults and $28 for children.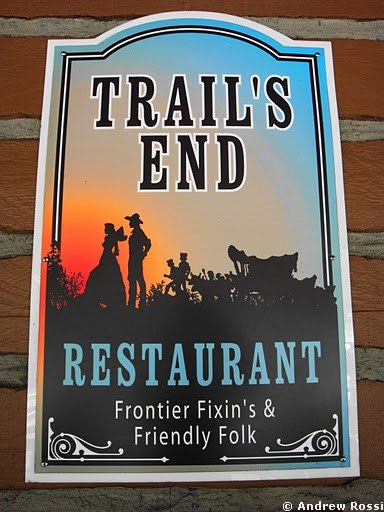 The Plaza Restaurant in Magic Kingdom
The Plaza Restaurant is located in Magic Kingdom next to the Main Street Plaza Ice Cream Parlor. And since it is hidden around the corner, many people seem to overlook it.
This hidden gem is another great option because not only is it a budget-friendly spot, but it offers a great view of the castle.
The restaurant is open throughout the day and serves comfort food like fried chicken and meatloaf.
Breakfast will run you about $14-$18 for an adult entree and a kid's meal will only cost $6-$8.
For adults, breakfast options include anything from Mickey waffles to lobster-fried green tomato eggs benedict. The choices for kids include cereal, a breakfast platter (scrambled eggs, potatoes, and your choice of sausage or bacon), and Mickey waffles.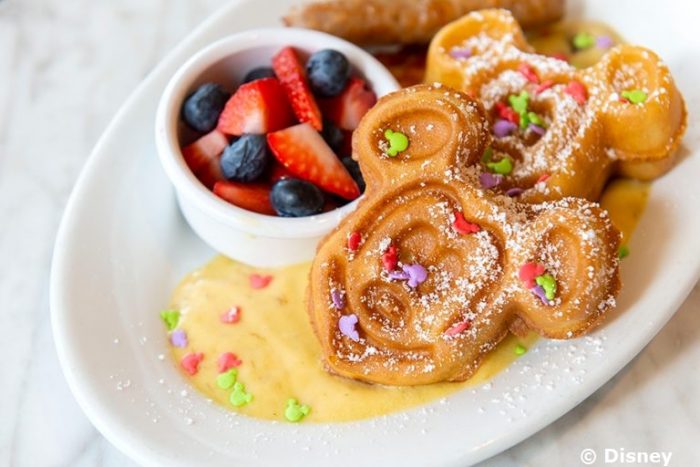 Lunch will cost you anywhere from $17 – $22 for adults and the menu has entrees like home-style meatloaf and a grilled chicken sandwich. Lunch will cost you around $9 – $11 for children with options like grilled chicken strips and a cheeseburger.
Dinner, of course, will be the most costly time of day to dine at this location. Adult meals will cost anywhere from $18 – $32, with selections ranging from a chicken-strawberry salad to a strip steak. The kiddo options range from $9 – $11 with the same meals as lunch.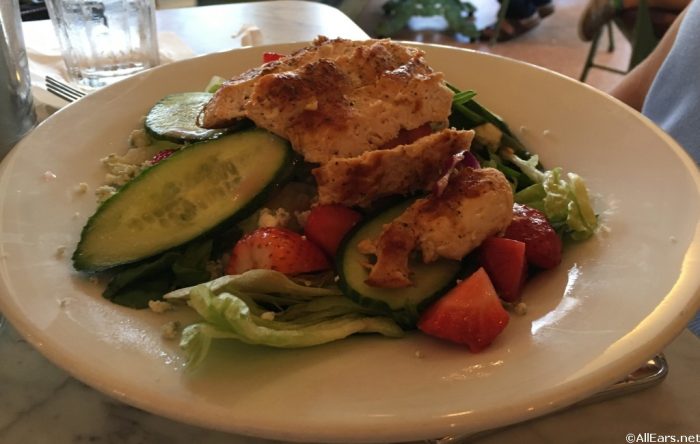 Via Napoli Ristorante e Pizzeria located in Italy at Epcot
One word. PIZZA. Oh yeah, you read that right. Via Napoli is located in the Italy Pavilion in the World Showcase at Epcot is another great budget-friendly option that serves the most delicious pizzas.
These aren't the little pizzas you'll find at quick service locations like Pizzerizzo in Hollywood Studios. Instead, these are big, delicious, wood-fired pizzas, plus the restaurant also serves up Italian pastas and more.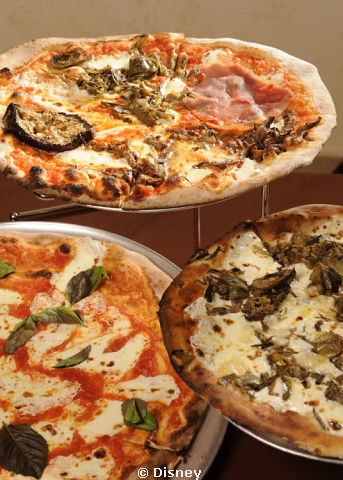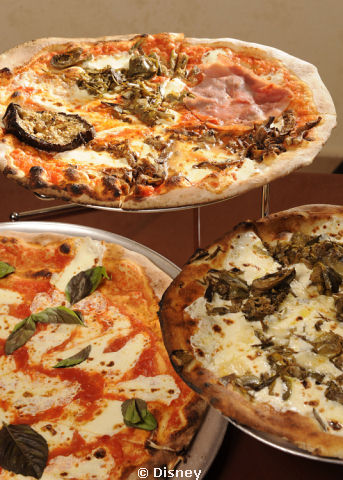 You can dine here for lunch or dinner and will likely need to make an advanced dining reservation since this is a pretty popular table-service location.
Though Via Napoli's pastas are SUPER delicious, we're going to focus on the pizzas. They're going to be your most cost-effective option when dining here.
The pizzas themselves will cost you anywhere from $18 – $45. And I know what you're thinking: "$45 for a pizza? Are you out of your mind?" Well, I might be a little crazy, but bear with me. These pizzas are HUGE and made to share. Many of them can be split between 3-5 people, so you're really only paying a fraction of that $45 cost per person.
This ends up being a really awesome option if you're all willing to decide on one or two pizzas to share. The food is super yummy and the slices are a pretty nice size.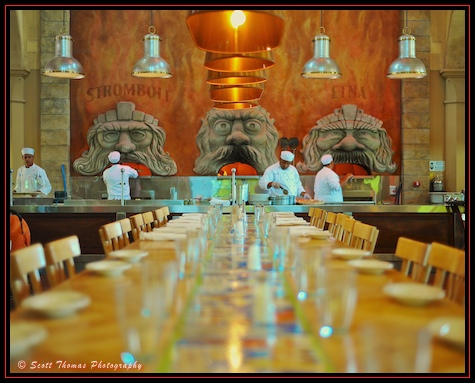 Fresh Mediterranean Market at the Walt Disney World Dolphin Hotel
If you want to get out of the Disney theme parks for a bit, check out this budget-friendly dining option: Fresh Mediterranean Market at the Walt Disney World Dolphin is a great place to grab a delicious bite for breakfast or lunch while escaping the crowds.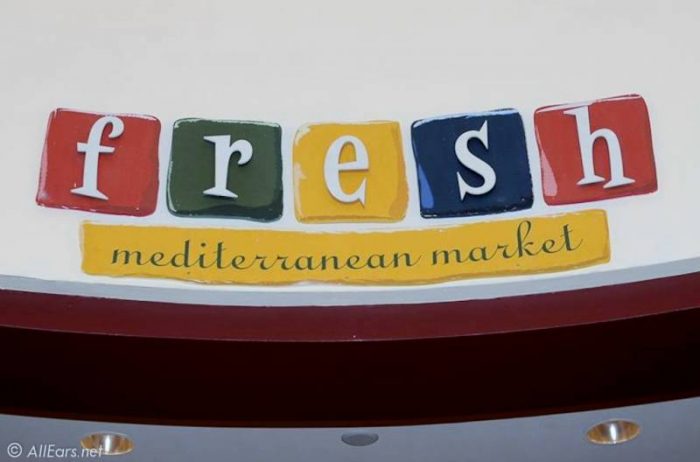 People seem to forget about this location, so you will often find it easy to book a reservation, especially during lunchtime. Often you can just walk in without any advance planning — not many places left at Disney World where you can do that!
The location has a lovely spread for its breakfast buffet, but at $28.99 for adults it's not that budget-friendly. It's Fresh's lunch that can save you some cash, as it'll cost you in the neighborhood of $15 with options like a blackened mahi or Thai chicken salad, a turkey BLT wrap and the super delicious burger wrap.
You can also build-your-own wraps and salads, with fresh ingredients like rotisserie chicken, garlic shrimp, seasoned tofu, Maytag blue cheese, artichoke hearts, applewood smoked bacon, craisins, glazed walnuts, and so much more!
And here's the kicker — that $15 price tag comes with a visit to Fresh's extensive dessert bar, which offers everything from gorgeous fresh fruit tarts to decadent Milk Chocolate Almond Mousse. The desserts are just a few bites each, but oh-so-good! And every time we've been there, the servers have encouraged us to try more than one. Don't mind if we do!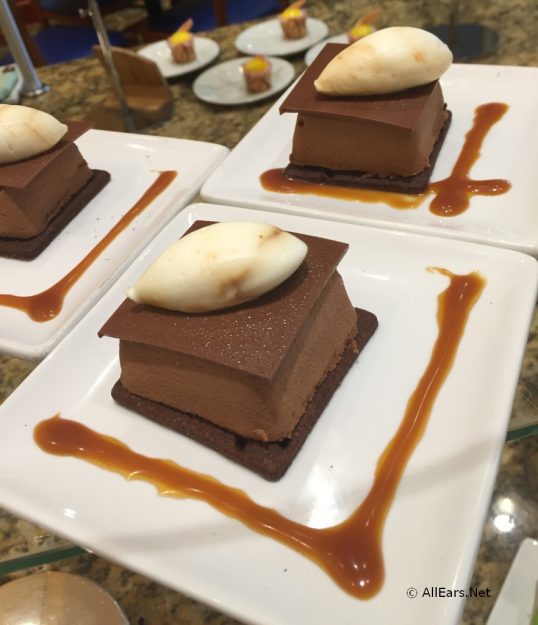 We love this spot because it's a budget-friendly, more laid-back dining location — and it's fairly healthy, too, as long as you don't overindulge in the desserts!
Do you have a favorite budget-friendly Disney restaurant? Let us know about it in the comments below! 
Click below to subscribe to the AllEars® newsletter so you don't miss any of the latest Disney news!