By now, it seems unlikely that you've not heard about the little side project they've been doing down at Disneyland called Star Wars: Galaxy's Edge.  Every website has covered it in lavish detail, from its inception to its grand opening last Thursday, at which time Disney fan social media felt a bit like this:
Today. pic.twitter.com/CH3xOggCY9

— Matthew Inman (@Oatmeal) April 14, 2017
Perhaps you viewed this all with the avid interest of a Star Wars/Disney fan, and had dreams of joining all the VIPs previewing it last week, joyfully double-fisting glasses of different colored milk and having lightsaber battles in front of the Millennium Falcon while twirling around in the empty courtyards like Maria Von Trapp up in the Alps.
But then you woke up and remembered that, like me, you were a normal person who was super lucky just to get a reservation at all for this next month, accompanied by untold numbers of your fellow fans.  Well, as we learned in "Star Wars: The Last Jedi" and also "Ratatouille," not everyone can become a Force wielder, but a Force wielder can come from anywhere.
Having gone to Star Wars: Galaxy's Edge on the first night it was open to the public, I can tell you a little about how it went for me.  Bear in mind, Disney often changes the way they do things, so the system may evolve over the next month of reservations.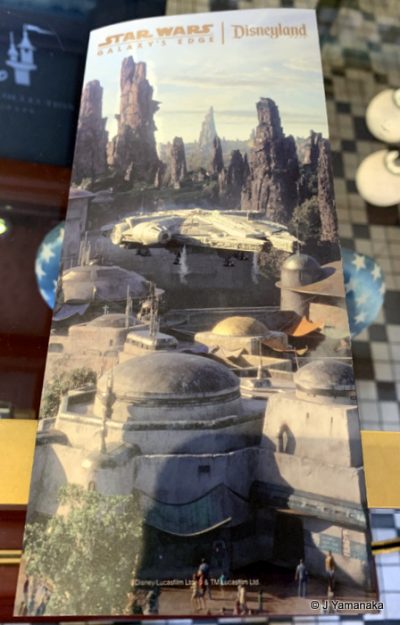 Check-In
Parties were asked to check in at what used to be the Innoventions or America Sings or Carousel of Progress building, depending on how old you are, starting from two hours before your reservation.  While we showed up right at the two-hour mark, paranoid that massive lines might form, the process of checking IDs and handing out/scanning wristbands went pretty smoothly and took about 20 minutes.  There are three entrances into Galaxy's Edge, but everyone in our time slot was told to enter at the one by the Hungry Bear Restaurant, and to not show up there until about five minutes before.  Knowing that this was probably an optimistic hope on their part, we headed over to find people already massed around the area.
About a half-hour before, CMs started marching people slowly into the land, eventually holding the front of the line right around the Resistance Base.
Oga's Cantina
When planning the assault on Batuu, we were told by earlier entrants that the reservation slots overlap by an hour, so that there ends up being more total people in the land in the first and last hour than in the middle two.  This causes the line for Millennium Falcon: Smuggler's Run to wax and wane dramatically, and makes heading there first thing less efficient. Oga's Cantina, on the other hand, has a small capacity and a line that caps pretty quickly, so if that's a priority, you get to speed walk almost the entire length of the land as soon as you get in to get there.
Once in line for the Cantina, you can expect to spend about half an hour or so to get in.  It's bigger than Trader Sam's, but feels pretty crowded with the bar bisecting the room and standing tables in the walkways. There are a handful of booths around the walls of the bar, but about two-thirds of the visitors are going to be standing for the entire time. (Cast members tell me it's intended to be about a 45-minute experience.)
As far as the menu is concerned, I don't drink alcohol, so I was limited to the non-alcoholic side of the menu, which seemed to be largely Powerade-based.  I had a "Jabba Juice" which was essentially orange juice with popping pearls/boba in it.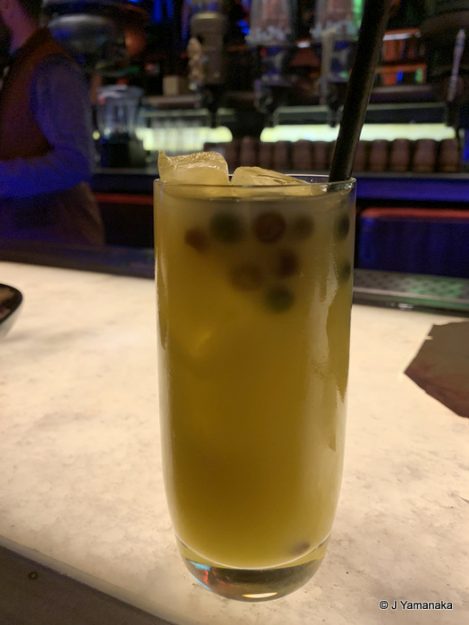 I also had the only food on the menu (I was starving by this time) — "Batuu Bits."  This was $8, and was essentially a saucer of senbei.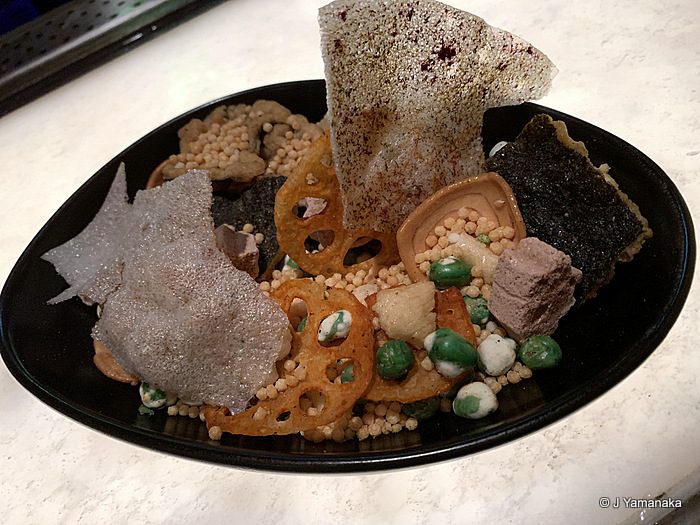 For the nostalgic, your old Star Tours friend Rex is back, delivering the lines that made him a star.
As a whole, Oga's Cantina is very cleverly done, with a lot of detail and no doubt a ton of Easter Eggs for the determined to discover, but when you don't drink, there's really a limit to how appealing any bar is going to be. I found the food and drinks pretty pricey (not as pricey as the alcoholic ones, thankfully) and I didn't enjoy standing up and trying to squish into a spot at the bar for the better part of an hour. It's definitely worth seeing once, but I don't necessarily need to do it again, particularly with the time investment required.
Millennium Falcon: Smuggler's Run
Eventually it was time to experience Smuggler's Run, which looks just as impressive as you've been led to believe.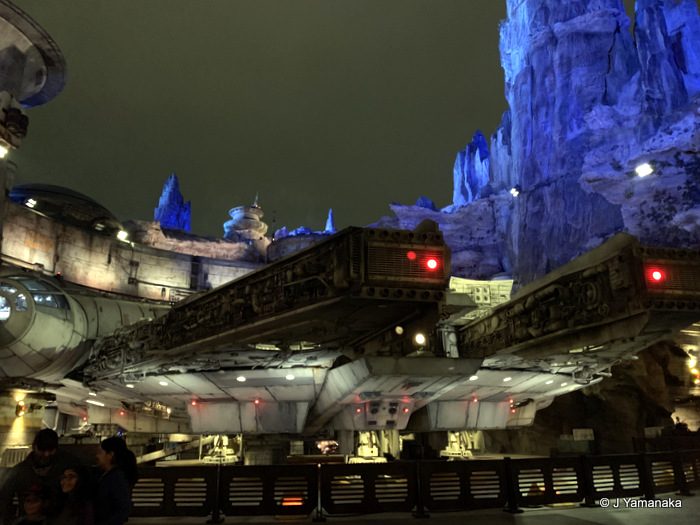 I didn't have a great idea of how this ride was going to work, but it was actually pretty interesting. When you first enter, you get to see a pre-show with Honda Ohnaka — the amoral smuggler from the animated Star Wars series, "Clone Wars" and Rebels."  He sets up the situation where you're all going to take the Falcon on a heist to capture… something… off a space train for which we will get money.  Look, there's a lot going on, and it was hard for me to get the specifics down.  
After that, you're given a token describing your job on the mission and you're set loose in the photo-op section of the Falcon until your color group is called.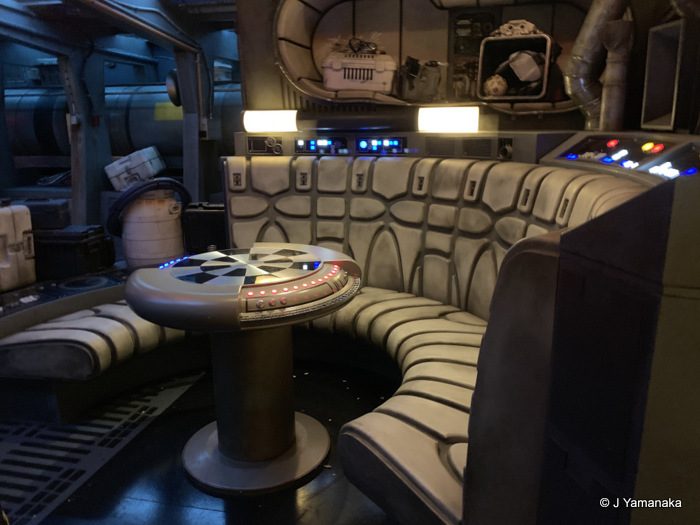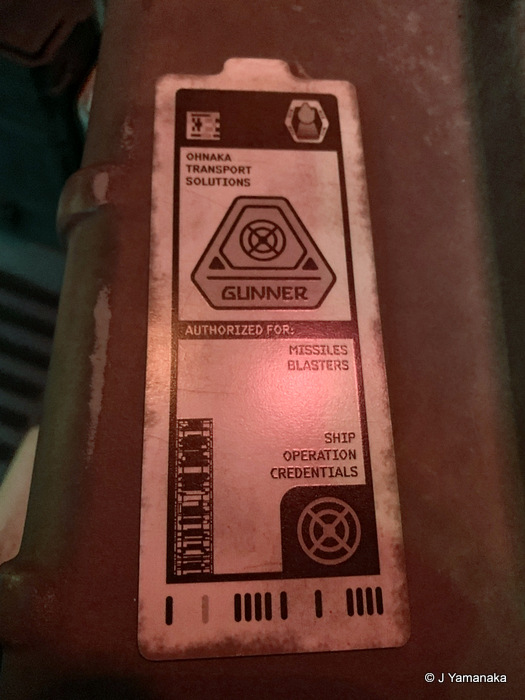 As far as I can tell, if you want to really be involved in this, you really need to be one of the two pilots. You're sitting in the front row with a better view and you have a lot more interactivity, either steering left to right or up and down.  Gunner, you're sitting in the second row and mostly just pressing a button as fast as you can. I didn't get the chance to do Engineer, but I assume it is somewhat like Gunner, but with less button mashing.
The whole thing basically plays like a video game. They kept telling us that everyone had to work together, and it didn't seem that important for the gunners and engineers, but since each pilot only gets to control one axis of direction, ideally there should be some communication between them.  Some moments there's a clear path either up and to the right or down and to the left, for example, and if you don't agree on which way to go, it could be unfortunate.
The money Hondo promises you manifests itself in the form of credits, which show up in your Datapad account on the Play Disney app, assuming you had the app installed and logged in and ready to go when you were there.  We made more than 6,000 credits per ride, which was an improvement over groups who apparently crashed so much they ended up in the red. At the Star Wars Celebration convention a few months ago, they made a point of saying the corridor at the end would be all destroyed if you flew poorly, but I didn't notice much change, besides some lights flickering, so either the difference isn't dramatic or we were just that good.
It's a fun ride/game and definitely has repeatability built into it. Lines toward the end of our session (there was no overlapping next group since we were the last of the night) were about 10 minutes, with single-rider probably slightly shorter.
The app is an interesting facet to the whole land, and basically links the whole area together into kind of a live-action multiplayer RPG. In the datapad, you have an avatar for which you can use credits to buy different outfits, weaponry, etc. and develop an alignment with either the Rebellion or the First Order. Aside from the ride, credits can be obtained through various missions involving either Hacking, Scanning, or Tuning (you can also Translate, but I didn't find a function for that yet). Each of those tools are operated by playing short mini-games like making connecting paths between various points or rotating discs to align openings for vector rays. This is entertaining, and at least can be used to kill time while you're in line for the Cantina, although it has the usual multiplayer problem that most of what you do gets undone pretty quickly.  One mission might be to hack an electrical panel for either the Rebellion or the First Order and you might manage to do it so it's controlled by one side, but the next person who comes along can shift the balance over again.
Docking Bay 7 Food and Cargo
Still hungry after the $8 handful of Batuu Bits, we then ate in the Docking Bay 7 Food and Cargo — the main eating place in Galaxy's Edge.
This was actually the only place where I felt like the cast members were really invested in the whole Batuu role-play. (It wasn't until I got home that I realized not one person had said "rising moons" to me.) I had the Braised Shaak Roast (pot roast on pasta) and the Oi-Oi Puff (raspberry cream puff), both of which I enjoyed. I heard good things about the ribs, but did not meet any guest that night who liked the Tip-Yip at all. The Cast Member who checked me out said that was her favorite, however, so maybe it was an off-batch.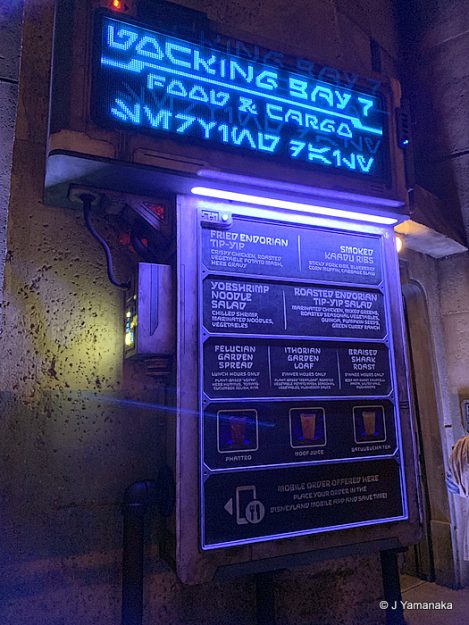 Shopping
After this I mostly ran around trying to see the different retail stands. The Market is a really charming street lined with different tiny merchandise stalls.
The Toydarian Toymaker has terribly cute dolls and toys resembling people and things within the universe, done in a sort of "hand-made craftsman" style.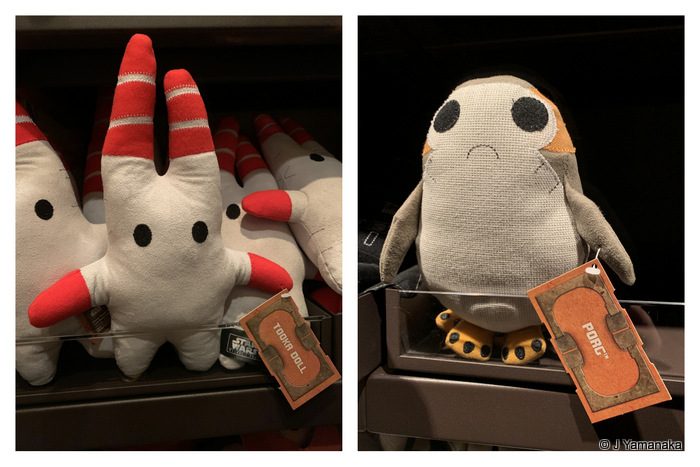 One of the big retail experiences is the Creature Stall, where you can pick up your own Kowakian monkey-lizard or any number of other mildly grotesque bundles of love.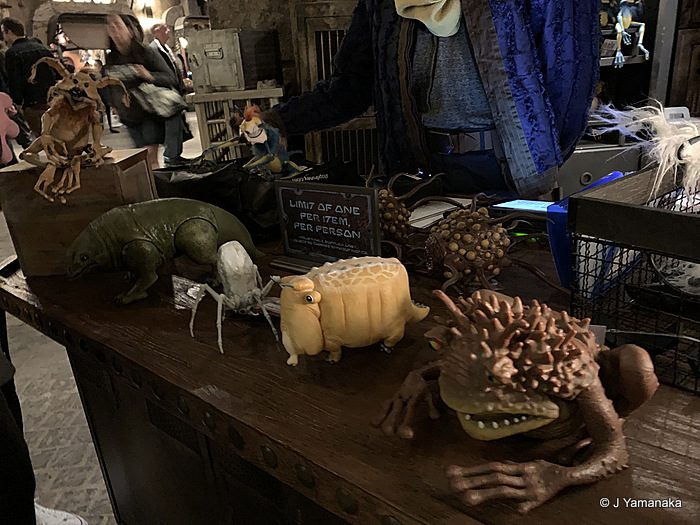 Robes are for sale at the Black Spire Outfitters, but in what turns out to be a continuing theme along with the droids and the lightsabers, I don't get the impression you're allowed to use them in Galaxy's Edge.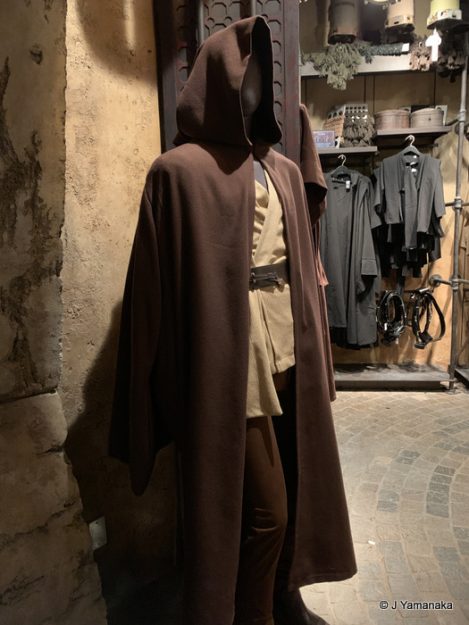 Over by the…First Order shuttle? I'm not sure, if that's what you'd call it, but First Order Cargo has some cute apparel, if you're comfortable advertising your allegiance to what are essentially Space Nazis.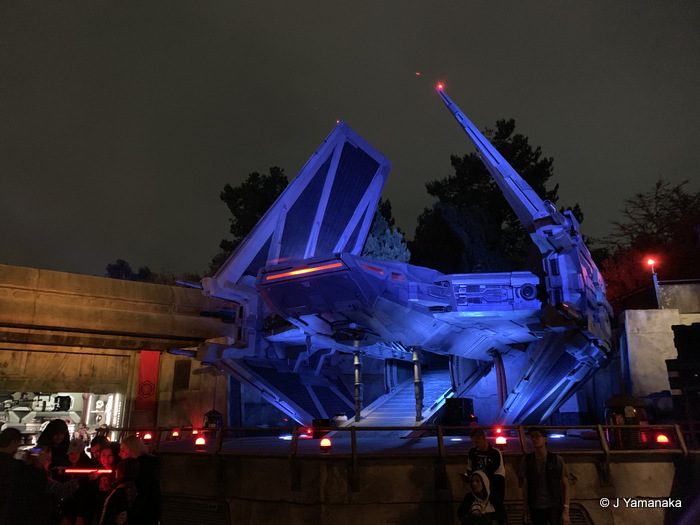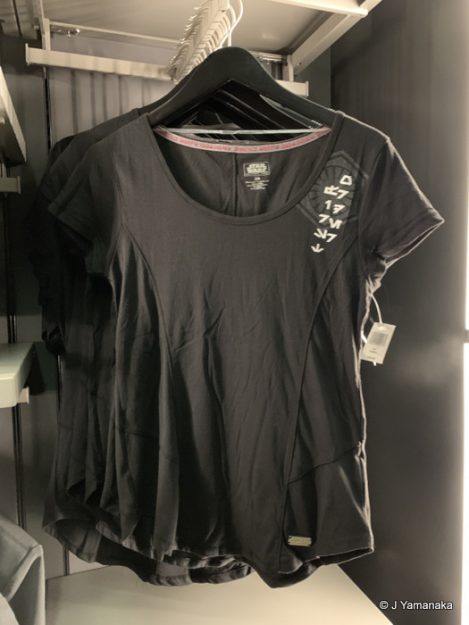 The Droid Depot is a pretty big facility that reminds me a little of Star Tours, with the moving baskets of parts rotating around the ceiling.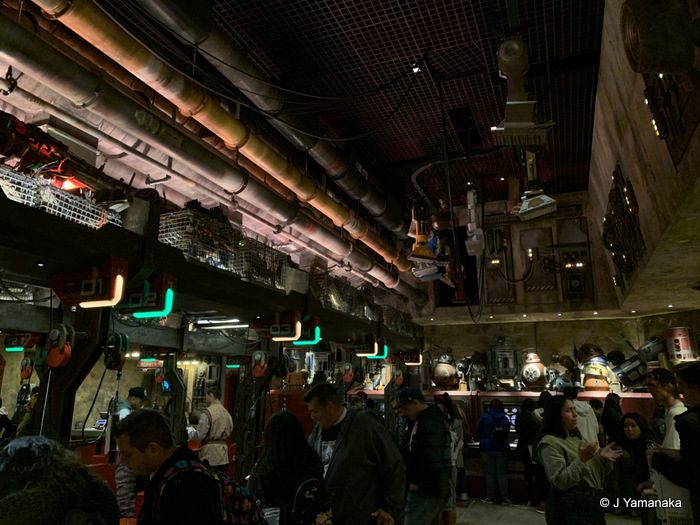 Things I Didn't See
Resistance Supply — it was all the way back at where we entered the land, and I never made it back there.
Dok-Ondar's Den of Antiquities — there was a line.
Savi's Workshop — you can't go in, apparently, unless you've already ponied up the $200 for a lightsaber or you find someone who doesn't already have a guest.
Summation
Galaxy's Edge is an incredibly detailed land that I think will have tremendous appeal to the die-hard Star Wars fans, and a lot to offer people with even a passing interest in the franchise.
Although the closest land to it in level of theming out here is Cars Land, it actually feels like a spiritual successor to Pandora in Disney's Animal Kingdom more than anything else. People talk a lot about how you don't feel like you're in Disneyland while you're there, and I felt like that was true, however I didn't feel like I was in space, so much as I really felt like I was at Walt Disney World.
My main issue was that there was so much stress and uncertainty about how it would all work, given that it was the first day, along with the hysteria of trying to see as much as possible, that it was hard for me to really get more than a superficial feel for the area.  I should have additional opportunities to see it later this month, and hopefully I'll get a better sense of the whole space as an environment.  For people going who want to go for full immersion, it's probably wise to read up in advance on all the background lore, because much of it isn't obvious (like the whole profile of Oga, who owns the Cantina) or volunteered by the Cast Members. 'Til the Spire!
Are you planning to visit Batuu at Disneyland's Star Wars: Galaxy's Edge soon? Or have you already been? Drop us a comment below!
Star Wars: Galaxy's Edge at Disneyland is NOW OPEN! Don't miss these posts about the new land:
Be sure to follow @allearsnet on Instagram and Twitter!
Check out our YouTube Channel for reviews, news, information and more!
Click below to subscribe to the AllEars® newsletter so you don't miss any of the latest Disney news!