Recently, Disney-Pixar invited AllEars.net to Pixar Studios to take an early look at the latest addition to their evergreen series, "Toy Story 4."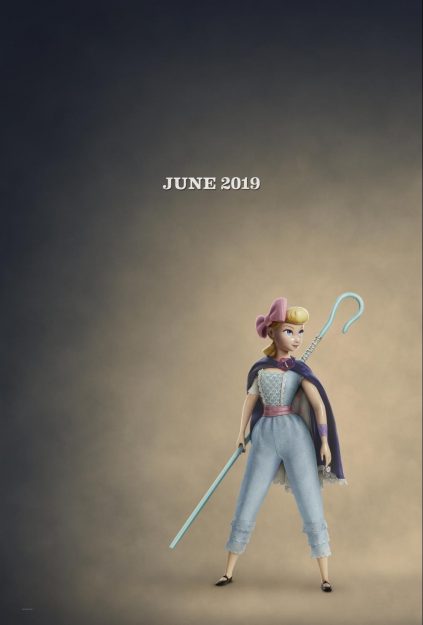 Continuing on with our early press day that we wrote about here and here, the next panel was "Bo is Back."
In evolving Bo Peep for "Toy Story 4," the team needed to take her from being a toy attached to an appliance, to a lost toy.  To begin, it was necessary to take a look at who Bo was in the first Toy Story films.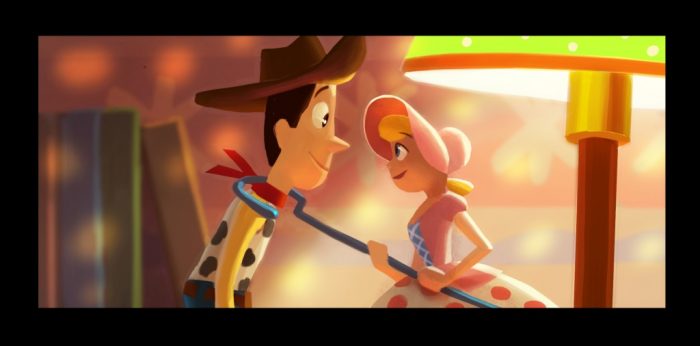 In Toy Story 1 and 2, Bo Peep starts out as the voice of reason for Woody — his confident and trusted support figure.  In "Toy Story 4," she would become the catalyst for change in Woody, and would need to make the jump from a tertiary sidekick to a main character.  Her leadership qualities had already been established earlier, as she was the leader in Molly's room just as Woody was the leader in Andy's room, but her status as a baby's lamp implies that her lifespan with any given child is shorter than that of a regular toy, giving her something of a more pragmatic approach to the toy-child relationship.  This, plus the reality that she can never be a real toy stuck to a lamp, opens Bo up to accepting a life as a lost toy — the worst nightmare for a conventional toy's viewpoint.
To prepare for Bo's redesign, the team took a close look at her original maquettes and concept art and also took research trips to toy manufacturers and porcelain factories to see how a toy like her would be created.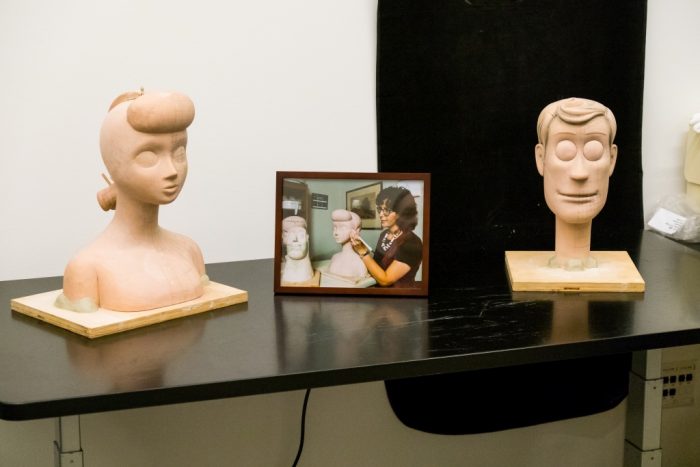 To find out what Bo's been up to in the intervening years, the team needed to fully delineate who her character is. Ultimately, Bo is someone who decided she wasn't just going to keep sitting on a shelf waiting for life to happen to her.  She takes chances and breaks toy rules in order to be the kind of toy she wants to be instead of what she was created to be. Her life out in the wild has given her a wider world-view than Woody, so she is more likely to take action to help random toys in trouble despite not being particularly motherly. She can be sarcastic and a little rough, but she does whatever she needs to do to get a job done and cares deeply for her friends and her sheep.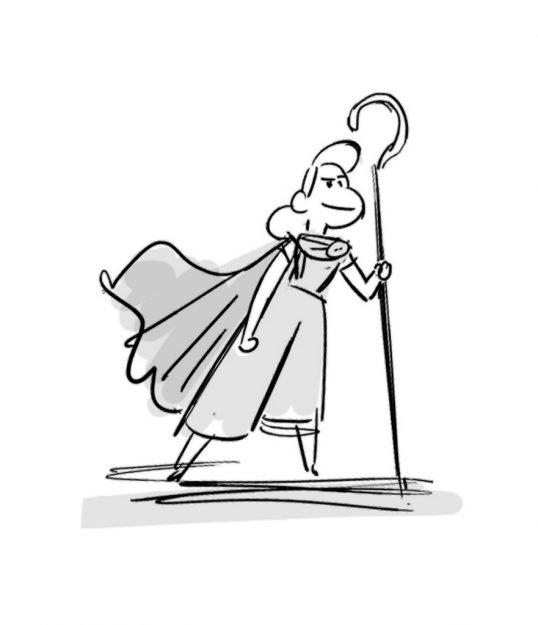 Bo's personality played a big part in designing her current-day outfit. She needed to look competent and self-assured with an ease of movement that didn't look masculine. As the years went by, Bo has had to adapt her dress to compensate for natural wear and a more active lifestyle as a lost toy. As the seams in her dress loosen, she can use it a cape or a bag or invert it.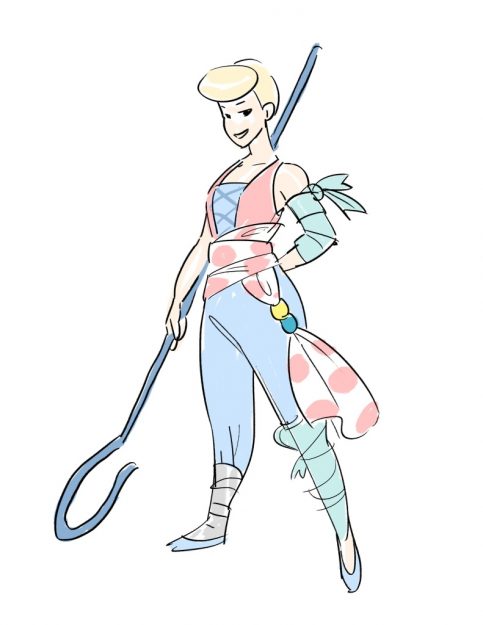 As far as movement is concerned, classic Bo was restricted in her movements, secondary to her dress, and spent all her time in the relatively safe environment of Molly's room, never going outside on adventures with Woody and Buzz.  While modern Bo still has the same dry wit she used to have, she has matured and is now independent and comfortable with living on the road.  She's athletic and her new outfit gives her the freedom to express her new athleticism.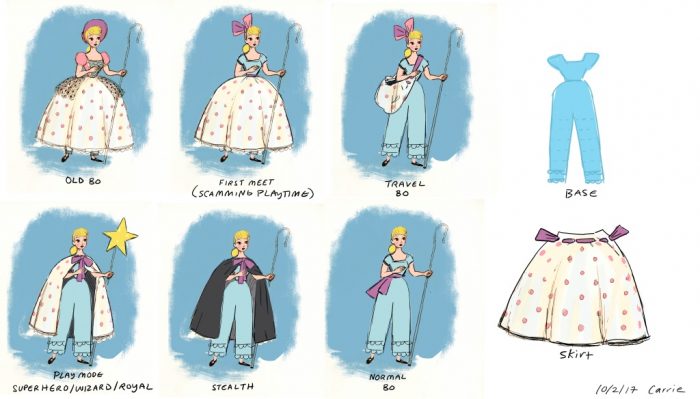 One consideration the animators needed to take was to ensure Bo moved like a toy and not like a human.  Certain parts of her needed to be established as pliable and others as solid, such as her hair which has fine cracks in its finish to remind us that she is made of porcelain.  The goal was to enable her to function as an action hero while still maintaining her femininity and truth to material, using influences from reference clips of martial arts, dancers, and gymnasts.
We'll have more from the early press day, and on the film itself in the coming weeks. "Toy Story 4" comes to US theaters on June 21, 2019–tickets are on sale now!
Fans can catch Woody and the gang a day before "Toy Story 4" officially opens with two special opportunities taking place in select theaters across the country. Check Fandango.com for more information and to find participating theaters:
Opening Night Fan Events will invite fans to be among the first to experience the movie on Thursday, June 20. In addition to watching the film early, attendees will receive a set of "Toy Story 4" collectible character cards and get a special event-only concession offer.
"Toy Story 4" Movie Marathons take moviegoers on a "Toy Story" extravaganza on Thursday, June 20, showing all four "Toy Story" films back to back. In addition to seeing Buzz, Woody and all their Toy Story friends on the big screen, fans will receive an exclusive Woody pin, a set of collectible character cards and get a special event-only concession offer.
Take a look at the teaser trailer for the film below:
Want to read the latest on "Toy Story 4"? Check out these posts:
Be sure to follow @allearsnet on Instagram and Twitter!
Check out our YouTube Channel for reviews, news, information and more!
Click below to subscribe to the AllEars® newsletter so you don't miss any of the latest Disney news!