"To all who come to this happy place, welcome." – Walt Disney, Disneyland Dedication Speech
July 17, 1955, Disneyland's Opening Day. What should have been a joyous occasion quickly turned into an utter disaster. Everything that could go wrong, did go wrong. The Associated Press even reported, "Probably for the first time in his career, Disney disappointed thousands of youngsters."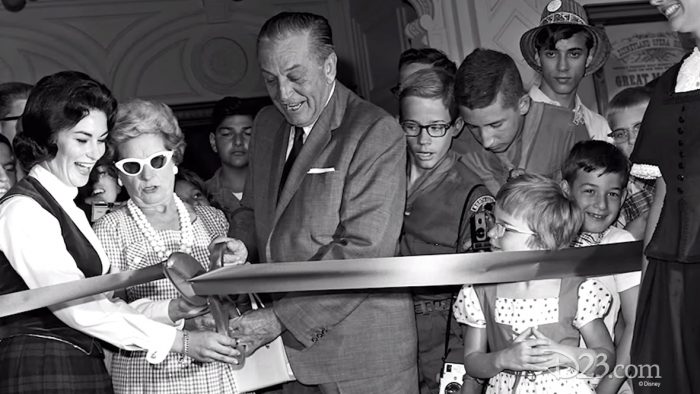 But what happened to make the park opening such a chaotic nightmare? We're taking a look back at that fateful day, which cast members dubbed "Black Sunday."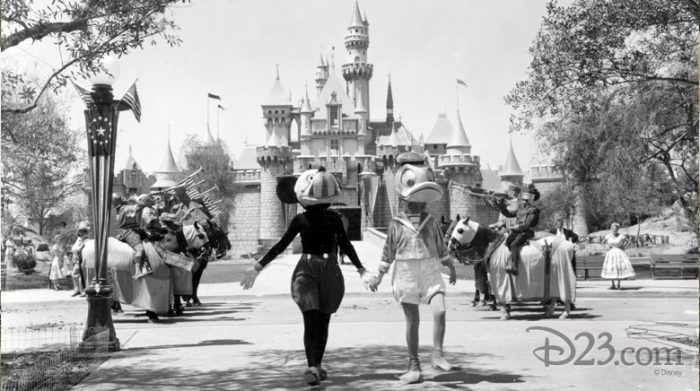 1. High Cost and Not Enough Time
Building a theme park is not cheap. In fact, Disneyland cost an estimated $17 million dollars to build, which is a staggering amount of money for the 1950s. Bankers and even Walt's brother Roy were worried about the financial risk. Some even dubbed this "Walt's Folly," saying it was sure to fail. But Walt pressed forward, selling his life insurance and various property to help finance the project.
With his finances and reputation on the line, he also set an incredibly aggressive and optimistic timeline for the opening. Walt announced Disneyland's opening would be on July 17, 1955 —  just 366 days after they broke ground. To put this into perspective, construction for Star Wars: Galaxy's Edge started in Spring 2016, and then opened in 2019, more than three years later. And that's just one area of the park. Walt was asking his team to fully construct the entire theme park — including the Castle and Train Station — in a year.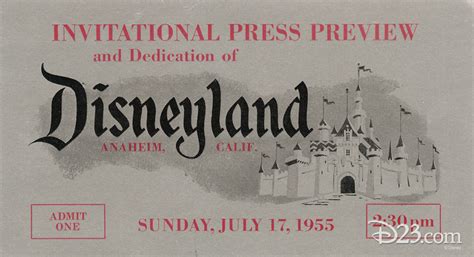 2. The Crowds
One of the biggest problems with opening day was the number of people who attended. Opening Day was supposed to be an invite-only event, with approximately 15,000 invitees. Unfortunately, the tickets were very easy to copy, and therefore thousands of people showed up with counterfeits.  One financially savvy gentleman even charged folks $5 to use his ladder to climb the fence at the back of the park. There was a seven-mile backup on the Santa Ana Freeway with cars trying to get into the park.
Fifteen-thousand people were expected, and almost 30,000 showed up, which led to even more issues beyond fake tickets. Lines for attractions were hours long, and they quickly ran out of everything from napkins to food.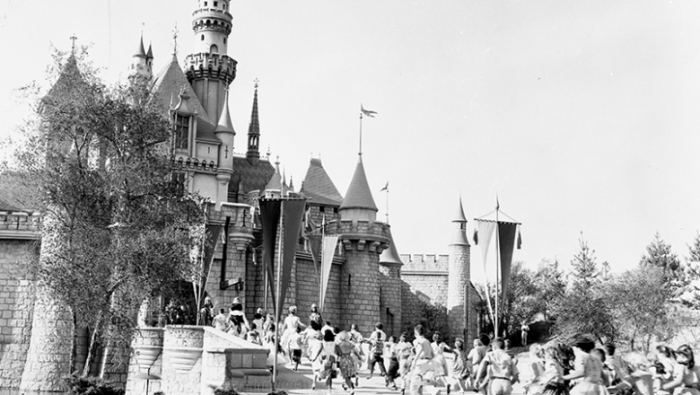 3. A Plumbers' Strike
A few weeks before the opening, a large plumbers' strike left Walt in a pickle — there wasn't enough time to finish and install both the bathrooms and the water fountains. When faced with the decision, Walt went with the easy choice: drinking fountains.
KIDDING! He of course went with bathrooms. Dick Nunis, former Chairman of Walt Disney Attractions, was in the meeting when the contractor presented this concern to Walt. According to him, Walt's candid answer to the question was, "Well, you know they can drink Coke and Pepsi, but they can't pee in the street. Finish the restrooms."
But because of this, almost 30,000 people had to purchase drinks (that quickly ran out) instead of using a water fountain, and Walt was accused of trying to turn a bigger profit.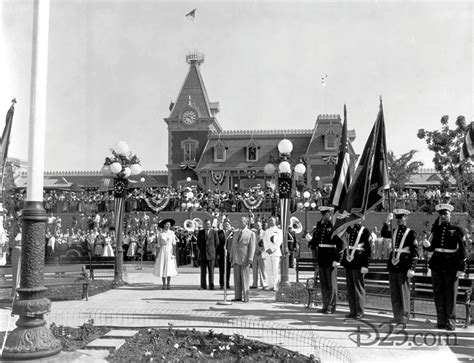 4. A Very Hot Day
It was incredibly hot on July 17, 1955, even for Southern California. Temperatures reached 100° Fahrenheit, and, remember, there weren't drinking fountains to grab cool water. But an even bigger issue with the heat came right when you walked in.
Due to the tight timeline and budget, they couldn't actually afford to lay the asphalt on Main Street until the night before the park opened. In those extreme temperatures, of course it didn't have time to set and harden. As people were walking toward the Castle, they were literally sinking into the ground. Women wearing high heels for the occasion had their very own Cinderella moments and lost their shoes in the street. Not the most glamorous way to be welcomed into the park!
If you look closely today you can still see the divots in the asphalt down Disneyland's Main Street USA.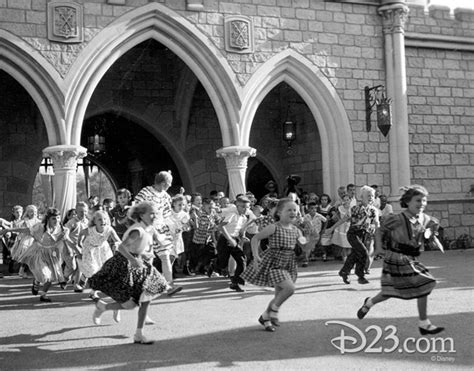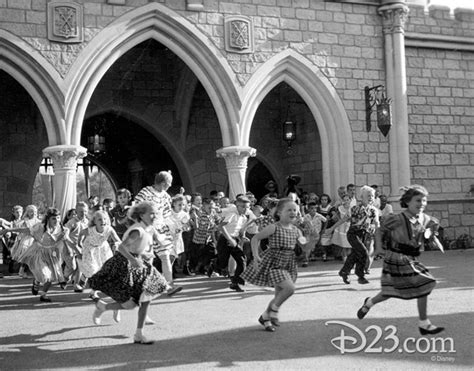 5. It's Hard to Fly with Dumbo, if Dumbo isn't Open
Yet another issue with the timeline and budget constraints, was that many of the most highly anticipated attractions weren't ready. Peter Pan's Flight, Dumbo, and The Rocket to the Moon were all still under construction and not operational on opening day. In fact, when visitors went to Tomorrowland, they were greeted with a basic picnic area, not a trip to the future.
Additionally, the attractions that were open were breaking down. They were not used to such high capacity — in fact the Mark Twain Riverboat literally began sinking into the Rivers of America because it was so overcrowded.
And if this wasn't bad enough, there was a gas leak in Fantasyland, which led to three lands (half of the park) being temporarily evacuated.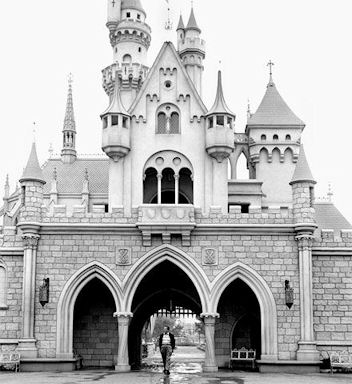 6. It All Worked Out
One of the saving graces of this disastrous day, was that it was broadcast live on ABC.  Of the 165 million people living in the US at the time, 70 million tuned in to watch Walt's newest project debut. This was a star-studded event, with the likes of then-movie star Ronald Reagan, Frank Sinatra, Sammy Davis Jr., and Fess Parker, TV's Davy Crockett.
While there were a few hiccups with the broadcast, thanks to the magic of television no one at home knew about the shortage of food or attraction closures. All they saw were celebrities, Mickey Mouse, and Uncle Walt promising a magical place like you've never been before.
When asked when Disneyland would be complete, in reference to the unfinished attractions, water fountains, and general chaos, Walt delivered one of his most iconic quotes: "Disneyland will never be completed. It will continue to grow as long as there is imagination left in the world."
Disneyland's opening was certainly a disaster, but it only took seven weeks for the park to welcome its 1 millionth guest.
Not too bad for "Walt's Folly," huh?
Did you know about Black Sunday at Disneyland? Let us know in the comments!
Remember! When you're in Disney tag @allearsnet in your photos!
Be sure to check out our YouTube Channel for reviews, news, information and more! 
Subscribe to the AllEars® newsletter so you don't miss any of the latest Disney news!