To all who come to this photo trivia game, Welcome! Along the way, the photos can make us relive memories and see details that Walt's Imagineers put into everything we love in Walt Disney World!
My name is Erin, so you knew this was coming. Plus the Disney family was Irish (hence Walt's claddagh ring he always wore — it's on the Partners statue too!):
Now for Challenge #579
And here's the answer: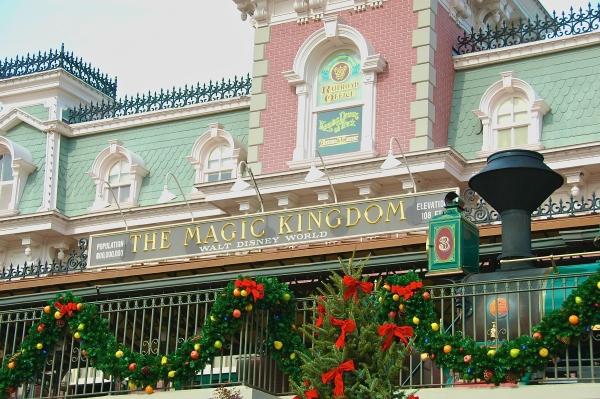 The Magic Kingdom train station with Walt's window so, as Roy Disney said, his brother could see his guests coming in.
Adolph and Kimberly Timm were the first to send in the correct answer! Congratulations to Adolph and Kimberly and to all our winners this week!  Gloria Martin, Cathy Fleming, Belicia, Sandie Albrecht, Linda College, Scott C., Grumpys Groupies, Janet T Thorn, Ken Savage, Claire Gregory, Carla Nale, Emily Hudson, Chris Gretchen and Katie Barnes, Tammy Warmouth, Tricia Petty, Ronnie Alvarado, Theresa Maradei, Phyllis, Joyce Tofflemire, Martha & Justin Collins, SANDS FAMILY, Michael OBrien, Michaela OBrien, Karen O Brien, Lysandra Kuroly, Ken Maikowski, Diane Curfman, Wendy T Faler, JoAnn Albrecht, Sue and Ed Adams, mis jamie marie, linda hoffman, Team Hill, Axel Beer, Andreas Beer, Josh Weiss, Joseph M. Zafia, Kerry A., Al & Kerry Ganter, Susan Higginbotham, Margaret Convery, Kris Nixon, Andrew Carrieri, Mike Haeberle, Melissa haeberle, Nancy Cole, Nan Amor, Deb Ragno, Beth McMeekin, Alex Gibb, Smitty, alan gates, David Crockett, Bonnie Jean, The Gunnels Gang, The Kertes Family, Jeremy A Hardy, Lori Rienhardt, Carolyn Como, Bob Henriksen, Steven Adam Kronick, Barb DiClementi, Karen Ramirez, Brian McWithey, Patricia Morin, Arl, Maureen and Warren Handy, Stacy Sanders, Luis Rodriguez, Blake Schmidt, Jeff Buller, Linda Ranatza, Vera and Izzy Williams, Jeff Blank, Dee Dee Kenney, Russ Morgan, Ashley Collins, Emma Ramsey, Brian Gallant, wayne chadourne, Theesa Rucando, Sarah Kreps, Sandy Ceplecha, Mike & Jackie McLucas, Rebecca Keenan, Zach Szymko, Ruth Senecal, George Mundy Jr, robert wescovich, judi franken, Sandy Gempp, rbl, Andy Hickey, Steve Knapp, Eric Enli, Heather Ciampi, Cheryl Costello, Karrie Rodriguez, Scott Sangston, Krista Connolly, Vicki Britt, Jim Finley, Barry Sklenar, Marissa Mullen, Jim Thompson, Leigh Mertz, Karen Bellamy, Shannon Benton, Donald Purney, Sharon Leitgeb, Chris Kelly, Maddie Inman, John Debow, Jane Johnson, Deanna, Vincent DeGasperis, Lindsay McKillop, Sandra Debow, Sue Bridges, Sherri Pell, and Glenn Motson!
_______________________________________________________
Challenge #580 Where in the world is this?
Now who is this?
Do you know? Do you have a guess? Please send in your answer before the end of the day on Thursday, March 21st, by clicking on the blue box below.
Please do not post your answers on this blog post.
See you soon, Players!

_____________________________________________________________________
Everyone who sends in a correct answer to a Where in the World Challenge this month will be entered in a drawing at the end of the month for some special AllEars® goodies!
Remember! When you're in Disney tag us @allearsnet in your photos!
Click on the graphic below to subscribe to the AllEars® newsletter  — don't miss any of the latest Disney news!