My husband Lee and I spent two weeks on the Disney Wonder as it traveled from San Diego to Galveston, going through the Panama Canal.  In this blog series I cover our experiences in the various dining rooms – what we liked, and what we didn't.
Moving to day #8:
One of my favorite meals on any Disney cruise is brunch at Palo. We did that  at the halfway point of our cruise.  For those unfamiliar with Disney, Palo is the specialty restaurant on board, featuring Northern Italian cuisine. There's an additional fee for dining there, plus gratuity. While dinner is served every night, brunch is generally only offered on sea days. Sometimes it can be difficult to book brunch, but we had lots of sea days on this cruise!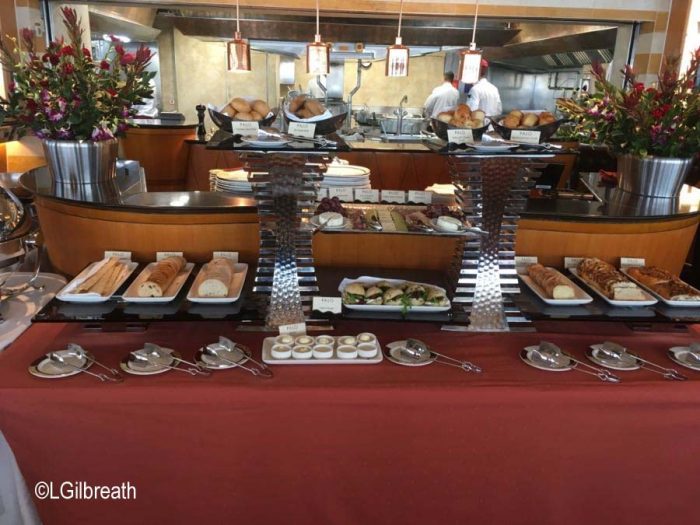 Brunch is a combination buffet and a la carte. The buffet items are cold, but there's quite a selection of pastries (warm sticky buns!), seafood, cheese, charcuterie, fruit, appetizers and of course desserts.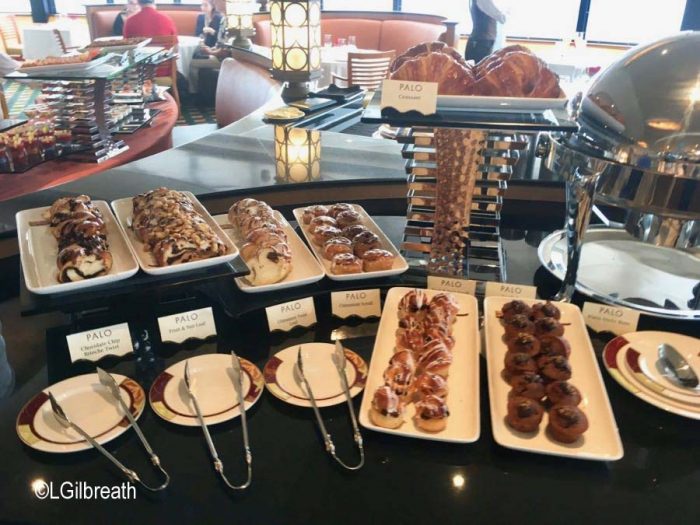 New to us was a cheese counter with I think eight different cheeses.  These in addition to all of the sliced cheeses that were already on one of the tables. Cheese heaven!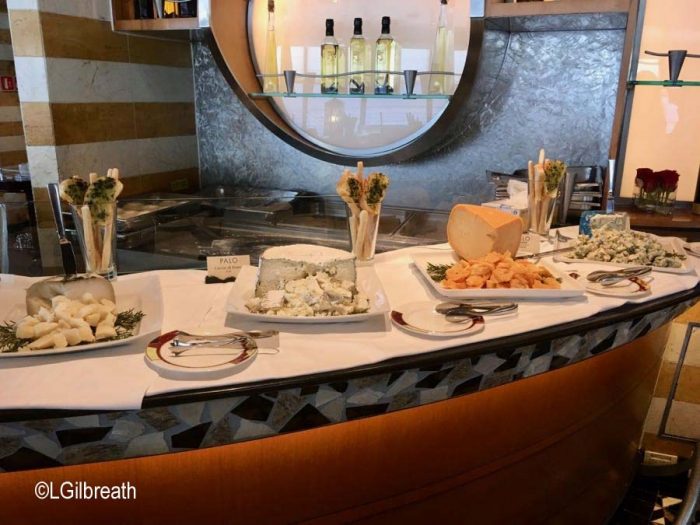 The menu of entrees prepared to order includes items like flatbreads, pasta, eggs benedict, frittatas, fish, chicken Parmesan, waffles, and pancakes.  It's nice to dine here in a larger group where you can order a flatbread or two and sample just a couple of slices.  But next time I need to remember that I shouldn't order an entree – just make a second trip to the cold buffet! There was so much there that I didn't try, and while the entrees are good I think I'd rather sample a few other items instead.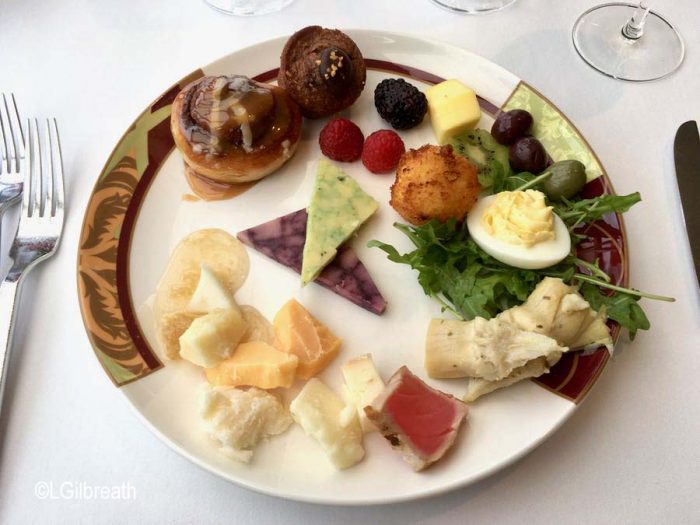 Something different this time… our server wanted to take our entree order prior to taking us on our tour of the buffet, and that seemed odd. It felt like we were being a little rushed, to be honest. Though I didn't feel that way for the rest of the meal – just the beginning.
She told us the chef was making arancini, and we started with one of those.  Deep-fried rice balls with saffron and cheese inside, as I recall. It was really good.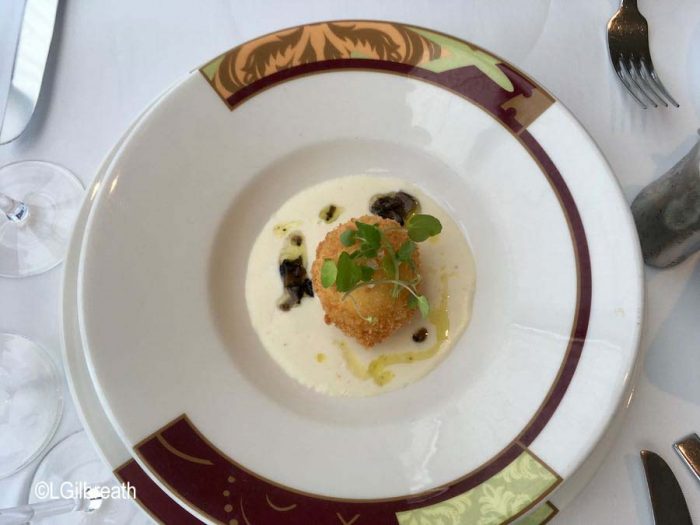 I had the Parmesan-Crusted Chicken Breast, which is always excellent here.  So tender.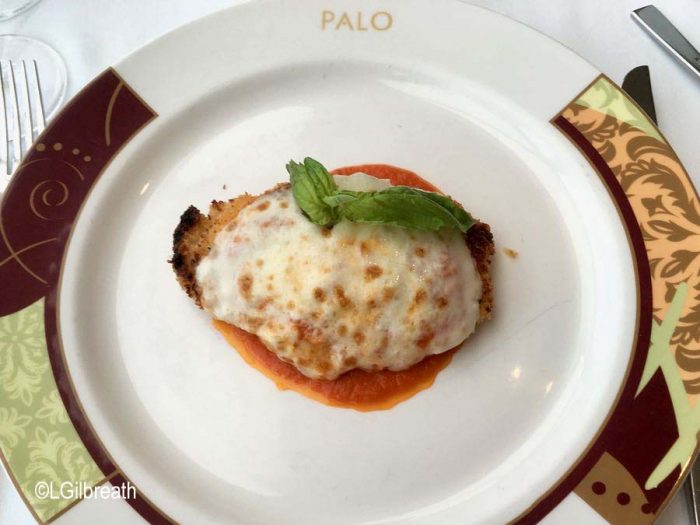 Lee ordered the Pennette Pasta with smoked salmon in a spinach, tarragon and black pepper cream sauce.  It was a lot of pasta…he didn't finish it.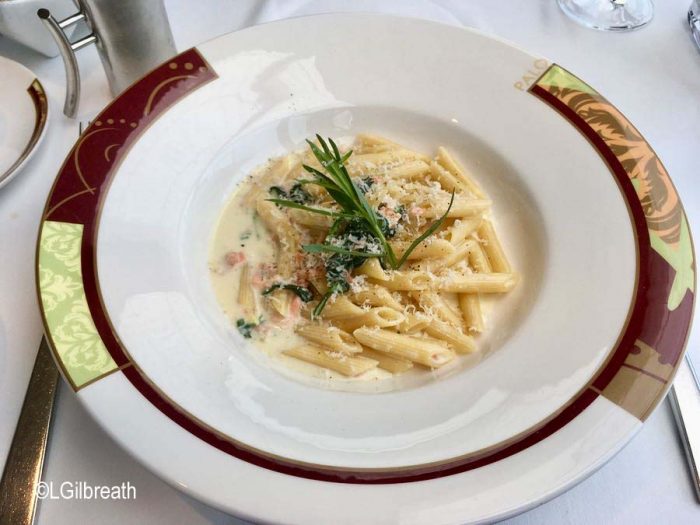 We of course had to make a trip to the dessert table. Wow! So many choices!  I'm glad they are small servings.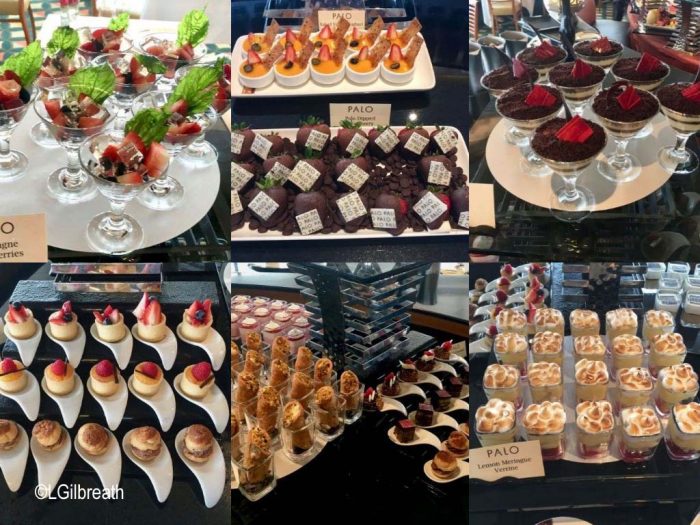 Our server asked if we liked chocolate… uh, yeah. And so she brought us a warm chocolate lava cake. It's not on the menu but is available if you have a server who knows to ask for it. It was pretty good, though it wasn't quite warm all the way through. That chocolate sauce was yummy, though!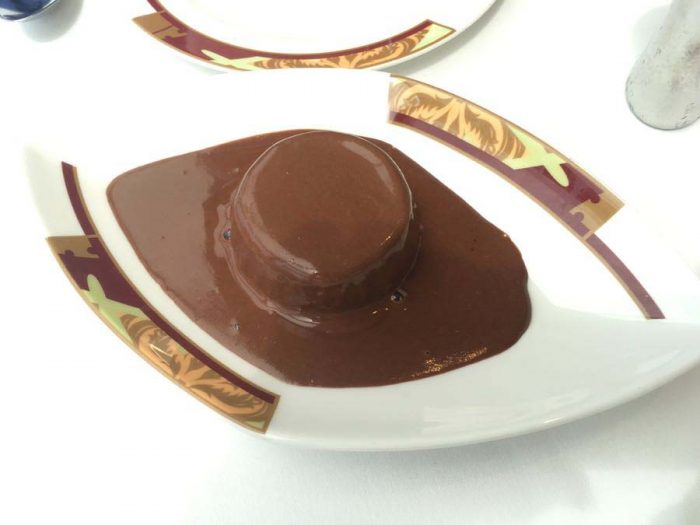 We were pleasantly full when we left – we've done Palo Brunch often enough that we know how to pace and not stuff ourselves silly.
Dinner #8 was the International menu in Triton's. I enjoyed seeing some different items on these special menus. This one had menu items from around the world – Italy, Norway, Greece, The Netherlands, England, Russia, Thailand, Switzerland, plus the ones we ordered.
I started with a Vietnamese Spring Roll, which apparently had to be made special for me because it contained bell peppers – not mentioned in the menu description. Who puts bell peppers in a spring roll? Especially when it already had shrimp, noodles, cilantro, cucumber, basil and lettuce. My pepper-free spring roll was good, though.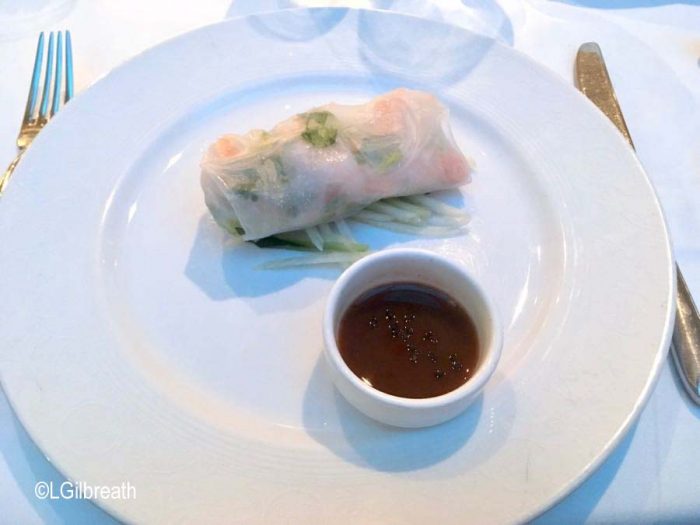 Lee had the Argentinian Beef Empanada, served with chimichurri sauce.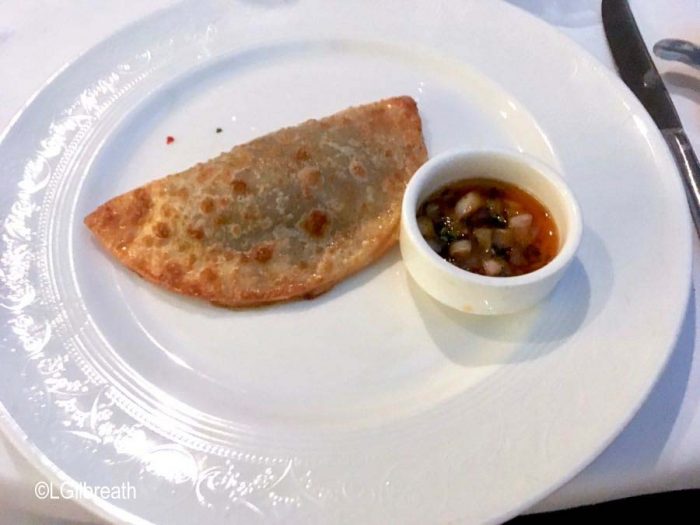 For a second course we both chose Canadian Cheddar Cheese Soup, with bacon bits and chives. It was good – not as good as the version at Walt Disney World's Le Cellier, though.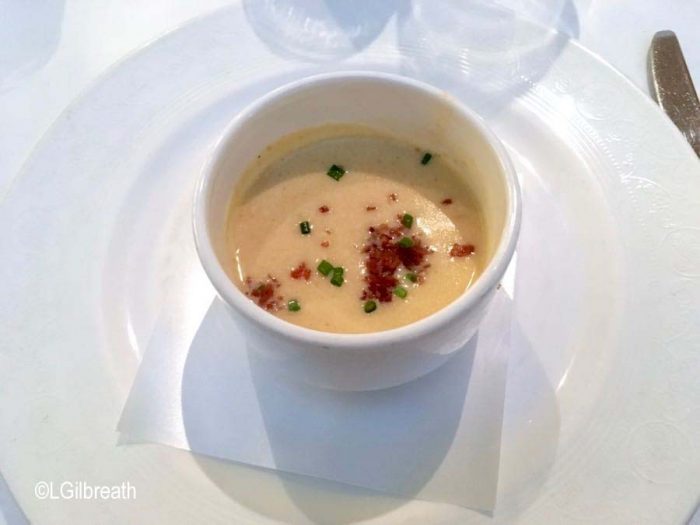 I selected a vegetarian dish as my entree: Danish Vegetable Turnover.  Puff pastry filled with goat cheese, asparagus, white cabbage, peas, cippolini onions and chard. The veggies were good other than the chard, but the pastry was pretty unappetizing – only the end pieces were still crisp and flaky.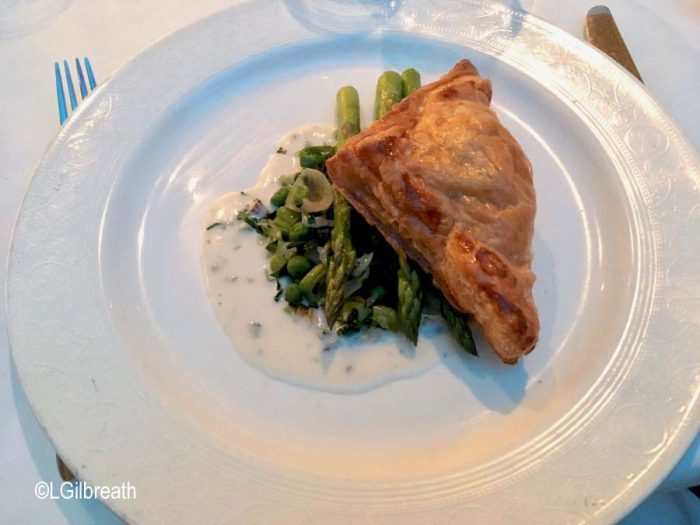 You may have noted that goat cheese cheese was listed as the first ingredient… this was the extent of the goat cheese in my turnover. Small crumbles with little flavor. Disappointing.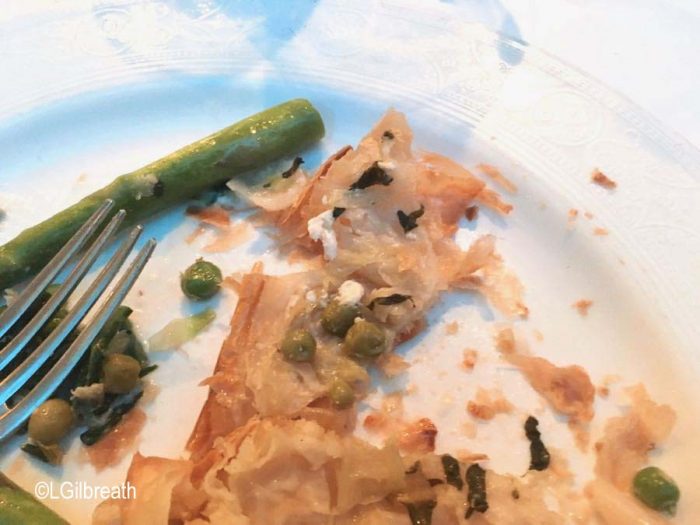 Lee had the Indian Prawn Curry, a coconut curry served over Jasmine rice.  He enjoyed it. The crisp roll of pappadum was a nice touch.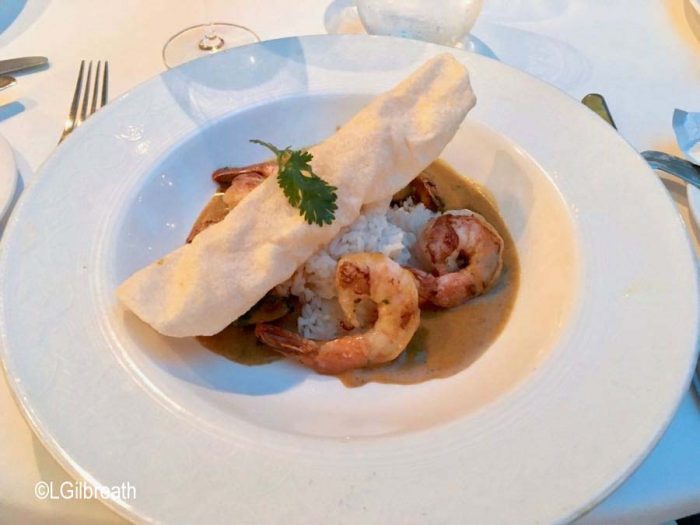 I tried the Canadian Ice Cream Sundae for dessert, with butter pecan ice cream, maple syrup and roasted pecans.  It was really good – a big hit at our table.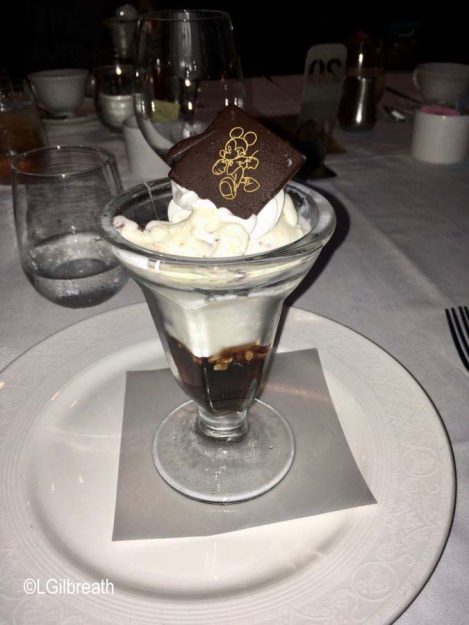 Lee ordered Irish Warm Guinness Pudding with butterscotch sauce and vanilla ice cream. He was happy with that.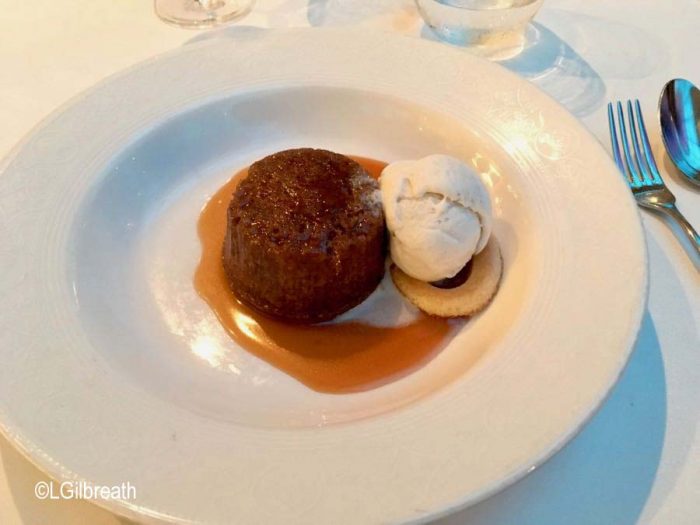 Dinner #9 – this was the day we went through the Panama Canal, so we had the Panama Canal menu that night in Animator's Palate. I was underwhelmed by this one – there wasn't very much on the entire menu that appealed to me.   I started with Smoked Salmon and Cream Cheese Napoleon – layers of cream cheese and smoked salmon with pumpernickel bread, garnished with caviar.  But again it had to be made special for me because it contained bell peppers.  What? But I'm glad they did because it was excellent – larger than I expected, too. The salmon, bread, and cream cheese together in a bite had a wonderful texture and flavor. It was in my top three appetizers for the entire cruise.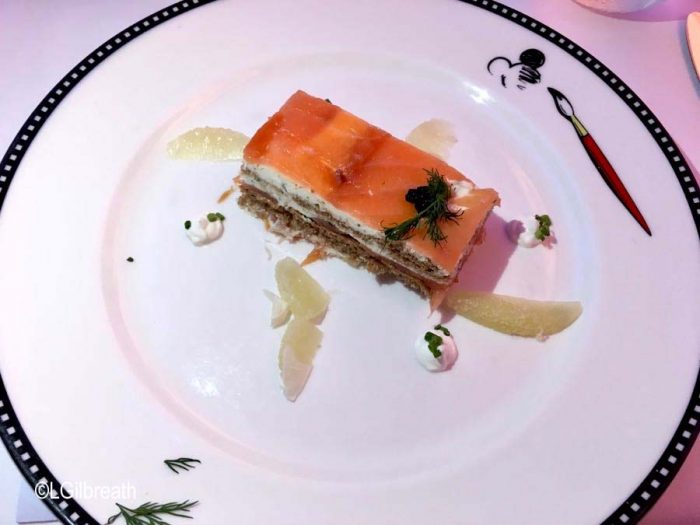 Lee chose Warm Cheddar Cheese and Applewood Smoked Bacon Tartlet with a sweet onion sauce.  He liked it, and it was very attractively presented.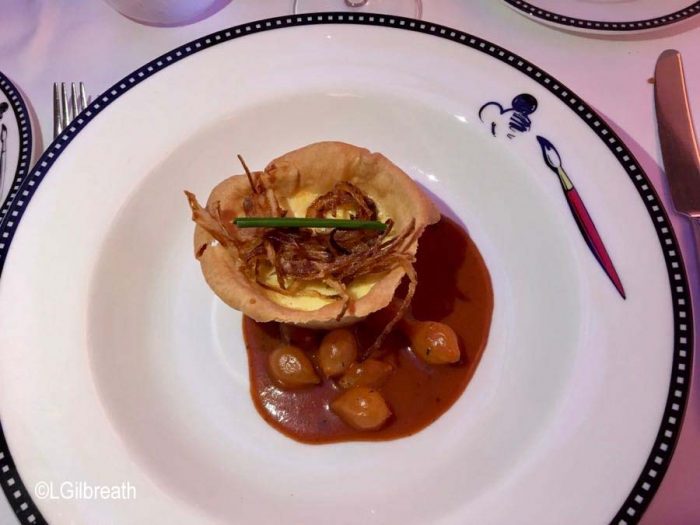 We both had Cream of Cauliflower Soup, and that was good. It didn't taste much like cauliflower to me (and I like cauliflower).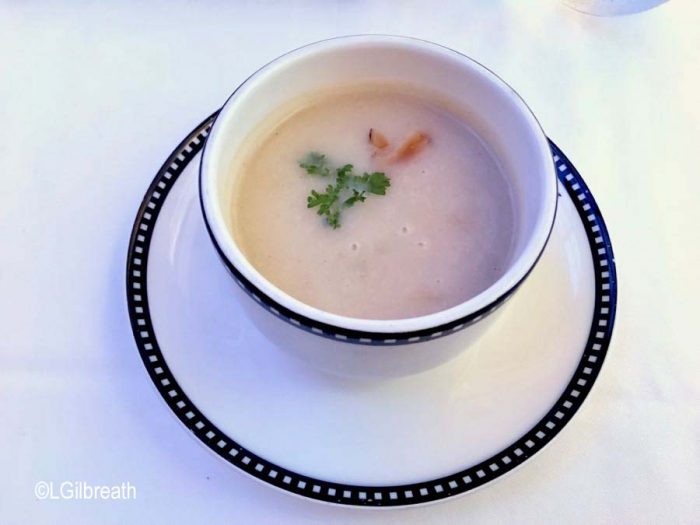 I didn't see any entrees that I liked, so I went with Oven Roasted Salmon Filet, one of the three "Lighter Note" offerings that are available every night. Served with steamed vegetables and choice of steamed rice or baked potato. I should have remembered that the baked potatoes aren't really baked… they are rather hard and not fluffy. The fish was fine – a little dry. The best part was the steamed vegetables, which were perfectly cooked – tender but with just enough crispness.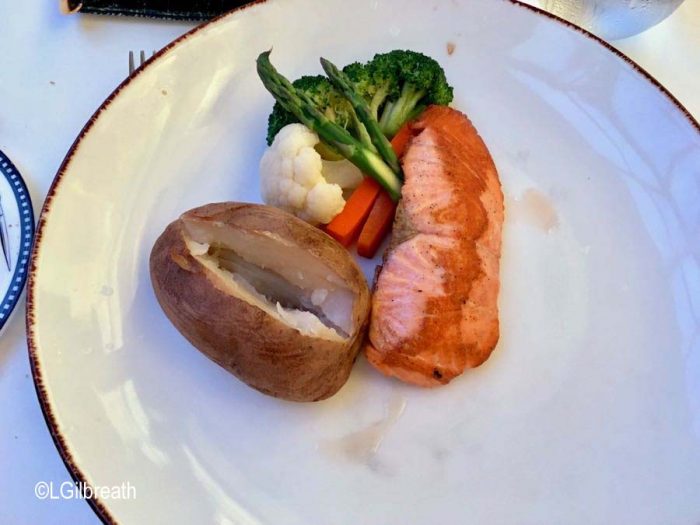 Lee chose California Grill Fire-Roasted Pork Tenderloin, served with goat cheese polenta and zinfandel reduction. This was nicely cooked and not dry. A good dish.
For dessert Lee ordered the Panama Ice Cream Sundae with butter pecan ice cream, little meringue kisses, and chocolate sauce. It was yummy.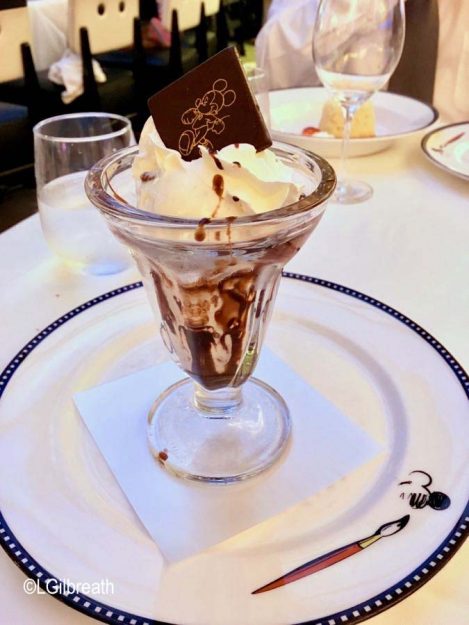 Against my better judgement (I really should know better) I decided to try the Warm Churros with dulce de leche dipping sauce. When our server came out with the rest of the desserts he apologized to those of us waiting for the churros – they were still being prepared and he would bring them out as soon as they were ready so they would be warm. Well… not so much. I knew they would be pre-made churros, but these had been refrigerated/frozen, and despite the delay the kitchen did not get them completely warm inside. The churros were tough and they weren't crisp at all.  Worst thing I had on the entire cruise.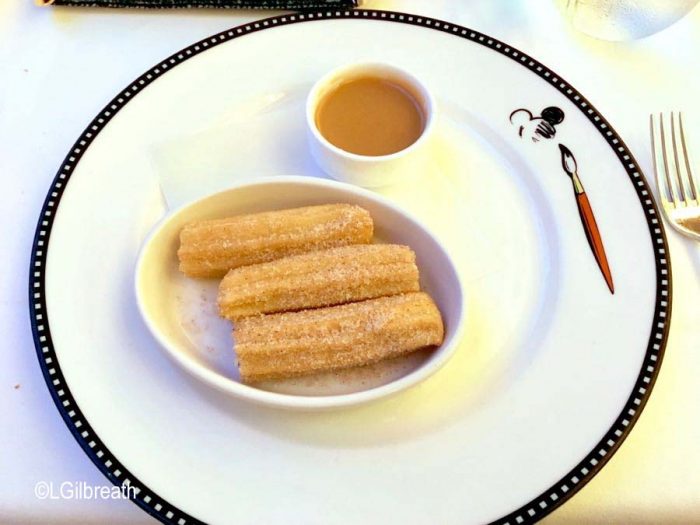 Dinner #10 was the Frozen menu, but we were in Palo for dinner instead. We sampled the Frozen menu on the inaugural cruise of the Disney Magic to Norway three years ago and this was essentially the same menu.
Dinner at Palo was quite a different experience than the dining room. No one under age 18 allowed, for one thing. There's a dress code there – dress pants, slacks and collared shirts are recommended for men and a dress, skirt or pants and a blouse are recommended for women. It worked out that it was semi-formal night on board, so we wore to Palo what we would have worn to the dining room anyway.
Dinner at Palo begins with the antipasto cart. We watched our server prepare a plate for us with olives, bresaola and prosciutto, Parmigiano, artichoke hearts, and roasted peppers.  And then we ate it all.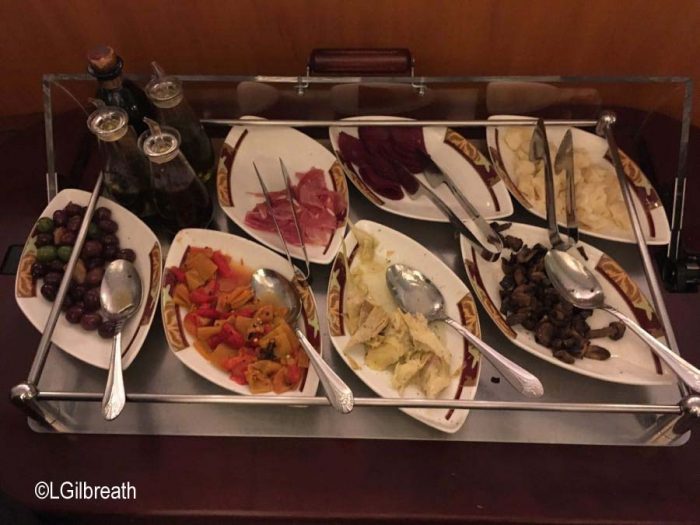 There was bread service, also – yummy with olive oil and balsamic vinegar.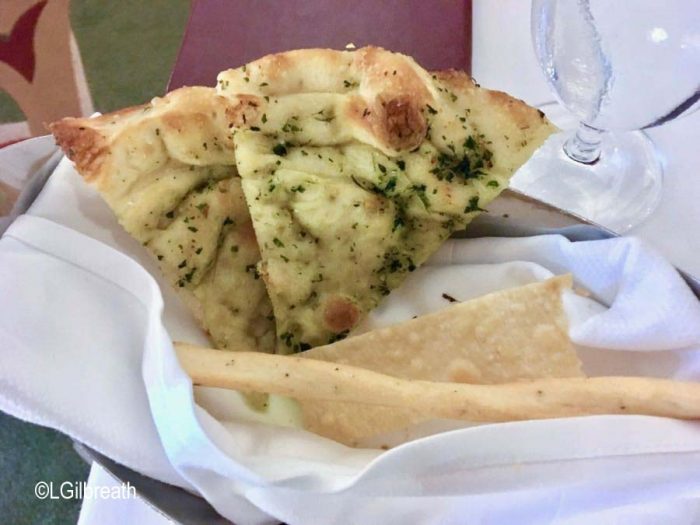 There are multiple food categories on the menu: Antipasti, Insalatine, and Zuppa, La Pasta, Piatta Vegetariano, Il Pesce, La Carne, and of course Dolce.  You can order as many or as few items from each as you would like. Most of the servings are not large, so you won't get stuffed quite so quickly.  Or you can do as we did and share – that way you can try multiple items. It's all good… I've never had anything at Palo that hasn't been a quality dish, though of course I like some things better than others.
I started with the Tomato Mozzarella Caprese – sliced beefsteak tomatoes with buffalo mozzarella, basil, olive oil and arugula leaves.  About 1000% better than the one I had in the dining room – these tomatoes were fresh and had a wonderful flavor. Lee doesn't care for fresh tomatoes, but he enjoyed the mozzarella and arugula.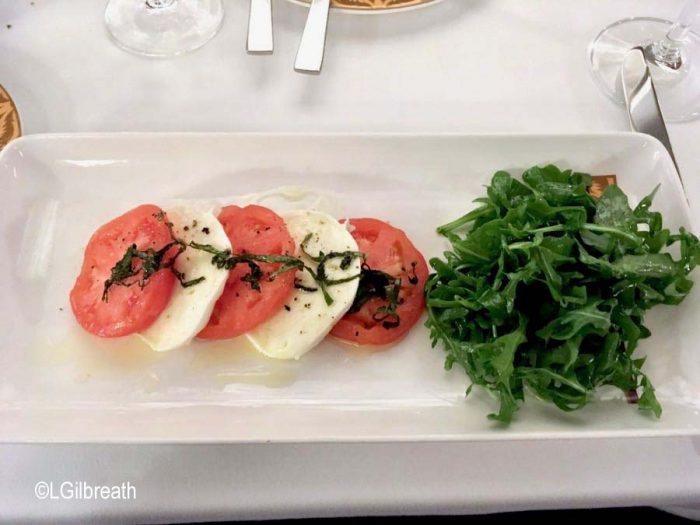 Lee ordered the Soft Potato Gnocchi in tomato sauce, garnished with kale and caramelized grape tomatoes. Very tender and the sauce was so flavorful.  It all just melted in your mouth. Well, except the kale.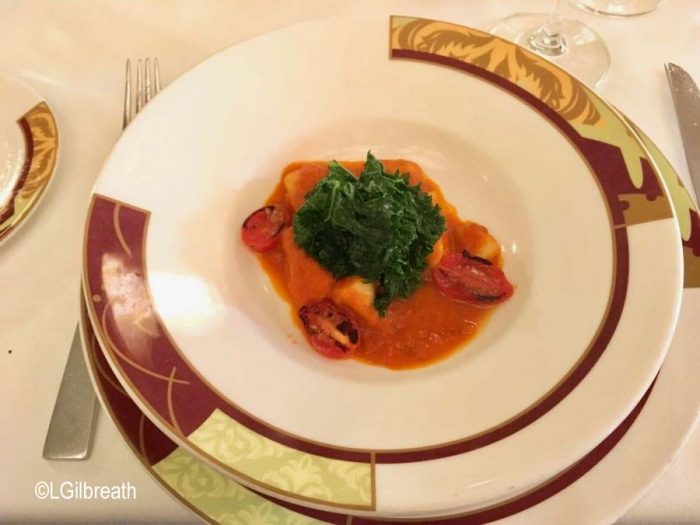 We split a plate of Butternut Squash Agnolotti – with sage-brown butter topped with amaretti and buffalo mozzarella. Delicious.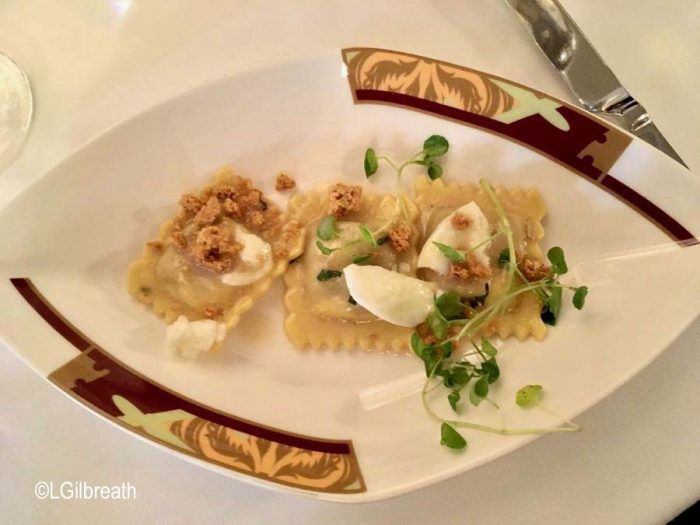 For entree I had Saffron Arancini – I had sampled a small portion at Palo brunch a couple days earlier.  Fried risotto balls on a ginger and carrot puree with kale and heirloom tomato salsa. Also excellent.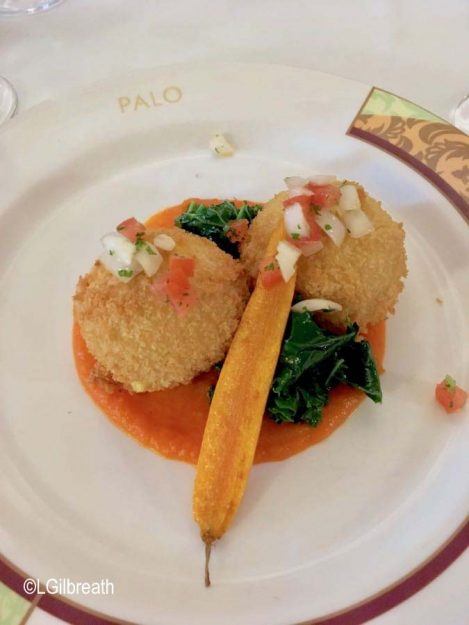 Lee ordered Sea Scallops, seared and served on a celeriac puree with baby vegetables and crispy leeks, with a prosecco and black truffle sauce.  He said the scallops were perfectly cooked. Another delicious dish.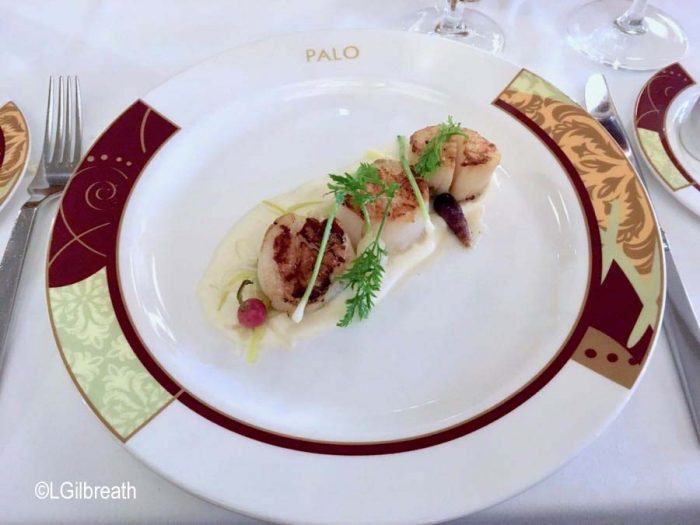 For dessert we of course both ordered the Palo Chocolate Souffle. (If you want to make it yourself, here's the recipe.) To be honest the souffle was the main reason I wanted to dine at Palo. Unfortunately it was not as good as I remembered – mine was a bit overcooked and too crispy on the outside. I also thought I remembered the chocolate sauce being a darker chocolate.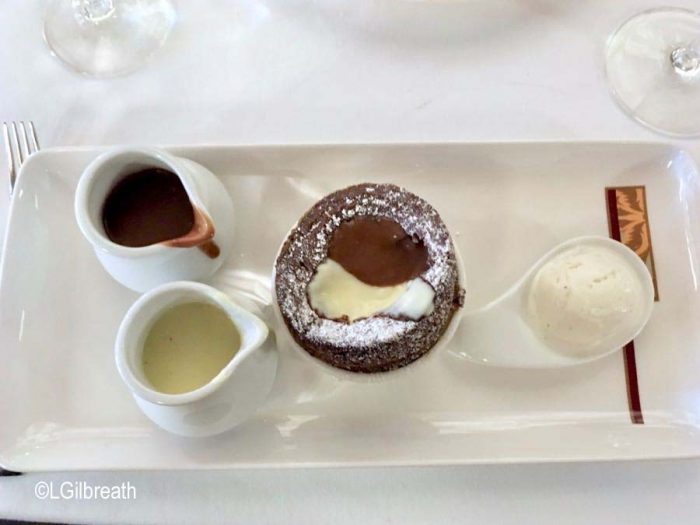 Overall we had an excellent meal, and it was a nice break from the crowded and noisy dining room.
More dining and photos to come – please check back for the rest of our dining experiences aboard the Disney Wonder Panama Canal Cruise!
Have you dined at Palo? What did you think? Leave us a note here, or better yet, click here to leave your thoughts in our Rate and Review section to help others as they plan their trips!
Subscribe to the AllEars® newsletter so you don't miss any exciting Disney news!