My husband Lee and I spent two weeks on the Disney Wonder as it traveled from San Diego to Galveston, going through the Panama Canal. In this blog series I cover our experiences in the various dining rooms – what we liked, and what we didn't.
For Dinner #4 we were back in Tiana's Place again with one of its rotational menus.  This was our first opportunity to experience the "real" food here, since the first night's dinner had been a shipwide menu. This particular menu is not really New Orleans, though – more "all over America".
Note: The Duck and Pistachio Terrine appetizer is not recommended. It looks very UNappetizing.  One of the women at our table ordered it, took one look, and sent it back.  I've seen better looking cat food. Unfortunately(?) I did not get a photo of it.
Lee and I both started with Country Green Lentil Soup, with paprika, chorizo sausage and vegetables.  It was… not green.  It was very good – not spicy as lentil soup can sometimes be.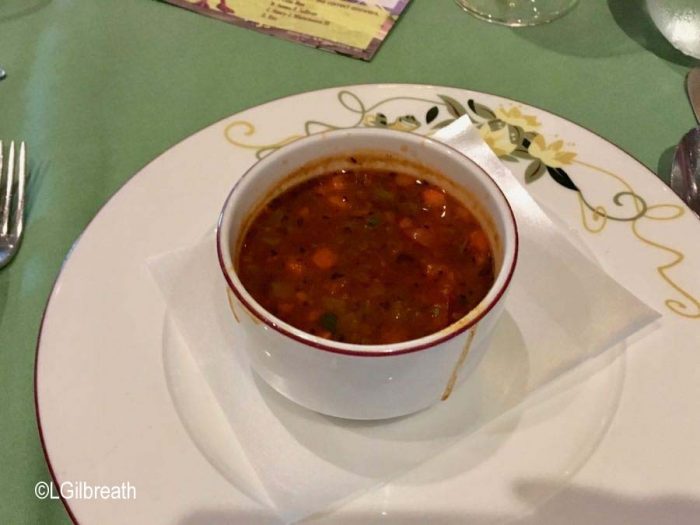 I ordered the Caesar Salad.  Unfortunately I forgot to order the dressing on the side as I usually do and it was drowned in dressing.  And… that would be why I order dressing on the side when I have a salad.  Sigh.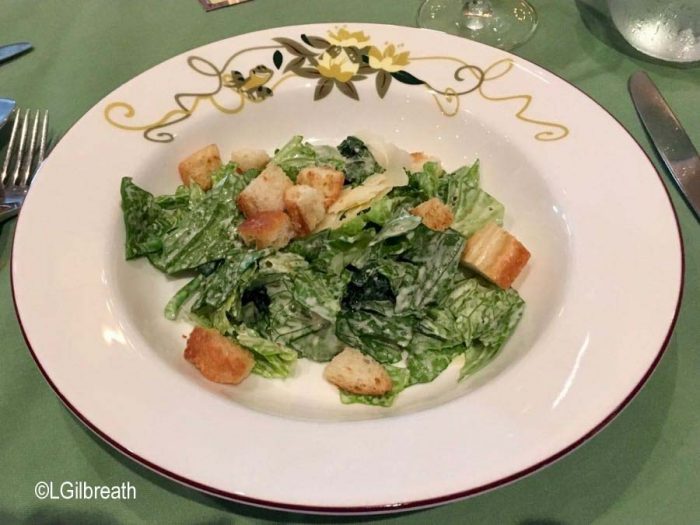 Lee had the Louisiana Hot Crab Dip, which was a very popular appetizer at our table.  I think everyone who ordered it cleaned their plates.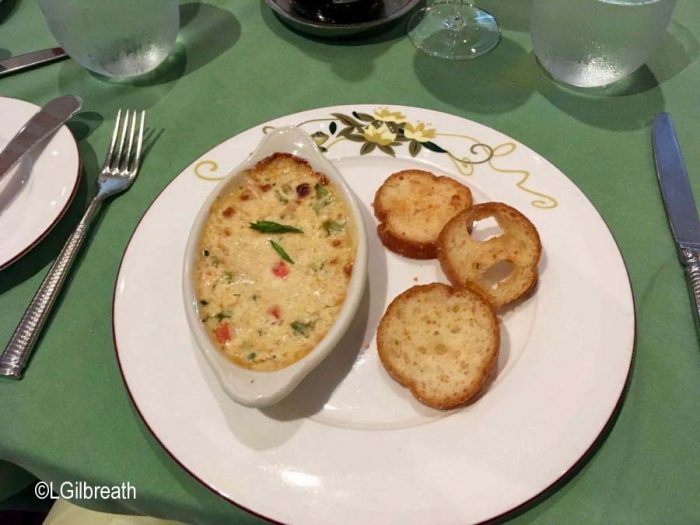 For entree I chose Lime-Marinated Jumbo Shrimp.  It was supposed to be served over Jambalaya rice, but because that contained peppers I received white rice instead.  The shrimp were slightly overcooked.   One of the other choices was Oven-Roasted Tom Turkey Breast – basically a plate of Thanksgiving dinner – and I should have had that.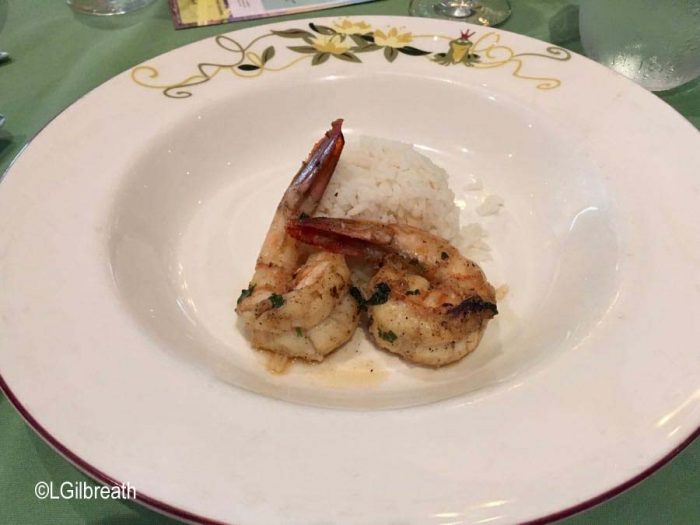 Lee tried Grilled Rum Marinated Swordfish over black beans and roasted corn, with sweet potato fries.  It was very nicely cooked and he enjoyed it.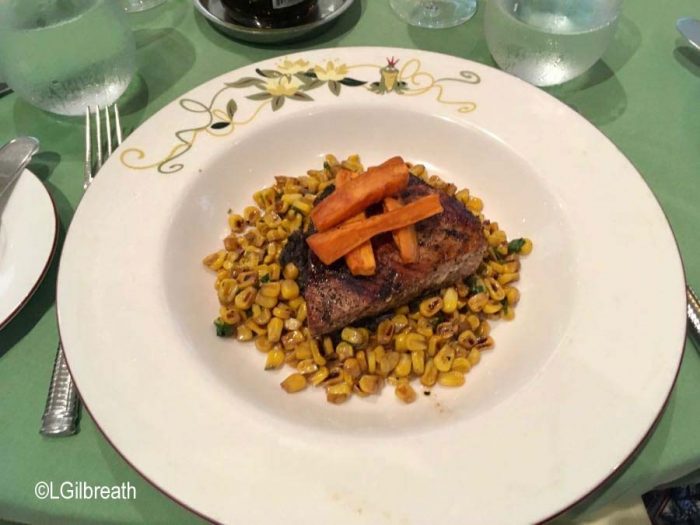 I actually did order dessert that night – Prince Naveen's Flourless Chocolate Cake.  But it was not at all what I expected – it was more of a layered bar.  There was a supposed hazelnut sauce but I couldn't taste any hazelnuts.   Disappointing, and I didn't eat it all.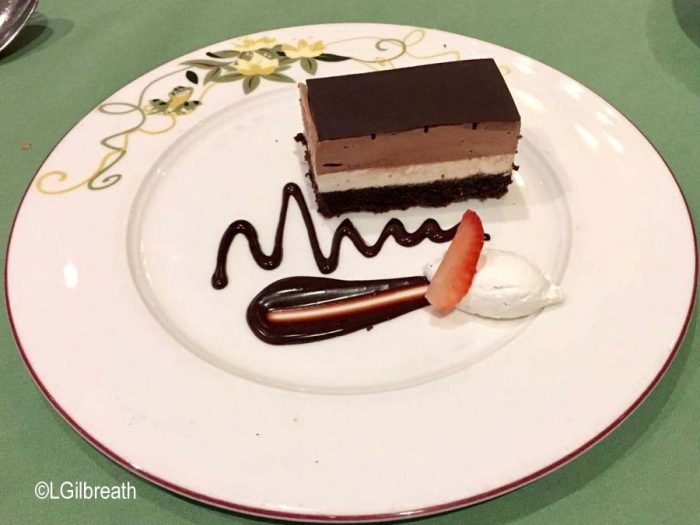 Lee tried the Banoffee Cream Pie, which was caramel toffee pie topped with bananas and an "abundance of whipped cream."  He said it was good but not amazing, but nice to have something different.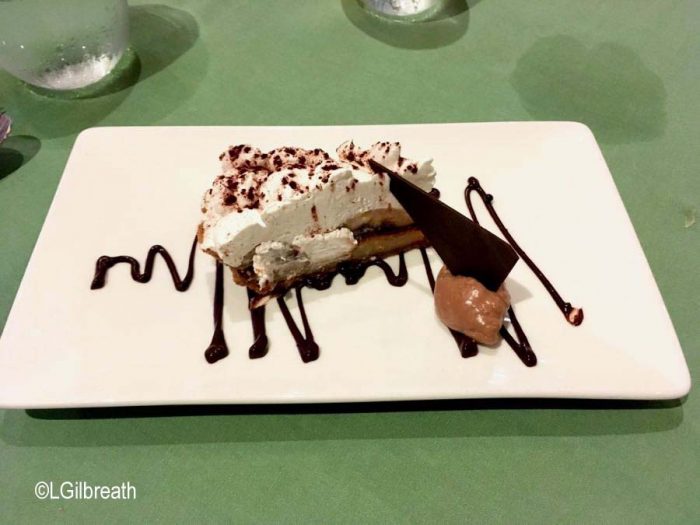 There's entertainment during dinner – Tiana appears on stage along with the Crawfish Crooners (a jazz band) for awhile.  But she also goes around the dining room greeting guests.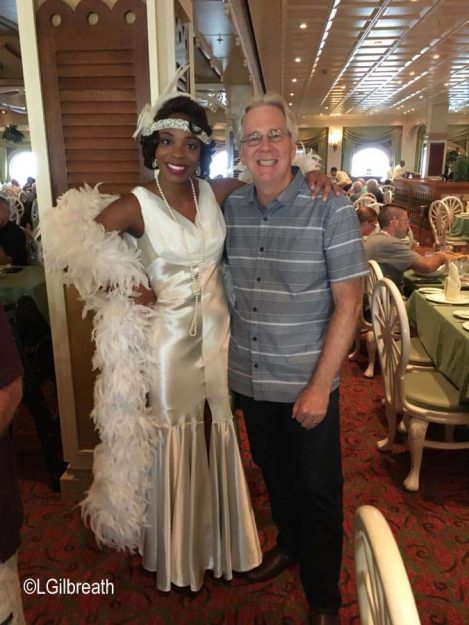 Dinner #5 was the Taste of California menu, and we were back in Triton's.   There were many appetizers that we wanted to try… so we did. The Olive Oil Marinated Artichokes were excellent, very flavorful and tender.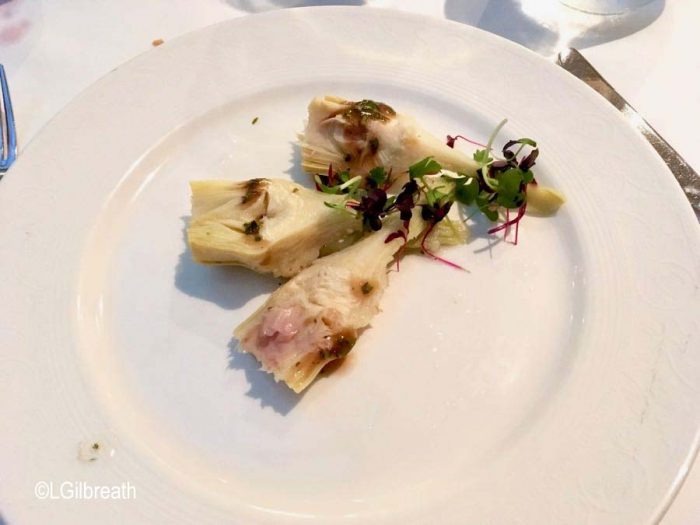 The Potato Croquettes, stuffed with basil and Italian cheese, with a white wine, creamed leek and candied walnut sauce, were just ok. They were lightly breaded and fried, but just didn't have much flavor.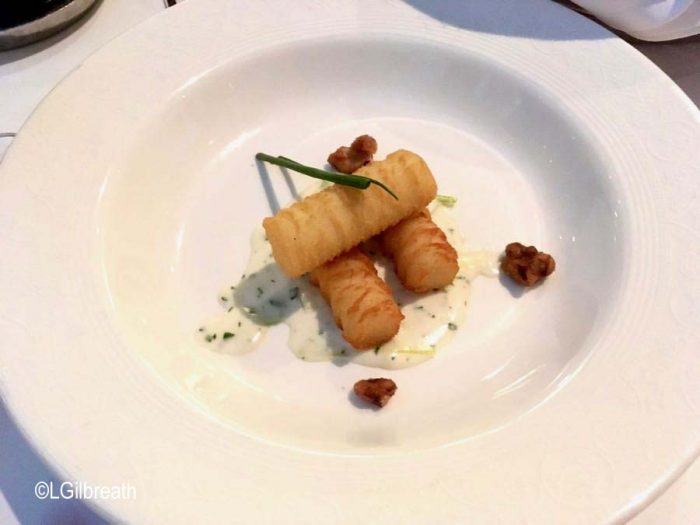 The Handmade California Roll was fine – good but not exceptional.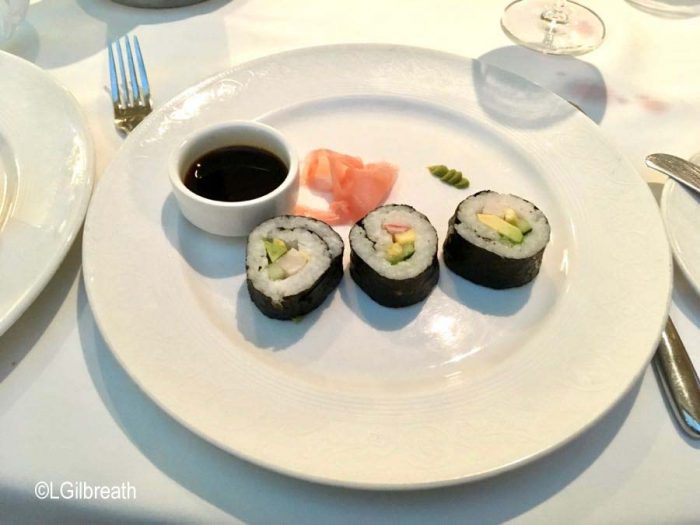 Lee enjoyed the Creamy Cheese Polenta with Wild Mushrooms, but I thought it was a little bland.  The Parmesan crisp was good.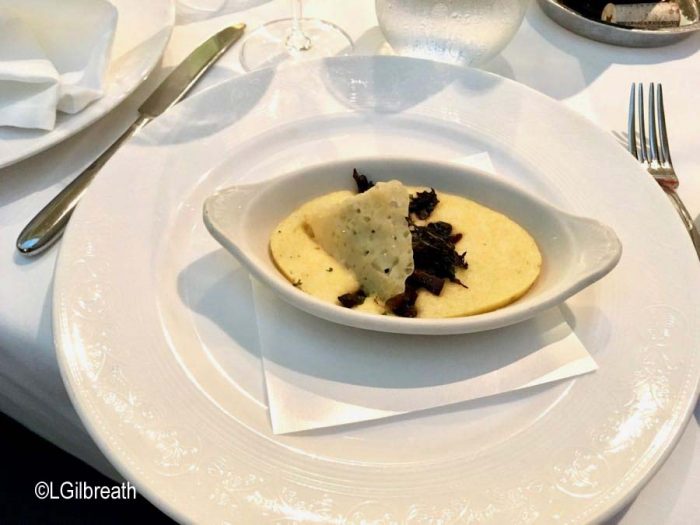 Lee tried this version of Butternut Squash Soup, which was topped with Dungeness crab.  No notes on it, so it must have been ok.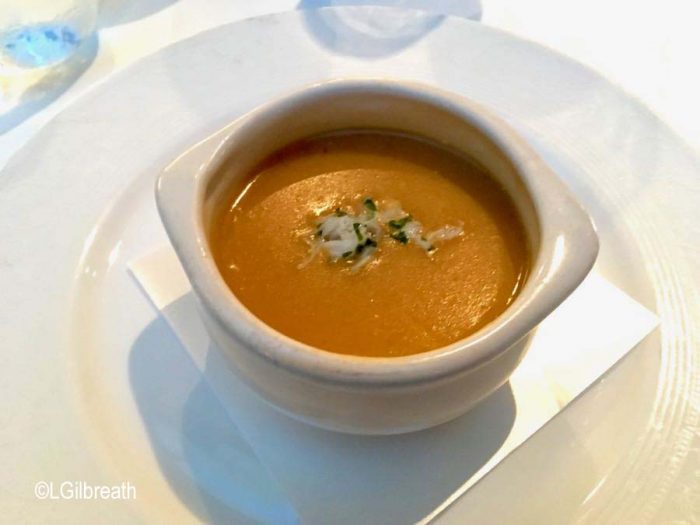 I ordered the Broccoli Cheddar Soup off the kids' menu, and it was very tasty.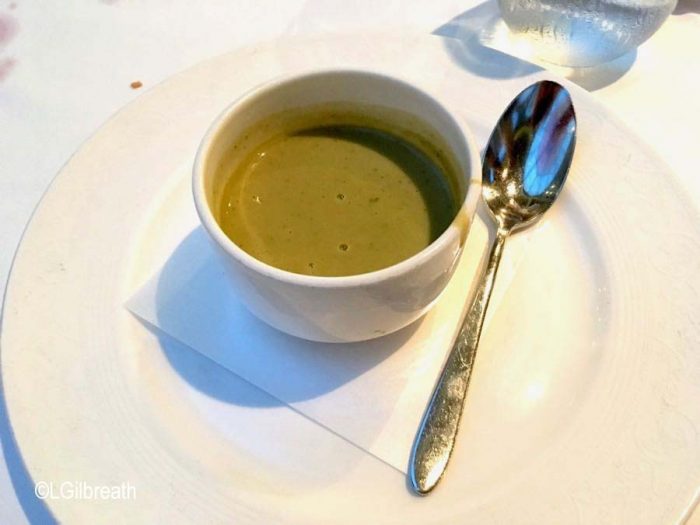 There were several interesting entrees, also. I thought about the Grilled Halibut and the Maple-Glazed Pork Tenderloin, but went with the Whole-Wheat Garlic Linguine Pasta, which was served with a hoisin-glazed cod filet. The cod and pasta were quite good, but it was served with bok choy (a number of dishes seemed to come with bok choy on this cruise), which I didn't eat.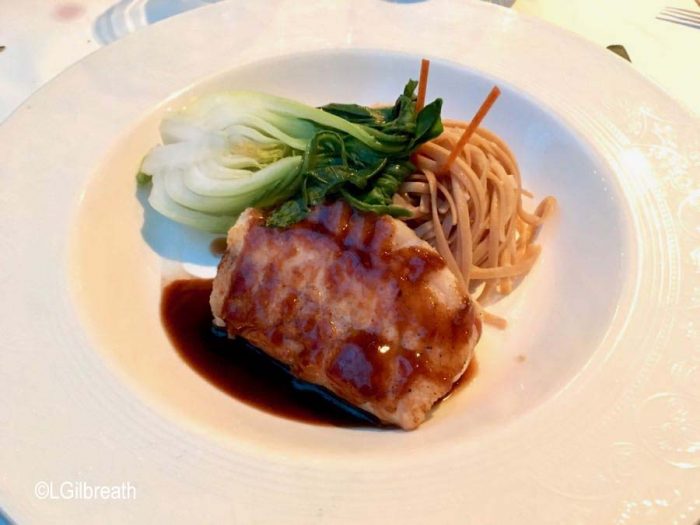 Lee tried Golden State Beef Tenderloin with garlic shrimp and feta cheese potatoes. Very good. He shared a shrimp with me and it was cooked nicely – not overdone. The feta cheese potatoes were also tasty.
We both ordered Salted Caramel Chocolate Cake for dessert. I didn't taste any salted caramel in the cake, and it had that weird chocolate jelly glaze on top that I don't like.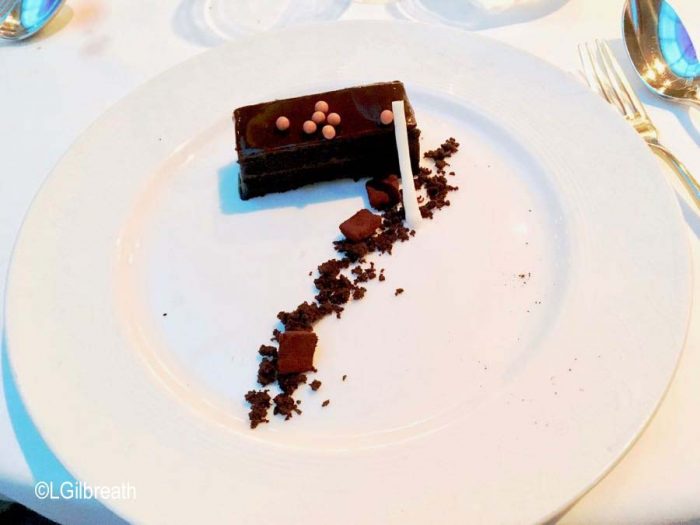 The cake was supposed to come with dulce de leche ice cream but there wasn't any on the plate.  It turned out our server didn't realize he was supposed to add it to the plate just before bringing it out of the kitchen, so he brought us a bowl after the fact.  The ice cream was the best part of the dessert.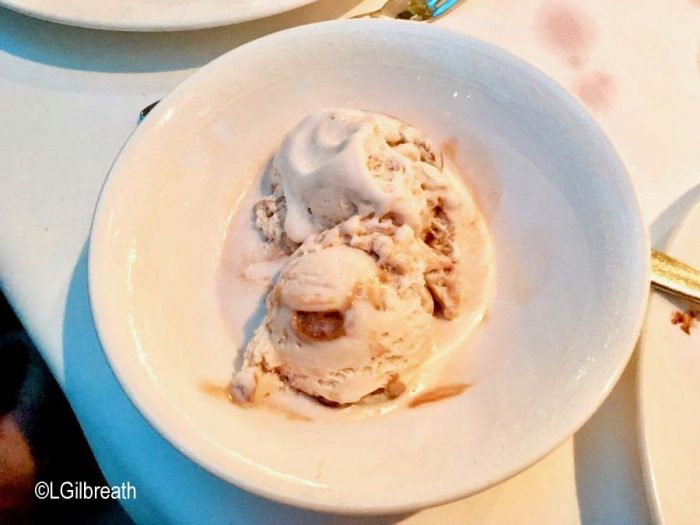 Dinner #6 was a shipwide dinner, but I don't remember the theme. We were back in Animator's Palate. Lee and I both started with Red Lentil and Coconut Soup. It was a huge hit at our table – just excellent flavor with a hint of lemon grass. There were some shrimp in the bottom. I asked for the recipe, and have since made it at home, but it wasn't as good.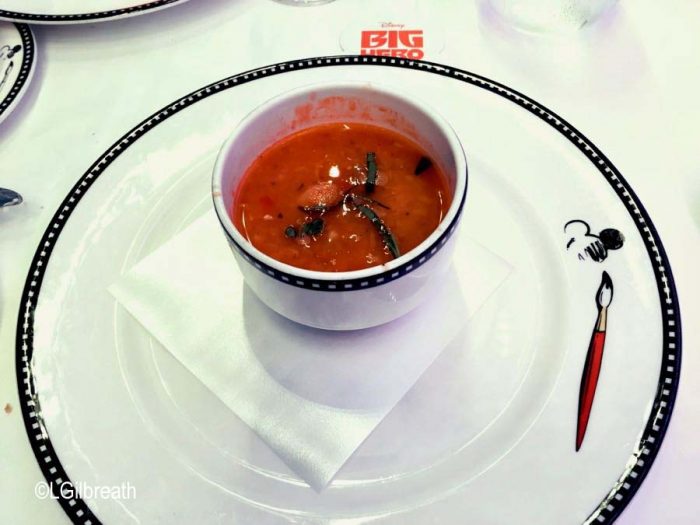 I tried Beefsteak Tomatoes and Sliced Mozzarella with balsamic-drizzled arugula leaves. The tomatoes did not have much flavor nor a very fresh texture, so the dish was just ok.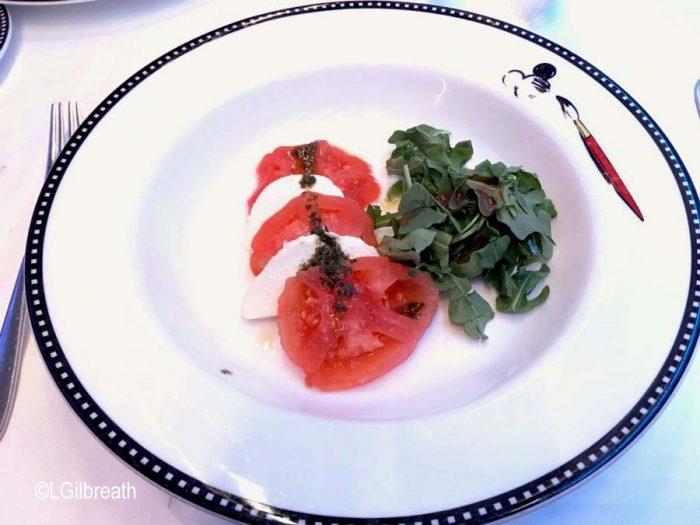 Lee went with Double Baked Gruyere Cheese Souffle with blue cheese spinach, and mascarpone. That was another popular dish with our table.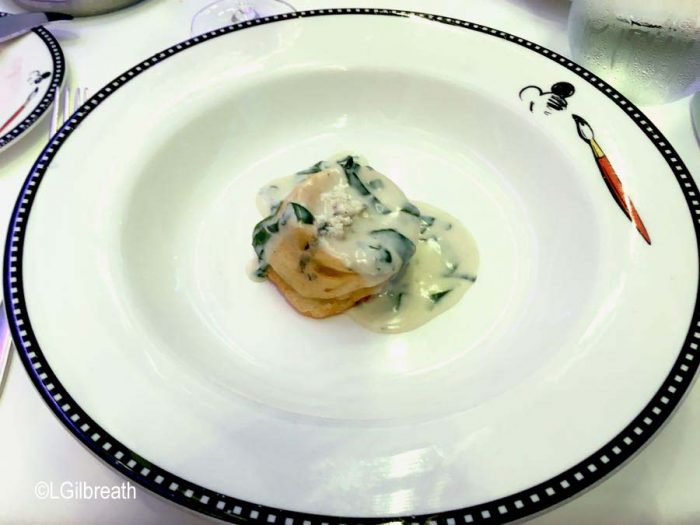 We both enjoyed Roasted Cod Filet as our entree. It had a cheddar and herb crust and was served with crushed chive potatoes. The potatoes were very good and the fish was prepared well.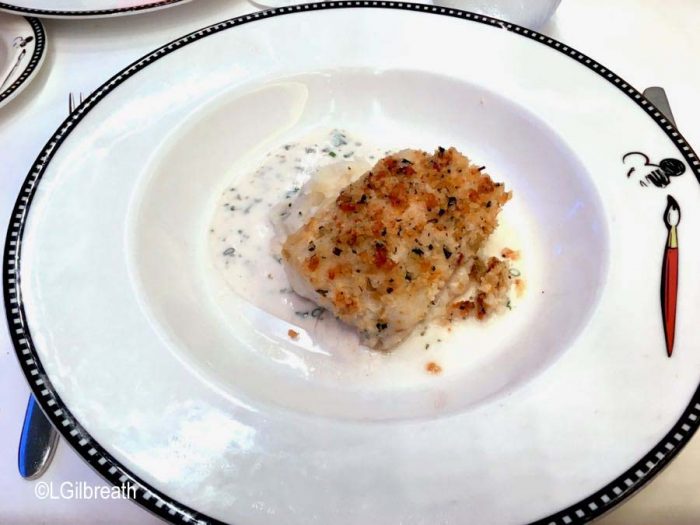 For dessert I had the Rocky Road Sundae, and it was excellent. Rocky road ice cream, toasted marshmallows and fudge sauce. What's not to love about that combination? There was also a full-sized marshmallow in the bottom of the glass.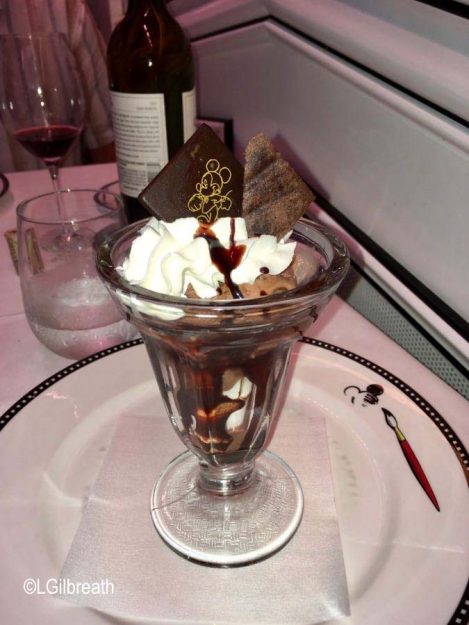 Lee had Warm Banana Bread Pudding with ice cream and caramel praline sauce, which he enjoyed.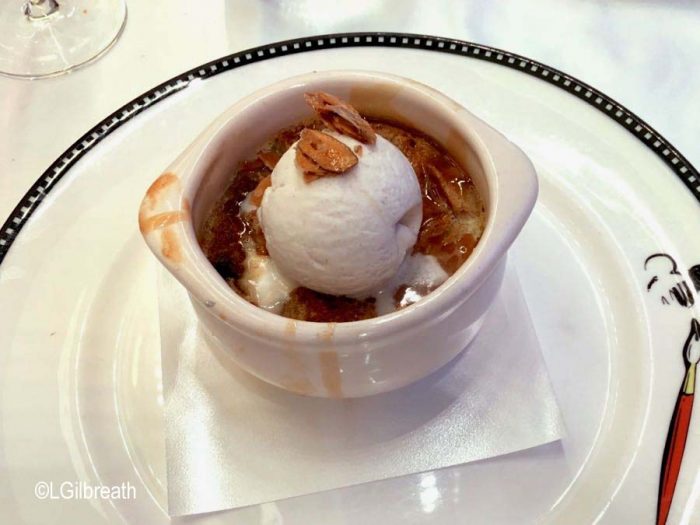 Dinner #7 was Pirate Night.  Arrrr.  Back in Tiana's Place again. This is another menu I don't enjoy all that much. It 's consistent across all four ships and it seems as though it hasn't changed a whole lot in the 10 years we have been cruising on Disney.  We enjoy dressing as pirates, though.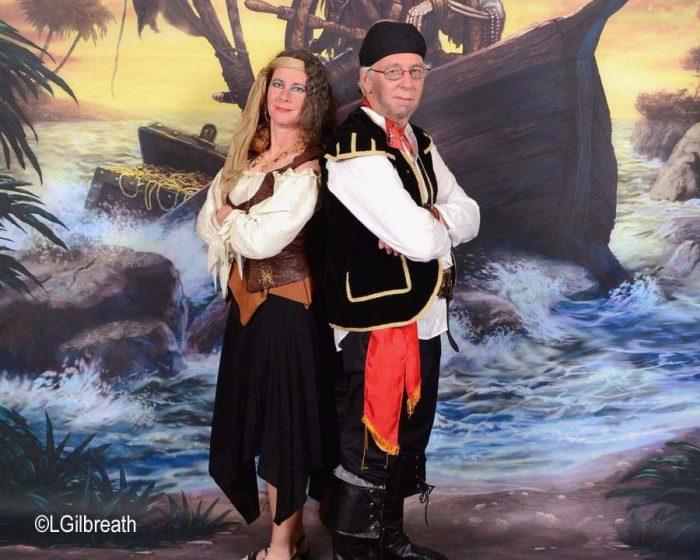 The Vegetable Samosa was our first starter.  Filled with potato, peas, garlic, cumin and ginger and served with tamarind chutney and yogurt raita. It is surprisingly spicy – needed the raita to cool it a bit – but it was good.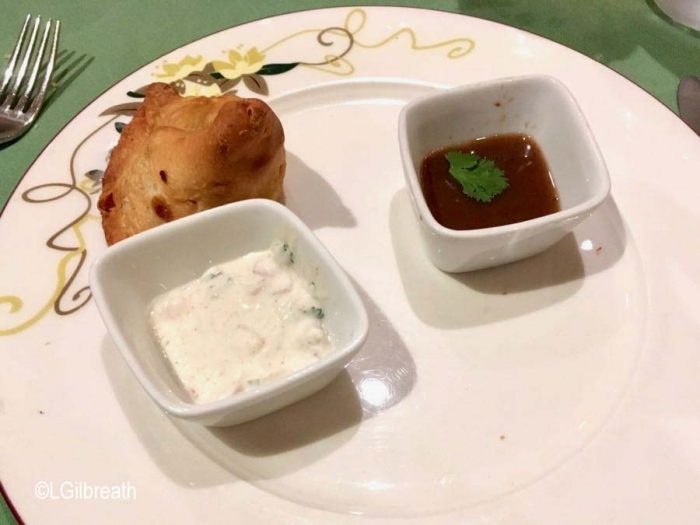 None of the other appetizers appealed to me so I ordered Cream of Chicken Soup from the kids' menu.  It was tasty.
Lee enjoyed the Rock Crab Cake with chili-Cajun spiced coleslaw and a grilled lime.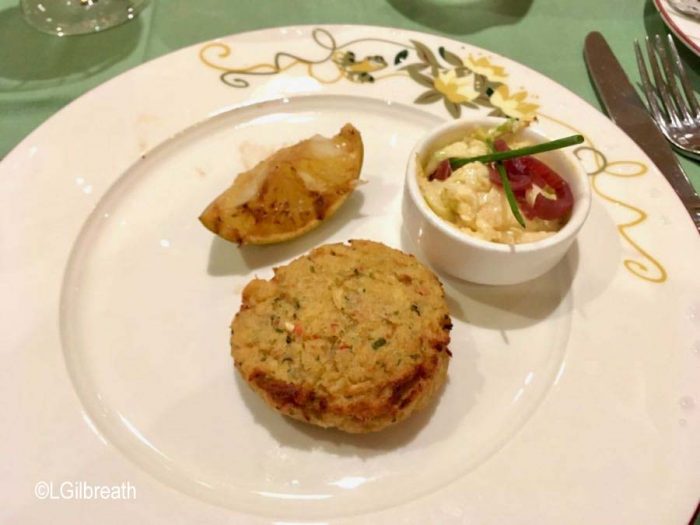 As an entree I requested Shanghaied Noodle Stir Fry without the peppers.  It was supposed to have edamame, marinated tofu, scallions and carrots, but there there were no carrots, and I would have liked a little more tofu.  The noodles were good but too salty.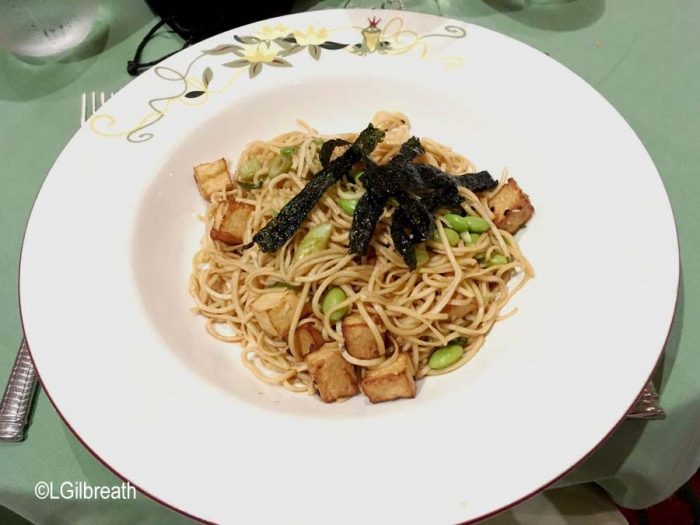 Lee tried Treasures of the Sea with grilled shrimp, seared scallops, pasta and spinach.  It's pretty easy to overcook scallops and shrimp but these were not, and he enjoyed it.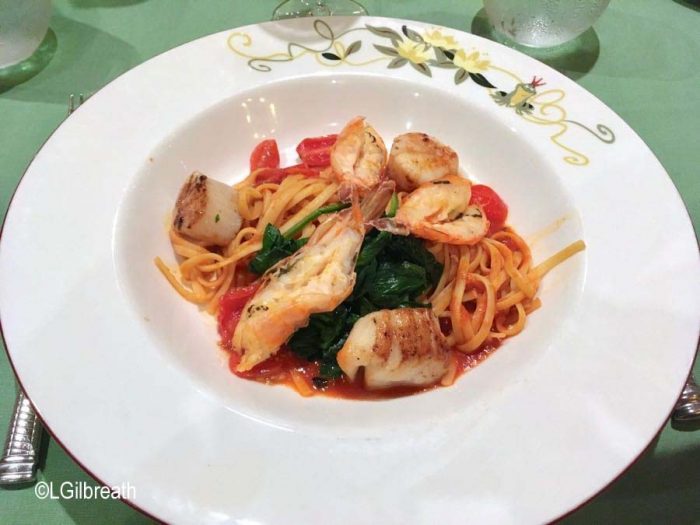 I wasn't interested in any of the desserts but Lee had Caramel Macadamia Nut Cheesecake with caramel ganache. I had a bite – the cheesecake itself had very little flavor but Lee said it was good with the caramel sauce.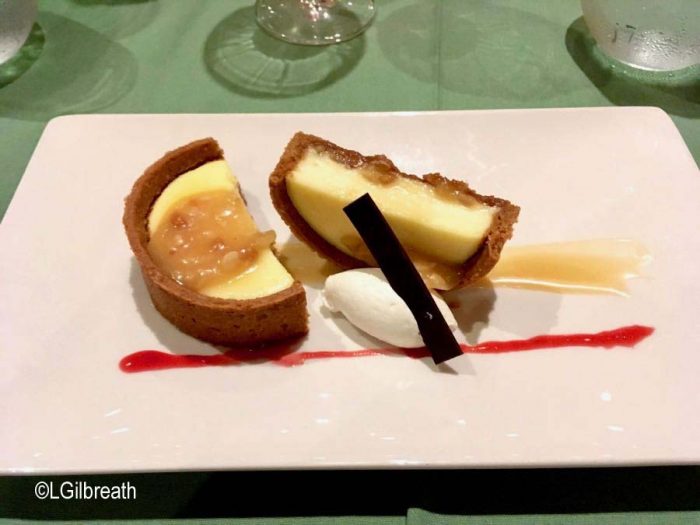 More dining and photos to come – this was a long cruise – so please check back to read the rest of our dining experiences!
Do you love Disney cruises? Leave us a note here, or better yet, click here to leave your thoughts in our Rate and Review section to help others as they plan their trips!
Subscribe to the AllEars® newsletter so you don't miss any exciting Disney news!