I think that one of the most highly anticipated new offerings at Pixar Pier will be the new Lamplight Lounge, located in the former Ariel's Grotto restaurant. At a recent media preview, we received some updated information on the new restaurant and a sneak peek at some of the new menu items – and the opportunity to sample a couple of them.
Tasha Sounart and Roger Gould from Pixar and Charlie Kowalski of Walt Disney Imagineering provided some additional details on the new restaurant.
The Lamplight Lounge is designed to be a stylish "California casual gastro-pub." The backstory is that it's an old waterfront warehouse that has been renovated. The tile floor mimics a warehouse floor, there are barrel vault ceilings with old reclaimed wood, and a pewter bar top.
The Lounge celebrates the artists behind the Pixar films as well as some of the history of Pixar. Harley Jessup, a Pixar production designer for "Ratatouille" – which also had a restaurant – worked on the design. He wanted to make it feel like a Pixar artist hangout. Although it's not a replica of anything that actually exists at Pixar it feels authentic, and a Pixar artist should feel like "I'm home." The Lounge will contain memorabilia from the Pixar archives such as toys, sketches, and photos, supposedly left there by Pixar regulars.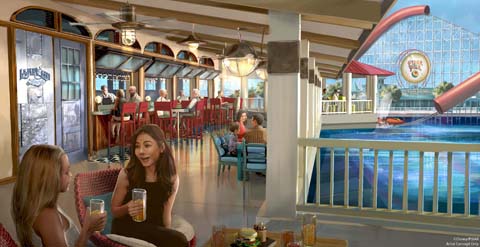 The Lamplight Lounge will have 260 seats downstairs and around 200 upstairs. The downstairs area will accept reservations; upstairs will remain first come, first serve.
The menu is "California casual – playfully presented." Part of that involves presenting familiar food in an unfamiliar way. Culinary Director John State told us that "California" implies a diverse audience that is open to different flavors, textures, and ingredients. In today's culture of eating we like to share and we like to take pictures, so the food has to both taste good and look good.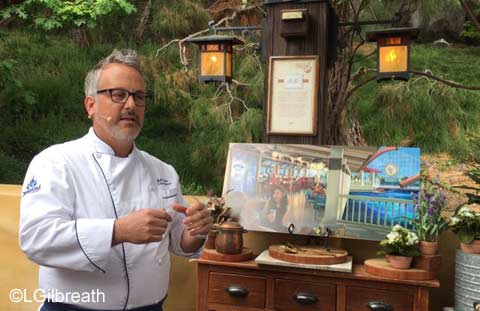 There are two halves to the menu: the top half, "Pix & Bits", is the shareable plates. The bottom half, "Bigger Bites" is entree-sized portions, though they could be shared (e.g. salads and sandwiches). The full menu is only available downstairs, upstairs will have a modified menu of shareable items only. The menu will change throughout the year – Chef State said that they tested a lot of items that they liked, but didn't put on the initial menu in the interest of opening with a smaller menu. He indicated that some of those other items we would see on the menu later.
There were examples of some of the "Pix & Bits" and "Bigger Bites" available – the menu is more extensive than what we saw. For one thing, we know that the Lobster Nachos will be back.
We had the opportunity to sample the Potato Skins from the "Pix & Bits" menu. It's Yukon gold potatoes with Manchego cheese and two sauces on the side: brown butter-caper yogurt and smoked paprika aioli. Chef State told us the potatoes were more like "pillows", and that's true – they were very light and fluffy. I didn't detect any actual potato skin at all – just the crisp exterior of the potatoes. They were very good, and much lighter than I expected.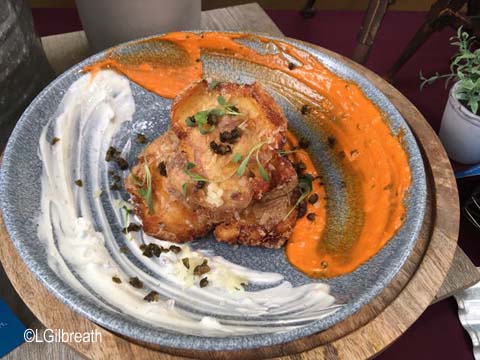 The second dish, also from "Pix & Bits" was the "beginner sushi" – Carne Asada Rolls. (There is another more traditional sushi item on the menu as well.) This was grilled New York strip steak rolled with grilled green onions, jicama, avocado, and topped with Fresno chiles, pickled onions, and cilantro, served with crema. Since it's beef I didn't try it, but my fellow preview attendees all enjoyed it.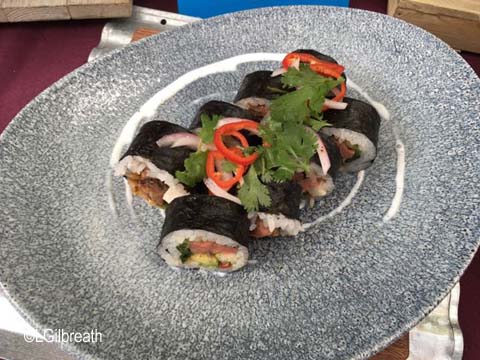 From "Bigger Bites" was the Spinach Salad. This is a vegetarian dish: curly spinach with wild mushrooms, poached egg, and shiitake "bacon", with charred onion vinaigrette, served with blue cheese toast. The shiitake bacon looks quite interesting.
Another "Bigger Bites" item was the Chicken Sandwich. Crispy chicken with a spicy chili glaze, topped with vinegar slaw and pineapple butter on a toasted Amish bun. It's served with French fries. Looks like it might be messy to eat, but good messy.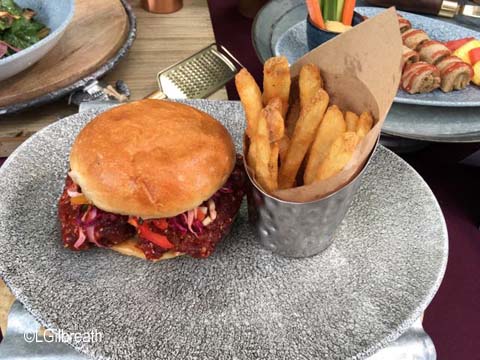 The kid's menu is called "Budding Artists", and there are four different items. This one is a PB&J Roll. Peanut butter on whole wheat bread that has been rolled and sliced, then topped with strawberry jelly. It's served with a vegetable and hummus "flower pot" and sliced fruit. I hope you don't have to be a kid to order it!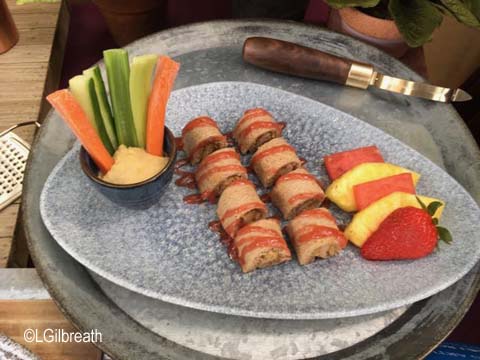 And of course there is an entire beverage menu. Many guests will be interested in the signature cocktails and "mocktails". Most of them have unique names, related to Pixar or the film industry. We weren't able to sample, but there were two on display. The Over Budget is a twist on a Moscow Mule, with passion fruit puree in addition to vodka, lime juice, and ginger beer.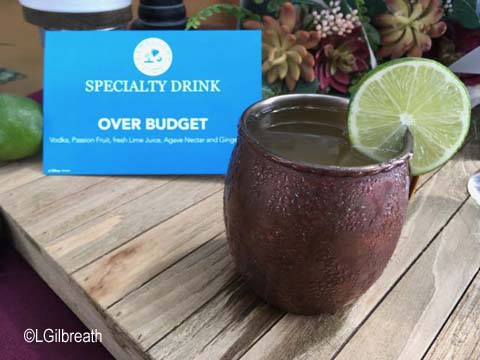 The Last Word is a refreshing cocktail with Aperitif wine, Peche liqueur, lemon juice, agave nectar, soda water and Amontillado sherry. ("For the love of God, Montresor!" Sorry, perhaps that was in Poe taste.)
Twelve different beers will be on tap downstairs, and six upstairs, along with a selection of canned and bottled beers. One of the beers, brewed by Bottle Logic Brewing Co. of Anaheim, will be exclusive to the Lamplight Lounge, and not available anywhere else. It's seasonal, in that once the first batch is gone it will be replaced by a new exclusive beer.
There will also be wine selections that are exclusive to the lounge, including a sparkling rosé. Most of the wines are from California but others are from around the world.
I know I'm looking forward to experiencing the Lamplight Lounge and seeing what else is on the menu when it opens on June 23!
Disclaimer: I was an invited media guest to the Pixar Pier Preview. My opinions are my own.