Mobile Ordering, which has been so popular with guests at the Walt Disney World Resort, has finally come to Disneyland. When I tried it earlier this week it was in a soft opening phase: only available to annual passholders, and with a subset of the 15 planned restaurants available. Since then it has opened to all guests with all 15 restaurants.
Disneyland:
Bengal Barbecue
Galactic Grill
Gibson Girl Ice Cream
Hungry Bear
Jolly Holiday Bakery Cafe
Red Rose Taverne
Disney California Adventure:
Award Weiners
Clarabelle's Hand-Scooped Ice Cream
Cocina Cucamonga
Corn Dog Castle
Flo's V8 Cafe
Lucky Fortune Cookery
Pacific Wharf Cafe
Paradise Garden Grill
Smokejumpers Grill
The service requires the current version of the Disneyland App. If you're an Annual Passholder it's likely that your passport is already linked to your account, but if not you should – then the app will automatically select and apply your dining discount.
The basic process is to select "Order Food" under "My Plans" on the main page of the app, and then follow the screens to select a restaurant, pickup time, food and beverage items, and then provide a method of payment.
When you arrive at the restaurant you tap "I'm Here" on the app and go to the Mobile Order pickup window(s). All of the restaurants have been updated with signs identifying them.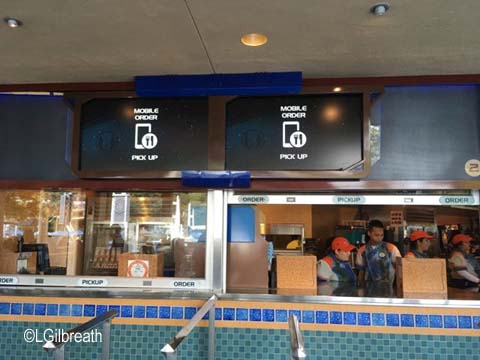 When I initially tried the app, some of the specialty items were not available on the mobile menus. For example, I wanted to order a Matterhorn Macaroon from the Jolly Holiday Bakery and it wasn't listed. But as I'm writing this, that has changed, and there are additional items on the menus.
My experience using the app and picking up my food was good. The app allows you to customize your order – for example to exclude toppings or request some items be served on the side. I thought this was really helpful: sometimes it's not obvious from the menu exactly what toppings there might be. It was also quite easy to do. The menus also include allergy friendly selections: gluten free, egg free, nut free, milk free, soy free, etc. That part also seems a lot easier and more straightforward than trying to do it in person.
The app will "remind" you to order a beverage and perhaps add a dessert.
Since the service was new, not very many people knew about it, so there weren't any other people waiting at the pickup location. The cast members were still figuring it out, though. When I went to the pickup window at Hungry Bear the cast member seemed surprised that I was there to pick up a mobile order. But he apologized and said it was new to them and my order would be up shortly. The lines weren't long at the regular ordering kiosks, but it was nice not to get stuck behind people who didn't figure out what they were ordering until they arrived at the register.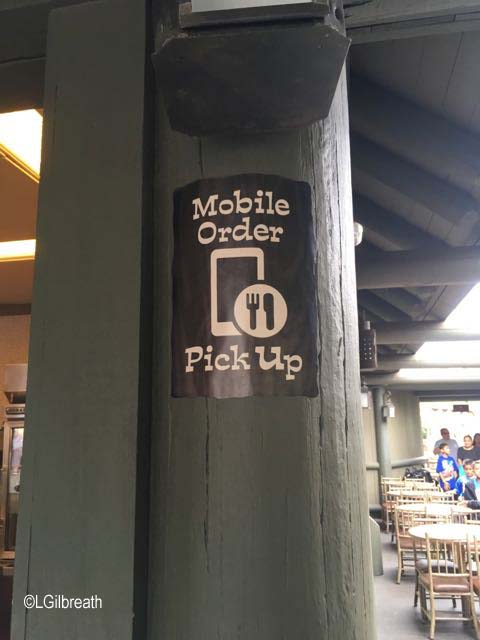 I think that Mobile Ordering is a great option to have, especially for some of the restaurants that often have long/slow-moving lines, such as Corn Dog Castle, Bengal BBQ, and Gibson Girl. Once it's in more widespread use it will be be interesting to see how well the pickup process works – I hope there's not lines of not-very-organized people waiting for their food.
Here's some screen shots from my experience.
Select "Order Food" from the main screen of the app.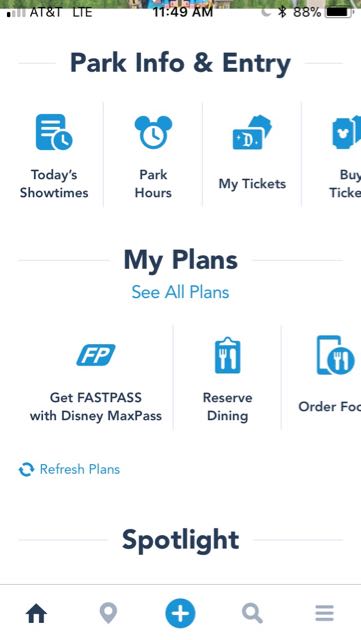 Select an arrival window for one of the available restaurants, or choose "More Times" for a time further in the future.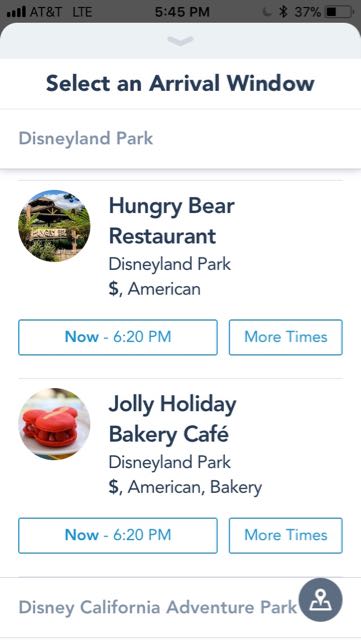 Build Your Order – select menu items and quanity, customize them, then choose "Add" to include it in your order.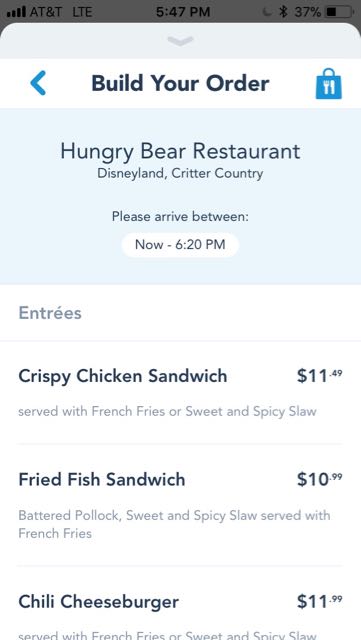 Examine Item Detail – each menu item has additional detail available.
Customize your order – scroll down the page: you may be able to select different sides, or choose to customize your order by omitting items.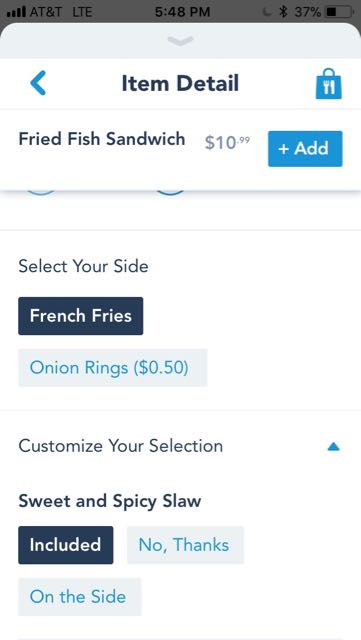 When done adding items, tap "View my Order" to begin the checkout process. You'll have the opportunity to modify the order.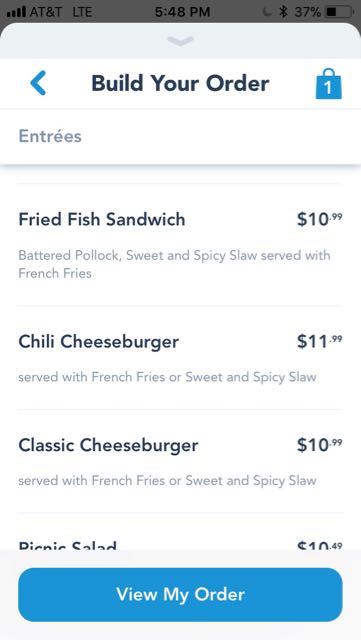 Review Order Summary – this takes you to the payment screen.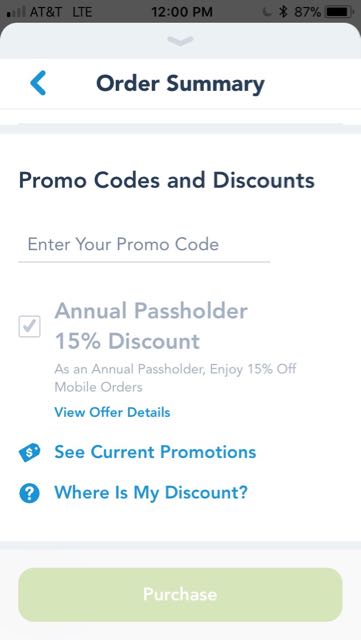 Purchase – if you don't have payment info already saved you'll be prompted to add it.
You'll need to review the order by scrolling down the entire page before the Purchase button will turn green.
After the order is submitted there are directions on where to pick it up. Upon arriving at the restaurant during your arrival window, tap "I'm Here, Prepare My Order". It will still take some time for cast members to put your order together.
The Order Details screen will indicate when the order is ready to be picked up at the pickup window.
If you've tried Mobile Order at Disneyland, please let me know how it worked for you! You can leave a comment using the link below.