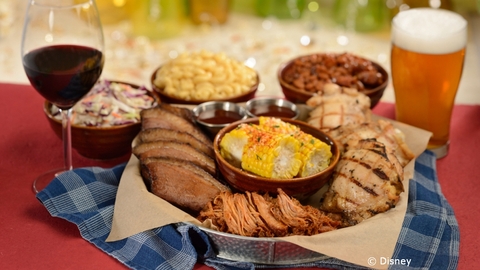 Three more restaurants in the Magic Kingdom Park have begun serving alcohol, joining a number of restaurants that have started the practice in recent years.
Guests ages 21 and over can now enjoy wine and beer at The Plaza Restaurant, The Crystal Palace, and The Diamond Horseshoe. The beverages have been specially selected for each restaurant's unique menu.
The Plaza Restaurant offers a selection of American beer and wine including a regional craft India Pale Ale that pairs with the Angus Chuck Cheeseburger.
The Crystal Palace serves sparkling wine mimosas with breakfast, and wines such as Pinot Noir and Chardonnay to go with pasta or shrimp from the lunch and dinner buffets.
The Diamond Horseshoe offers classic American beers and wines like a traditional lager style beer or a robust Pinot Noir, which pair well with the plentiful platter of BBQ pulled pork, sliced turkey, country smoked sausage, or braised beef.
Be Our Guest restaurant was the first to serve alcohol when it opened in 2012. Four other restaurants — Liberty Tree Tavern, Cinderella's Royal Table, Skipper's Canteen and Tony's Town Square — were added to the list in late 2016.
Aside from these eight establishments, there is no alcohol served elsewhere in the park.