In under 100 days, Toy Story Land will open in Disney's Hollywood Studios. The new area was announced almost three years ago at the 2015 D23 Expo.
I've been following its progress closely, especially after I visited Toy Story Land in Hong Kong Disneyland a few years ago. The Hong Kong land opened in 2011. I have fond memories of my visit, which included being part of the Green Army Men skit.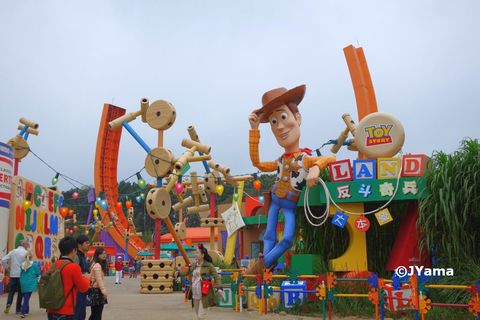 Soon thereafter, in 2013, a Toy Story Land opened in Disneyland Paris, similar yet different. As it should be, in my opinion.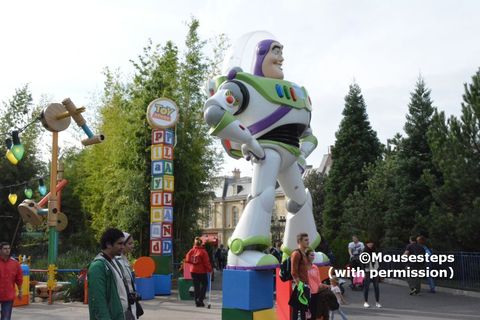 In 2018, Toy Story Land will open in Shanghai Disneyland (first) and then in Walt Disney World on June 30. It is always interesting to me to see the similarities and differences of an attraction or land in the various parks.
Before I go any further, I believe it's important to see the new land for what it is. It is not like Animal Kingdom's Pandora or even Cars Land from Disney California Adventure. There are no NEW E-ticket rides. Yes, Toy Story Midway Mania is part of the new Toy Story Land (and its entrance has been moved to make it the anchor for Toy Story Land), but it's been in the park since 2008. However, I do believe this will be a great area for families to enjoy, something that has been needed for a long time in Disney's Hollywood Studios. And, just as I smile and enjoy the Storybook Circus area in the Magic Kingdom, I am certain the new Toy Story Land will bring a smile to my face as well.
The Disney Parks blog has slowly been revealing little bits and pieces about the new land. In fact, I recently had the chance to take a behind-the-scenes tour, and on that day Disney announced that Woody, Buzz and Jessie will all be playing with guests in the new land.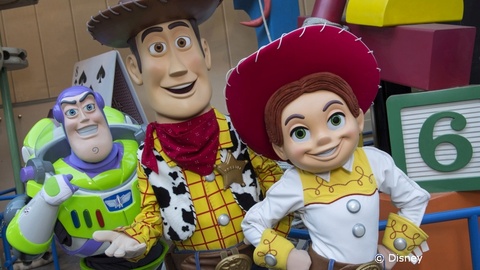 Just like you, I have been looking at this billboard and steel for a long time.
However, last week Walt Disney World invited me (and a few others) to get an up-close and personal look at Toy Story Land from inside the construction site. Lucky for us, our guide was Disney Imagineer Ryan Wineinger, who is very knowledgeable and enthusiastic about Toy Story Land. (Be sure to check out the video with Ryan at the end of this blog.)
As you enter the area you are to imagine that you have become the size of all the Little Green Army men toys. You especially feel that when you look down and see Andy's huge footprint. Just close your eyes and pretend for a moment that you are one of Andy's toys, now in his back yard.
One of the things that has always set Disney apart from other theme parks is the incredible attention to details as it tries to tell a story. And it's not just what you see, it's also what you don't see.
Here's a photo of what I saw, looking up from inside the land.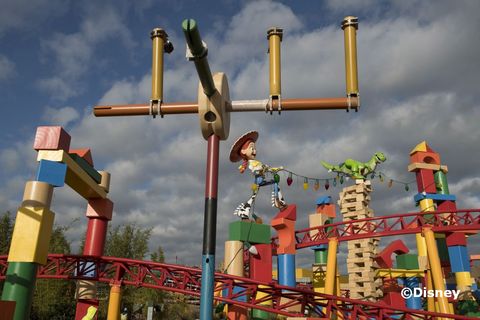 I loved seeing the detail in person as we explored the enormous play area Andy set up in his back yard. My eyes followed sections of the Slinky Dog Dash roller coaster track and I was able to see the detailed theming all around it.
For instance, check out the huge Tinker Toy pole that towered over us. Right now you can still see the lighting and speakers at the very top. But soon, they will be transformed and blend perfectly so you no longer see them. The Imagineers want to make sure you don't see any of those real-world things.
You'll note that Jessie is helping Rex hang Christmas lights — just one of the final touches for when Andy welcomes us, the public, as his honorary toys.
In the photo above, you will also note that no two blocks are the same shape, size and color.
Hungry? Andy made Woody's Lunch Box just like his old Woody's Roundup lunchbox and it is propped open by a thermos. In the picnic area all the tables and the chairs will look like toys
Looking out in the distance, the top of the Alien Swirling Saucers attraction came into view. It was interesting to see now — just the steel, which by opening day will transform into a plastic toy.
There is much more, of course. In fact, I learned a few new things listening to Imagineer Ryan. For instance, did you know that Alien Swirling Saucers is actually a Pizza Planet toy that Andy won by collecting all his tickets? Inside you'll find dozens of little green aliens spinning around in the universe of Pepperonia.
But I'll let Ryan fill you in.
Let me know your thoughts about the new Toy Story Land below!