Disney's Animal Kingdom theme park is going to celebrate its 20th birthday on Earth Day, April 22, 2018 and Carol and I are planning to be there to join in the festivities.
As Carol started making plans for the trip I spent a few minutes reflecting on our first visit to Disney's Animal Kingdom. It was in November 1999, about a year and a half after the park opened. Carol and I were both very excited to see the new theme park we had read so much about. We are both animal lovers and we were mesmerized by all we had read about the Tree of Life and those amazing animal carvings.
It was also our very first trip to Walt Disney World with each other. Carol was a seasoned Disney veteran; she had been to Walt Disney World fourteen times before we went together. I was a mere rookie with only four previous trips under my belt.
The brochures describing the new park really piqued our interest. The Tree of Life, the safari ride, the exotic lands, it all sounded so interesting! Here are a few panels I pulled from that old brochure; click on the image to see a larger version.
From the time we first passed through the entrance gate we were captivated. Nothing disappointed us; Disney's Animal Kingdom was everything we expected and more.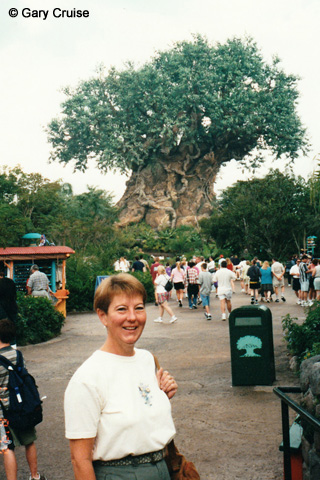 Joe Rohde, the Imagineer who was in charge of the design and construction of Disney's Animal Kingdom, had done an amazing job!
Yes, back in those early years we heard all of the negative comments:
"It's just a zoo; we have one of those at home. Why would I waste a day at Disney by going to a zoo?"
"It's a half-day park; there's not much there."
I suppose that if your idea of enjoying a theme park is rushing from one thrill ride to the next . . . well maybe you're right. There wasn't much there for you in the earliest days.
But it was never like that for Carol and I. It became my 'second-favourite' park almost immediately. The Magic Kingdom will always hold the number one ranking for me, just because it was my first Disney Park, but Animal Kingdom is next in line. For Carol it's different — Animal Kingdom is number one for her.
We love wandering the side trails on Discovery Island to spot the animals there.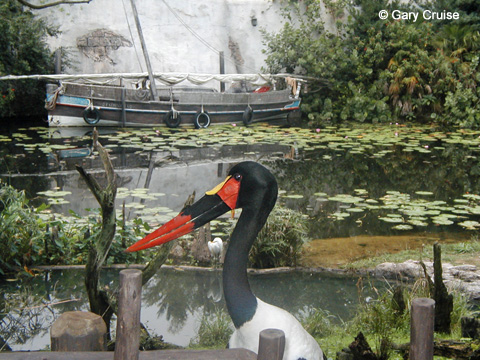 It's a treat when we can get a close-up view of the animal carvings on the Tree of Life.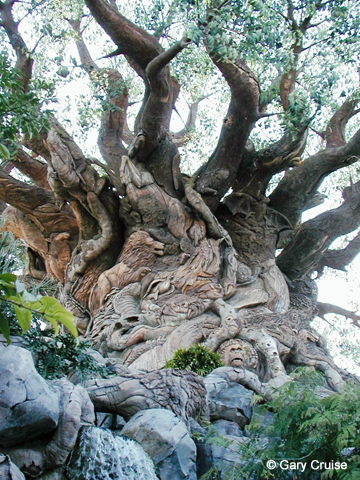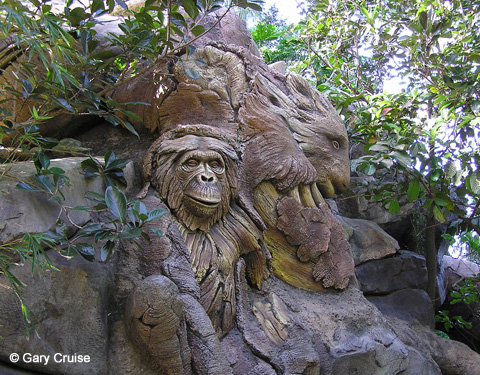 If those otters across from Pizzafari are out playing I just lean on the railing and wait . . . Carol can watch those critters for hours!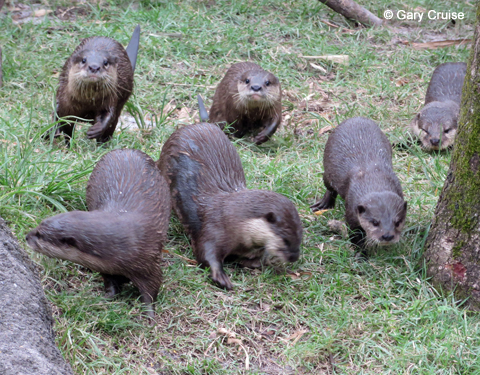 "Miss our FastPass for Kilimanjaro Safaris? I don't care, I'm watching otters!"
Did you notice the title of this blog? "Disney's Wild Animal Kingdom"
That's what the park was called throughout the design process and during construction. The original logo design looked like this.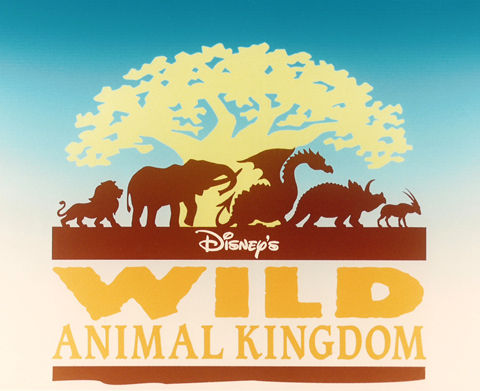 Shortly before the park opened 'Wild' was dropped from the name and the newly adopted logo was the one still in use today.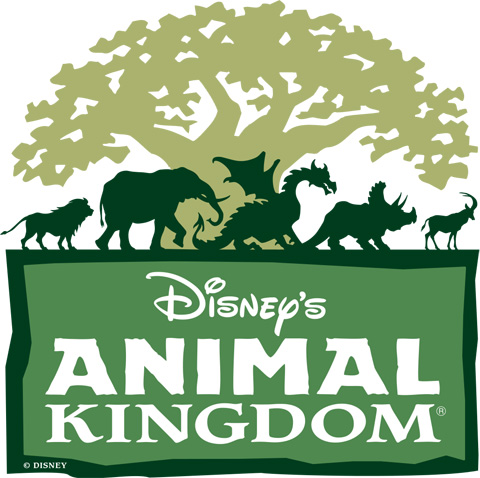 Hey . . . what the heck is that dragon doing in the logo?
At the official park opening ceremony on April 22nd 1998 Disney CEO Michael D. Eisner said, "Welcome to a kingdom of animals . . . real, ancient and imagined: a kingdom ruled by lions, dinosaurs and dragons; a kingdom of balance, harmony and survival; a kingdom we enter to share in the wonder, gaze at the beauty, thrill at the drama, and learn."
Dragons again . . . Hmmm?
Let's look back to an article from the Winter 1995 issue of The Magic Years Newsletter. Click on the image to see a larger version that you can read.
When this article was published the Animal Kingdom Park had been under construction for several years and it was still referred to as 'Wild Animal Kingdom'.
The description of the park talks about the Tree of Life as well as three 'major sections' dealing with real animals, mythical animals and extinct animals. The 'real animals' are the ones we see today all through the park and the 'extinct animals' are the ones we see in Dinoland, USA. Look back to the two logos . . . the triceratops represents the extinct animals.
The dragon in the logos was intended to represent Beastly Kingdom, a land which would pay tribute to 'mythical animals' such as dragons, unicorns and griffins. One of the planned attractions was a roller coaster named Dragon Tower and another was called Quest of the Unicorn, but alas, Beastly Kingdom was never built.
When the park opened in 1998 a hastily-built Camp Minnie-Mickey occupied the space which had been set aside for Beastly Kingdom and construction of the area devoted to 'mythical animals' was rumored to be part of an expansion planned for 2003.
Of course since Camp Minnie-Mickey has now been transformed into Pandora, it is unlikely we'll ever see a Beastly Kingdom.
Here is the park map from our first trip in 1999. Click on the image to see a larger version.
Did you notice that the island where the Tree of Life stands was still called 'Safari Village' in 1999?
As I mentioned earlier, Carol and I were instant fans of Disney's Animal Kingdom, but for many others that wasn't the case. Attendance didn't meet the company's forecasts or expectations and it wasn't long before năhtăzÅ« began to appear in ads for the park.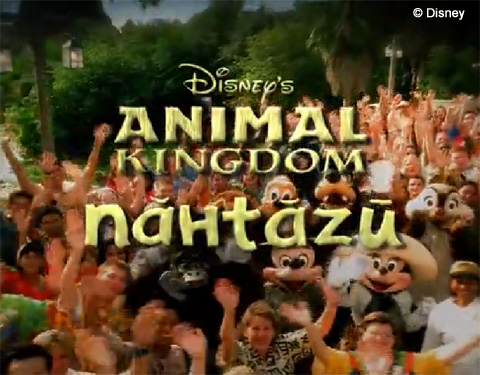 This series of terrific television adds was designed to convince Disney guests that Animal Kingdom was năhtăzū (Not A Zoo) but that it was much, much more than a zoo.
In our minds it was certainly more than a zoo! Carol and I enjoyed the animals . . . the Kilimanjaro Safari ride, the Pangani Forest Trail and the Maharajah Jungle Trek. But there was so much more than animals for us . . . the Festival of the Lion King Show, the Conservation Station, Tarzan Rocks, and the chance to see and hear about African and Asian cultures.
For Carol and I it was definitely năhtăzū!
Over the years a few new attractions were added and attendance slowly began to climb.
Mickey's Jammin' Jungle Parade made it's debut October 1, 2001 as part of the 100 Years of Magic Celebration and ran until May 31, 2014 when it closed to make way for construction of Pandora and many new Avatar themed attractions.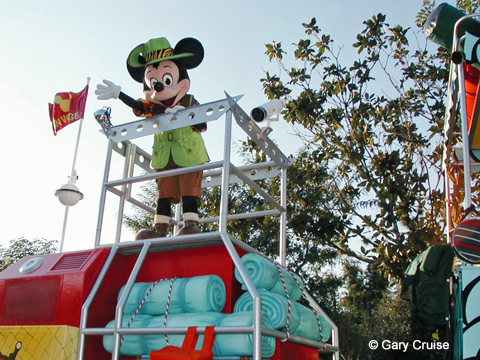 Expedition Everest officially opened on April 7, 2006. This thrilling roller coaster takes guests on a high speed trip through Disney's tallest mountain, which of course is a replica of the world's tallest mountain, Mount Everest.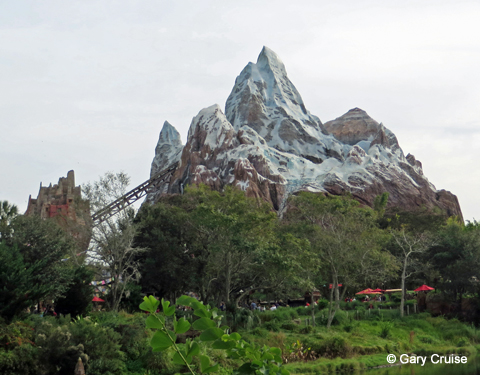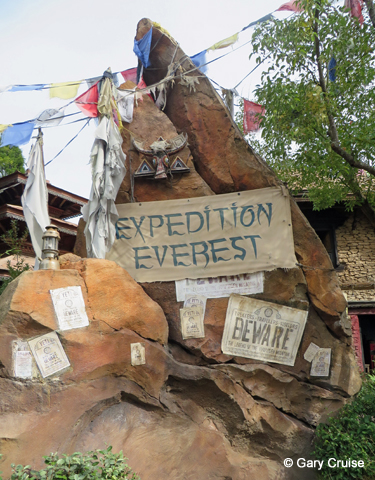 For some reason I cannot fathom, Carol loves Expedition Everest. She claims that she doesn't like roller coasters and will not ride Rock 'N Roller Coaster or Space Mountain. She does ride Big Thunder Mountain Railroad and the Seven Dwarfs Mine Train but 'Everest' is her favorite!
She can only handle it once, so I usually ride with her, then take a second ride using the single rider line. It moves very quickly!
The Yak & Yeti Restaurant opened in Anandapur on November 14, 2007.
It's a terrific place for lunch or dinner. Carol and I often stop for lunch at Yak & Yeti's quick service counter.
We each order egg rolls and share an order of fried rice. It's just the right amount for the two of us and there's always a shaded table available in the outdoor seating area behind the restaurant.
By 2016 plenty of folks had decided that Disney's Animal Kingdom was more than a half-day park. Over 10 million guests visited during the year.
Carol and I took part in the 10th Anniversary Celebration on Earth Day, April 22, 2008. Stay tuned for a future blog where I'll talk about those 10th Anniversary Celebrations and some of the newest attractions that have been added.