by Jeremiah Good
AllEars® Guest Blogger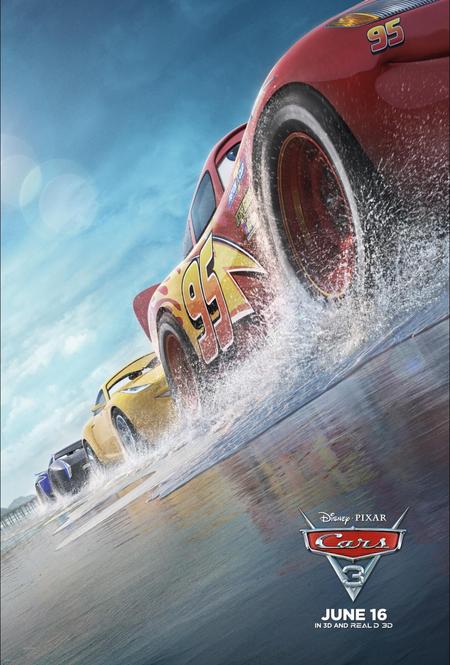 In 2006 after meeting Buzz, Woody, Nemo, and a bunch of Monsters a movie that really appealed to the little kid in me was released by Disney*Pixar, Cars. Being the first summer release Cars went on to be a critical and financial hit spawning a popular shorts series in the Cars Toons and now 2 major motion picture sequels. I personally felt the original Cars film still stands out as one of the best, start to finish, stories Disney*Pixar has done to date going through all the emotions and really getting to know and love the characters…yes even Mater, voiced by Larry the Cable Guy. Cars 2 well that is a different story, I like to think of that just as a VERY LONG Cars Toons but Cars 3 recaptures the Lightning in the bottle.
Set in the natural progression of time from the first film we find Lighting McQueen, again voiced by Owen Wilson, still racing and having fun leading the pack with some of the other cars he has been racing over the years…that is till rookie Jackson Storm, voiced by Armie Hammer, shows up and starts winning.
If you have seen any of the trailers for this film you have seen how the story goes, Lightning has to pull a Rocky 3 and get back out there and train to be better, stronger, and faster with the help of the new car on the block Cruz Ramirez, Cristela Alonzo. Along the way we meet a handful of new Cars and really get back in touch with the heart and humor of the original story between mentor and student.
To be as spoiler free as possible this film follows the age old plot of and student/teacher film, that being said this does it perfectly! After Cars 2 I, along with most fans, had given up and just resided ourselves to Cars Land in Disney California Adventure was where we could go to relive the magic of the first film but Cars 3 is a fitting sequel to the original.
One of my biggest gripes with Cars 2 was the lack of remembrance of Paul Newman's Doc Hudson. Doc was not only a great character but was one of the last things Paul Newman did before his passing in 2008 and I felt needed more than a passing mention, especially since it was him that put Lightning back on the track to being a multiple time Piston Cup champion. Thankfully Cars 3 not only addresses Doc's legacy and passing they even were able to find unused recordings of Paul Newman to have him reprise his role in a few flashbacks. It really is learning about where his mentor came from that helps set the course for Lighting along with providing some classic moments that will be added to animated montages for years to come.
This film is, as one critic said "Nothing Short of Groundbreaking" from start to finish the richness of the backgrounds often times made me question if they were real or not and the sound makes you feel like you are on the raceway and of course the voice talents all fit perfect. It is hard to fit such a large cast, as the Cars franchise has become, into one film without feeling someone gets lots in the shuffle but from returning cast all the way to the new members we get a good feel for the story of how they are or what they have been up to since the last film.
If I had one negative to say about the film is the lack of catchy music or iconic score, the original used "Route 66" to tie the story and "Life is a Highway" has become synonymous with not only Cars but with any road trip thanks in part to its use in the original film, yet after walking out of Cars 3 I would be hard pressed to remember any song or even bits of the score used.
Overall I give Cars 3 a three and a half Piston Cups out of four, if I had walked out wanting to buy the soundtrack along with all the new cars I will be picking up it would have been perfect. It is a must see for the entire family and I will be going back to see it again!

RELATED LINKS:
Where to find Cars Characters
Press Event