SeaWorld guests have two new dolphin experiences to look forward to soon at the Orlando theme park. Plus, a new deal at Discovery Cove gives SeaWorld and Aquatica pass members the opportunity to experience an all-inclusive day with a dolphin swim at a deep discount.
A new show called Dolphin Days will debut at SeaWorld Orlando on Saturday, April 1, replacing the popular Blue Horizons after its eleven-year run at Dolphin Theater. SeaWorld describes the new show this way: "The audience will learn more about the individual personalities of each Atlantic bottlenose dolphin while witnessing the special bond they share with their trainers. A soaring rainbow of macaws and other tropical birds will also delight guests, uniting the mysteries of the deep oceans with the wonder and beauty of the skies above."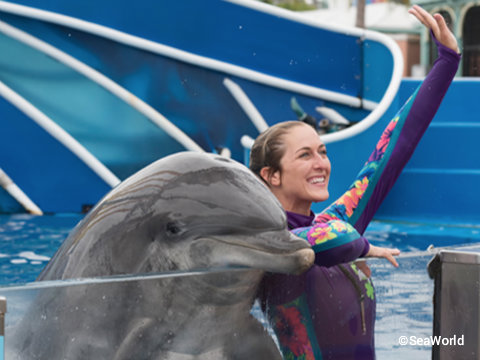 The new Dolphin Days also will give young guests interactive opportunities. During each show, one lucky young volunteer will be selected from the audience to learn firsthand from the training team in an up-close encounter with one of the dolphins and a green-winged macaw.
During the show, all guests will learn how they can help protect dolphins in the wild. Revamping its dolphin show is another example of how SeaWorld is shifting the message of its animal shows to one of conservation and not just entertainment.
Dolphin Days won't be the only place to learn more about dolphins. The park's new Dolphin Nursery will open in time for summer, offering an interactive educational experience for guests to see dolphins up close. Large-scale acrylic windows will give guests better viewing opportunities, including multiple levels to give kids a face-to-face perspective with dolphin calves. New slide-out areas and a lifting floor will also allow for easier access to mom and baby for the veterinary and animal care teams. Plus, the next generation of multi-purpose digital displays will allow SeaWorld educators to share information about dolphin behavior, biology and conservation with our guests by interacting with video from the team's educational and animal care content.
SeaWorld's Discovery Cove water park is offering pass members a deep discount on its all-inclusive tickets. Those who want to experience a dolphin swim will pay $169 per person and visitors who choose to just enjoy the other amenities will pay $99.
Every admission comes with an all-you-care-to-eat breakfast, lunch, snacks, drinks and alcohol for those 21 and older. In addition to food and beverages, your admission includes complimentary parking, the use of a wetsuit (short and long styles are available) and life vests, a locker for the day, samples of sunscreen that is safe for the dolphins, the use of a mask and snorkel (and you keep the snorkel), unlimited towels, changing facilities with complimentary body wash, shampoo, conditioner and the use of a hair dryer, and bags to take home your wet swim suit.
My family and I have been to Discovery Cove twice and thoroughly enjoyed each visit. Here is what you can expect from the dolphin swim experience, and here are details about all the other fun things to do at Discovery Cove.
My daughter, who one day plans to be a marine biologist, has been inspired with each visit to a SeaWorld park and its interactive experiences. We especially look forward to the new dolphin show and nursery.