My family and I saw Rivers of Light, the new nighttime show at Animal Kingdom, during opening weekend. Of course, that night it was crowded with everyone wanting to see Disney's newest offering, but I wouldn't expect that to change in the near future. Given that, here are some thoughts and tips to help you make the most of your experience:
** First and foremost, do everything you can to book a FastPass for Rivers of Light. If you do not have a FastPass, you will need to join the standby queue, and it has been hours long on some nights.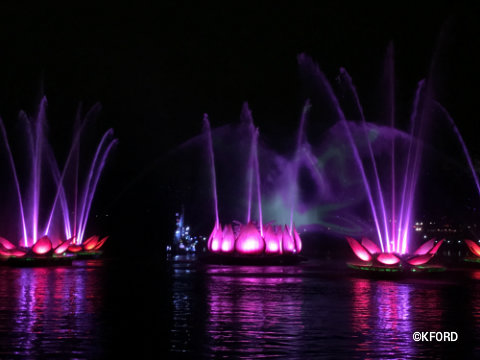 ** Know that, at least for now, Rivers of Light is not performed daily. For the next month or so, it only takes place on Tuesdays, Thursdays, Saturdays and Sundays with one show each night. Of course, Walt Disney World schedules are subject to change. In fact, for opening weekend, second show times — and more FastPasses — were added days beforehand.
** If you are unable to get a FastPass for Rivers of Light, your next best bet may be to purchase a dining package for either Tiffins or Tusker House. Both come with reserved seating for the show. See pricing and details here.
** If you DO secure a FastPass for Rivers of Light, when should you line up? My Disney Experience will recommend arriving at the Discovery River Amphitheater no sooner than 25 minutes before showtime. If you are not picky about seating, that is probably sufficient for this particular show. My family and I wanted to sit near the bottom, as close to the action as possible, so we arrived an hour ahead of time. We were not the first in line, but we still were seated in the second row. Also, know that that about 15 minutes before the show begins, there are lighting and sound effects you will not want to miss.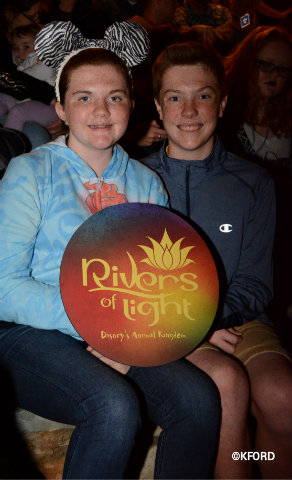 ** One of the perks of sitting near the bottom was that a PhotoPass photographer walked down there and handed a Rivers of Light prop to guests within reach who wanted their photos taken.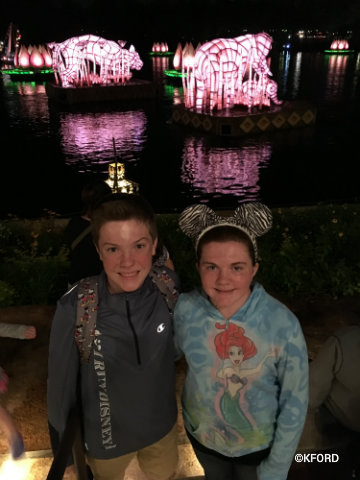 ** Another photo opportunity I discovered when we were sitting near the action was to ask the PhotoPass photographer to snap a few images of friends and family standing with the lighted floats coming into view. This only works for a few minutes before the show starts and the floats are getting into place. PhotoPass photographers will not do this once the show starts. Afterward, there is a similar small window when guests are exiting the theater that you could take your own photos with the floats in the background.
** Know that you can take food and beverages into the amphitheater, but they do not sell them inside (at least not on the night we were there). There are some cute Lotus Flower light-up food and beverage items sold at nearby stands. Look for a Glowing Lotus Blossom Bucket served with flavored chips; a Glowing Stein or Lantern served with a fountain beverage; and a Lotus Flower Glow Cube for drinks.
** Speaking of merchandise, probably the cutest thing I saw was the new Made With Magic light-up wand. It's shaped like an animal-themed totem pole and it interacts with the Rivers of Light show, changing colors as the elements in the show do. It also is affected by other Made With Magic items that are nearby and can be used at other select nighttime spectaculars at Disney Parks. Plus, each guest can change the colors on the totem pole manually. They are so cute that I bought one for each of my kids.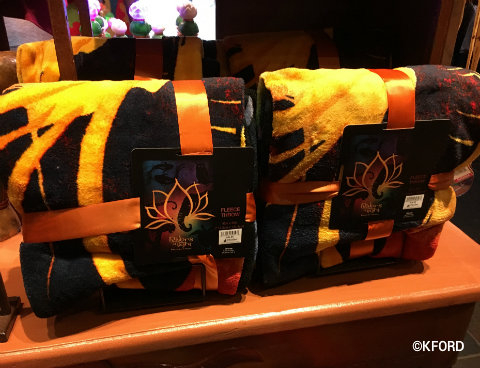 ** If you didn't bring a blanket with you in the park, you might consider purchasing the soft Rivers of Light logo blanket as a souvenir and using it that night. It's perfect for cozying up on cooler nights to watch the show or for getting sleepy little ones comfortable on the concrete and metal bleachers. Look for the blanket in the Island Mercantile gift shop at the front of the park.