Charlie Ridgway conducts an interview on Main Street USA at the Magic Kingdom in Walt Disney World prior to the beginning of WDW's 15th anniversary celebration in 1986. [The Walt Disney Company]
"There will never be another like him."
In the hubbub of the holiday season, the passing of Disney Legend Charlie Ridgway on Dec. 24 may have gone unnoticed to most casual Disney fans … but not to the people who knew him, worked for him, admired him and flat-out loved him.
"I wanted to let you know that our dear Charlie, 93, passed away today," former Walt Disney World publicity director Rick Sylvain messaged me on Christmas Eve.
Our dear Charlie.
That pretty much sums up the feelings of so many people whose lives were touched by the kind-hearted gentleman from Missouri, whose humble beginnings as a radio disc jockey and Midwestern newspaperman belied his legendary status in Disney's star-studded firmament.
Charlie, the master of spinning Disney's world as the company's chief press agent at both Disneyland and WDW, followed in his father's footsteps and earned a degree in journalism from the University of Missouri. Despite his journalism pedigree, he began his career in radio because his father, who covered the agricultural beat for the Chicago Tribune, told him that "newspapers are bound to be a dying breed and encouraged me to get into radio. He was pretty wise."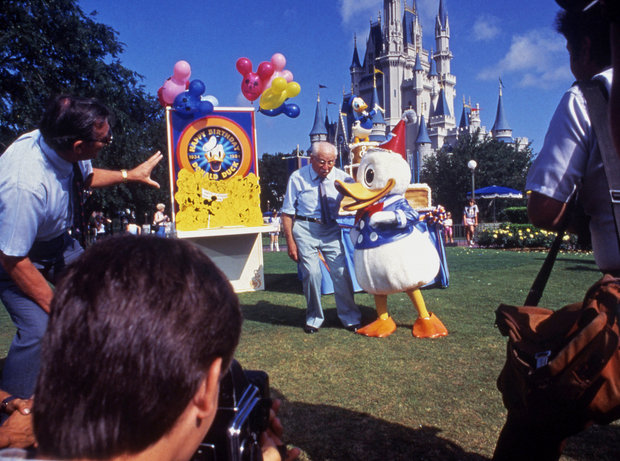 Charlie sets up a publicity photo of Donald Duck in the shadows of Cinderella Castle. [The Walt Disney Company]
Charlie landed a job at a 5,000-watt radio station in Erie, Pa., in the late 1940s after serving honorably during World War II. After about three years, though, he got a job offer from the Erie Dispatch, "my first job as a newspaperman. That job lasted about a year before I decided I needed to get into a bigger market. I had fallen in love with Los Angeles during the war, so I decided to go out there in 1952."
Charlie, his wife Gretta and their young family moved west, to a sleepy suburb of Los Angeles called Anaheim. He got a job as a general reporter with the Los Angeles Mirror-News and became aware of a construction site near their house when he and his family passed it on their way to the beach on weekends.
That construction site, rising up from large fields of orange groves, was to become Disneyland. It was Charlie Ridgway who was among the first journalists to do a story on Disneyland in early 1955 prior to opening … and it was Charlie who was among the hundreds of frazzled journalists on hand to cover opening day on July 17, 1955.
Indeed, Charlie covered Disneyland for several years, for both the Los Angeles Mirror-News, then the Long Beach Press-Telegram, before he accepted a job offer from Disneyland in 1963 in the park's publicity department, doing the bulk of the office's writing.
A legendary career with Disney was launched.
From his tiny office above the police station near City Hall, Charlie dreamed up new and creative ways to get the word out on Disneyland, among them the press event he helped set up for the grand opening of the Pirates of the Caribbean attraction in 1967.
Charlie signs a copy of his book, "Spinning Disney's World," several years ago.
"We sailed all the press people around in the sailing ship Columbia and then came in and fired the cannons and had a big sword fight on the deck." In addition, buccaneers boarded the ship from smaller craft and pirates fell from the ship into the river during their duels. Once the press folks were in a swashbuckling mood, they disembarked the ship and "stormed" the entrance of the Pirates of the Caribbean to gain access.
"I was in on that," Charlie said proudly during an interview with me in early 2014.
In the years that followed, Charlie was the go-to guy when it came to dreaming up fun and creative ways to publicize the park. Then, in 1969, Charlie was asked to move to central Florida to drum up publicity for Walt Disney's "latest and greatest dream" … Walt Disney World.
"The first trip I made when I took the job at the end of 1969 was to go to New York. I went to Time, Life and Look magazines and all the major newspapers and I also went to Washington to National Geographic."
Look Magazine wanted to be the first publication to have a cover story on WDW, but the Magic Kingdom was still six months from completion. "It was way too early," Charlie said. "There wasn't that much really finished. But we were able to gerrymander things and produce pictures that looked like it was really done."
Charlie also played a key role in the classic photo that appeared on the cover of Life Magazine a few weeks before WDW opened.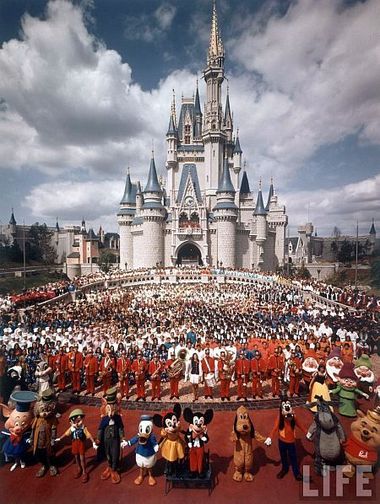 The Life Magazine cover prior to the opening of Walt Disney World in 1972 which Charlie Ridgway helped set up. [Life Magazine]
"I suggested we do a mob-scene photo and we carried forward from that point," Charlie said. "We went to Life with the idea and they liked it. They sent down one of their very best photographers [Yale Joel]. He got up on a stand with an 8 x 10 view camera to shoot the picture. Of course, that was the one we shot in front of the castle. We assembled as many cast members [3,000 of the 5,000 on staff at the time] as we could get there."
Charlie also was the architect of many elaborate press events during his years at WDW, events that saw literally thousands of members of the media invited to experience first-hand the magic and wonder of The Vacation Kingdom of the World.
Perhaps the most significant press event in Charlie's eyes was the grand opening of Epcot in October of 1982. It was the first time in broadcast history that television stations from around the country were able to carry an event live, thanks to a still-untested satellite uplink technology. "It was a rather feeble attempt, by today's standards," Charlie said, but it worked beyond anyone's wildest dreams.
It was Charlie at his finest. "We used to sit around marketing meetings dreaming up crazy ideas," he said.
Charlie's "crazy ideas" left a lasting impression on those folks who were privileged to work with him.
The author with Charlie Ridgway during lunch in 1992. [Chuck Schmidt collection]
"I don't think he realizes how important he is to all of us and how much influence he's had on our careers," Michelle Baumann, who was hired by Charlie more than 25 years ago, told me a few years ago. "To give you an idea of what kind of person Charlie was, I was hired back during the time when photo captions had to be pasted onto the backs of the publicity photos, which was pretty tedious and time-consuming, but Charlie would be right there with us, doing the grunt work, not giving it a second thought.
"Every once in a while, we'll be stumped with something and someone in the office will say, 'What would Charlie do?' He made that much of an impression on us."
Rick Sylvain and a bunch of Charlie's "old guard" were scheduled to take him out to lunch on Dec. 14, but the luncheon had to be scrapped because of Charlie's failing health.
"So many of us owe so much to that man," Rick said. "I know he rescued me from a nasty newspaper strike in Detroit in 1995 and launched me on 20 years that I will never forget.
"There will never be another like him."